Not everything you buy needs to be new; instead, it can be new to you. This works for clothing, jewellery, furniture and more. Who doesn't love to wander longingly around an antique store and wonder if their haggling skills are up to scratch? 
Then there are the more significant, bolder and bolshier flea markets. But don't be mistaken, you can haggle to your heart's content here – and most of them expect you to!
So how do you get the most from a flea market? Or second-hand shopping in general?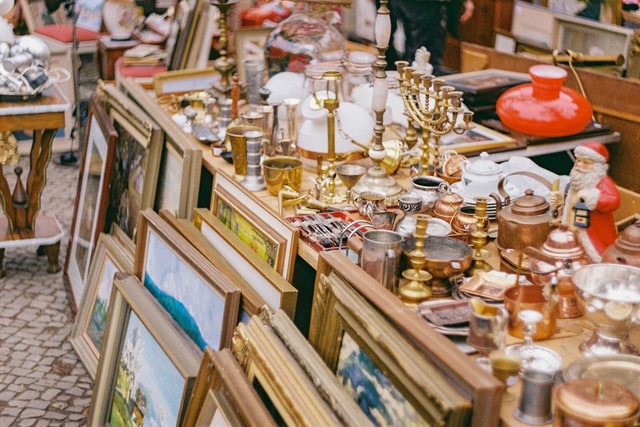 Photo by Nikola Đuza on Unsplash
Early 
While there will be hundreds of stalls with thousands of products – the good stuff goes quick, and it goes early. If you want to bag a bargain and walk away with something unique, then make sure you rise, shine, gulp your coffee and go. 
If you do go later, you'll never know what kinds of unique pieces you might've missed out on!
Make notes
Before you plan your excursion to the flea market, you should have a clear idea of what you are looking for. It can be a costly expedition if you buy everything you like at the moment, only to find out you don't need it later on. 
It is very easy to get caught up in the haggle for a forest green velvet chair when what you wanted was an antique clock.
Perhaps you are on the lookout for some particular period pieces or designers. Whether it is a sofa, chaise lounges, side tables or jewellery – you need to know the details. How to spot fake jewellery, how to tell a replication piece from a real piece, and the branding marks you should be looking out for – write them down and keep them with you. This will stop you from parting with more than you need.
In the end, if you want the piece regardless of its authenticity, at least you were informed in advance.
Sections
The more significant flea markets offer so much to look at that it can be overwhelming! Instead, look at your list and take it one piece at a time. If you have a lot to buy, it can take a while. If you arrived early enough, though, you can peruse without the hustle and bustle – and maybe even get the opportunity to look at a piece more than once. 
Try to take a photo of the pieces you had your eye on the first time around, but always keep in mind that they could be gone by the time you come back.
After you have done the first tour of the whole flea market, it is time for round two. Round two is where you will part with your cash for the things you really want. You have had a moment to think about them and look at the pictures. Compare them with other things you have seen, and you know for sure.
Haggle
When you want to haggle, you need a balance of smooth talk and the right price. Tell them you love the item, but the price is a bit steep. Point out any marks or scuffs that mean the price should be lower. Ask them for their bottom price, and see what they say. They will often start at a high price but might be willing to knock off a decent percentage. 
Haggling should be respectful, and you can both walk away happy.
Always keep in mind the room you are buying for – with so many people working from home, the biggest one has been Buying Office Furniture – Future Positive – so here is what to look for.