London is the perfect place to visit as a Family, there are plenty of activities to do, one being attending a professional football match. There are 12 professional football clubs in London, 6 of them play in the English Premier League and the other 6 play in the Football League. It may not seem that football matches are suitable for families, yet it is highly popular. Regardless if you are not a football fanatic, it is a great family day out filled with an exciting atmosphere. This article will give you all the relevant information you need when visiting a football game as a family in London.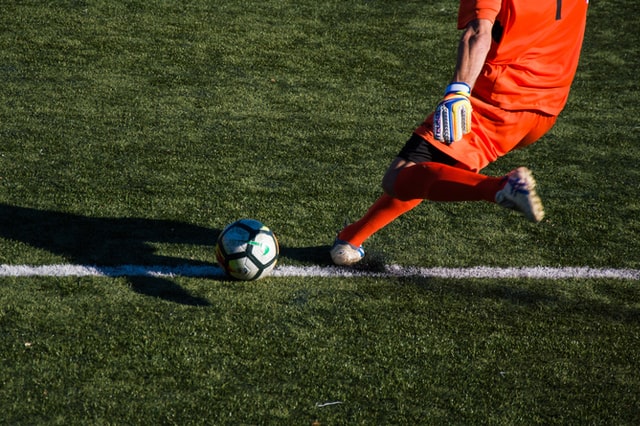 Image via Unsplash
Premier League Teams:
The 6 London football teams that play in the Premier League are:
Chelsea

– They play at Stamford Bridge in Fulham, London. They are probably one of the well known clubs in London, as they have 6 league titles. Their current manager is Frank Lampard, who is argued as one of the Chelsea's best players of all time. The stadium holds over 40,000 seats. 
Tottenham Hotspur

– Or commonly known as Spurs moved from White Hart Lane to Tottenham Hotspur Stadium, in Tottenham, North London. It is the largest stadium in London and third largest in England, as it has the capacity to seat over 62,000. 

Arsenal

– Play in the Emirates Stadium in Islington, North London. The football club's  nickname is also called 'The Gunners'. It is accessible from the Piccadilly line. The stadium holds over 60,000 seats. 

West Ham United

– Play in London Stadium which is based in Stratford, East London. The stadium seats over 60,000 seats. They are known for selling tickets for families at affordable prices. 

Crystal Palace F.C.

– Are based in Selhurst, South London. This stadium is smaller compared to other football teams in the premier league with only holding the capacity of just over 25,000. To get to Selhurst Park it requires the train from either Victoria or London Bridge. 

Fulham F.C.

– Play at Craven Cottage, with the stadium being able to seat over 25,000. They are London's oldest professional football club. At the end of 2019/2020 football season, Fulham were promoted to the Premier league, after being relegated in 2018/2019.  
Is it safe to bring children to a football match?
Over the years, football stadiums have imposed stricter rules regarding drinking during games, this is to reduce drunken conflict and to protect the welfare of staff and spectators. With this it has increased the safeness of bringing children to a football match. Football clubs have also introduced family sections which are dedicated to children, with most adults not being able to sit there unless accompanied by a child. Most football clubs also have children entertainment in that area to create an unforgettable family experience. Although there is not an age restriction on football stadiums, most stadiums do not have pram storage facilities and there are restrictions on bag size for safety reasons. 
Whilst there are stewards throughout the stadium and a family zone, be prepared to hear adult language with adults shouting and chanting. It is also worth noting, that if you have younger children and have no preference on matches, you should go to a smaller game and avoid the big games like derby days (Arsenal vs Tottenham) as rivalry can be intense and can become overwhelming for children.
Plan for Weather Changes
As it is England, the weather is constantly changing and is unpredictable. It is important to prepare for all seasons when taking your children to a football match. Although the majority of stadiums are semi-covered and spectators are sheltered from the rain, it is cold to stand and watch, especially during the winter periods. It is important to make sure your children are layered up to keep them warm during the game as temperatures at night drop. 
Plan Ahead Before Traveling:
Although the London transport system is great and you can get across London on the underground or railway, it is important to make sure you plan ahead especially when going to a match. Match days can make some stations extremely busy, so it is important to make sure you give you and your family plenty of time to get to the stadium. It might be worth going earlier to beat football traffic and to allow your children to feel safe. With big crowds on the transport, it can be easy to lose people, especially little ones, so make sure they stick with you and not wander off.
In addition, there is always maintenance work throughout London, so make sure you give your family plenty of time for travelling to the match. It does not matter if you are extremely early at the stadium as there is always an atmosphere and food truck fenders. You can even take your family into the official merchandise store and get them a football kit.
How to purchase tickets for the games
Unfortunately, the only way you can purchase direct tickets for a premier league match is from the football club through becoming a member. Membership prices vary depending on the club, but usually are starting from £35-£50 depending on the membership. Memberships would need to be linked in order to connect them when purchasing tickets and to make sure you and your family are sat together. 
Once you have the membership, tickets for that game will be released early morning and with big games it can be extremely difficult to purchase tickets as they sell out within minutes. If you plan to only visit a London football match as a family a couple of times, a membership may not be worth it for your family.
The quickest way of comparing ticket prices for the English Premier League is via recommended website Seat-Compare.com.
If you plan to visit one game, there are package deals available through each club, where you and your family can purchase hospitality, which includes food and beverages, however, prices for hospitality are not cheap and can set you back at least a few hundred pounds.
Some hotels do overnight stay packages with tickets. For example the Millennium and Copthorne hotels in London offer an overnight stay with breakfast included with a ticket to watch Chelsea football club play at Stamford Bridge. In addition you also receive a match day programme, team sheet line up and a Chelsea Football Club gift. There are no prices available and do vary depending on the game. For more information you can require via email at hotelsales@chelseafc.com or telephone: 020 7565 1412.