A lot of people think that dressing to stay warm means that they have to jeopardise some of their style credentials. However, this is certainly not the case. In fact, layering is one of the most popular fashion arts at present and if anything winter months offers the most scope for fashionable ensembles. Keeping that in mind, this article will reveal some of the top trends in today's fashion in order to give people ideas of trendy clothing for the coming months ahead.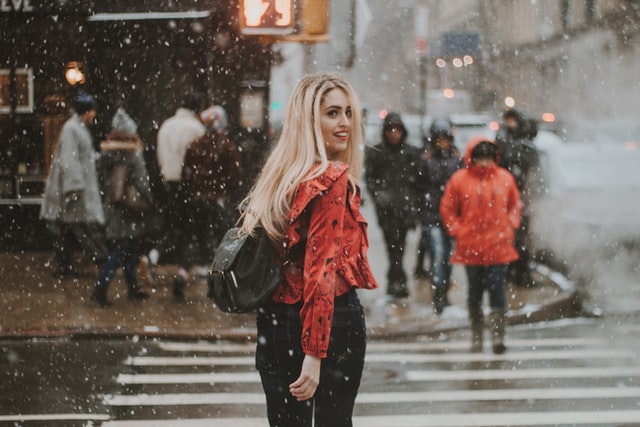 Image via Unsplash
When it comes to picking a colour of clothing for the coming months the best option to go for is blue. Blue is great because it is a colour which is versatile and will go with an array of outfits. However, it has a vibrancy to it which means that it is not boring and the colour will add some energy into any outfit. Furthermore, blue is also great because there is a vast number of diverse shades of blue. This means that there is a shade to suit all skin tones and all hair colours. Therefore, everybody can rock this popular trend for the coming season.
When it comes to picking a pattern for autumn/winter 2020 then it is all about going for tribal trends. Other the summer Aztec patterns and alike have been a highly popular option. However, this is a trend which is only set to grow in dominance over the coming months. Tribal trends will be great for winter in particular because they give off an air of warmth and comfort whilst still being extremely stylish. An individual can opt to incorporate a tribal patterned garment in a shade of blue if they are looking to go for style overload. 
When considering what type of fabric to opt for during autumn and winter one should seriously consider the prospect of leather. The popularity of leather dwindled over the summer, which is not surprising as it is not a material which goes well with the heat. Nevertheless, it is coming back to the forefront of fashion over the winter period. The only component required to wear leather is confidence. Leather garments are bold and thus one needs to have self-confidence in order to pull the look off effectively. It is important to remember that going for leather does not mean that one has to stick to a black colour. There are some gorgeous leather pieces in store at present. It is not advisable to go for something too vibrant however, instead consider a deep and rich colour such as wine or burgundy. You can also add leather with Balenciaga bags, making a real style statement.
And finally, when thinking about what style of dress or skirt to go for then dip hems are highly popular in today's fashion. A dip hem or dress is great because it combines the perfect amount of girly and style. To go for an urban glam look team the dress or skirt with an elaborate snood.
All in all, the trends for the coming months with regards to fashion are certainly exciting ones. The only thing to remember is to pick a trend which suits and feels comfortable.