Lisbon is a charming and vibrant city with picturesque cobblestone streets home to ornate architecture, delicious food, and friendly locals. Dubbed the "City of Seven of Hills", you will spend most of your days walking along steep hills with spectacular city views or riding old cable cars up and down the charming streets. Here are some of the best things to do in Lisbon.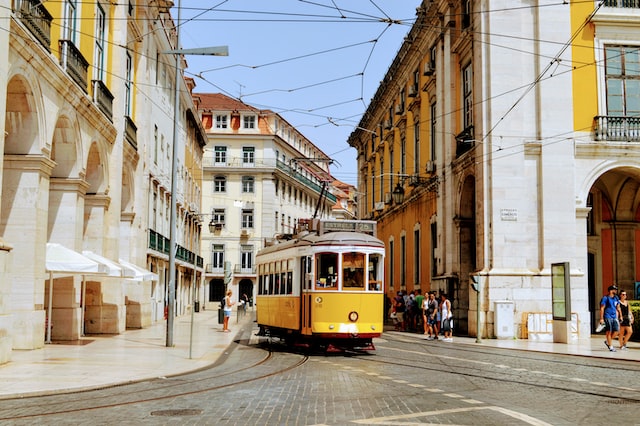 Image via Unsplash
Head up the Bica Funicular
Your trip to Lisbon won't be complete without riding the iconic Bica Funicular. The funicular links Largo do Calhariz to Rua de São Paulo and travels in a steep descent, crossing over the neighbourhood of Bica en route to Bairro Alto. 
The funicular ride is very scenic, passing along Lisbon's distinctive buildings, cosy little shops, and great restaurants. When you get to the top, you'll find the viewpoint of Miradouro de Santa Catarina, from where you can admire Lisbon's panoramic views.
Eat at the Ribeira Market
As Lisbon's main food market, Mercado da Ribeira is a haven for foodies. It has been operating since 1892 and has a long line of stalls selling everything, from fresh produce to all kinds of street foods. The bustling market is open from 6 AM to 2 PM and has a food hall with a canteen-style eatery, where you can indulge in delectable Portuguese delicacies. Whether you're craving tapas or pasteis de nata, you'll find them in Mercado da Ribeira.
See the Tile Museum
Lisbon is famous for its beautiful buildings with intricate tilework. If you want to see the most incredible tilework in the city, head to the National Tile Museum, also called the Museu Nacional do Azulejo. The museum is a bit off-the-beaten-path, but it's definitely a fun place to check out. You'll be amazed at the beautiful walls with different tile paintings that convey stories from the bible, including those with opulent golden adornments. There's also a little cafe and restaurant in the museum where you can relax and have some snacks after going around the building. With so many of Portugals stunning rental villas located near here, you will find a convenient location to explore. 
Head to the Lisbon Coast
One of the best things to do in Lisbon is to go to the coast and hit the beaches. You will find several beach towns within a short distance from Lisbon, easily accessible by train. For instance, the picturesque coastal village of Cascais is only about 30 min from Lisbon and has a long stretch of beautiful sandy beach where you can lounge all day. Cascais is also a wonderful place to explore, with beautiful cobblestone streets lined with several bars and cafes.
Look out at Graça Viewpoint
The lovely neighbourhood of Graca is Lisbon's highest point, and where you will find the viewpoint of Miradouro de Nossa Senhora do Monte. Getting to the place requires a steep climb, yet you will be rewarded with the most stunning panoramic views of the city. If you don't see yourself walking all the way up, you can go to another viewpoint, which also offers incredible views of the magnificent Castelo de Sao Jorge.