If you're looking to visit an old Medieval city with a historic appeal but equipped with modern amenities, Tallinn would be the perfect city to visit. It's one of Europe's hidden gems, home to UNESCO-listed Old Town, centuries-old architecture, and pretty cobblestone streets. Below, let's find out some of the best things to do in Tallinn.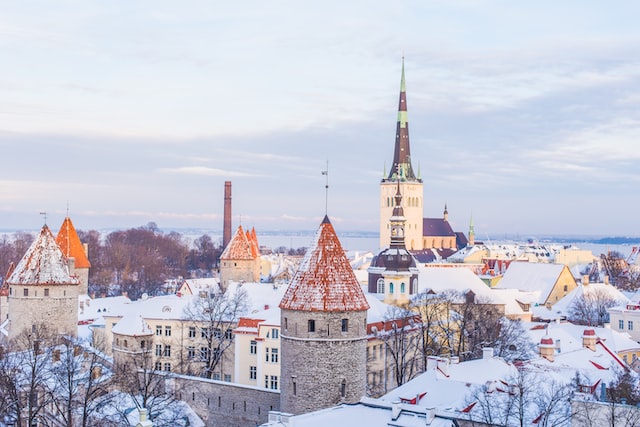 Photo via Unsplash
Experience Kohtuotsa Viewing Platform
The Kohtuotsa Viewing Platform is one of Tallinn's best viewpoints and is where you can admire the city's most picturesque views. It's in Toompea Hill, which you can get to by climbing through narrow cobblestone streets.
The Kohtuotsa Viewing Platform is on a terrace area offering stunning views of Tallinn. You'll see the city's signature red roofs, high-rise buildings, and the hustle and bustle, with the Gulf of Finland in the backdrop. There are also cafes in the area, where you can enjoy refreshments before going downhill.
Learn the History of Toompea Castle
Another attraction you'll find in Toompea Hill is the Toompea Castle, a medieval castle recognised for its pastel pink walls. Nowadays, it is home to the Estonian parliament, commemorating Estonia's independence, with a flag-raising ceremony taking place in the tower every morning. It's worth taking the free guided tour of the castle, where you can explore the interiors of the beautiful rosy building and learn about its colourful history.
Visit the Old Town
Encompassing endless historical treasures, Tallinn's Old Town is a joy to walk around. As one of the best-preserved town centres in the world, it features charming cobblestone streets lined with lively cafes and centuries-old architecture.
When going around the Old Town, there are opportunities to partake in Estonia small group tours which will help guide you around the top sights. Alternatively, head down towards a circular stone with a compass, giving you a unique vantage point to admire the five historic churches around the city. Make your way inside the Town Hall and admire the stunning Gothic arches and magnificent works of art.
Relax at the Port of Tallinn
After going around the city, head to the Port of Tallinn, where you can relax while surrounded by picturesque ocean views. You will find outdoor cafes where you can order a cup of coffee as you enjoy people-watching. The port is also home to souvenir shops and some restaurants. You will also find a craft market nearby selling arts and crafts and local produce. If you have enough time, consider taking a boat tour from the port.
See the Architecture at Alexander Nevsky Cathedral
The Aleksander Nevski Katedraali is one of Tallinn's most fascinating buildings and will remind you of Russia's St. Petersburg. The cathedral, which you'll find right across Toompea Castle, features a Russian Orthodox Style, complete with bulbous onion domes and an ornate white and brown facade.
The Alexander Nevski Cathedral also houses eleven bells, including the largest bell in Tallinn, weighing a whopping 15 tons! It rings throughout the day, and you'll hear its sounds all over the city. Despite its magnificence, many Estonians are not pleased with the cathedral since they consider it an oppressive symbol from Russia.