As Mallorca's capital city, Palma is the island's greatest treasure. It's well worth visiting for its incredible beaches, charming city squares, and excellent bars and restaurants. Given its flourishing food scene, bustling waterfront, and awe-inspiring cathedral, Palma de Mallorca is an utterly compelling destination.
If you're planning to visit Palma de Mallorca soon and wondering where to stay, check out this list below.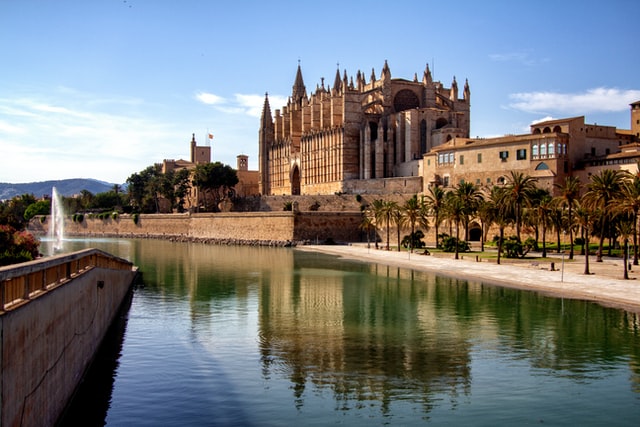 Image via Unsplash
1. Palma Centre
Also called "Distrito Centro", Palma Centre is a beautiful neighbourhood famous for its charming seafront promenade and the Gothic cathedral called Santa Maria, which features the modernist ironwork of Gaudi. It's one of the districts that make up Palma de Mallorca and is in the city centre.
As the centre of Palma, it's where you will find most of the attractions of the city. Beside the cathedral is the royal palace La Almudaina, which dates back to the 1200s. It holds paintings and tapestries alongside Moorish arches and gardens. Its narrow, cobblestone streets are lined with souvenir shops selling Mallorcan coloured glasses. The area is also home to busy taverns serving delectable rice broth and island wines.
You'll find lots of great accommodations here. If you want to be close to everything, stay in Palma Centre.
2. Santa Catalina
Santa Catalina is a former fishing town located on the western side of Palma's Avenida Argentina. It's a hip enclave centred on an ancient old market selling local produce. Exuding an ambience of a village that combines old and contemporary lifestyles, Santa Catalina is home to colourful cottages, art nouveau mansions, designer boutiques, and vintage stores.
Located close to the sea, Santa Catalina was named after Santa Catalina of Alexandria, the patron saint of merchants and sailors. On its leafy streets are cool cafes and martini lounges sitting alongside dive bars, where a Bohemian crowd would often gather. Santa Catalina is also home to world-class restaurants serving global cuisines, occupying the squares and backstreet alleys.
Santa Catalina's traditional old houses are very photogenic, boasting cheerfully painted facades, small front balconies, and old wooden shutters – many of which are adorned with plants and flowers. The centre of the neighbourhood is an indoor market supplying local produce to cafes, bars, and restaurants, which makes Santa Catalina a popular area for foodies. If you want to base yourself in Santa Catalina, stay at Bordoy Continental Palma, an upscale hotel with a sauna, spa, and a deli.
3. La Lonja
La Lonja is a historical landmark in the Old Town of Palma where locals and visitors would gather after dark, as it's home to a great selection of bars, restaurants, and clubs. A former maritime trade exchange, La Lonja is now a popular hangout spot in Mallorca.
Nowadays, when darkness descends on Mallorca, La Lonja comes to life, and the Gothic building is superbly illuminated. However, it's somewhat upstaged by the numerous dining areas and bars close to the area. Above the mighty portals of La Lonja, you'll find a sculpture of the Guardian Angel of Commerce standing mightily. The sculpture is a reminder that centuries ago, this area was a significant hub for business in Mallorca.
As the heart of Palma's nightlife scene, La Lonja is often bustling with tourists. But its main artery is the Apuntadores. As soon as you get into the narrow thoroughfare, you'll be bombarded with different businesses trying to get your attention. But keep your eyes peeled on small side streets branching off into the main street lined with restaurants offering delectable cuisines. Other notable hotspots in La Lonja include Hotel Tres, a beautiful hotel housed in a former 16th Century Palace. The hotel features an interesting mix of stylish contemporary design and traditional Majorcan decor.
4. Palma's Old Town
Known in Spanish as "El Casco Antiguo", the Old Town of Palma is where you will find a majority of the island's most popular attractions. Some of the most notable attractions in the Old Town include the Royal Palace of Almudaina, La Seu Cathedral, and Es Baluard Contemporary Art Museum. Given the many attractions in the area, wandering its medieval streets is enough to keep you entertained!
In Old Town, you'll never run out of interesting things to explore, making it a great place to base yourself in Palma. From pretty squares to Gothic churches and centuries-old interior patios, you'll find many beautiful things to discover in this neighbourhood. If you are into antiques, you'll love staying in this area even more. It's home to antique shops, old bookshops, and even an outlet for vintage Vespa. The famous "Golden Mile" is also part of the Old Town.
Stately homes from the 17th and 18th Centuries are some of the most significant features of this area. These homes have been beautifully restored, with some of them transformed into luxury boutique hotels. When staying in the Old Town, visit Parc de la Mar, an artificial lake that glistens amidst the walls of the Palma Cathedral.
5. La Calatrava
La Calatrava is one of Palma's most charming neighbourhoods, attracting all kinds of people – from tourists interested in learning about the island's history to those looking for alternative areas to stay. The neighbourhood forms part of the Old Town of Palma, stretching back from seafront Parc de la Mar and towards a warren of shaded alleys.
At the centre of La Calatrava, you'll find the Palace de L'Almudaina and the Gothic La Seu Cathedral. There are also 10th Century Moorish hammams contrasting with the contemporary and modern designed Teatre Municipal Xesc Forteza.
La Calatrava is where the culture and history of the city were born, a fruit of the melting pot between Christians, Muslims, and Jews, giving rise to the unique Mallorcan roots and traditions. A few metres away is Sa Gerreria, one of Palma's most picturesque and authentic areas.