Kingston is Jamaica's business capital and cultural epicentre. Home to more than two million people, it is rich in cultural and historical attractions. It's a growing metropolis surrounded by stunning mountains in the north and a beautiful coastline in the south. Offering bustling nightlife, colourful markets, fascinating museums, and fine art galleries, Kingston is well worth a visit. 
Here are some of the best things to do in Kingston.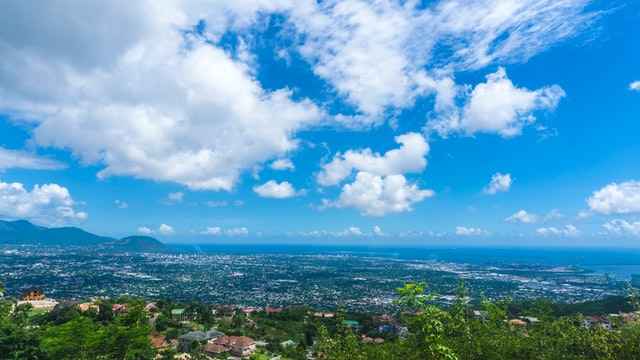 Image via Unsplash
1. Bob Marley Museum
Jamaicans will always say that their greatest export is reggae, thanks to the legendary musician Bob Marley. And if you're a big fan of Big Marley, you'd be glad to know that you will find a museum dedicated to him in Kingston. It's on the site of his former home, which he bought in 1975. The house features a 19th Century architecture and is where he lived until his transition in 1981. 
Considered a cultural hero by many Jamaicans, Bob Marley remains one of Jamaica's most influential people. You will learn more about him when you visit the museum, which showcases the musician's incredible life from humble beginnings while living in Jamaica's poorest communities until he achieved worldwide recognition for his contribution to the music industry. The property is also equipped with an 80-seat theatre, a record shop, a photographic gallery, and a gift shop filled with various memorabilia in honour of Bob Markey.
If you feel like relaxing after touring the museum, check out the One Love Café. Enjoy a sumptuous meal with refreshing beverages. The cafe also serves some authentic Jamaican specialities.
2. Devon House
The Devon House is a historic site in Kingston featuring the traditional look of a plantation home with Georgian Jamaican architecture. Representing Jamaica's rich cultural diversity, it was built in 1881, resembling a typical plantation home that the British built during the height of the slave trade.
Sitting on an 11-acre property at the heart of Kingston, the Devon House was owned by Jamaica's first millionaire, Gorge Stiebel. Stiebel was a child of a Jamaican housekeeper and a German Jew. He worked as a carpenter, gunrunner, and shipper, but it was in gold mining that he found his fortune. 
The Devon House features 19th-century furniture mimicking a view of the past. Visitors can join tours of the house and the property to learn more about its history and what it represents for Jamaicans today. As you stroll through the estate grounds, you will find many shops, restaurants, and cafes. Surrounded by lush green lawns, the property's environment is calm and relaxing, with tall palm trees, a water fountain, and a wide range of beautiful flowers exuding a soothing atmosphere.
3. Trench Town Culture Yard
Another site that fans of Bob Marley should not miss while on Kingston is Trench Town Culture Yard. It's another museum about the life of Bob Marley, showcasing the instruments of Bob Marley, along with his contemporaries, Bunny Wailer and Peter Tosh, during their younger years. Many of those who have visited the Culture Yard said that it offers a better sense of the origins of Bob Marley.
The best way to explore Trench Town Culture Yard is to book a guided tour. The tour guides hail from the community and can best show you what life was in the Tenement Yard during the fifties and the sixties. The Culture Yard is just one of the many houses built by Jamaica's Central Housing Authority around the 1940s. These houses were the "government yards" during those days. 
Trench Pen was the name given to the houses built on a 200-acre land. The land was segmented, and that's how the residential community is called the Trench Town. The main purpose of this historical site is to show the world the history of Trench Town. During the tour, your guide will also take you to the courtyard's outer parts, where you will see how residents here live in the community. You will also see the rusting bus owned by Bob Marley.
4. Hike up Blue Mountains
For avid hikers, visiting the Blue Mountains of Jamaica is a must. A paradise for hikers and campers, the mountains offer exceptionally magnificent scenery with lots of fun-filled activities. The summit forms the highest point on the island at more than 7,000 feet.
There is a lot to explore in the Blue Mountains. You will find indigenous flora and fauna, which are only available in the region. The area is also famous for the aromatic Blue Mountain Coffee. Some of the most remarkable sceneries include majestic waterfalls and natural springs. You will also have a chance to visit a Rastafarian Village and Maroon heritage sites.
Depending on how long you intend to explore the Blue Mountains, you can choose to hike or cycle to get a first-hand feel of nature at its finest. Either way, you are guaranteed to enjoy your visit. You will also find wild tracks if you opt for a road trip. Many tour companies offer day trips to the Blue Mountains coming from Kingston.
5. Fort Clarence Beach 
Jamaica is home to some beautiful, white sandy beaches with crystal clear turquoise waters. One of these is Fort Clarence Beach Park, a white-sand beach equipped with facilities like showers, toilets, and a car park. Located five and a half miles from Fort Charles, Fort Clarence is open to the public with reasonable entry fees.
Given its long, sandy dunes and coastal grasses, Fort Clarence Beach Park exudes a very relaxing ambience. While most people would come here to relax and swim, there are other fun activities to enjoy, such as horseback riding. The park also hosts frequent music festivals, including the occasional bodybuilding contest and beauty pageant.
You don't have to worry when you get hungry after exploring the beach park since there are plenty of restaurants in the area. These restaurants serve freshly made Jamaican meals, including fried or steamed fish, grilled and curried lobster, and more!
If you plan to visit Fort Clarence Beach, consider staying near the beaches on the other side of the island. Here, you will find stunning luxury Caribbean villas in Jamaica, equipped with all the amenities of a typical home, allowing for a more comfortable and relaxing stay.