Monochrome Lab is a new graphic design studio founded by Glasgow-based Dutch designer Bart Manders. After studying Graphic Design at the Willem de Kooning Academy in Rotterdam and an exchange year at Glasgow School of Art, Bart started working on numerous projects for galleries and festivals such as The Telfer Gallery, GoMA and Glasgow International Festival of Visual Art, and started Monochrome Lab in February 2015. We caught up with Bart to find out more about his studio, what made him choose graphic design as a career and the differences in design trends between Glasgow and the Netherlands.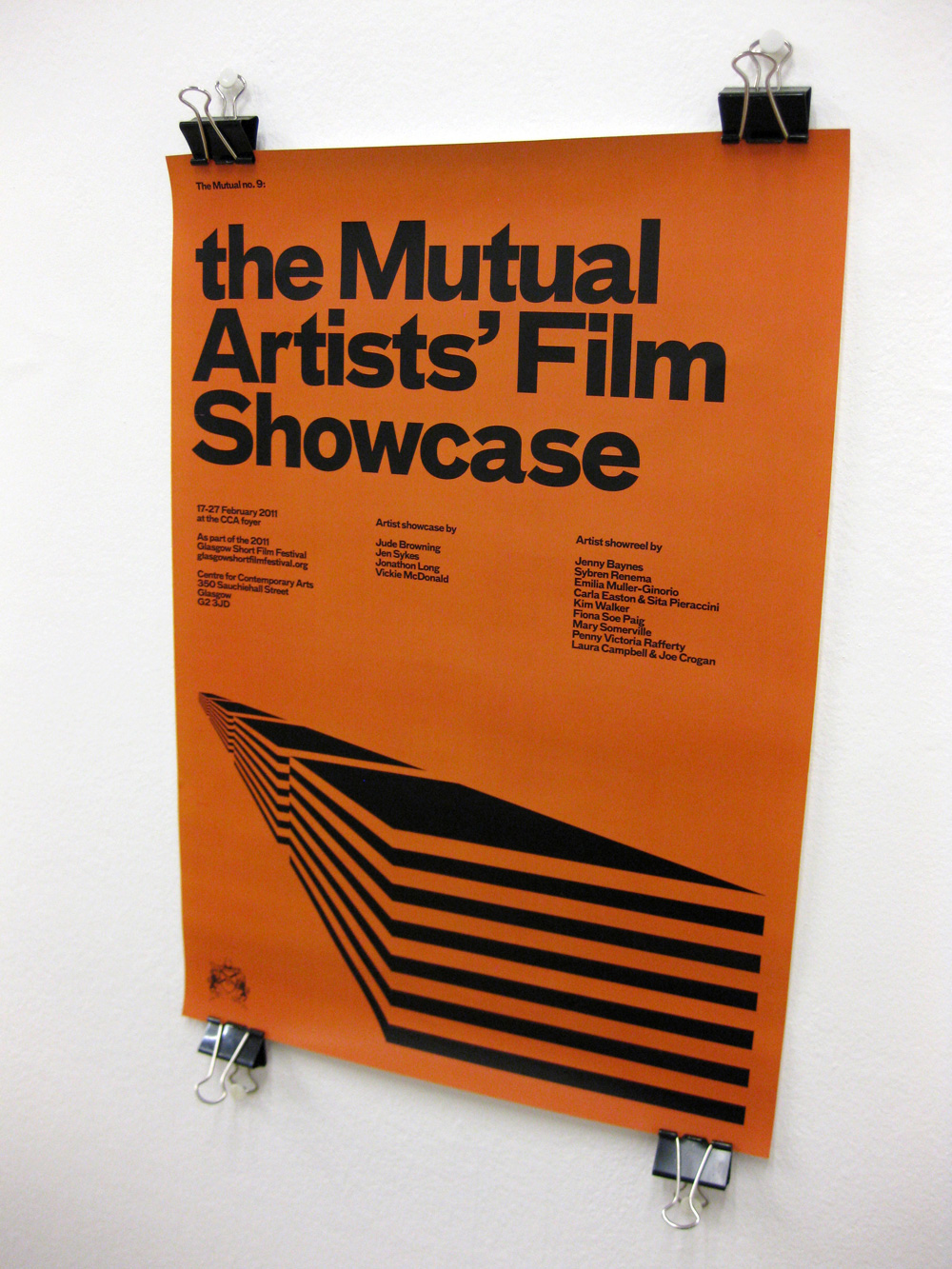 Please describe your path to becoming a graphic designer.
I was born and raised in the Netherlands and from an early age it became clear that I had a creative mind. After high school I went on to do a college course in Communication and Design where the curriculum of the first 2 years consisted of all kinds of creative disciplines such as industrial design, graphic design, styling and photography. When I finished high school I was unsure about what kind of creative course I wanted to do so this particular course offered me the opportunity to put off the decision making for a few more years. I ended up graduating in Styling and Applied Spatial Design, which could be described as a mix of industrial design and (interior) architecture.
When graduating, I realised my true passion was actually graphic design, and after a gap year, during which I researched Dutch art schools, I started a course in Graphic Design at the Willem de Kooning Academy in Rotterdam. I had a bit of a bumpy start, having trouble adapting to the course curriculum and thinking about transferring to the Fine Art department. Eventually though, I had a really good 3rd year which ended with a publication I had designed being nominated for a regional design award. During this year I had met a lot of people who were on exchange from various places, and as I had visited Glasgow for the first time the year before, I decided I wanted to do an exchange at the Glasgow School of Art, which I ended up doing in late 2008.
After my exchange I did two internships, which are mandatory in most Dutch art schools; one with a magazine designer who had been my tutor during my second year and one with two designers who I had become friends with, that were running a joint independent online design project called Connected Project. I had a somewhat troublesome, yet positively minded graduation period and after a few months of thinking about what I wanted to do next I decided to move to Glasgow as I had been wanting to spend more time there since my exchange. I still had quite a few contacts in Glasgow and only 2 months after my move there I got offered my first project which was an exhibition poster for a local artist collective called The Mutual, after which I ended up doing 2 more poster projects for them.
In the summer of 2011 I met Marc Cairns, an architectural designer, at an exhibition opening by The Mutual and in 2011 I was invited to join him and a few other people to run a new exhibition space called the Telfer Gallery as a committee, for which I've been doing the in-house graphic design as well as filling the shared role of programme coordinator. The Telfer Gallery has so far brought me the most consistency in my design career as well as some other projects I did for organisations such as GoMA and projects related to GI, the Glasgow International Festival of Visual Art, things I would have never been involved in if it hadn't been for The Telfer Gallery.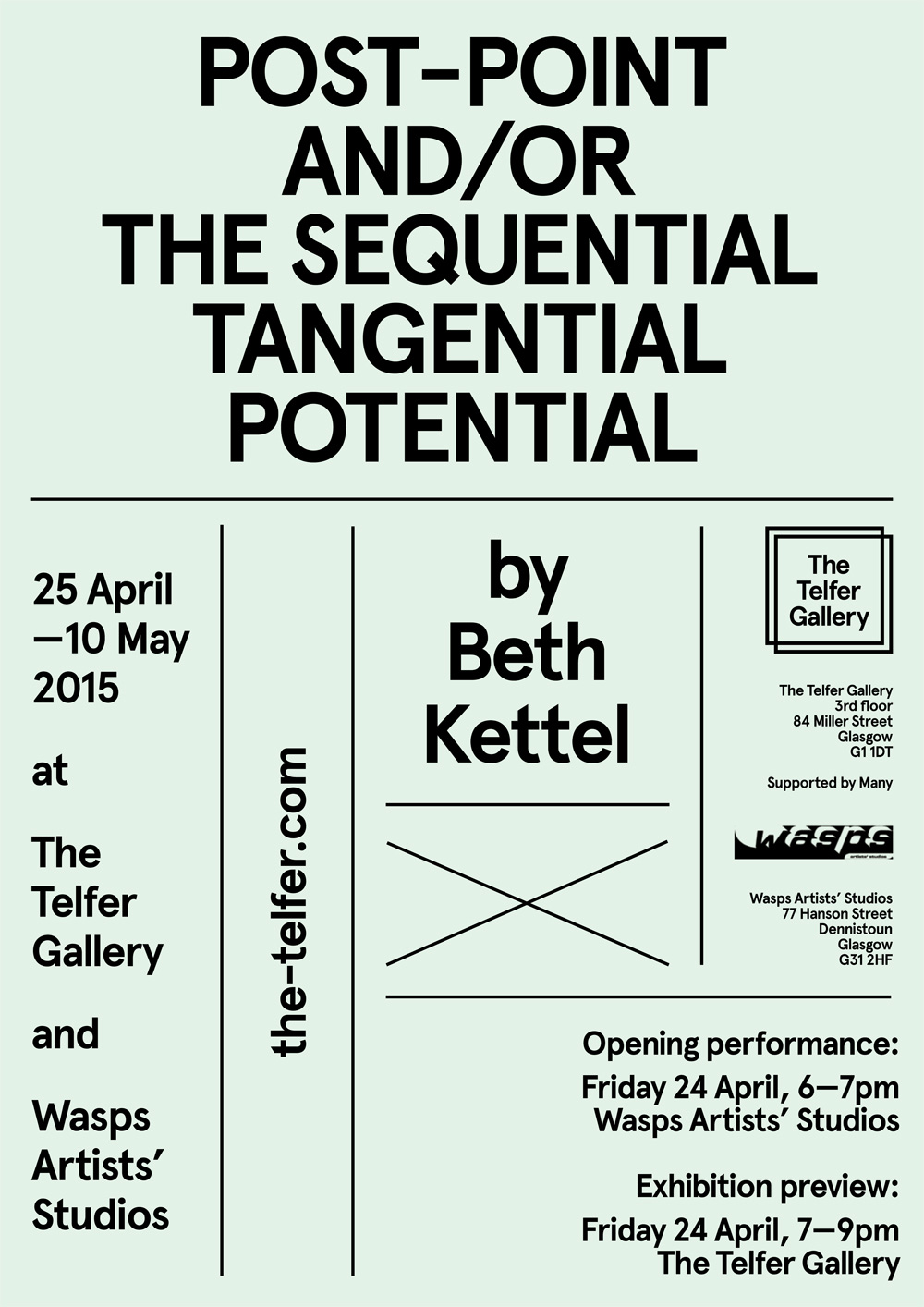 What made you start your own design studio?
In April 2014 I had sacrificed a stable income from a rather uninteresting retail job to free myself up for doing more freelance work. By the time it was Christmas, I had done projects for Glasgow University Magazine, an exhibition for Glasgow Open House Art Festival, a vinyl sleeve design for a local band and 2 projects for Wasps Studios. I had just started redeveloping The Telfer Gallery's visual identity for its 2015 programme and I felt I needed to come across as a somewhat more settled designer instead of that designer who's out and about doing jobs here and there. That's when I decided to start working under a studio name, and after preparing for it for two months I launched Monochrome Lab last February.
You're from the Netherlands but live in Glasgow. Do you see any differences in design trends and aesthetics between these two places?
Definitely, but I have to say that especially in the Netherlands it's hard to define design trends. The very basis of good graphic design is to be able to organise and (re)structure information, to communicate. In the Netherlands I guess there isn't a specific visual style, but more a way of thinking. It's a place where the visual basics of graphic design are so established and common that on top of that graphic designers have become much more conceptual, finding intelligent ways to connect information to a certain context and experiment with images. In Glasgow I feel many design studios have only just started mastering the very basics over the past few years.
What inspires your work? What other designers do you admire?
I'm mainly inspired by designs with an innovative way of applying typography and white space, but I'm also very fond of really primary things like geometric shapes and illustrators. In art school I admired well respected designers such as Wim Crouwel, Experimental Jetset and Karel Martens but nowadays it has shifted more towards less known Rotterdam-based designers like Almost Modern and my old classmates at OONA.
What are your plans with Monochrome Lab for the upcoming months?
Well, I've just landed a long-term visual identity project with the Scottish Sculpture Workshop in Lumsden, Aberdeenshire and I've also just started a new collaboration with Wasps Studios which involves designing signage for a travelling project space. There is also a considerable Telfer Gallery workload as the size of it has slightly increased due to the higher standards for its printed materials this year. This year I'm also hoping to get involved in some publication design again, either as a self initiated project or as a freelance job. But as many independent designers can testify, one's workload can unexpectedly increase as projects aren't usually planned very far ahead.