Founded by Daniel Freytag and Greig Anderson, Freytag Anderson is a design studio based in Glasgow and working with people all over the world. Our contributor Morgane Bigault visited their studio and chatted with Daniel and Greig about how they started their company, the influence of their workspace in their work and where they draw inspiration from.
Photographs & interview by Morgane Bigault.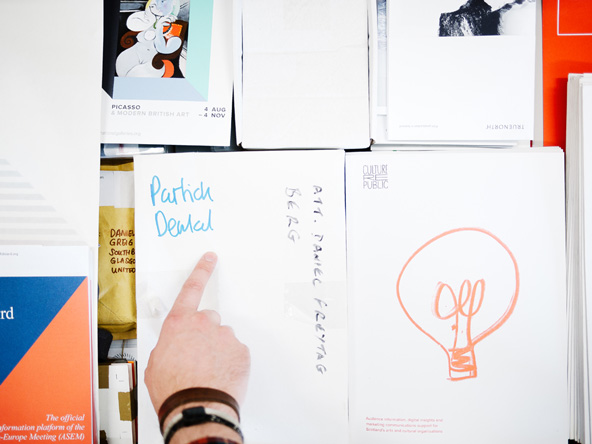 Could you tell us about your backgrounds?
Daniel Freytag: I'm a designer, photographer and serial idealist. I'm creative director and co-founder at Freytag Anderson, an award-winning branding and design studio. My work as a designer has taken me all over the world – allowing me to see some interesting things and meet some great people along the way.
When I'm not designing I work on other creative ventures such as curating Editions of 100 (an online print store by a global community of designers), setting up a children's app business with my wife (junoberry.com) or most recently, working on a publishing concept, for customized children's books.
I grew up in the small village of Bühlertal on the edge of the Schwarzwald in Germany. Since then, I've lived and worked in Dubai, New York, Sydney, Seoul and London. I recently moved back to Scotland where I now live with my family on the West Coast regularly dipping back into the big smoke!
Greig Anderson: I'm creative director and co-founder of Freytag Anderson, originally from Aberdeen, and educated in Glasgow. I'm a brand and design professional with over 11 years' experience working locally and internationally with a wide variety of clients.
My main interest lies in brand creation and visual identity systems and my work has seen me gain experience across a variety of studio environments in both Glasgow and Sydney, from boutique brand studios to multi-disciplinary agencies and experiential environment practices. This variety has allowed me to work across a diverse range of projects from the launch materials of Virgin Mobile Australia, global digital campaigns for Dell EMEA/Latin America to branding and launching a variety of new-to-market whisky, vodka and beer products.
Alongside my commercial work I also write about design for leading industry blog FormFiftyFive and I am involved in the design debate through social media. I have an obsession with Instagram and anything with two wheels and pedals.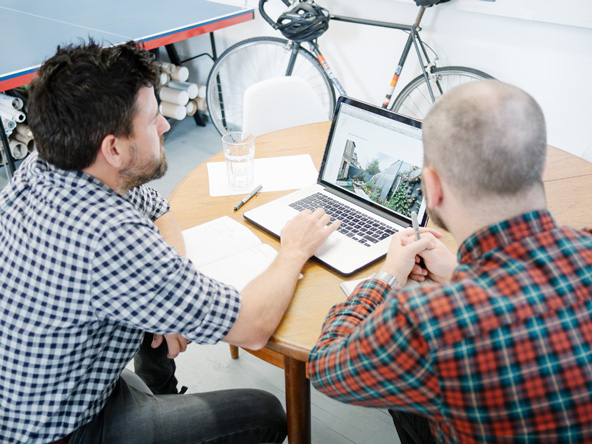 How did your career as a duo came up?
We both spent time living and working in Sydney (but not at the same time) and made some mutual friends. When we got back to Glasgow we met up and shared studio space. We found we had a common design aesthetic/process, so it made sense to start working together on a few projects. Out of this came Freytag Anderson – it was really pretty straightforward – the hardest thing was coming up with the studio name – that took months!
Was it hard to find clients at first?
Because we had both come from running our own independent studios (Berg/Effektive), we already had a good online profile and several clients. This made things a lot easier as we had a substantial body of work to promote the new studio, allowing us to hit the ground running. Overall the transition to Freytag Anderson was pretty quick – we found working with two heads much more productive and satisfying.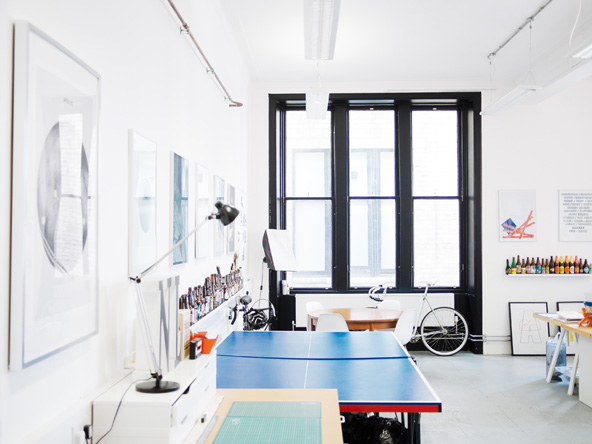 When did you move in to your studio and why did you choose this location?
Our first studio was tiny – literally a shoebox. We were therefore very keen to work in a larger space. This would also allow us to create a shared working environment where we could collaborate with other designers and friends. This was a crucial part of our business strategy – we didn't want the stress of employing people full-time but equally understood the benefits from working with other like-minded individuals.
At the time the Southblock building was a new creative space in the city centre. Run by WASPS, the building caters for commercial creative businesses and art-based practices. It was perfect for our needs and aspirations as a studio. There are also many other studios in the building, which gives the place a real creative buzz, something we find inspiring and exciting.
Does the workspace influence your creativity?
Absolutely – creativity is all about doing new things, going out on a limb and experimenting. Having the right workspace is critical to this – but more importantly, you need to surround yourself with the right people. People that inspire you.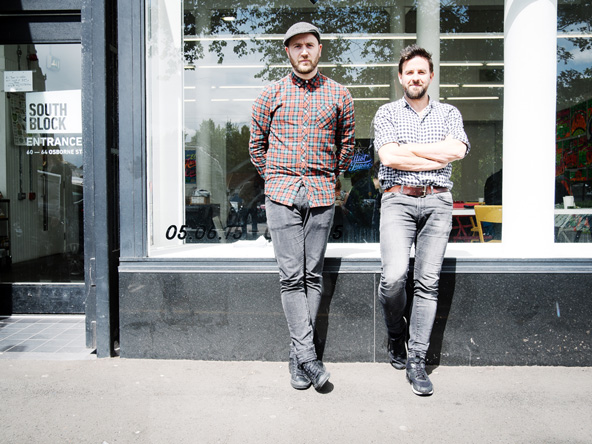 What does Glasgow mean to you? What are your favourite places in this city?
Glasgow is a vibrant, energetic city. It's a hard, funny, honest place where folk aren't afraid to speak their minds. When I think of Glasgow I think of the old adage "A hard life makes for quality". It's a great place to be a creative person; it keeps you on your toes and allows you the freedom to explore.
In terms of favourite places, although a relatively small city, Glasgow is very diverse – leafy West-End with its bohemian vibe, universities, cafés, galleries and bars – Ashton Lane is a definite favourite down there. The Merchant City to the east of the city centre (where our studio is based) is fast becoming a creative hub for all things art and design. Great coffee shops, bars, shops and galleries add to the creative vibe and encourage a lot of pop-up events and festivals in the area. It feels like there is something happening and it's great to be part of it.
You do client work. Could you give us an insight into how you approach each particular client, as they are very different, going from a wine company to an art gallery?
Our design process is all about getting to know people and their businesses. People are at the heart of design. As designers we understand people, communicate with them, and create for them. It's the best thing about being a designer.
We like our clients, often becoming friends beyond the project. Getting to know them well is crucial as ultimately our design thinking and executions need to speak for them, whether it's a logo, product or website.
We work with people all over the world doing all sorts of things. I can't think of another industry where you're learning about craft beer one week and the next you're into server systems and data management. For us it's this variety that keeps things fresh and interesting. It's learning about new things that gets us out of bed in the morning.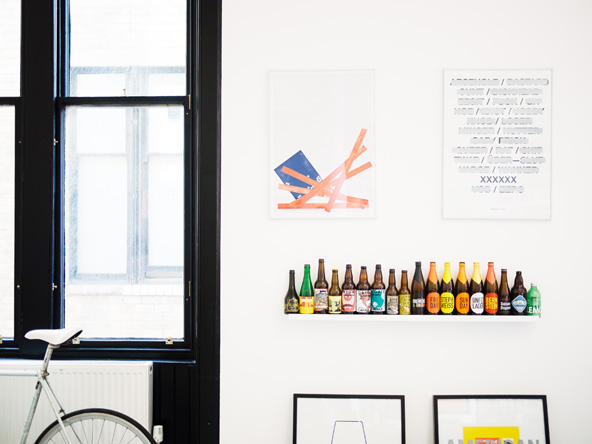 You have been awarded Scottish Design Agency of The Year. What is the project you are the most proud of?
That's hard to say. We're proud of all of our projects in different ways. I'd say the work we did with Fyne Ales Craft Brewery stands out. It was a collaborative project with our studio mate Matt Burns where we were asked to design a beer label for their limited editions beer, 48 Miles Later. What made it a great project is that we saw the brewing process from start to finish: meeting the brewers, brewing the beer and ultimately seeing the bottles in the pub. The project was also recognized by the industry and awarded both Best Packaging as well as the prestigious Chairman's Award at the Scottish Design Awards.
You describe your work process as listening, questioning, exploring and researching. Where do you draw your inspiration from?
Our inspiration and ideas come from experiences, from the world around us, from the things we see and people we meet. As designers we watch, listen and observe – we're compulsive hoarders of interesting things. The more we experience, the more we accumulate, thereby creating a rich visual vocabulary. The better the vocabulary the better the ideas.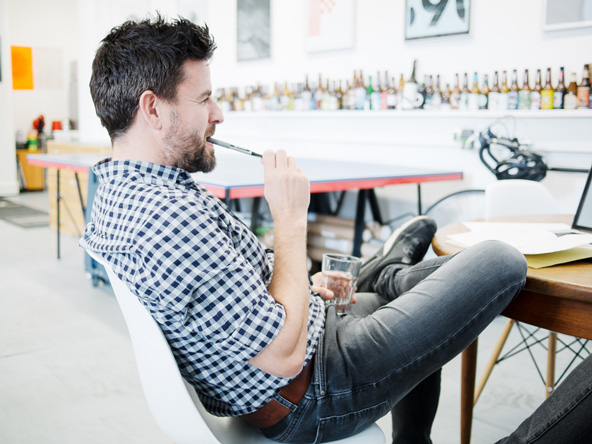 What would you say is the Freytag Anderson signature?
I guess we try to keep things simple. Whether that's running the project or creating the work. We believe in reducing any design work to the essential elements, stripping out the superfluous. As Dieter Rams says: "Good design is as little design as possible." We think simple is good.
What is your next big goal?
We don't really have one. We want to continue to develop our studio and the work that we produce. We are excited by new challenges and experiences and every day can be different. We feel lucky to be able to run our own studio and work directly with our clients. Ultimately, we want to continue to do good work and get paid (well) for it.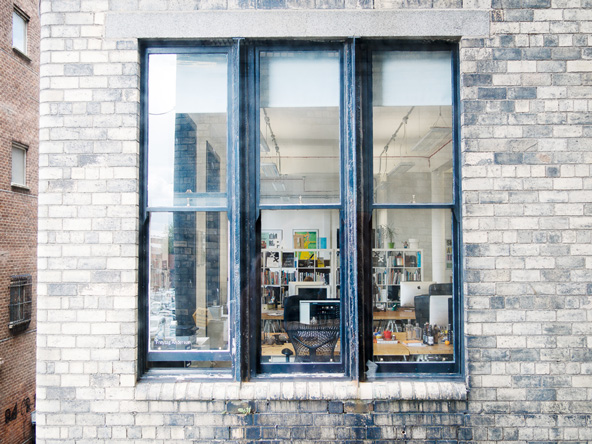 Save