If you want to be taken seriously in the business world, looking like a real businessman is essential. Looking professional and polished can help you create a good impression with potential clients and colleagues alike. So whether you're attending an important meeting or going out for drinks after work, here are some tips on how to look like a real businessman.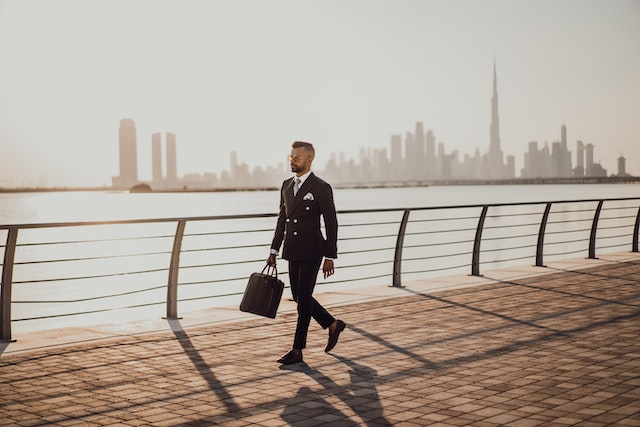 Via Pexels
Invest In A Suit
When it comes to looking like a real businessman, investing in a suit is essential. Quality men's suits are expensive, but they can last for years and make you look incredibly professional.
It's essential to choose the right style of suit for your body type and find one that fits correctly, so it looks smart yet comfortable. For example, if you have broad shoulders go for a two-button jacket with side vents or peak lapels; if you're tall, opt for double-breasted suits; while shorter men should look at single-breasted styles with narrow lapels.
You also need to make sure your trousers are fitted properly – they should sit comfortably without being too tight or loose around the waist and hips.
Get the Right Shoes:
When it comes to looking like a real businessman, investing in the right shoes is just as important as finding the perfect suit. Not only do they need to be comfortable and stylish, but they also need to match your outfit.
Quality leather dress shoes are always a great option and can be dressed up or down depending on the occasion. For example, black Oxford shoes can easily transition from day to night with no effort at all.
Or, if you're attending an event where you want to make a statement, then consider opting for some polished loafers or monk straps for that extra touch of sophistication.
Don't Forget the Details:
When it comes to looking like a real businessman, the details are just as important as the bigger elements. Cufflinks and tie pins can add that extra touch of sophistication, while a good quality belt will help keep your trousers in place throughout the day.
It's also important to pay attention to how you carry yourself. A confident posture is essential for making a good impression (and remember, there's no need to be too stiff). To have a confident posture that is not too stiff, make sure your shoulders are back without being hunched, and your chin is slightly lifted.
And always make sure you look presentable – invest in a good quality grooming kit to make sure you look sharp at all times.
Looking like a real businessman is about more than just the clothes you wear – it's also about paying attention to the details and having a confident posture. Investing in a quality suit, finding the right shoes, and adding some sophisticated touches can help you create an impressive professional look that will make sure you stand out from the crowd. With these tips, you'll be ready to take on whatever challenges the business world has in store!