Aimée Wilder's love for design and textiles started at a young age whilst exploring the fashion showrooms where her parents worked. In 2009 Aimée launched her own brand in New York City, first translating her artwork into wallpaper and later expanding into home textiles, hand-made rugs, pillows and other products.
We chatted with Aimée to find out more about her childhood, her design process and the inspiration behind her latest collection, Phantasmagoria.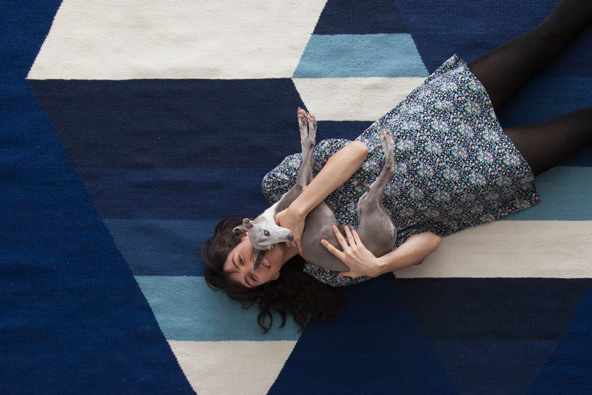 Do you remember how your passion for textiles and design started?
I went to work with my parents a lot on my days off from school, or when there were circumstances like doctor appointments or something else where I needed to be in Manhattan with my parents at the end of the day. I guess maybe I was sort of playing "hooky"— what you in the UK call playing truant.
My father was a denim manufacturer; They made some of the first acid-washed and studded denim. I was enamoured by the clothing and details whenever he would bring me in. I also loved going to my mom's office. She also worked in fashion and travelled a lot for different dress companies that had amazing dresses adorned with patterns, such as florals and embellishments.
My parents worked across the street from one another on Broadway in the Garment District, so I would often jump between their offices having lunch with whomever was free before heading to the art department of my mom's office. She worked in a studio environment where artists and designers worked on graphic design, photography, fashion design, illustration, pattern making, and more. Endless art and design supplies were at my fingertips: old Polaroid cameras, film, watercolour paints, markers, paper, cardstock, and long counter height tables and stools where I could spread out and get to work. It was like a dream. All of the designers were busy working, but sometimes I could help develop Polaroids by shaking them, or stapling packets for presentations. Usually I would get to have some play time of my own, so it was like a hands-on art education.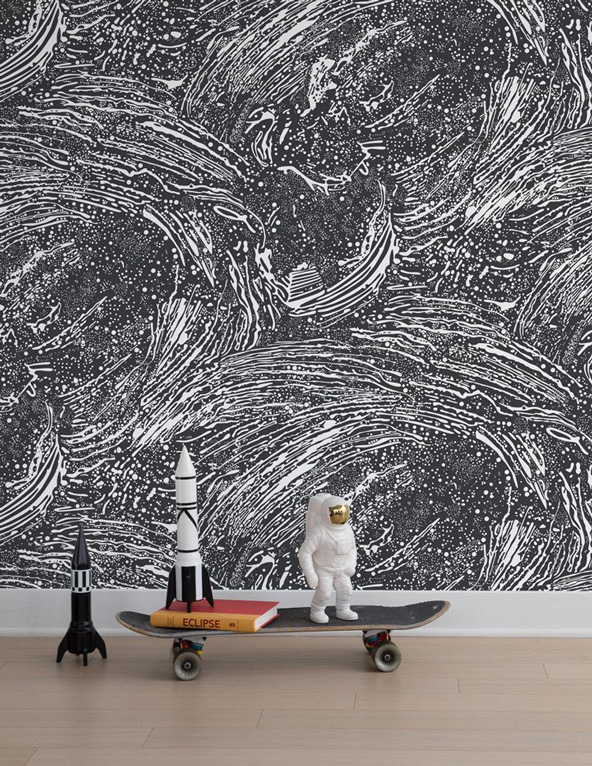 Can you take us briefly through your design process? How does an idea in your head transform into a print or pattern?
While ideas are always coming in and I love the idea of lists, I am bad at making them; so I usually just go with the flow of how I'm feeling on the day. I don't design well under pressure and like to create what feels most natural. My process can take a while because I have myriad files with concepts not fully developed, and most of the time I have to work on a deadline. When I have time to develop new work, I dig through my files to see where I left off. If I am starting something new I might draw something on scratch paper or I'll start with an inspiration image such as a magazine tear, web image, or photograph. I'll create a file with a name that resonates and start adding more inspiration images from various sources. One source of inspiration that influenced my last collection was wild animals. It helps me to collage images into a layout or repeat. Then I decide if I want to develop the concept further.
My tool of choice is a computer mouse. I never got used to a stylus. I was dysgraphic as a child, having trouble holding a pen properly. I also had a problem with depth perception. My hand-eye coordination didn't work the same way with a pen and paper as it did with something such as 2D video games, and writing was difficult. By comparison, with a computer and a mouse I am able to draw in a completely different process using the pen tool — with it's points and curves — to create artwork. Dysgraphia for me was a temporary developmental difference due to some difficulty focusing, likely due to borderline hypothyroidism. With the aide of the computer, I was able to develop as an artist, through software such as Photoshop and Illustrator.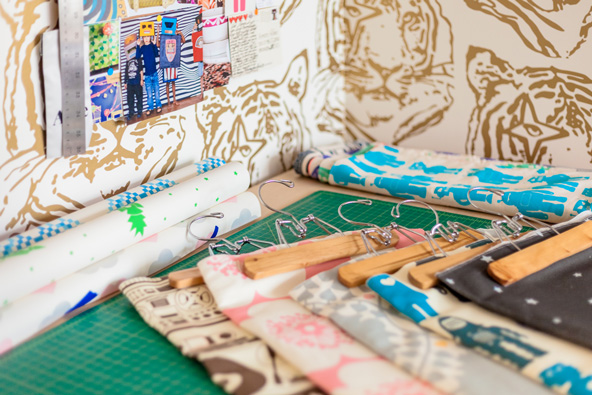 Where do you draw inspiration from?
Travelling is a huge part of where I draw inspiration because I see and experience new things. What you get to see when you are in different parts of the world is always different from what you have access to at home. From the way places and spaces are decorated, to the general feel of the culture and colours of the city, there is always inspiration to be found. Both locally and while travelling I find inspiration through research both online and in books, new and vintage magazines, and in physical places like museums, interiors of restaurants, retail spaces, public spaces, and hotels.
Shopping for clothing and homewares is also a way to find inspiration. I collect a lot of fashion items, textiles, and other home goods for research purposes. The way a material feels, or looks when printed, or how it's constructed is something we can reference when we are specifying a product for production. Additionally, the way well-designed places look and feel help me to think of how I want to use colour and design in my line.
I love historic textiles and they play a large part in my inspiration as well. I've always been inspired by graphic design and find that elements of typography and iconography appear in my work. When I am developing artwork, a lot of times the individual designs merge into a story. Most recently I am finding specific words as inspiration and I am working with language to define another upcoming collection in a similar way that we did with Phantasmagoria.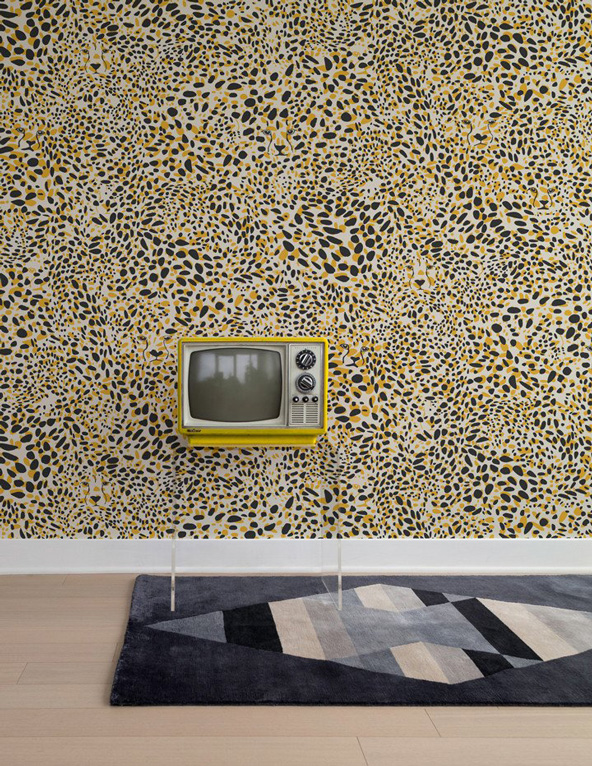 Can you tell us a little bit about your latest collection, Phantasmagoria?
Phantasmagoria was made out of extremely detailed large format designs. They came together as a group into a menagerie of a dream state where wild things happen, extraordinary things, and so this collection came from a dream after starting on some of the designs that were culminating. For instance, we were working on a cheetah pattern where we added cheetah faces that had a psychedelic feel to it, heavily influenced by psychedelic art and vintage animal print textiles. At the same time, we were working on detailed natural designs and botanicals. We had a cactus design with thousands of prickly points and the cactuses were actually quite large and created on a larger scale for wallpaper (2 feet by 3 feet). Jungle Dream has very large elements with nocturnal animals. I had a recurring dream that these cheetahs were chasing me in the night and that I'd be chased from a jungle into a cactus desert into a galaxy swirling above me and then all of a sudden, I'd be immersed in a sea of cheetah spots and cheetah faces. It was definitely trippy! This collection makes me really excited for the next one, where I've been thinking about the flow state of balance and flourishing, known as Eudaimonia. Phantasmagoria was relative to where I was at the time having to adjust to some changes, whereas this new collection is going to be about balance.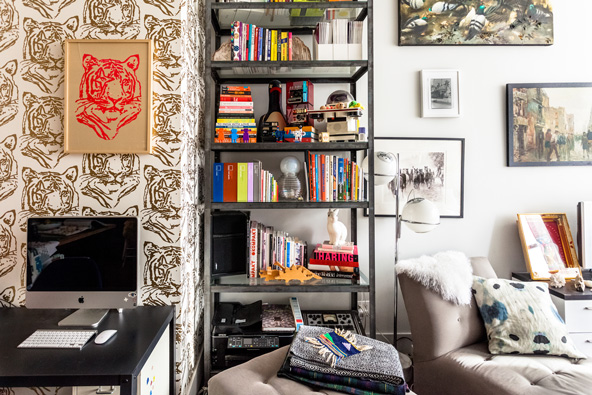 Your designs are printed on a wide variety of products, from wallpaper to most recently rugs. What products would you like to explore or where would you like to see your prints?
I plan to continue to develop my home line, and also expand into fashion, but in a practical way where the items carry over from season to season with good shapes, but new fabrics and prints. I dream of making delicious cashmere sweaters, overcoats, dresses, children's clothing, bedding, indoor/outdoor tiles, jacquard woven fabrics, upholstery, and I also imagine some of my designs being transferred into children's toys. Lots of possibilities! What matters most to me is that I am creating products that are meaningful, that I would want for myself if I saw them in a store or online. The products must have practical use. I love quality items that last.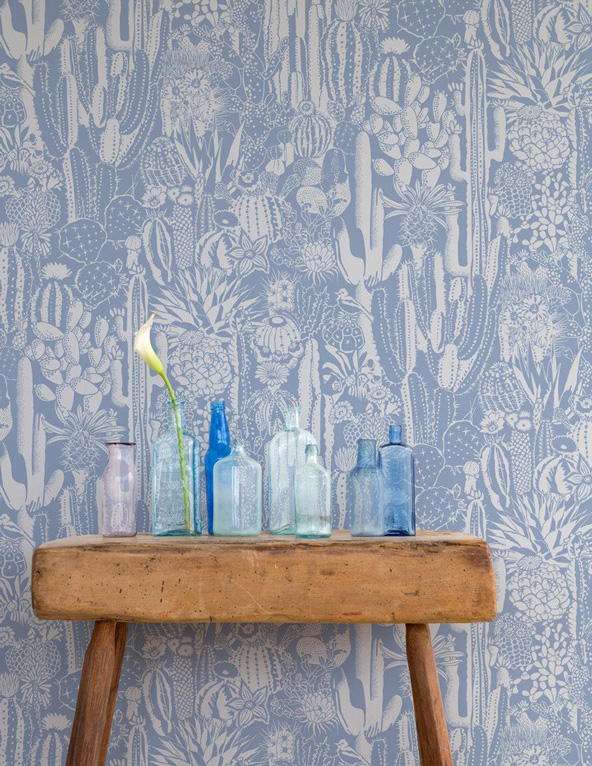 What are your plans for the upcoming months?
They've been a bit adjusted due to knee surgery I had about three months ago. When I was 14, I busted my ACL while skiing but it didn't affect me until years later when my knee collapsed in lacrosse at school. I opted out of surgery because of the long recovery time, but went through rehab… enough to return to playing sports. Earlier this year my knee finally gave out in yoga while practising handstands and I knocked cartilage off my femur into my knee joint. I had two allografts, one for the ACL with a donor hamstring tendon, and the other was a soft tissue graft of bone and cartilage to my femur. I'm so grateful for the technology, and the donors—allograft is a graft made from donor material. In retrospect, I highly recommend taking care of these issues immediately—don't be afraid! This recovery period is teaching me patience, allowing me to really concentrate on the healing process, which ultimately is helping restore my creative energy, thus finding balance.
Now that I'm on the road to recovery, travelling is on the agenda! In February, my guy Stewart and I will travel to Argentina and Brazil. We'll be starting off in Buenos Aires, then visiting the jungle and waterfalls of Iguazu, and will explore the bird park across the border in Brazil. I'm excited about the tropical birds for a possible collection, and am considering booking a trip to Holbox Island in Mexico to see Flamingos feeding nearby in late April. Argentina, and Latin America in general, have an exuberant colour palette, textiles and patterns, which I am looking forward to seeing.
In early April, I'll be travelling to the Milan Furniture Fair (Salone Internazionale del Mobile di Milano) with dear friend and art director, Jason. We are scouting to see about exhibiting there the following year. After a few days in Milan, we are going on a road trip around Northern Italy and Switzerland for inspiration.
A trip to Scotland is planned for the summer, where Stewart is originally from. His grandmother lives in a stone house in Nairn that she's been living in for over 95 years, and I'm excited to see all the castles and landscapes. A trip to the River Findhorn and the Isle of Skye (where whiskey is made) is on the itinerary. We are travelling through Iceland, so we want to try to see Vik, Black Sand Beach, and drive to the Golden Circle, as well as to the Blue Lagoon. We are also excited to see Reykjavik!
Save
Save
Save
Save
Save