In today's movies, it's quite common to see singers and musicians make the leap to the screen, whether it's for a cameo or an Oscar-winning performance (Cher). 
While you might not bat an eyelid at this transition, it's sometimes a strange experience to see people who you think of as actors start belting out power ballads or rock anthems.
Many actors train in both disciplines at the beginning of their career, with musical theatre being a component of many acting programs and drama school, they're at home both in the recording studio and treading the boards of a theatre, it usually comes down to which area they get their break in first. 
Of course, there are a few people with a foot in both disciplines such as Hugh Jackman and Zendaya and it's well known that actors like Keanu Reeves, Johnny Depp and Russell Crowe play in bands. Here are some actors who've released music that you might not have heard.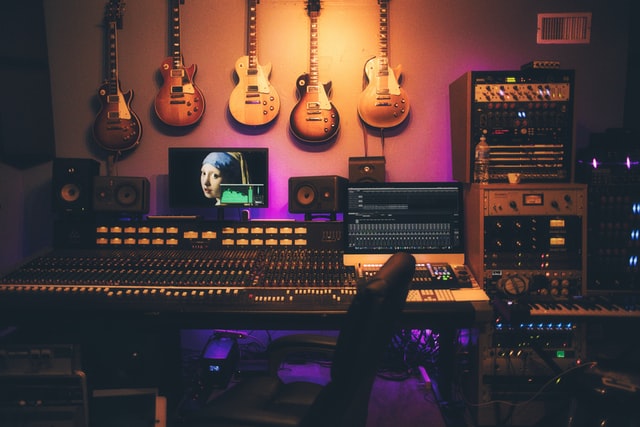 Photo by Caught In Joy on Unsplash
Bruce Willis
80s TV star and 90s movie action hero Bruce Willis is famous for starring in movies such as Die Hard, Pulp Fiction, The Sixth Sense and Sin City. But Bruce Willis is also a bit of a crooner. He released his debut album in 1987. He followed up with another two albums released in 1989 and 2001. 
Tom Hardy
Tom Hardy is a bit of a chameleon when it comes to choosing his acting roles. From a beefed-up bad guy, Bane in The Dark Knight Returns, to playing both of the Kray twins. He's a frequent collaborator with director Christopher Nolan and has been one of the front runners to don the 007 tux for years now. 
One thing you don't think of when you think of Tom Hardy is him rapping on hip hop tracks as his alter ego Tommy No.1
Jeremy Renner
The Oscar-nominated Renner is better known as Clint "Hawkeye" Barton in the MCU. He also took over the Bourne franchise (briefly) from Matt Damon in The Bourne Legacy before dropping briefly into the Mission Impossible franchise. He's also starred in a number of other critically acclaimed movies. But Renner's first love has been music from a young age. He's a bit of an all-rounder too, taking on singer-songwriter duties as well as guitars, drums and keyboards. He's released a number of singles and released the extended album "The Medicine" in 2020. 
Ben Barnes
British actor Ben Barnes came to prominence as Prince Caspian in The Chronicles of Narnia, before moving into more adult roles in Dorian Grey, The Punisher and Westworld. Most recently, he's been playing the Darkling in the Netflix adaptation of Shadow and Bone.  
Barnes nearly went the music route, signing with Spice Girls svengali Simon Fuller, but nothing came of it and Barnes ended up pushing the acting side of his career instead.
In 2021, he released the album "Songs for You."
Brie Larson
Another Avenger with an ear for music. Captain Marvel herself, Brie Larson received an Oscar in 2016 for her performance in Room. However, in 2005, she gave music fame a shot by releasing her album "Finally Out Of P.E." 
Zooey Deschanel 
Best known as the star of New Girl, Zooey Deschanel has also starred in a number of movies too. Her love of singing saw her team up with M.Ward, the singer-songwriter to form the duo She & Him. They've gone on to release six albums so far. 
William Shatner 
Yes, the man forever known as Captain James T. Kirk has released a number of albums over the decade. They can best be described as 'interesting'. The aural equivalent of watching something from behind your hands because it's very cringe-worthy but you can't completely turn away. 
Scarlett Johansson
Is anyone else picturing an Avengers musical team up? Johansson has been gracing the screens as Black Widow for well over a decade now, fitting in some excellent indie project in-between. She showed she had talent when she performed in a voice role for the animated movie Sing.
She released her debut album in 2008 and has since gone on to work with Pete Yorn and other on further albums.
Hugh Laurie et al 
The Band from TV is a charity band formed by well-known stars of American TV. They give all of their profits to charity. The current performers are Greg Grunberg (Heroes), James Denton (Desperate Housewives), Hugh Laurie (House), Adrian Pasdar (Heroes), Scott Grimes (ER), Terry Hatcher (Desperate Housewives). 
So, were you surprised by any of the people on this list? Will you be rushing to buy any of their albums?