A spontaneous road trip, or a last-minute weekend getaway might sound exciting but if you're traveling cross-country on a budget then a bit of planning and preparation is essential. Below, some of the top tips for how to save money when traveling cross-country are outlined: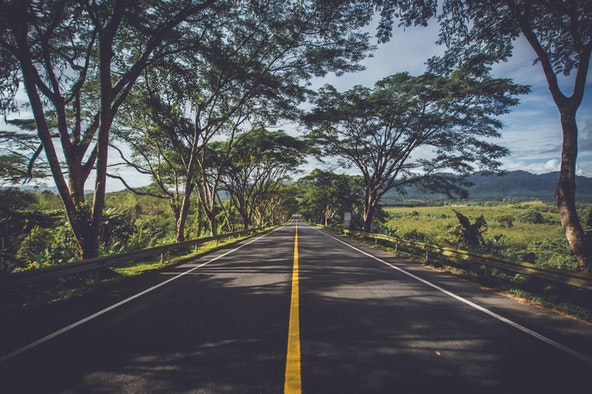 Image: Pexels
Research your cross-country travel options ahead of time
Spending a little time researching the most cost-effective ways to travel can save you some serious money. There are several different ways to get across the country, and the best option will depend on where exactly you're going, how long you have to get there, and whether you want the flexibility to stop along the way. 
Trains are often a lot cheaper if you book them well in advance, and most train networks offer rail passes for discounted fares or unlimited travel on certain trains. For example, in the UK you can purchase railcards that give up to 30% off fares and around Europe an Interrail pass allows travel across multiple countries for one fixed price.
Rail passes can cost quite a lot, so it's important to work out how much you'll use it to ensure you're saving money. Overnight trains are also a good way to travel and not have to worry about paying for accommodation. Try using Seat 61 to find the best train options for your cross-country travel. 
Traveling by coach is a slower, but often cheaper way to travel cross-country. Especially if you book weeks or months in advance – prices will usually go up significantly (or seats will sell out) closer to the date.
For cross-country travel driving usually offers the most flexibility. You have complete control over your route and can make stops whenever you want, but it can cost a lot in fuel. The best way to save money driving cross-country is by planning out your route before you leave, and to travel with someone so you can split costs.
If you're making frequent long-distance drives then a fuel card is a good way to manage fuel costs. Use a site like iCompario to find a suitable fuel card that can be used to fill up at a fixed, competitive weekly price at a number of petrol stations along your trip. Fuel cards that offer access to a cross-border network also make it easier to travel around Europe.
Plan your route
Once you've decided how you're going to travel, plan out your route and make reservations. It's worth checking out if there are any holidays or festivals planned that might affect bus or train times. If you choose to drive, check for roadworks, closures, and avoidable tolls that could affect your driving route.
You should also plan out any places that you want to stop off on the way. Use travel guides, and online research to figure out which tourist attractions are really worth a visit, and look up free things to do. 
Pack food for the trip
However you decide to travel, you're likely to need something to eat while you're on the road. To save money it's best to avoid petrol station snacks, or buying food on the train. Prepare some meals and snacks for your trip so that you stay well-fed without wasting money on overpriced sandwiches or unhealthy fast food. A refillable water bottle will also save you some money.
Book your accommodation in advance 
If you're going to spend a few days traveling then try to plan out where you'll stop overnight and book up accommodation in advance to get a better deal. If you do end up needing somewhere to crash last minute, use a comparison site such as Travel Supermarket to find the best price for a room. 
You could also consider hiring a campervan or taking a tent with you to really cut down the cost of accommodation on your cross-country trip.
Budget for your trip
Planning out your trip ahead of time is a good way to save money, but it's all too easy when you're traveling to lose track of what you're spending day to day. It's a good idea to set a daily budget and monitor exactly how much money you spend. Keeping an eye on your spending will stop you from splashing out on treats or unnecessary souvenirs – a budgeting app can be really handy for reducing the stress of budgeting.   
A little bit of planning and preparation is all it really takes to save money when you're travelling cross-country. Follow these tips to keep your travel costs low and have a fun, stress-free trip.