Sarah Seidel is the founder of New Kids in the Hood (NKITH), a kidswear label producing upcycled and sustainable clothing in Nuremberg, Germany. Along with her boyfriend Florian and Hamdi, a production manager from Syria she met whilst working with refugees on an art exhibition, Sarah creates caps, trousers, shirts and other children clothing using fabrics and prints from the 80's and 90's.
We talked with Sarah to find out more about how NKITH started, the label's design and manufacturing process, and future plans.
www.instagram.com/newkidsinthehood
www.nkith.com
Photos by Maria Bayer.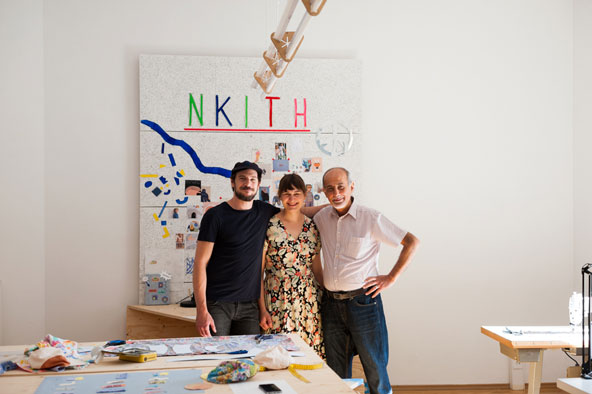 Can you introduce yourself and the rest of your team?
My name is Sarah, I am a seamstress and social worker living in Nürnberg, Germany. I have a 3-year-old son with my husband Florian, who I am also doing this project with.
Florian is the creative director of "Die Krieger des Lichts", a design agency from Nürnberg. We share the same workspace – I design the clothes while Florian is head of all print / online designs and also develops all strategic matters for NKITH.
We also receive a huge amount of help from our friend Hamdi, a textile production manager from Syria. He helps with sewing all the kids clothing.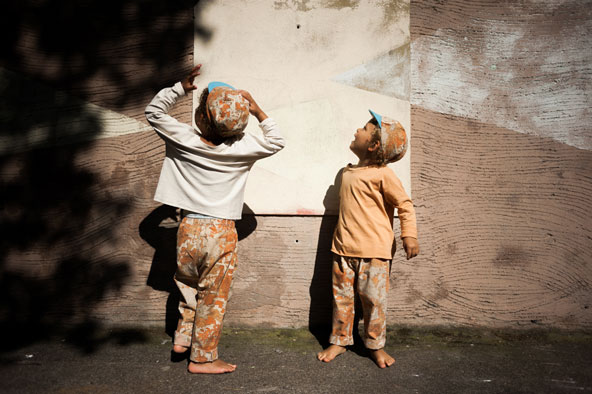 How did NKITH start?
Two years ago, when I was studying social work, I met Hamdi while working on an art exhibition with refugees. He used to own a huge textile production company with 200 people working for him, back in Syria. We decided to start working together by making kids clothes out of old fabrics. Initially, we gave our products to family and friends – this is how New Kids in the Hood was born.
Hamdi is a great production and high quality manager. This project would not work without his enthusiasm and his love for clothes and life.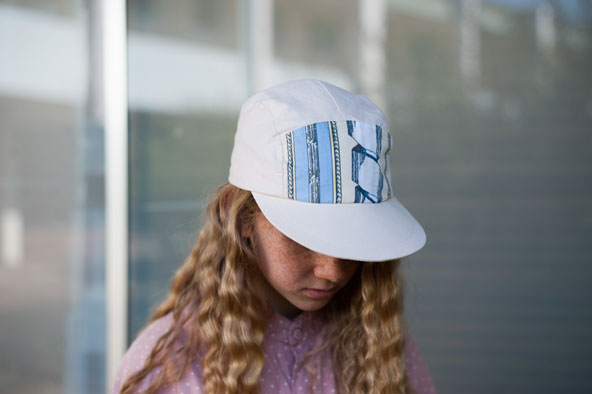 Sustainability is key in your products, can you tell us about your design and manufacturing processes?
NKITH is an upcycling kidswear brand with a slow fashion approach. We are driven by the colorful and fearless memories of our childhood, and we collect used fabrics to create new and timeless pieces for kids.
Our first collection is inspired by 90's sitcoms and public transportation seats. They feature exuberant patterns and illustrations from the time that brought us the internet and a prince from Bel Air.
We love what we do and this is an ambitious project for all of us. We want to make fashion without wasting too many natural resources in terms of the fabric production. There are tons of old fabrics still in good shape and it would be so stupid not to use them – you probably know about the critical water consumption due to the world's cotton production…. Every item is unique and handmade with love in our studio in South Germany.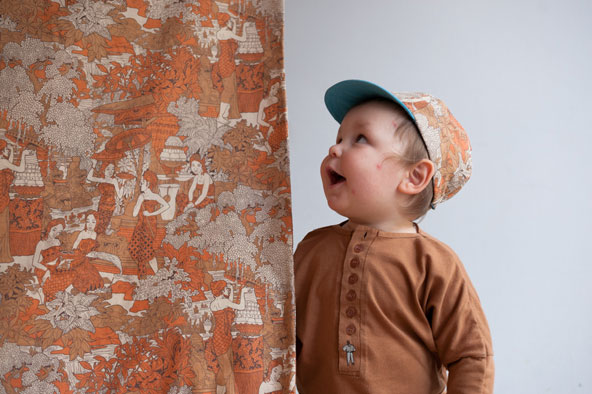 What products do you currently offer and what you'd like experiment with in the future?
At the moment we offer kids clothing: trousers, skirts, dresses and caps for 0-8 year-olds. We also make caps and mum-shirts in adult sizes. The upcycling process allows us to only craft unique pieces.
All fabrics are collected from huge textile recycling factories in the south of Germany. We manage to produce about 30 caps out of one fabric – when it's used up, we will probably never find that very same textile print again.
For the SS18 collection, we will add some basic items. In order to generate more single colour fabrics for the basics collection, we will upcycle and hand dye old fabrics.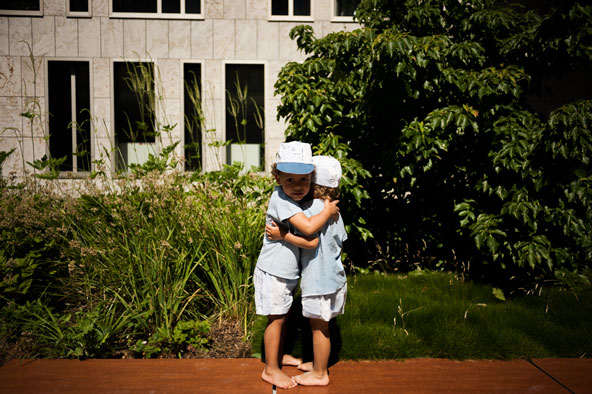 How do you see NKITH growing in the next few years? Do you have any projects or ideas you'd like to develop?
In the future we would love to invite more people to work with us, as there are many very talented seamstresses living in our area. Textile factories are very rare in Germany, so we would like to bring the fashion production back to our hood.
We want to experiment with special techniques; we figured out how to avoid remnants by laser cutting all pieces to give an example. We are calculating, developing and trying out a lot. It feels like a huge everyday puzzle that we are completing day by day. It's this particular challenge what we really love about our project.