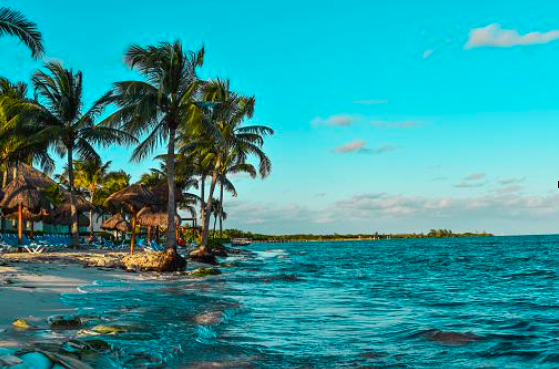 The Riviera Maya is one of the most incredible cities to visit if you ever plan to see Mexico. It encompasses cities such as Tulum, Playa del Carmen, Akumal, and more, as well as beautiful virgin beaches and postcard-worthy landscapes.
One important thing to know about this place is that you should never confuse it with Cancun; this city is not part of the Riviera Maya, and there is often a lot of confusion about it. However, if you travel by plane from another country or city, you will probably have to get to Cancun International Airport to get to your destination.
In Tulum you can visit the most beautiful virgin beaches, in Playa del Carmen you can have hours and hours of fun while in Akumal you can experience a close encounter with nature like never before. That's why these are some activities and places that cannot be missed in your bucket list to know in the Riviera Maya:
TULUM
Visit the archaeological zone of Tulum
One of the essential attractions in the Riviera Maya is Zama, an archaeological zone with incredible architecture. Did you know that it was one of the homes for privileged families of the Mayan culture? This place was explicitly built on the cliff of Playa Paraiso to avoid attacks from invaders and pirates.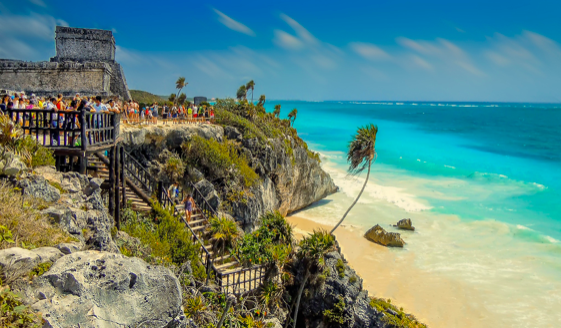 Before visiting this site, you should know that there are few direct transportation methods in the city. So you probably need a Cancun car rental service to go to the archaeological zone and not depend on shared group transportation to visit the area. An advantage if you're going to have the time to tour the ancient Mayan city and take a bath in the place's paradise beach.
One of the things you will love about Tulum besides the city and its attractions is its accommodation options! There are thousands of ways to stay in the city despite being very small and at the peak of its growth potential.
The most incredible and recommended places to stay are the Azulik Hotel and Cabañas! Where you can find eco-constructions, beach clubs and more.
PLAYA DEL CARMEN
Visit Playa del Carmen's Fifth Avenue
The biggest attraction of Playa del Carmen is the fifth avenue. Because it has everything, you need to taste what Playa del Carmen is, a wonderful city of a happy life with the necessary fun for everyone who wants to spend great days surrounded by tall palm trees and a beach with live music thanks to the nearby clubs.
Another place not to be missed in Playa del Carmen is 12th Avenue and Calle Corazón, where you will find bars, nightclubs, restaurants, and more.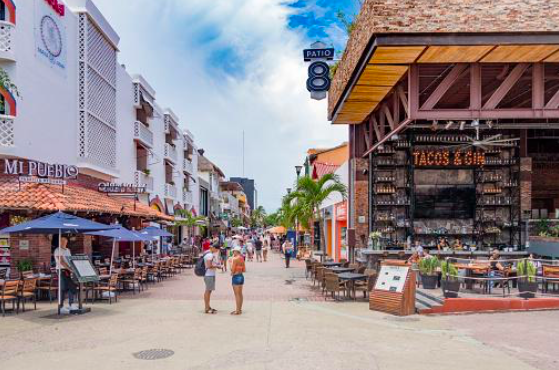 In Playa del Carmen, there are many accommodation options; however, the most recommended ones are near Playa Mamitas or Fifth Avenue, so you will be closer to all the activities you want to do.
The most recommended transportation method to visit Playa del Carmen is to rent a car in Cancun so that you will have easy mobility. However, there are other methods such as private transportation and so on.
You can't leave Playa del Carmen without visiting Xenses and the nearby parks like Xcaret, Xel-Ha, and the 3D Museum of Wonders.
AKUMAL
If a place is the ideal one to know the nature of the Caribbean surrounded by jungle and constant beautiful natural spectacles, Akumal is undoubtedly the best option for you.
Akumal is not officially known as a city, but everyone knows it as a bay, and although it is open to the public, you will have to pay 100 pesos to get to know it. You must bring Mexican currency to pay, as many do not accept dollars either.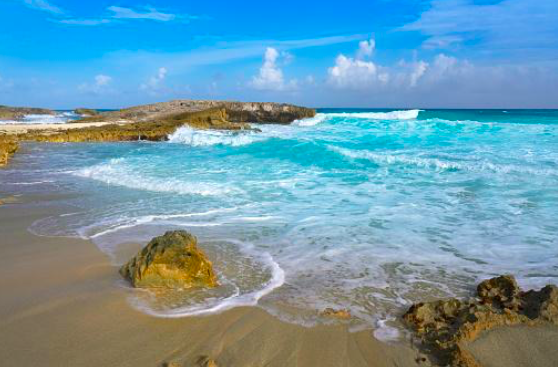 You have to be careful, because when you arrive, you'll probably meet many tour vendors, and if you want to buy one, you're free to do so. Although we recommend doing so in advance because if you buy it on the same day, the value of a simple tour can double, and that of an extended tour of the bay can triple.
IMPORTANT
Akumal does not have international ATMs, at most, it has a local one, and the shops and restaurants do not accept cards of any kind, so be prepared and carry cash.
Accommodation is not as extensive as in the previous cities, but you will still choose where to stay, and it will depend on your budget. You can stay in one of the nearby hotels or in Puerto Aventuras, where there are many rental houses less than 5 minutes from the beach!
Before Traveling, Remember that these destinations have beaches. The climate is tropical, so be prepared with the necessary clothing and protection if you plan to walk several hours in the sun, except for places like Akumal, where it is prohibited to use sunscreen because it is a reserve of sea turtles. Prepare yourself for long journeys, and if you have snorkeling equipment, try to take it, because the cost of this equipment in the locations varies between 100 and 200 pesos MXN.