HEIS is a cross-media project by French artist and filmmaker Anaïs Volpé. This innovative project is composed of a series, a feature film and an art installation. To find out more about it, we spoke with Anaïs about her background, the different elements of HEIS and the places where the project will be screened and exhibited.
Could you please tell us about yourself and your background?
I'm a French filmmaker although, initially, I used to work in theatre as an actress. Theatre is kind of my first love. Also, I'm a freelance photographer and videographer for different magazines. I always like new collaborations through creation and I'm also involved in visual arts.
I left school when I was 17 because I really wanted to work in Arts. I learned many things by being an assistant director for almost two years. After that, I learned a lot from theatre, especially from stage directing and acting – it opened my mind and my imagination. A few years after that, I learnt how to edit videos with tutorials on YouTube and I started to shoot small shortfilms, around 1 and 3 minutes long, in order to practice. I later found a producer who helped me film my first real short movie named 'BLAST'. The movie has been selected in a few festivals and received the Jury Prize in the International Film Festival Between China and France. Thanks to this prize I was invited by the French Embassy in China to visit the country and I received help from the French Cultural Institute of Beijing in order to work on my next project within an artistic residency in Beijing. That's how two years ago I started working on my latest project, HEIS, while I was in China.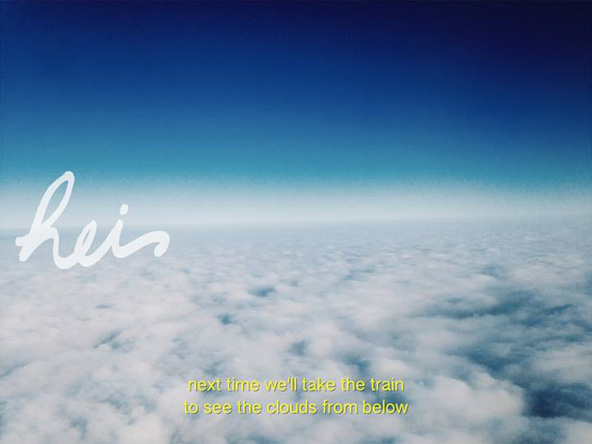 Could you describe HEIS briefly?
HEIS is a Greek word (εἷς) meaning one, to be one, not as individualism but as self-fulfilment. This project is about how one human being tries to reach the 'number one', the daily struggle of one's mind, body and heart. HEIS is a cross-media project composed of a feature film (90'), a series (5×11') and an art-exhibition. The project received help from the French Cultural Institute of Beijing and has been shot between France, China and USA, with so much heart and an independent spirit.
I can say that the whole project is about universal youth issues -especially in Europe- such as lack of jobs, rising of terrorism in the world… It is about the distress of the youth, of a whole generation that won't be neither really poor or really rich. But it is also about family guilt: the real question about the duty to stay (close to our family) or the right to go (and to emancipate). In an other words, HEIS is a project for the youth made by the youth.
Please tell us a little more about each of the parts of this cross-media project.
The three parts of the project can be enjoyed separately or together. This possibility is the particularity of this cross-media project. It's complementary but it can be understood
independently.
The feature film is an hybrid film mixing video in HD, old VHS, fiction and fictional documentary. I think it is a two speeds film, two languages dedicated to two generations: youth and parents.
It is a love and a anger story, an emancipation and a guilt story, a blood and a life story : a family tale. No matter the period, the country or the language, this theme remains complicated.
The series is very complementary to the feature film because, I've used around one quarter of the series in the feature film (in a different order) and if you want to see it completely, you have to watch the series. The series is made of 5 episodes of 11minutes each. The work in the series is more of a 'voice over' exercise. Each episode is about an universal struggle that every human being can experiment once in their own life. It's about contrasts and choices.
The art exhibition is also complementary to the series and the feature film. It's a mix between art and digital. You can discover in the exhibition the work of one of the main characters of the feature-film who is also working on art exhibition. The exhibition is composed of digital, sounds and visual artworks in connection with the feature film and the web series: subtitled photographs, QR codes, videos in old TVs and computers…
What events are you going to be involved at this year with HEIS?
The feature film is still in Sound post-production right now. I'm going to send it to some film festivals that I really like and support. And I'm currently looking for a distributor in order to release it in theatres in 2017.
The series has been already selected in film festivals in France and abroad (NYC, Reykjavik, Hong Kong, Chicago…) and I'm currently waiting for answers from others festivals. After that, I will collaborate with a film distributor in order to release the series (TV and web, I hope) by the end of 2016.
The art-exhibition has been already exhibited in three places in France. The current place is now extending the exhibition for one more month until the end of April, so you can still see it Paris at the moment. In May the exhibition will be shown in London and after that in Berlin.
I'm also working on releasing the project with all the three parts together in some places suitable for that. I hope that it will be possible. It's a very long process to release your artistic project and I have to be as patient as the audience is! All the information about where the films are selected and screened are on the Facebook page and you can also check the 'live exhibition' of the project on our Instagram account, heis_crossmedia.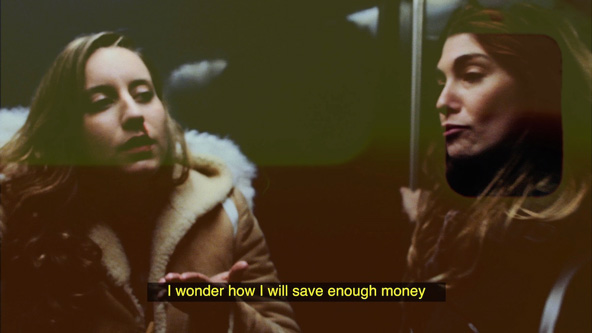 Are you currently working on any other projects or have plans to work on something new after HEIS?
Yes, whenever I have some free time I work on the script of my next feature film. I would like to develop it quite soon. To be honest, in fact, I have two ideas for films. And I'm currently developing and I'll see which one will be easier to do with a producer. I don't know yet if I'll shoot it in France. One of this scripts, named 'Märlha', has just been selected by 'La Maison des Scénarites' at the 'Festival de Cannes 2016' and will be pitched during the Festival to producers.
Apart from that, I continue writing screenplays for theatre, just for pleasure. I'm constantly working on something related to visual arts – it helps me to keep inspired.