Located in the heart of East London's most famous district, the new CitizenM Shoreditch has everything you need to explore all that this vibrant area has to offer. We stayed at this recently opened hotel and selected some of our favourite places in Shoreditch for this mini guide.
CitizenM Shoreditch
Designed by Amsterdam-based architecture and interior design firm concrete, CitizenM Shoreditch is the latest CitizenM hotel in London. The brand's affordable luxury ethos is present in the 216 rooms and communal areas of the hotel, combined with a relaxed atmosphere and the lively streets of Shoreditch as a background.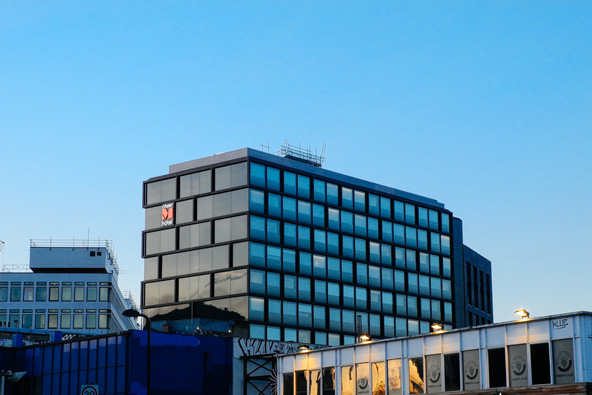 The surrounding street art is extended into the hotel with a commissioned piece by AVAF located next to the hotel's entrance. Art is also prominent inside the hotel, especially in the lobby area where several pieces are exhibited and limited editions at affordable prices can even be purchased. The hotel's lobby is also home to the self check-in area, where you can easily select your room and its views, and the canteen where you can enjoy a delicious breakfast buffet in the morning or cocktails and craft beers in the evening.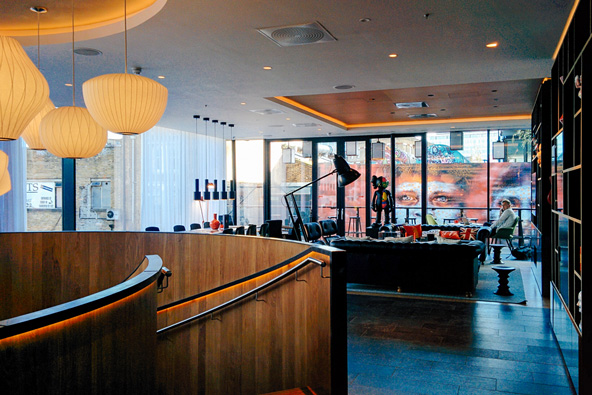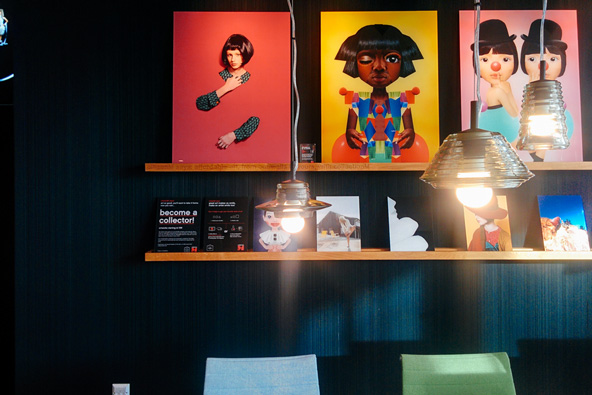 Design is an essential aspect of CitizenM and you can find many pieces of furniture by Vitra, from chairs to lamps,  throughout the hotel. The lobby's shelves are filled with art, fashion and design books curated by MENDO, an Amsterdam-based bookshop considered one of the best in the world for design titles.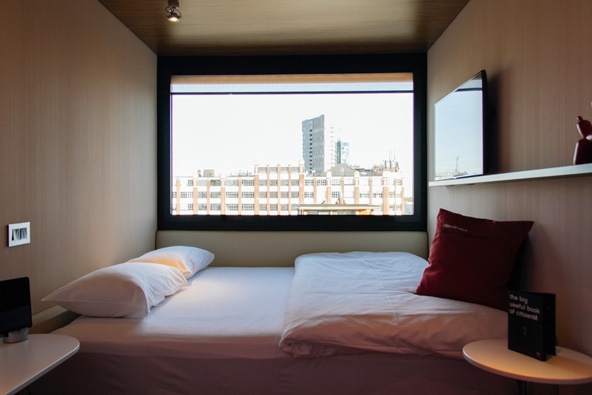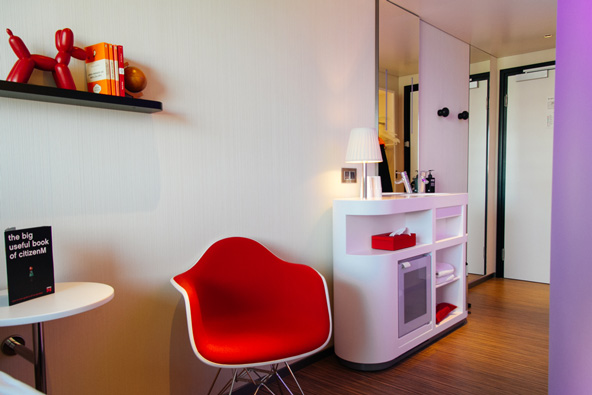 The hotel's rooms are equipped with everything you might need for a short stay in London. One of the most interesting features is the big window, extending across the room's width and providing amazing views of the area. The 2 x 2 metre bed is also impressive and we can guarantee you'll have a good night's sleep. Other details that make CitizenM different to other hotels you might stayed in include the moodpad from which you can control the entire room – from the colour of the lights and temperature to the TV and blinds – and the high pressure rain shower with AM and PM shampoo/gel designed by the talented noses responsible for creations by Comme des Garçons and Helmut Lang.
CitizenM Shoreditch – 6 Holywell Ln, EC2A 3ET
Eat & Drink
Shoreditch is filled with restaurants, food markets, cafés and bars so you won't really need to leave this area of the city to find exactly what you want.
To start your day with a hearty breakfast or brunch (breakfast is served all day), head to The Breakfast Club, an independent chain of cafés founded in 2005 with locations all across London. It can be quite busy but we can assure you won't mind waiting for the Huevos Rancheros, the All American and other delicious choices from their menu.
The Breakfast Club – 2-4 Rufust St, N1 6PE

If you like food trucks and food markets, you'll find plenty in Shoreditch. You can grab lunch at Ely's Yard Food Market at The Old Truman Brewery, with vendors changing regularly and often included in articles about the best food trucks in London. For dinner try Pump, a former petrol station now home to a great selection of food trucks offering dishes from all around the world.
Ely's Yard – 91 Brick Lane, E1 6QL
Pump – 168 Shoreditch High St, E1 6HU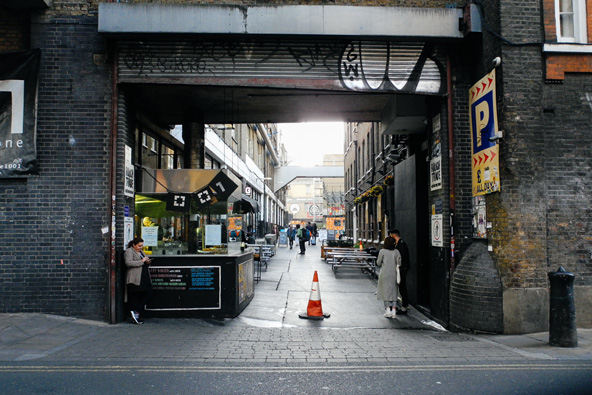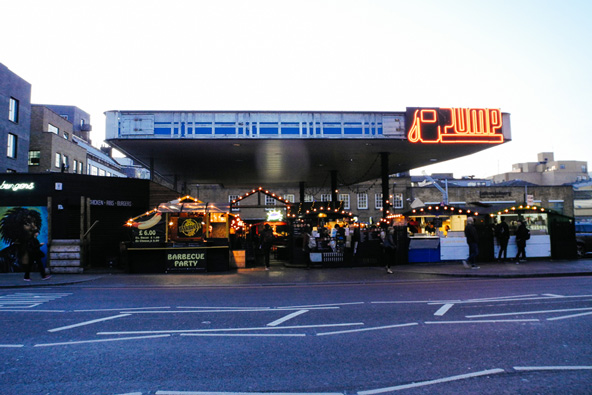 Finish your day with drinks at The Commercial Tavern, a pub with quirky interiors where you can enjoy a great selection of draft beers and also tasty pizzas at affordable prices.
The Commercial Tavern – 142-144 Commercial St, E1 6NU
Shop
From vintage clothing and books to homewares and the latest designer pieces, the shopping offer in Shoreditch is impressive.
The best way to start your shopping day in Shoreditch is to visit Boxpark, just across the road from CitizenM Shoretich. Opened in 2011, Boxpark is composed of refitted shipping containers offering affordable and flexible leases for lifestyle brands, cafés and galleries. A great place to discover new brands and buy something unique.
Boxpark – 2-10 Bethnal Green Rd, E1 6GY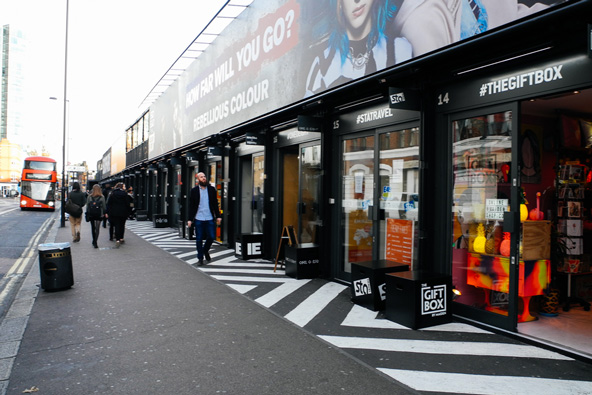 A few minutes away from Boxpark you can find Labour and Wait, a general store selling a carefully curated collection of new and vintage items, celebrating functional design and ranging from stationery and clothing to kitchenware and outdoor products.
Labour and Wait – 85 Redchurch St, E2 7DJ

London brand You Must Create (YMC) has their flagship store in the heart of Shoreditch. The ethos behind the brand is to take a traditional item and rework it to create something modern, giving a timeless quality to its clothes.
YMC – 23 Hanbury Street, E1 6QR

If you're interested in books and magazines don't forget to pay a visit to Artwords, a bookstore specialising in contemporary visual arts and covering subjects including photography, fashion, architecture, graphic design, fine art and critical theory.
Artwords – 69 Rivington Street, EC2A 3AY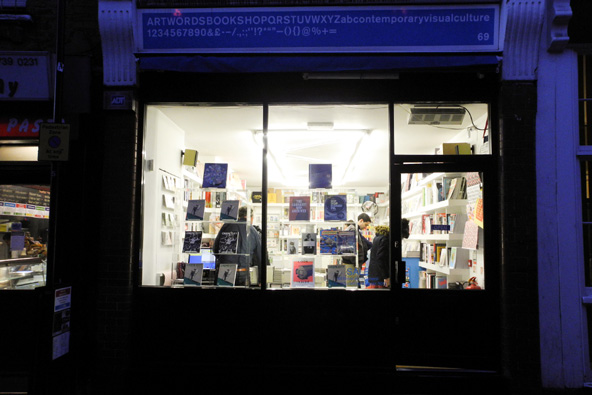 Enjoy
Shoreditch is filled with street art by emerging and established artists (look for Banksy's pieces on Rivington Street). Wander around the numerous lanes and streets to discover colourful and impressive pieces all across the area.
For an unrivalled cinema experience head to Electric Cinema, with screenings for up to 50 people. Enjoy your movie from a comfortable armchair with cosy cashmere blankets. The cinema is part of Barber & Parlour, a three-floor space where you can get manicures, haircuts, beard trims and even food.
Electric Cinema – 64-66 Redchurch Street, E2 7DP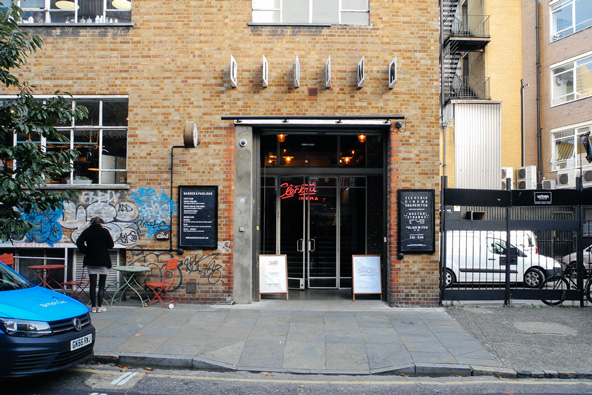 Save
Save
Save
Save