Considered the UK's first arts hotel and social enterprise, Green Rooms is designed to attract artists visiting and working in London. The hotel opened its doors in Spring 2016 and has already positioned itself as a creativity hub, working with local communities and artists on exhibitions, performances and events all happening at Green Rooms. We visited Green Rooms and stayed one night to experience what this new hotel concept has to offer.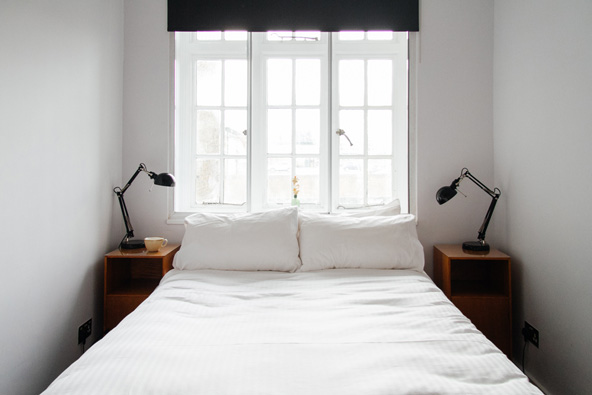 Located in North London, just opposite from Wood Green underground station, the hotel is just 15 min away from King's Cross on the Picadilly Line which makes it really easy to get to the city centre. The beautiful art deco building was constructed in 1925 for The North Metropolitan Power and Electricity Company and has been restored by London architects SODA, with interiors created by fashion brand Folk.
The idea behind Green Rooms is to engage with local and visiting artists, offering affordable rates – everyone is welcome at Green Rooms but you get a discount if you're an artist or work in the creative industries. You can also choose a room type that best fits your budget: dormitory rooms and standard rooms with shared bathroom facilities or en-suite rooms (where we stayed) and studio apartments designed for extended stays.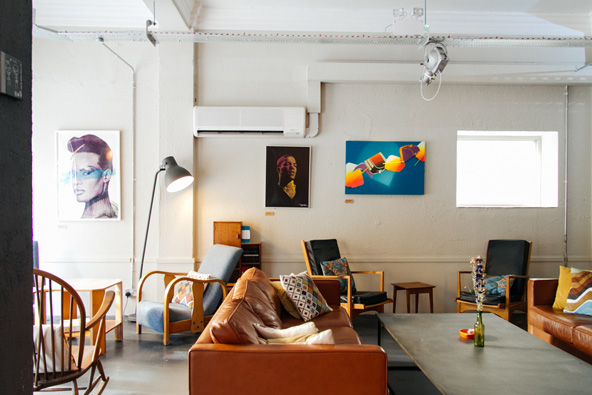 Whilst at most hotels you just want to spend time in your room and avoid the lobby, Greem Room's ground floor is welcoming and buzzing with guests and local creatives. An open space, nicely decorated, that houses the hotel's reception, bar and restaurant and also serves as exhibition space for local artists. The hotel's top floor is a multi-purpose space, which can be used as a gallery or for rehearsals, screenings and other private events.
The restaurant is an incubator project running rent-free 6-month residencies for emerging chefs that haven't had experience running a restaurant before, offering also mentorship and a way to develop their own brand during their time at Green Rooms. A great and unique initiative that is currently helping the hotel's first chef in residence, Esteban Arboleda from Colombian Street Kitchen. Esteban is on a mission to pioneer Colombian Street food as a mainstream cuisine in the UK and after having a delicious dinner with different dishes to share, we have no doubt that he will succeed.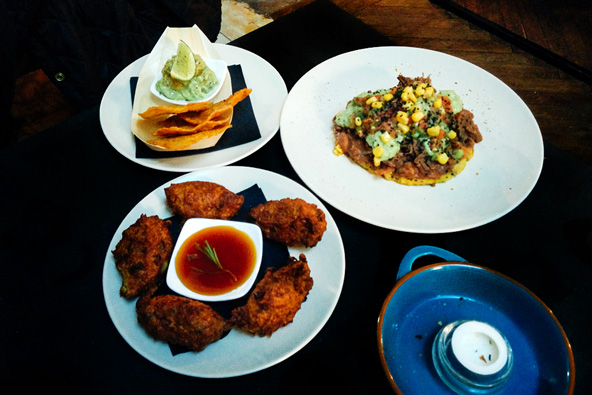 To find out more about what makes Green Rooms different to any other hotel you might have been to, we chatted with Nick Wright, founder of Green Rooms, and Cathal McAteer, founder of Folk.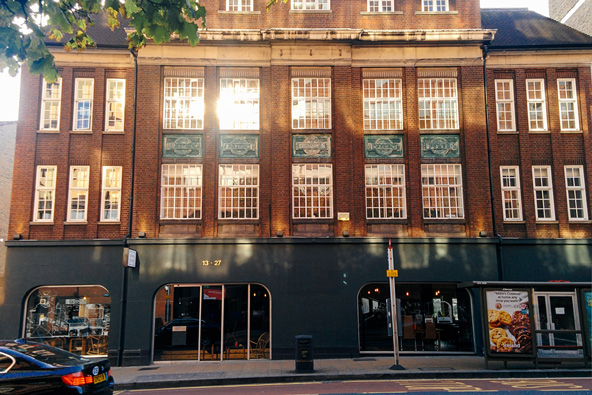 Could you  tell us about how the concept for creating the UK's first hotel social enterprise came about?
Nick: The concept for Green Rooms was something I'd been playing around with for a long time. The challenge was finding the right site. London is a brilliant city – arguably the best in the world – and a real cultural hub. But it's also very expensive. There was a real gap in the market for a genuinely affordable, design-led hotel that encourages and fosters collaboration among guests. A lot of people who work in the arts don't have much disposable income and can't afford to spend £250 a night on a hotel room when they come to London. But by the same token they don't want to stay in anodyne, formulaic budget hotels either. The sharing economy is obviously another option, and it's a great model, but when you rent a room in someone else's flat – no matter how beautiful it might be – you're immediately isolating yourself.
Could you tell us about the different ways in which the local community can engage with Green Rooms?
Nick: We're benefiting and engaging with the local community in lots of ways. The hotel has provided numerous job opportunities for local people fort starters, and Wood Green residents are using the communal spaces at the hotel – particularly the bar and restaurant. There wasn't really a hang out like it before we opened. People are also also enjoying the performances, events, exhibitions and screenings that are being put on. We recently ran a month-long street art exhibition by the Turnpike Art Group that went down a treat, and moving forward we'll be hosting a new exhibition every month. And there's loads of other stuff too. Just last Saturday we had Bandante play in the top floor gallery space – they're the new band from George Vjestica (ex-guitarist with Nick Cave and the Bad Seeds).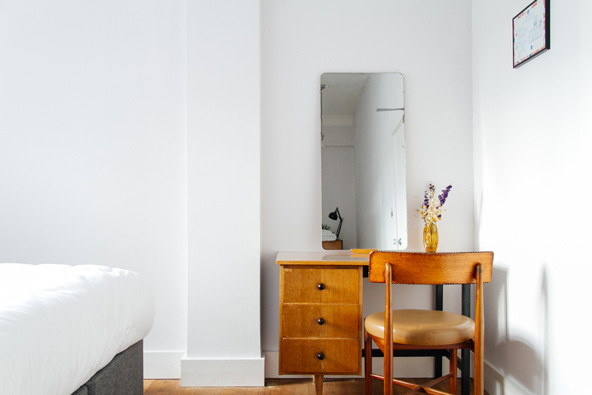 British clothing brand Folk has designed some of the hotel rooms, how did this collaboration happen?
Cathal: Nick and I have been mates for ages. He explained the vision and then we went on site a few times and did a walk through. With such a wonderful building and the vision laid down, it was easy from there. For us the furniture has always come as something that is needed to solve an issue. Shelves because we needed shelves in our stores, a chair because we needed a chair for the Flushing Meadows Hotel. So it's a range that's grown out of necessity really. Some of these pieces grow into other products with the same design strain. For Green Rooms it was all about keeping things clean. Nice lines, sparse and simple. And everything had to be in harmony with the wider holistic vision for the project. Green Rooms is great for us because it means we can show the homewares products in situ. It makes more sense looking at one of our chains in a hotel room than it does in one of the shops.
We love the concept of the chef residency at the hotel's restaurant, what are some of the characteristics you're looking for when considering a chef to be part of Green Rooms?
Nick: There are a number of things. First off they've got to be good and cook amazing food! And then they have to be at a certain stage in their evolution. The whole project is about giving burgeoning restaurateurs a chance to run their own restaurant but we can't take people who have just been cooking at home in their kitchens. They need to be a bit further on. Ideally they'll have done pop ups, maybe had a successfully food truck, that type of thing. They also need to buy into the overall vision – that's really important. We're nice people, we're trying to affect change in a positive way with Green Rooms. We're not rapacious guys who are hung up on making money. Of course we want to be profitable, and we are, but there's a way of going about things.
Could you tell us about what exhibitions and events guests and visitors can enjoy at Green Rooms in the upcoming months?
Nick: There's loads going on in the next few months – it's a veritable artistic feast. On November 12 we had the incredible '12 Ensemble' in for a performance. They're London's 'Un-conducted string orchestra' and do brilliant and accessible classical music pieces. Later that week we've got a life drawing class happening (November 17), then we've got a New Variety Lives! comedy show, we've got R-FT doing an artist-in-residence programme and we've got an exhibition from artist Sonia Pang. And this isn't event the half of it!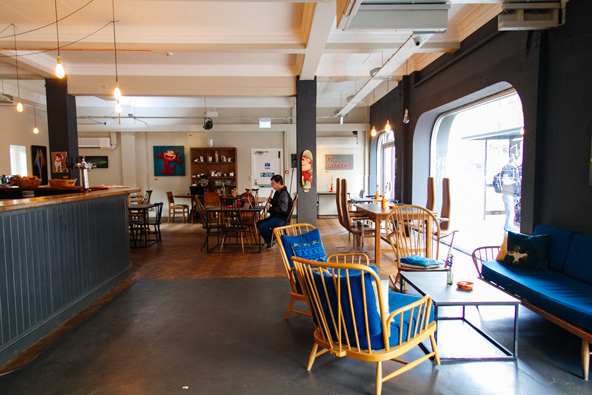 Save