The Covid-19 pandemic shocked businesses worldwide with labour markets crashing in March 2020. As a result of such a turbulent time, millions of workers were furloughed or lost their jobs, and the unemployment rate grew to 4.8%. 
But as we slowly start to creep towards the "new normal", what does this mean for companies and how have our working lives changed?
Firstly, it's important to point out that jobs with the highest physical proximity will have experienced widespread disruption, with many workers being forced out of work. Key workers (such as doctors and nurses) and those in the hospitality sector will have likely experienced increased uncertainty, but their roles will largely be expected to return to something that resembles pre-pandemic normality.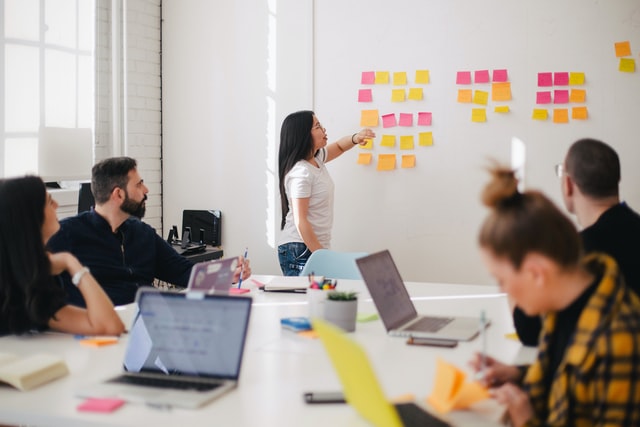 Image via Unsplash
One area of work that has dramatically changed in the last year is office work. With 25.9% of all workers working remotely, the landscape has significantly changed with workers now adopting new ways of working. The pandemic has fueled a digital trajectory and has pushed consumers and workers to rapidly adopt new behaviors that are likely to stick. 
From remote working and virtual meetings to an increase in ecommerce and AI – it's clear the landscape is changing. But the question to ask yourself: is your business keeping up?
Tell-tale signs your company needs to change or adapt to the new way of working
Focusing on short-term goals, avoiding risk and continuing to do "what you've always done" are tell-tale signs of businesses that could do with an overhaul. 
Working in departmental silos, tons of paperwork and unnecessary double-handling and triple-checking are significant signs change is due.  
So, what's next?
Although every business is different, those that are doing the best have been eager to embrace change and remain receptive to an ever-changing working environment. 
When it comes to how the companies of the future will look and operate, we've rounded up some key developments that the best global companies have adopted to keep one step ahead of the curve. If you're wondering whether your business needs to change, perhaps this will help you decide. 
How are the biggest global organisations adapting to a "new normal"?
Increased automation
Companies of the future need open channels of communication with clients and employees alike, and so marketing automation platforms are key to achieving this. 
With customers fueling an ecommerce boom, email marketing automation is a great way to engage with customers. 
Using increased email personalisation, you can build better relationships with customers across the board while lead nurturing helps to convert each customer by sending a series of automated emails. 
All in all, marketing automation helps you to build better relationships with customers, making them more likely to keep spending. 
Embracing increased connectivity & tech
With social distancing here to stay (for the meantime at least), the most successful businesses have been eager to stay connected. With the rise of digital technology and virtual meetings, those who have embraced connectivity have been able to ride the wave of Covid.
Reinventing the wheel
Today's organisations are habitually set up with traditional hierarchies – but should they be?
In theory, top-down structures provide clear lines of authority for employees through layers of management. But given our work lives have changed dramatically, experts are arguing that they may no longer be fit for purpose. 
Hierarchical structures that used to be fit for purpose nowadays seem somewhat antiquated. Traditionally designed to create uniformity, bureaucracy and control, instead the most successful businesses have redesigned their structure with a different trio in mind: creativity, speed and accountability.
Adopting an employee-centric culture  
Businesses of the future can be seen to care about their employees and have a real identity, with employees feeling part of something far bigger. Companies that focus too much on profits and less on the individuals within will often fall short. 
Future-proofed organisations set out their purpose, values and USPs to create strong and distinct cultures. The result? The ability to attract and retain high caliber talent.  
The bottom line 
From the introduction of remote working for employees, to a rise in ecommerce – the pandemic has thrown the corporate world onto its head over the last 18 months. 
However, the good news is that it's easier than you'd think to become a business of the future. Whether it's using increased automation or embracing digital technology and restructures, businesses who welcome change and let go of short-term strategies are predicted to thrive in the emerging post-Covid world. If you need assistance with your technology, BCA IT in Miami is a managed IT support company that can help you.