If this beauty of Spain is your next destination, these are some of the places that, when seen, leave an unforgettable memory.
Barcelona is said to be a magical city and represents a visual delight and atmosphere that combines elegance and refinement with Catalan charm.
Its streets reveal a medieval romance in her Gothic neighborhood and her breath pauses with a look at the architecture of Gaudi and his contemporaries. This is just enough reason to wonder when to travel and what to see in Barcelona.
Made of art, Barcelona is one of the few cities whose appearance has for the most part been shaped by an artist who, through his creative spirit, has given her unique, distinctive and recognizable sights.
Barcelona sights do not end with beautiful Gaudi creations, but this gem of Spain will knock off the feet of every visitor with its diverse architecture, neighborhoods, streets, long sandy beaches.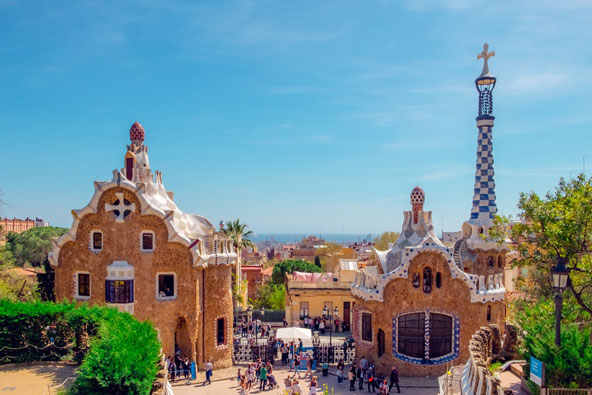 Image via Unsplash
Here are 5 incredible places to visit if you are in Barcelona, that you shouldn't miss:
Placa de Catalunya
When you say: "Barcelona City Center" is mostly referring to this square. The square occupies about 50,000 square meters, is circular and has 9 streets, of which 2 are the most famous in Barcelona:
La Rambla (wide promenade in the center of the old part of the city) and Passeig de Gracia which is considered the most glamorous street in Barcelona. In this picturesque square several statues and fountains "look" at each other, there are several metro and bus lines next to the square, and there is a train station underground.
El Corte Ingles, the largest shopping mall chain in Spain, is also located here. The Placa de Catalunya is certainly a place worth visiting and you will be hard to miss, even if you were in Barcelona for only one day.
La Sagrada Familia
What will leave you breathless in fairytale Barcelona is one of the most interesting sights of Catalonia – the Church of the Sagrada Familia (Holy Family) designed by architect Antonio Gaudi and which has become synonymous with the city of Barcelona. Started in 1882 and unfinished to date, it has been the subject of much controversy. It is considered Gaudi's masterpiece.
He worked on it until his death in 1926. Such grandeur and work with so many details are nowhere to be seen. It's just something indescribable.
However many times you have seen the Sagrada Familia in pictures, the feeling of seeing it live is unmatched.
Columbus Monument
The colorful walk from Catalonia Square to La Ramblas Street ends with the Gate of Peace on which the Columbus Monument is located, erected in honor of the famous sailor who discovered the New World in 1392 in search of India. The right hand outstretched on the statue is pointing in the direction of Genoa, which is in the opposite direction to America.
And, if you wish, you can climb up to Christopher, at an altitude of 87m and soak up the view of the whole of Barcelona, the pearl of the Mediterranean.
Park Guell
Another strong reason to travel to Barcelona, and what sights and attractions to visit.
Barcelona will seem unreal if you also visit the famous Gaudi's, Park Guell. This is one of the world's most impressive artificial landscapes and the perfect place for your photography.
Guell Park is the place where Gaudi's ideas about the unity of art and nature are best realized. It extends over several hectares of green space in northwestern Barcelona.
Everything is mushroom-shaped in this park, it is an unusual place, so when you enter you might think that you came to shoot an interesting fairy tale.
So at the entrance, you will be greeted by two houses whose shape is reminiscent of illustrations from popular picture books and you will be greeted by the famous lizard standing along the stairs. They lead to a hall with pillars resting on a terrace on the surface of which a long, undulating wall is formed, which is the longest bench in the world.
From the terrace, you have a beautiful view of the city and the sea. The park also houses the Gaudi House Museum, which displays many sketches by this remarkable artist and sculptor.
Park Ciutadella
This large 30ha park is also home to the Barcelona Zoo. About 7,500 animals, represented through 400 species, are on an area that occupies about 13 acres of the park.
Some of the most famous animals in this garden are gorillas, orangutans, dolphins, wolves, snow leopards, crocodiles, and alligators. The former zoo star and attraction, the albino gorilla is known as Snowflake, died in 2004.
The park also has a small lake, a popular spot where you can rent a boat and paddle. There are several statues in the park, most notably the huge stone mammoth and metal cat.
At the northern corner of the park is the imposing fountain La Cascada (Cascade) built for the 1888 Universal Exhibition.
These are just some of the most famous places and attractions which to see this amazing city. Of course, if you stay longer, you can see in detail the best sites to see in Barcelona.
Mas Que un club, the slogan of one of the largest football clubs in the world – Barcelona. Meaning: "More than a club." If you ask me then the city of Barcelona is Mas Que un Ciudad or "More than a city".