If you call yourself a travel enthusiast and you have never visited Hong Kong in your entire life, something isn't adding up. Hong Kong is a glamorous city and a popular tourist destination worth your time and investment. If you are trying to figure out the next destination you will explore and have unlimited fun, why not make it Hong Kong? The city boasts of an impressive skyline, mouth-watering delicacies e.g. dim sum, hiking trails, forest-covered mountains, islands, traditional fishing villages, etc. Your trip to Hong Kong will not only expose you to the Chinese culture but also fulfill your spirit of adventure. Now that there are a million attractions in Hong Kong, what do you prioritize when you come to the city? Well, this question may be hard considering you have not been here before. We understand how overwhelming it can be and that is why we are here to offer you help. In this post, we will focus on some key things and destinations that you should prioritize whenever you come to Hong Kong China. 
Top 10 Things You Can't Miss In Hong Kong
1. Victoria Peak 
If you think you've captured the best view of Hong Kong city wait until you go to Victoria Peak. From the Peak you will be able to see the top of the skyscrapers in the city – they look amazingly cute. You will also explore the entire bustling city, surrounding islands, harbor, etc. If you love capturing pictures, then this is one of the ideal spots. Bring your camera and come with some of your friends, family, relatives, or colleagues to make the trip more fantastic. Victoria peak itself is covered by lush greenery and nature trails etc. Note that you can visit Victoria Peak at whatever the time of the day you wish – whether in the morning when the sun is rising or in the evening when the sun is going down. Those who have been here before will testify to you that Victoria peak is the best point to view the magnificent city of Hong Kong at night -make efforts and visit. 
2. Big Buddha
Locally referred to as the �Tian Tan' Buddha Statue, the Big Buddha is a must witness for every traveler coming to Hong Kong for their first time. The Big Buddha/Tian Tan sits on Lantau Island and projects up to 34 m high above the island. It was constructed in 1993 and today; it serves as one of the most popular tourist attractions in China and the entire Asia region. Having been built for more than 12 years, you can try to figure out how it looks. Its setting is merely incredible – it is surrounded by green forest. Getting to the Big Buddha is not hard – simply take a bus ride or consider grabbing a Ngong Pic Cable car (the best option). If you have as much time to spend as you would like, you can combine your visit to Big Buddha with a visit to Tai O's traditional fishing village. The village is still on the same island, but it will take you approximately 20 minutes to bus. Note that you should consider a guided tour if you are new in these regions. There are guided tours available in English, and they operate daily.
3. Hong Kong Skyline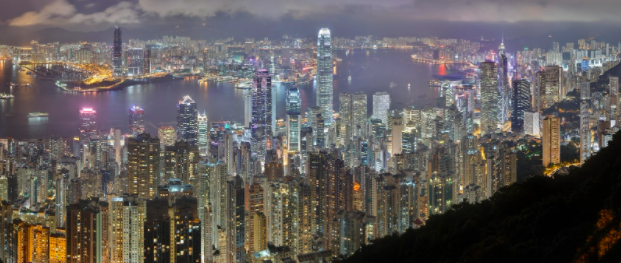 The city of Hong Kong, China, has one of the most remarkable skylines that you should make efforts to witness at least once in your life. The town is set by the dense collections of uncountable skyscrapers combined with its surrounding mountains and harbor. Go to the harbor, and you will find traditional Chinese junk-boats (red -sailed), Star ferry, etc. – all these form the backdrop of the current high-rises. Amid the nighttime, the skyline changes completely – the sky becomes dark, and the city light brightens the scene. If you were not lucky to view the skyline from Victoria Peak, you could view it from the Kowloon waterfront. 
4. Hong Kong Disneyland
Hong kong's Disneyland is found on Lantau Island. Make some efforts to come here and be confident of witnessing excellent fun from popular characters from Disney movies.
This park is subdivided into seven categories. These are
– The fantasyland
– Adventureland
– Grizzly Gulch
– Toy Story Land
– Tomorrowland
– Mystic Point &
– Main Street.
There are performance events taking place every day on whatever land you wish to explore. These performances feature anything from musicals to parades, fireworks in the castle in the evening, etc. There are jungle cruise tours to Tarzan's Treehouse and water-based fun-activities at Liki Tiki. Getting to Hong Kong's Disneyland is easy. The most recommendable way is to take a Hong Kong Disneyland admission-with-Transport. This features a hotel pickup MTR pass to/from Kowloon and Hong Kong. 
5. Ocean Park
Ocean Park in Hong Kong is one of the destinations where you spend your entire day and feel like you would need another day to rewind. The place is damn cool! It boasts of having more than 400 fish species, rare & exotic wildlife. Besides seeing what the park has to offer, you can engage in Giant Panda Adventures – here, you will see red pandas, giant pandas, & the Chinese Giant Salamander. There are other events that focus on the south and north poles. Take part in fun rides such as Hair Raiser, Mine Train, Eagle, and Raging River. You can take the MTR to reach the Ocean Park Station with ease. 
6. Lai Kwai Fong
For a while now, Lai Kwai Fong has been recognized as supposedly the best dining joint in the city. You can come here for breakfast, before starting your trips or for lunch and supper. The joint is meant for individuals who enjoy dining in open-air-patios – you will enjoy your meals while still having a decent view of the surroundings. The reciprocal deals with all sorts of food you wish to enjoy – you have no good reason to miss out on this.
7. Tai O Traditional Fishing Village
If you are looking for an experience like no other in Hong Kong, go to Tai O traditional fishing village. Here you will interact with the Tanka people and know more about their region and the surroundings.
8. Garden of Stars
Want to witness some of the most world-famous Chinese stars? Then go straight to Garden of Stars. Here you will see great performers such as Bruce Lee etc.
9. Night Clubs
There are very many night clubs in Hong Kong. If you are individuals of legal age who enjoy adult beverages and dancing until late hours, why don't you go to one of the city clubs? There are kinds of drinks and music that you will love. 
10. Temple Street Market
This market is one of a kind. Unlike other markets that operate normally amid the day time, Temple Street Market does the reverse. It's located in Kowloon island – make sure you go here and do some shopping. If you don't need to buy any stuff, then you can enjoy some delicacies.
Takeaway
Hong Kong is a densely populated city of China with individuals from all corners of the world. As you may have noted from this discussion, the city is probably the best place to tour over and over again. If you have sometime, why not go to Hong Kong this festive season and witness all it has in store for you? The right time is now or never! Book your flight into Hong Kong today with Cathay Pacific and start getting ready to enter the world of unlimited attractions.