Ubud is a jungle oasis smacked right in the middle of the famous Indonesian island of Bali. As the spiritual hub of Bali, it is home to yoga studios, fascinating temples, luxury wellness resorts, bustling markets, and cosy cafes. If you're planning to travel to Bali soon, you should spend a few days in Ubud. 
To help you plan your trip, here are some of the best things to do in Ubud.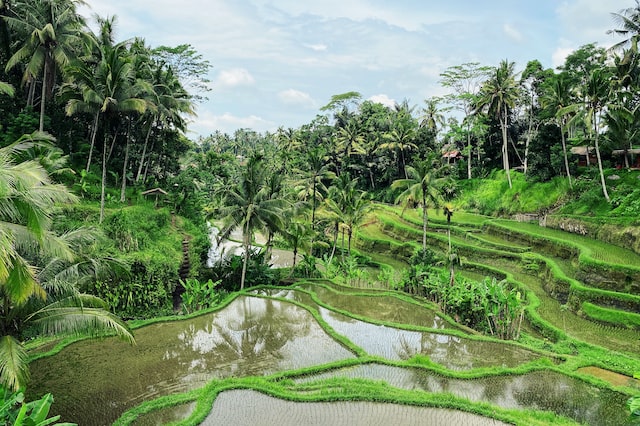 Image via Unsplash
Explore the Temples and Rice Terraces
Your visit to Ubud will not be complete without exploring its magnificent temples and breathtaking rice terraces. Some of Bali's best temples are in Ubud, with the Monkey Forest being the most popular among them. If you can, hire a motorbike. It's the fastest and most convenient way to get around Ubud and visit its many attractions, including the temples and rice terraces. 
The Monkey Forest Temple is a series of three temples dating back from the 14th Century and is located in a nature reserve converted into a temple complex. It's home to hundreds of monkeys running around and playing in the complex. These cute primates are considered spiritual animals believed to be guarding the temples. Take care of your belongings when getting around the temples since the monkeys are notorious for snatching items from visitors.
Another popular attraction you should not miss in Ubud is the magical Tegallalang Rice Terraces. Featuring countless layers of lush rice fields, exploring the rice terraces is such a wonderful experience. Come early in the morning to avoid the tourist crowds.
Street Food at Night
If you're a foodie looking for a cultural experience in Bali, Ubud is the best place to be. The area comes alive at night, with many street food stalls selling all sorts of Balinese delicacies. You will find these stalls in the night markets of Ubud, which start at 5 PM and remains open until 9 PM.
Night markets are open-air markets set up by locals after nightfall. During the day, the area is a mere open space used as a town square or parking lot and only comes alive at night when street food vendors start setting up their stalls. The Sayan Market is one of Ubud's most popular night markets, which lies at the intersection of Tebongkang and Sayan streets. Another market where you can indulge in delicious street foods is the Gianyar Night Market, which is about 10 km away from Ubud.
If there's only one food you need to try in Bali, make it the babi guling or suckling pig. It's a famous delicacy on the island, which consists of slow-roasted pork served with sausages, pork rinds, beans, veggies, and a generous serving of rice. You should also try the Bebek Betutu, a roast duck dish, and Nasi Campur, a platter of white rice served with numerous varieties of dishes like salads, tofu, sambal, long beans, and topped with peanuts and sauces.
Cruise Around the Nearby Islands
If you want to get out of Ubud and visit the nearby islands of Bali, you should try cruising. In fact, cruising is a popular activity in Bali, taking you to islands like Nusa Penida, Nusa Lembongan, or Nusa Ceningan. Many tour operators offer cruise packages in Bali, which may also include fun activities like snorkelling and sightseeing. 
During your cruise, you'll visit pristine bays, where you can swim or snorkel at Indonesia's most pristine coral reefs. Your boat will be cruising along the spectacular mangrove area of the Ceningan Channel, past towering limestone cliffs, and into idyllic and secluded beaches.
The highlight of most Bali cruises is snorkelling, where you could swim with dolphins, turtles, whales, and manta rays. Sometimes, they will come closer to your boat. Most of the cruises in Bali take only one day. It will depart in the morning and returns before 6 PM.
Scuba Diving
Scuba diving is another fun activity to try in Ubud. For this activity, you will explore Bali's thriving and vibrant underwater world and discover the extensive coral reefs home to a kaleidoscope of tropical fish. Many dive centres in Bali offer open-water diving courses that are PADI-certified. You will also enjoy incredible encounters with manta rays, turtles, sharks, and more.
Tulamben and Amed, which lie on the east coast of Bali, are some of the best places to dive on the island, where you'll come across mesmerising shipwrecks that have become homes to tropical fish and other fascinating marine life. Bali's north coast is also a spectacular place to dive. It's where you'll find the expansive reef gardens of Pemuteran.
If you are a non-diver but want to explore underwater, you can try the submarine safari in Nusa Lembongan or Candidasa. You can also try the more exciting sea walks, where you will wear specially made helmets connected to oxygen as you walk underwater.
Meditation
As the spiritual hub of Bali, one of the best things to do in Ubud is to relax and meditate. Yoga and wellness centres are abundant in Bali, more particularly in Ubud. So, if you're seeking calm and respite while on holiday to Bali, you should head to Ubud.
One of Ubud's most popular meditation retreats is the Blooming Lotus, which uses silent meditation to find the answers to some of life's deepest questions and reveal better states of well-being, clarity, and inner peace. The inner transformation that occurs after allowing yourself to let go and relax in the natural state is incomparable. The meditation retreat aims to transform your life for the better.
The Yoga Barn is a famous yoga studio in Ubud, offering wellness, holistic healing, and meditation retreats. It's located in the heart of Ubud and has seven yoga studios, offering more than a hundred yoga classes. They also offer Ayurvedic treatments, sound baths, Tibetan bowls, and dance sessions. For a personalised yoga experience, head to Samadi Bali, a yoga centre offering different yoga classes focused on renewal and healing.