Hanoi, the bustling capital of Vietnam, is a fascinating city to explore. It's a place where you can experience authentic Vietnamese culture, home to ancient imperial citadels, stunning temples, and vibrant local markets. 
Here are the top things to do in Hanoi.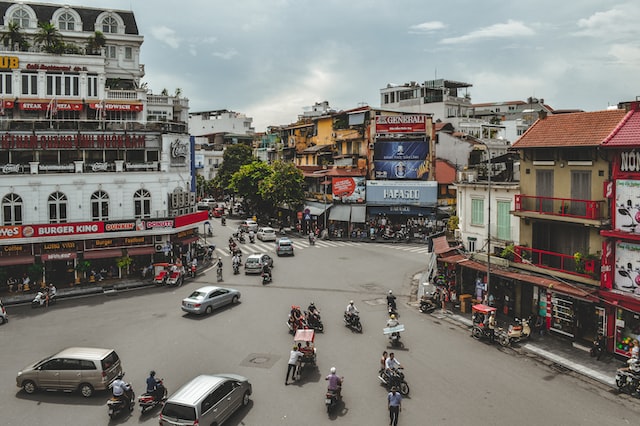 Image via Unsplash
Explore the Lakes
Hanoi's unique topography, which lies by the Red River Delta, has given rise to numerous beautiful lakes, offering a tranquil respite from the hustle and bustle of the city. Of these lakes, Hoan Kiem Lake is the most popular. It's the central feature of Hanoi and a popular tourist destination in Vietnam. In the middle of the lake lies the Ngoc Son Temple, also called the Temple of the Jade Mountain.
Hoan Kiem Lake comes alive around sunrise and sunset when tourists and locals relax by the lakeside while enjoying the views. You will also find joggers and some elderly practising tai chi.
Eat Amazing Street Food
Hanoi is the best place to visit if you want to spend your days indulging in delicious Vietnamese cuisine. Here, you'll find bustling streets lined with street food stalls selling every possible Vietnamese food you can think of – from flavourful pho to delectable spring rolls. In fact, it's impossible to walk a street in Hanoi without smelling the rich aroma of Vietnamese dishes from street food stalls.
The best way to cap off your meal is with a glass of egg coffee, a typical Hanoian drink traditionally prepared with Robusta coffee, egg yolks, and condensed milk.
Walk Around the Old Quarter
There are several ways to travel Vietnam with luxury, but seeing the Old Quarter is one of the most popular. It's a bustling area with narrow streets lined with colonial-style buildings, shops, restaurants, and cafes. The Old Quarter is an ideal place to explore if you want to experience the local Hanoian life. Just be very careful when walking around since the narrow streets are often full of tourist crowds, with packs of scooters zooming around.
See the Temples
Hanoi is home to numerous fascinating temples that are worth exploring. Most of them are still in use, and you'll find many locals visiting and praying in them. Visiting these temples offers a unique insight into the local Vietnamese life. 
The One Pillar Pagoda is one of those temples you should not miss. It's shaped in a lotus flower, built by ruler Ly Thai Tong to celebrate the long-awaited birth of a son. The Temple of Literature is also worth a visit. It was built in 1070 for the city's education and academics, and you'll find it printed in the 100,000 bill of Vietnamese dong.
Visit the National Museum of Vietnamese History
Hanoi has many fascinating museums, but one museum you should not miss is the Museum of Vietnamese History in the French Quarter area of the city. It's in a former school building built during the French Colonial time, with an architectural design inspired by a French villa. The museum has more than 200,000 historical pieces detailing Vietnamese history that date back to ancient times.