Founded in 2010 and currently run by George Wu and Sara Melin, The Poundshop is a pop up shopping project based on the idea of selling quality designer products at affordable prices.
The Poundshop's mission is to make design accessible to a wider audience and all products are sold within the £1, £5 and £10 price bands. Working with a wide range of designers, most of whom are new to making products, The Poundshop is the perfect testing ground for them to experiment with new and interesting products. Over the years, The Poundshop have organised pop us shops at numerous spaces across the world, including Selfridges, Somerset House, Loft Tokyo and Science Museum in London.
We talked with its founders to find out more about the project and what makes a perfect submission to the Poundshop.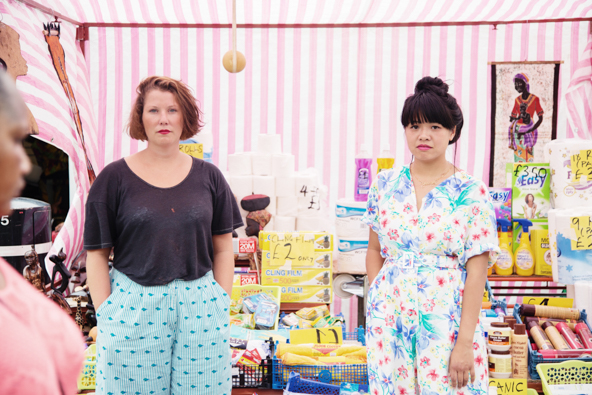 Could you tell us a little bit about your background and what you do apart from running The Poundshop?
Sara: I am from Sweden originally , but have now been here for 14 years! Studied at St Martins and then RCA in London, where I met George and Sarah. We pretty much set up The Poundshop shortly after leaving RCA .
I do a lot of different things but most of it runs backs to The Poundshop. At the moment I am working as a consultant for a charity putting together a new product range for their online shop and also designing a pop up shop for them. I am also planning two workshop that will be take place in Brazil in October.
George: I am originally from Manchester and studied graphic design in Bath before moving to London for work. A few years later I took part in the BB New Music Shorts and decided to switch to film so went to the RCA where we met. Now besides creating Poundshops, I am a director at Nexus Productions creating videos and installations. Currently I'm working on a new short film in collaboration with photographer John Short which should be coming out at the end of September.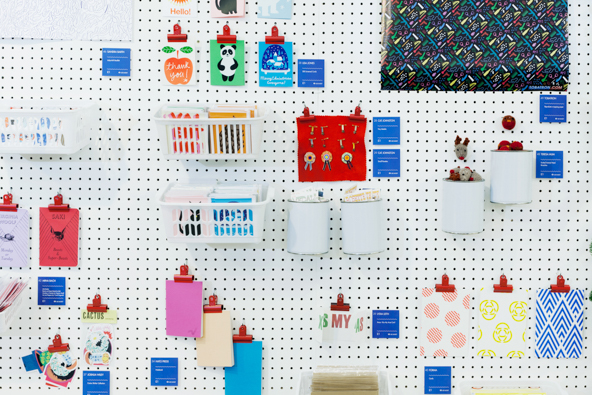 What inspired you to open The Poundshop?
Sara: The credit crunch I think and wanting to do something together.
George: I always had the dream of having my own shop one day. Pretending to be shop keeper and stocking shelves! I think it's because my family has always run businesses, it must be in me!
What makes a perfect submission?
Sara: Cleaver solutions to a small problem, beautifully designed with the minimal usage of materials to keep costs down.
George: Something that you would definitely use yourself that's has a real purpose which is a challenge at such a low price point.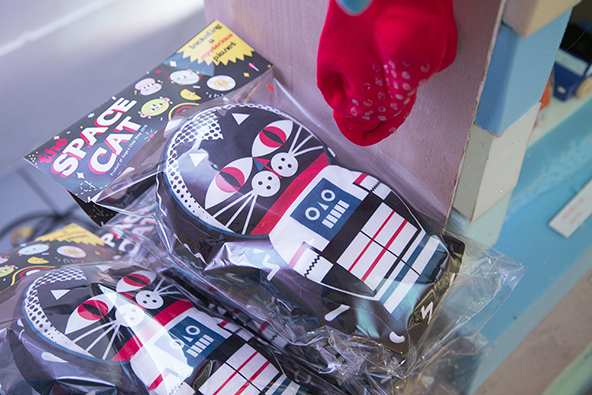 How do you approach the interior design and visual merchandising of each of the spaces you use for The Poundshop?
Sara: Generally I collect lots of images of things that I like the look of as a start. Shop interiors, patterns, colours etc. George is definetely the better one at coming up with ideas and she has a more graphic design / installation background than me, so she tends to take the lead on the design and then we discuss it.
George: Yeah I think usually we have a big brainstorm. Because we don't work together all the time it's good to get to know what the other is into at that moment. Then the starting point can either be the venue: The Science Poundshop was inspired by equipment transit cases. Or by the function of the shop: The ICA shop needed to be set up in a very short space of time so we created it out of repurposed ladders. The most important consideration is that the materials are all low cost to compliment the idea of low cost design shop.
What are your ambitions for The Poundshop? How do you see it developing in the future?
Sara: At the moment we are discussing a few changes and new routes but we tend to not plan to far ahead… So we will just have to see where this year will take us!
George: I think our next challenge and always the biggest is the Christmas Poundshop, but the most exciting (and intimidating) is our forth coming appearance on Poundshop Wars on BBC 1!
All images, courtesy of The Poundshop