Founded by Andrea Babic, sisu socks is a Berlin-based brand dedicated to telling stories of powerful women who have changed the world, one pair of socks at a time. We chatted with Andrea to find out more about the idea behind her label, how she works with women charities and the challenges she has faced.
We've also partnered up with sisu socks to offer our readers a giveaway in which you can win a pair of sisu socks of your choice and a consultation with Andrea so you can ask her anything you want regarding starting your own business or project: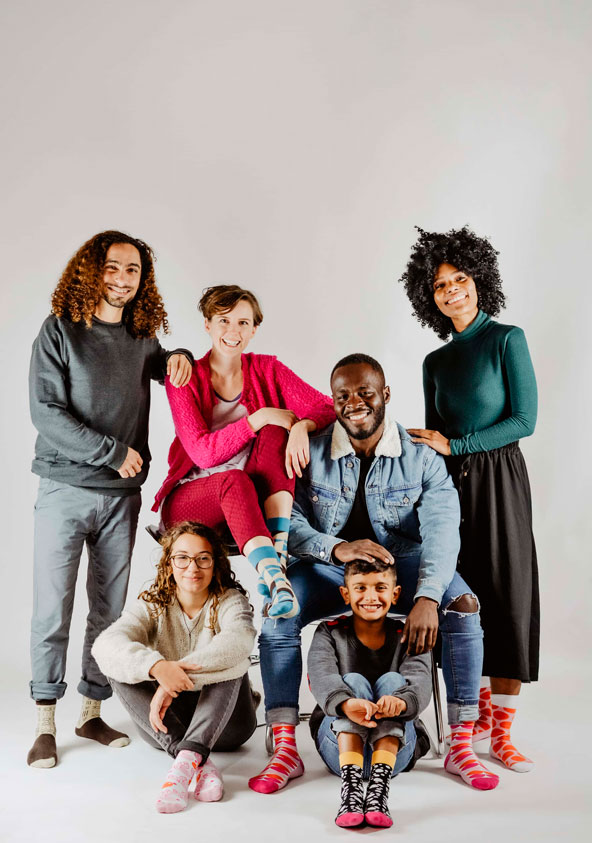 Can you tell us about yourself? Why did you start sisu socks and why did you decide to focus on socks?
My name is Andrea but I prefer Dre. I'm a big hearted, small-footed women-empowerment enthusiast and fighter for equality. You may not find me growing out my body hair and screaming "fuck the patriarchy" in protests on the street, but I found a more creative way to fight. Having been born in Bosnia (and travelled across the world to emigrate to Canada), I still carry that Balkan strength within me. Every generation in my family has been through war(s) – including me. I was born with strength pumping through my veins. It's natural for me to continue to fight for something.
I started sisu socks on International Women's Day (March 8th) 2019 as a tribute to all the women in the world who don't see their own light often enough. The sock designs are inspired by the stories of badass women and with every pair purchased on our online shop, we make a donation to a women's empowerment organization.
Why socks? Creative socks are dope, they let you show a small bit of your personality. I've been obsessed with funky socks since I was a kid, I used to write on those plain-ass white socks with marker and even if they were covered by my shoes, I knew. It was my little secret. I used to make bracelets from the cuffs of socks once the sock was too torn up to use, haha! I've honestly never told anyone that before. As I'm answering these questions that came to my mind – what an awesome flashback!
What made you connect your brand with the stories and lives of inspiring women? 
I've always been passionate about helping women rise above the level they thought they deserved to be at. I wanted to help them see their true worth. I loved listening to their stories and being there for them. I was always inspired by badass women. I found solace in strong female characters in books, in music, in movies, in my everyday life. I wanted to be them so much so that I became my own version of them.
I think every woman can be an inspiration to someone, every woman has been through something and every woman fights with inequality – whether they want to admit that or not. I believe that sharing these stories will change at least one person's mind. I believe that sharing these stories will positively influence at least one person to think differently… to step outside of their life and realize: hey, we've got this inequality here and something needs to be done.
We need to stand up for women and help them rise, and not drag them down when they start to climb. The way you treat a woman is a reflection of you. If you are strong and confident in yourself, you will see that a woman's success is nothing to be afraid or jealous of but, rather, lifting a woman up means that an entire community will benefit. A ripple effect, you might call it.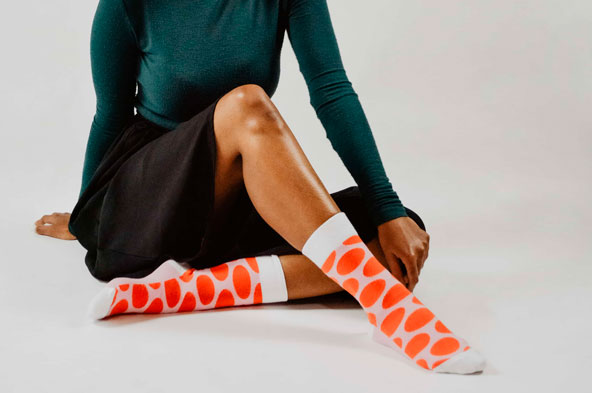 Can you tell us a little bit more about the women charities you work with?
Currently, I'm working with Terre des Femmes here in Berlin. It was a really incredible feeling being invited by Frau Stolle, the Managing Director to come and meet her and her team. As my brand is new, of course she wasn't expecting hundreds and thousands in donations from me but she supported my cause and really showed her enthusiasm.
Terre des Femmes stands up for a just world, in which girls and women have the right to live freely and with dignity. Their projects focus on some very tough topics such as: domestic violence, female genital mutilation, honour crimes and trafficking. They not only have projects within Germany but they partner with international organizations to help women worldwide.
In the meantime, we have worked on another project together – I helped them produce their own sock design that they will be launching this Christmas! So excited!
My goal is to also find some smaller German women's organizations to support in the future. The more socks sold, the more donations made, the more women who are supported. In other words: look cool, give back, support women, BOOM!
What are some of the main challenges you've faced when starting your business?
Time, baby, Tiiiiiime. I'm not the first or last to say that but time is something I can never find enough of. I think one of my regrets was not finding a co-founder to share tasks, brainstorm or be in this fight together with. With a mission like mine, there is just so much to do and in order to make it successful, I need more people to manage everything. Running a business by myself also requires a lot of creative energy, always trying to find new ways to reach out to people, make ends meet, reach new audiences, find new events, improve products… Creativity comes in all shapes and forms.
A lack of time also comes from not being able to set and organize priorities well all the time. There are so many things that seem important to me so I struggle as a business owner to prioritize my focus. Sometimes it's what's going to make the business grow, financially', sometimes what's going to have the biggest impact on as many women as possible. Sometimes it's even simple: which woman should I focus the next collection on.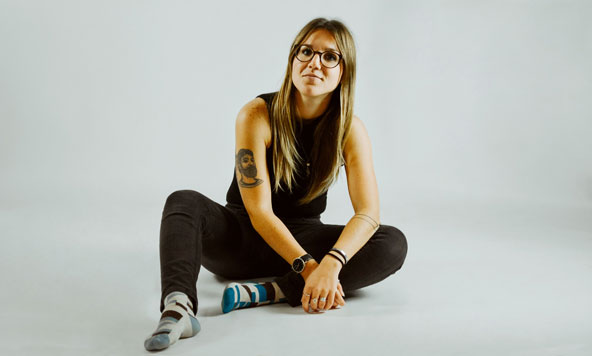 What advice would you give to someone who also wants to start their own project?
Realizing that I can't do everything on my own and swallowing my pride and asking for help was the best decision I ever made. Learn from my mistakes, figure this out sooner than I did.
I think if we're talking about creativity here: don't only focus on the tangible output of that creativity. Don't ignore that times are changing and so too must a business' or project's purpose. We have to start redefining our 'why' and focusing less on just making cash. Of course, this has to be a part of it but there are other aspects that are often ignored. Ask yourself these questions before you begin:
How can I give back to the world that has blessed me with everything I have?
What issues are important to me? Can I integrate them into my business?
Is this out of passion or out of necessity? Choose passion.
Can my business or my project impact the lives of others?
And lastly, this is for the 'internally-but-not-externally' creative people. I have always had a creative mind but I haven't necessarily been able to physically show that with my own hands – whether that's graphic design, painting, making jewelry or fashion etc. I know I am not alone.
If your inner creative is screaming at you to do something with your creativity but you don't know how – there are other ways to channel your creative side and to express yourself in ways that show that side of you. I can be that shining example for you, it's possible.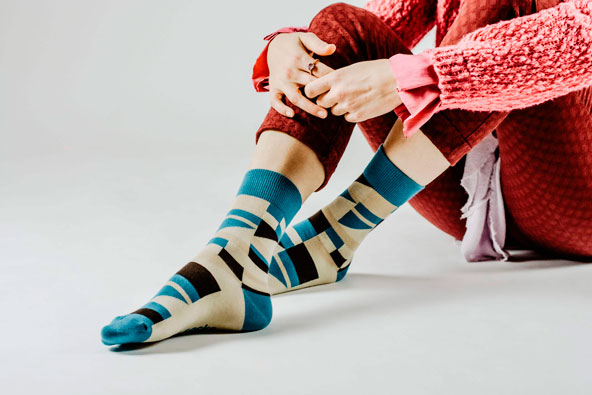 How do you see sisu socks growing over the upcoming months? Can you share some of your plans with our readers?
I want to continue to tell more stories, to produce more sock designs so that more amazing women from history can be brought into the spotlight. I want my feminist socks to be a subtle way for all feminists to express that side of them – without necessarily screaming out the world what they believe in.
I want to have a whole sisu socks range of products – not only socks. This holiday season i'll be introducing sizes for teens and feminist greeting cards focusing on "badass German women". Eventually, buttons and other smaller and accessible items too.
In the future, I want to be more on the forefront and connect with women one-on-one through women-empowerment workshops and offering digital products: downloadable PDFs, mini e-books, educational videos, newsletters, etc. that focus on celebrating women and sharing their stories.
Photos by sisu socks