There are plenty of other places to go paddleboarding in New Zealand! While you can certainly find conditions suitable for it on an island in the country, some places have better conditions than others. Here are some great destinations for paddleboarding in New Zealand: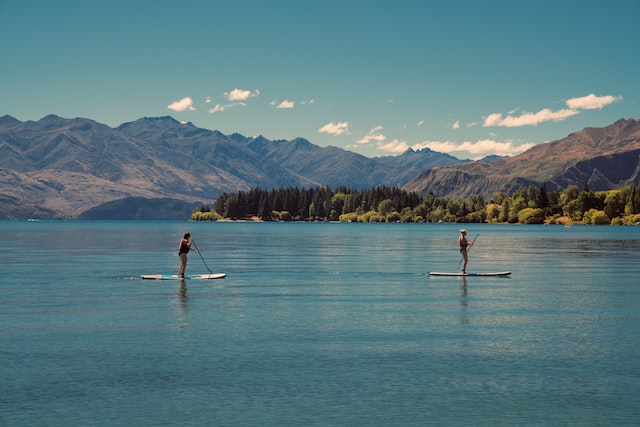 Image via Unsplash
Abel Tasman National Park
Abel Tasman National Park is a great place for playing stand up paddle boards in NZ. It has many beautiful beaches and bays, which are popular destinations for paddleboarders. The park is also home to some of New Zealand's most famous wildlife, including dolphins, seals and penguins. There are many options for accommodation in the area if you want to stay overnight–check out our list of recommended places below!
Marlborough Sounds
Marlborough Sounds is a great place for paddleboarding. It's close to Nelson and Wellington, so it's easy to get there by car or plane. The area has a lot of wildlife, making it ideal for kayaking and sailing as well. There are many places in Marlborough that you can stay at if you're looking for somewhere cheap but comfortable during your time here!
Otago Peninsula
Otago Peninsula is located in Dunedin, New Zealand. A peninsula is a great place for paddleboarding because it has many secluded bays and beaches that you can explore. On your paddleboard, you can see wildlife such as penguins and sea lions.
You can also visit Castle Rock Lighthouse which was built in 1872 and offers views of Otago Harbour from its top-floor balcony. There are also several nature reserves on this peninsula; these include Kaka Point Marine Reserve where you may spot sea lions or dolphins swimming offshore (depending on the season). You might want to bring some binoculars so that you can get close-up views of them!
There are several cafes along Marine Parade with delicious food options like fishcakes sandwiches at Café Harlequin; coffee from Cafe Pacifica or smoothies from Juice Bar & Kiosk if you feel hungry after exploring all day long!
Queen Charlotte Sound
Queen Charlotte Sound is a gorgeous place to paddle board. The water is clear and calm, and there's plenty to see as you glide along. You can paddle from one side of the sound to the other, stopping for a swim or picnic at any number of bays along your route. It's also easy to find places to stay in Queen Charlotte Sound if you want an overnight trip.
Bay of Islands
The Bay of Islands is a great place to paddleboard. There are lots of places to paddleboard in the Bay of Islands, with many beaches and bays to choose from. The best thing about paddling in the Bay of Islands is that there are so many different types of paddling available here, including surfing, kayaking, stand-up paddleboarding (SUP), canoeing and more!
Kaipara Harbour
Kaipara Harbour is a sheltered bay on the west coast of the North Island of New Zealand. It is located between Whangarei and Wellsford and forms part of an extensive network of waterways that link Auckland with other harbours in northern New Zealand. The harbour itself has been formed by volcanic activity millions of years ago, and it's home to one of the largest wetland areas in northern New Zealand–Kaipara Flats (also known as "Te Hauturu-o-Toi").
The harbour is popular amongst paddleboarders due to its calm waters, which makes it ideal for beginner paddlers looking for an easygoing experience without too much wind or waves interfering with their session on water!
Coromandel Peninsula
The Coromandel Peninsula is a popular tourist destination on the North Island, and it's also known for its warm waters. Paddleboarding is a great way to see this area, especially if you're looking for something different from your typical beach vacation.
There are plenty of places where you can go paddleboarding on this peninsula: Whangamata Beach offers calm waters with beautiful views; Colville Bay has good spots for beginners; Waihi Beach offers some challenging waves; and Port Jackson has calm waters perfect for relaxing after an exciting day on the water!
Conclusion
New Zealand is a great place for paddleboarding. You can find many beautiful places to paddle and enjoy nature. The best time of year to visit New Zealand is between May and September.