ODOU is a bi-annual magazine exploring smell and perfume through themes of science, art, design, memory and photography. Founded by web and digital designer Liam Moore in 2013, three issues of ODOU have been published so far and a fourth is on its way, backed by a currently running Kickstarter campaign to make the magazine reach even more people.
We caught up with Liam to find out more about his background, passion for perfume and the evolution of ODOU.
Please tell us a little about your background and how you got interested in perfume.
Every Saturday in my early teens my mum and I would visit my aunt at her work. She worked at the beauty counter of a chemists and occasionally she'd give me the sample bottles of fragrance telling me, "Wear that and you'll smell the best in your class," Or sometimes, "Wear that and the girls will like you," I remember feeling really special as it felt grown-up to wear fragrance or aftershave. Though what others thought didn't really enter my mind.
At university I studied Interactive Multimedia Design and worked part-time in Lush (the soap shop). It became very natural to get into the smell of the products and we were trained about the ingredients that go into the products too. Why is grapefruit essential oil in that shower gel and what benefits does it have? Who decided that? How is the oil extracted and by whom? It was sort of like Alice in Wonderland thereafter, tumbling down the rabbit hole full of really interesting things to learn. I was also advised at the time to read the novel Perfume by Patrick Suskind. It was like opening up the doors to something fascinating minus the grim parts of the book!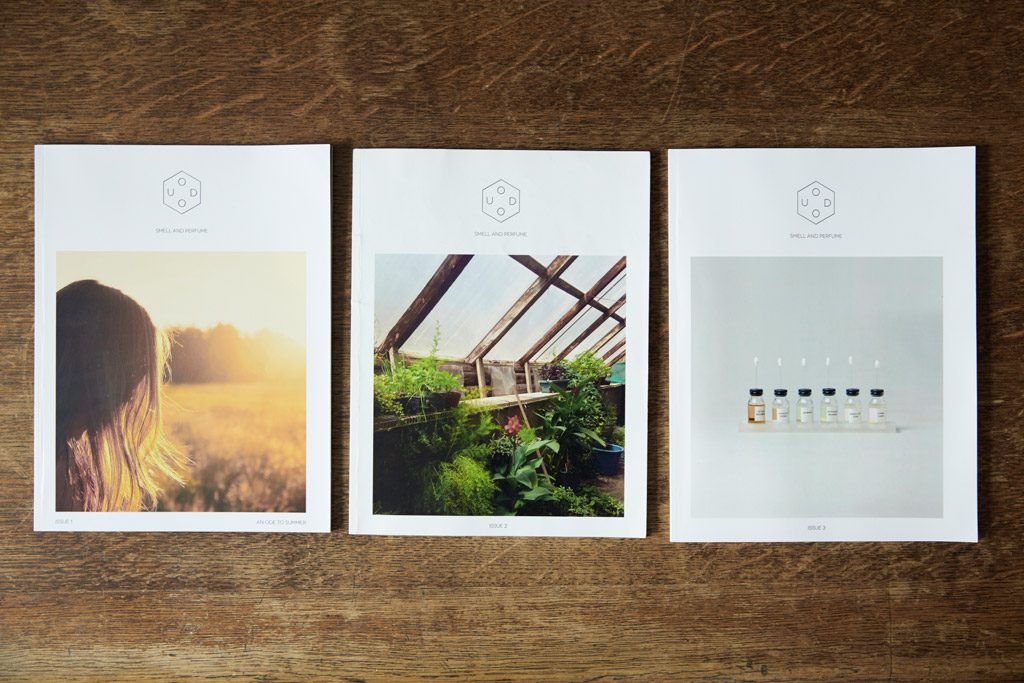 What made you start ODOU magazine?
ODOU came about through a number of reasons. A couple of years ago I was in a book shop and wanted to read a magazine about smell and perfume and realised there wasn't one. I thought it would be worth a shot at trying myself, especially the kind of magazine I would like to read. Being a digital designer means embracing the transience of digital output; work is sometimes never finished – there's always scope for updating/amending/fiddling after. I did some print work in the past and loved its permanence; once it's printed, that's it. It's like a juxtaposition with perfume, that a permanent printed magazine would talk about the transience of smell and perfume and that appealed to me. On a personal level, a few years ago I developed OCD; it was an enormous setback that I found hard to cope with. In time I got through the worst of it, but I'm still living with it. It was a happy coincidence that starting the magazine gave me a focus and it helps me a great deal.
How do you come up with the topics for each issue? How do you source your contributors equally passionate about perfume?
Issue four, which is on Kickstarter, is the first "perfume issue" in that, it looks at perfume through a chronological narrative; the raw materials that go into a fragrance, a look at a perfume school, perfumer's inspiration, creation, marketing, release and reception. It's the most exciting issue I've done yet because it's the one I've been more hands on with. Previously, I've asked contributors to go with their instincts or guide them loosely to gain a structure within each issue. Issue three was something of a "story and interview" issue, it was exploratory. And issue one had a feel of "summer" to it.
Whilst I wouldn't say I curated each and every article, putting the right articles into each issue requires consideration. I ensure that it speaks to the perfume-lover and perfume-lay-person in equal measure. I've never identified with the beauty industry at large either, so ODOU is intentionally meant to be more personal, reflective and intimate even. Though there are articles and features about perfume, it's more about smell in general and the surrounding discourse. It's important to see both sides of the coin; there's nothing wrong with celebrity scents for example, just bad scents. Gender does exist in fragrance marketing and we're skewed to think of it in a certain way. "I Love Natural Chemicals", an article in issue two by Pia Long, is essential reading for anyone. It debunks the "natural vs synthetic" debate that is rife in the fragrance industry – the air we breathe is a chemical yet we're led to be believe "chemicals" are harsh! It was a huge eye opener for me because it kind of turned on my brain and got it thinking about other perfume topics.
I've been lucky that there are people who get in touch through Twitter or the website and express an interest in contributing a story or series of work. There are some regular names that pop up in each issue so you could say there is a small ODOU team.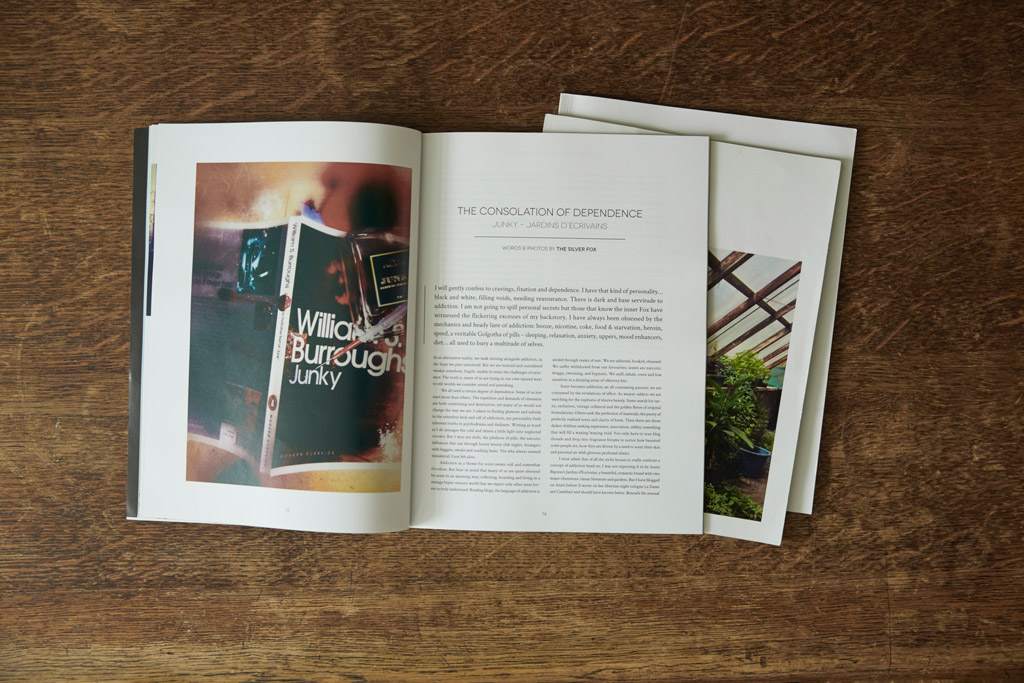 How do you see the magazine evolve in the future? Are you planning to develop your own perfume?
It's important to let things happen as and when they do. I tested the waters with the first three issues and always did a little bit at a time without getting too in over my head. In saying that, I would like the magazine to grow into the kind of magazine you'd want to keep alongside your favourite books, and perhaps become a go-to source for perfume education; something that would inform and inspire as well as a kind of cosy-up read at the same time.
I've spent a while now being interested in perfume and learning perfumery isn't a challenge I'd shy away from. The opportunity to learn from a master would be really exciting but something I don't think will happen any day soon. I know some perfumers and they've spent years perfecting their skill and would say that it is on-going, life-long learning.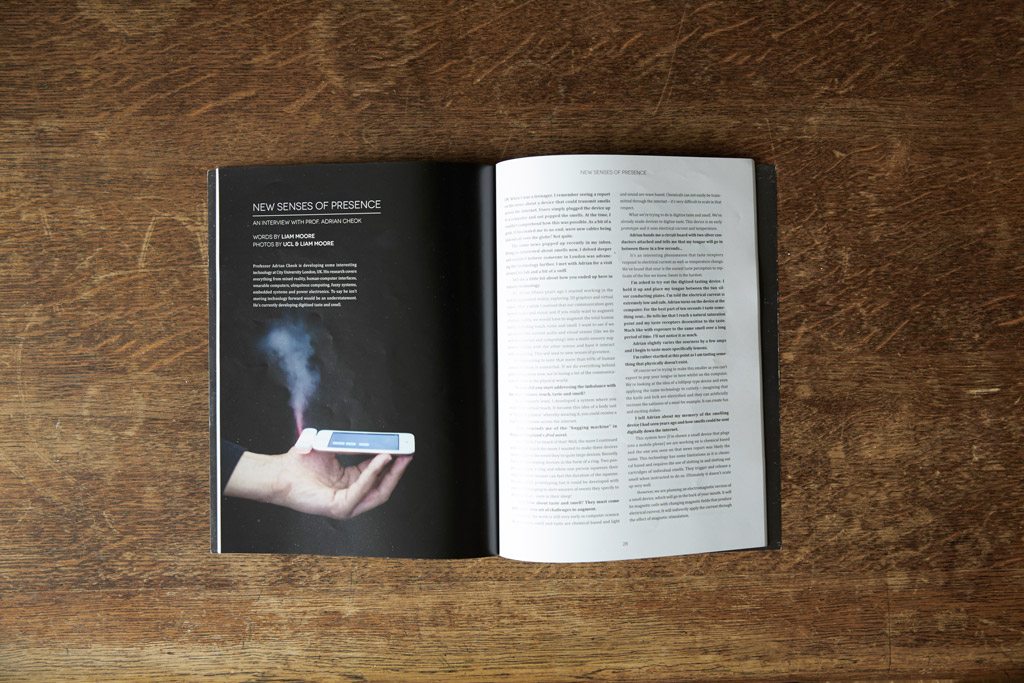 What other magazines do you enjoy reading?
I really like Hello Mr. as it feels "real". It's real, normal, men sharing some of their intimate thoughts and emotions; it's relatable. Importantly too, sometimes it's flippant; it's deep and lighthearted in good balance. I really enjoy reading Popshot Magazine, it too has a relatable feel to it even if the content is fictional. I like the stand-alone aspect to it a lot; that every story doesn't have to be typical or traditional either.
What's your favourite smell and perfume?
I always find the smell of Chinese food to be comforting. Anytime I catch a whiff of garlic in oil, and that greasy, mouthwatering smell, I'm reminded of my home town in Northern Ireland where the weekends used to smell of it in summer – like the air was full of buzz and excitement with all the people going out. As for perfume… It would have to be Breath of God from Gorilla Perfume/Lush; the first fragrance I truly fell for. I've worn it to so many different places, worn it in the company of so many people at so many times, I feel it's become "my perfume" for want of a better phrase.