Chances are that if you own a piece of clothing by a European brand that cares about sustainability and quality its label says 'Made in Portugal'. The country has long been known for its manufacturing tradition, but over the past decade Portugal has started to make a name for itself in the design industry thanks to the work of emerging designers who are using this craftsmanship to create products that are changing the way Portuguese design is perceived both inside and outside its borders.
To explore this subject, we chatted with 5 product and fashion designers based in Portugal to hear their thoughts about the main advantages of manufacturing in Portugal, how the Portuguese government supports design and what needs to be done to make Portuguese design grow even more.
Reality Studio
German designer Svenja Specht started her fashion label, Reality Studio, in Berlin in 2005 and moved to Porto in 2014. Svenja is inspired by ancient craft techniques and questions fast fashion and mass production methods, so it's not surprising that since relocating to Portugal she has produced her collections working closely with local manufacturers.
Svenja thinks that "Portuguese fashion design is quite supported inside of Portugal but it is still not seen as something that can make money – it is not considered a serious business." Svenja adds that it's very difficult for designers to achieve international visibility and financial stability: "I think generally, not only in Portugal, young designers need more support and information about what it means and is needed to build up a brand that is long lasting."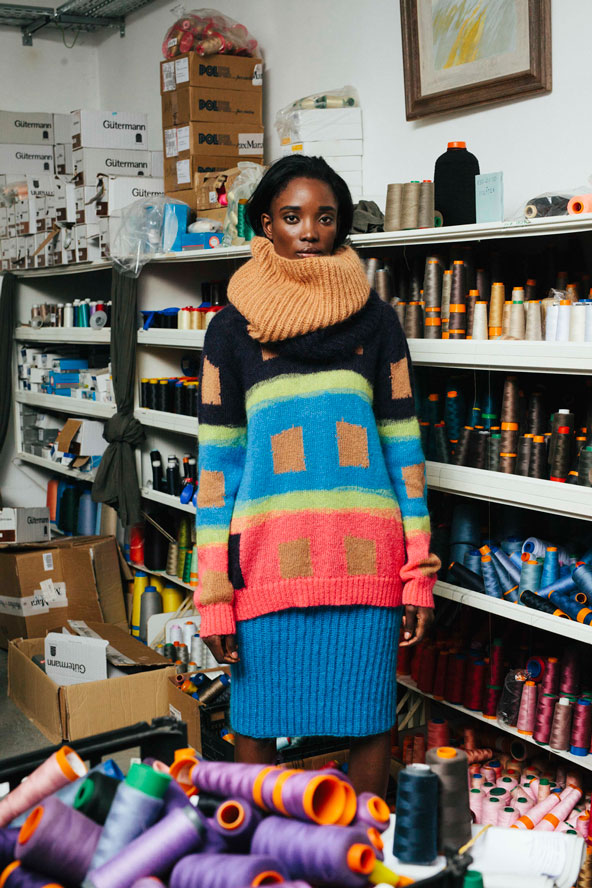 Image by Reality Studio
Moving to Porto has allowed Svenja to experiment with different products: "There are so much more possibilities for trying out other fields of design than in Germany. There are bag producers, cap producers, jersey producers…but it is, anyway, not easy with smaller quantities like in our case. It takes time to to build up good relationships with the producers."
Although she's only been in Porto since 2014, Svenja thinks that the country promotes Portuguese design: "As we've only been a Portuguese brand for 3 years, I'm not completely aware of all the funding opportunities but I think the government and the cities do quite a lot to support and promote Portuguese design. Also, there are fashion weeks in Lisbon and Porto. In the last months one organisation from the textile Industry revitalised, with EU funding, a long existing magazine called 'Principalmagazine'. They asked young photographers, art directors and graphic designers to refresh it – I think it's a great project."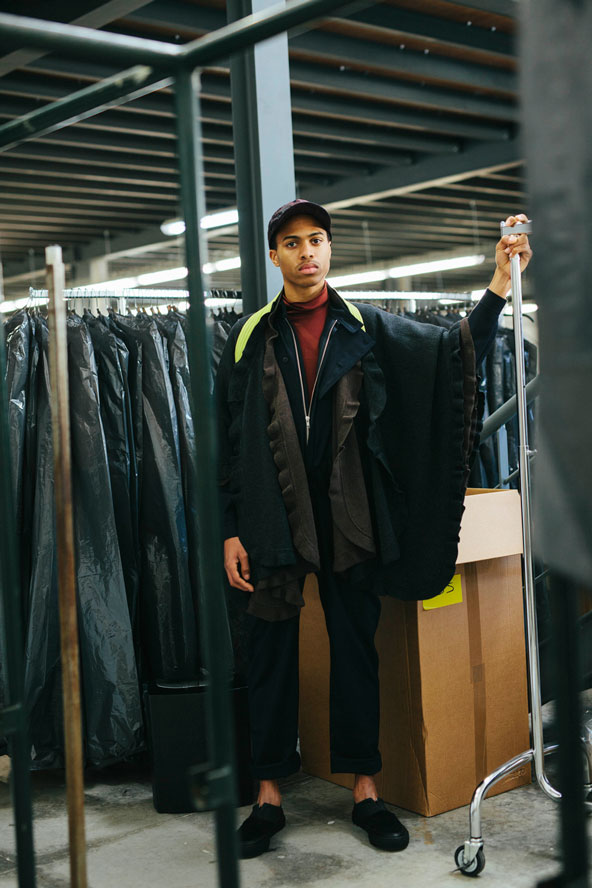 Image by Reality Studio
Ghome
Ghome is a furniture and homeware brand founded by Gonçalo Prudêncio and based in Sintra. Ghome offers functional, sustainable, well-designed and affordable products that are manufactured using Portuguese raw materials and local craftsmanship.

For Gonçalo, the perception of Portuguese design has changed positively over the past years: "Until recently, Portuguese design was academic and with no commercial nor economical relevance, reaching both the domestic and the international scene through exhibitions and other similar events. Since 6 or 7 years ago, a few attempts have been made to start brands that include design as a key factor in their business models. This has been changing, even if slowly, the perception about design in Portugal from something that was meant to be seen at 'the museum' to something accessible and meant to be used."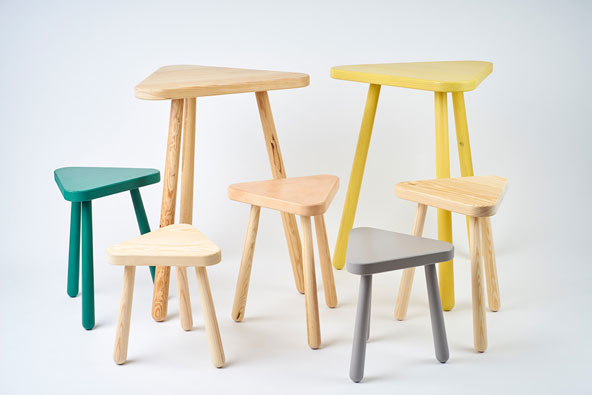 Image by Ghome / António Forjaz Nascimento
Gonçalo sees 4 clear advantages in manufacturing in Portugal: small and big factories with long experience in production, good quality, good levels of technical understanding and a solid know-how. He also agrees that the Portuguese government promotes design through EU funding and supporting organisations on organising exhibitions and events. Despite this help, Gonçalo thinks that "there should be more brands! We are still far too little. Without brands operating in the market, there is little to promote."

Image by Ghome / António Forjaz Nascimento
Sara Maia

Sara Maia is a fashion designer and the founder of womenswear label S*M. Originally from Porto, Sara first worked for different designers in Portugal after graduating and then moved to London to work for Portuguese designers Marques ' Almeida and British designer Aitor Throup. She now works and lives in Lisbon.
When asked about the perception of Portuguese design, Sara agrees with the rest of designers: "In Portugal the perception is still very small and the interest is not very high, although we feel that it's getting better." Sara thinks that the main advantages of manufacturing her pieces in Portugal are "the production quality and the minimums required for the production, which are low compared to manufacturing outside of Portugal."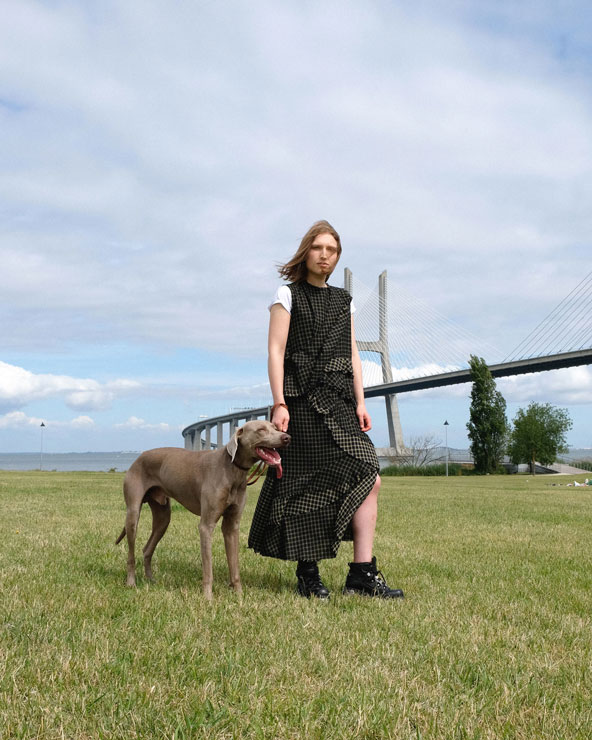 Image by Sara Maia
Competing internationally is one of the main issues for Sara and she thinks emerging designers should receive more support in this area: "I think we still get help from our government indirectly, which isn't enough if you want to compete with other brands outside of Portugal that get support from their governments but also private investment. Creating more public investment aimed to designers is essential, and also thinking internationally when working with partnerships and collaborations – this will help putting Portuguese design in the map."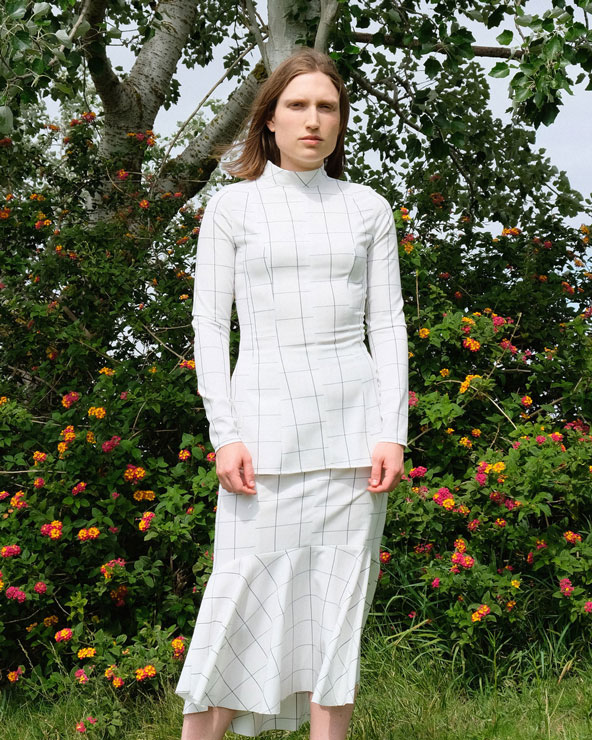 Image by Sara Maia
GUR
Run by Célia Esteves, GUR is an innovative project paying homage to Portugal's craftsmanship. Working in partnership with an artisan weaver of rugs, GUR invites artists to express themselves and create their own rug designs using a medium they've probably haven't experimented with before. The rugs (called GUR) are handmade, woven in a traditional handloom using raw tirela (rag).
Célia thinks customers are now paying more attention to Portuguese design and the traditions behind it: "All over the country you can find different traditions and techniques evolving around weaving – the north is very strong in rag rugs and popular costumes and in the south you can find 'burel', a waterproof and warm wool fabric that was used by the shepherds in Serra da Estrela. Burel is keeping alive the value of the region's natural resources, combining the art and know-how of the village weavers with modern design. Mizette Nielsen did the same in the 70's, salvaging a wool factory with a unique weaving method that was used to create blankets in Alentejo. Portugal is very rich in textiles but a lot got lost during the mass industry years and now we can see a big recovery – people are starting to value the history and handicraft of our country."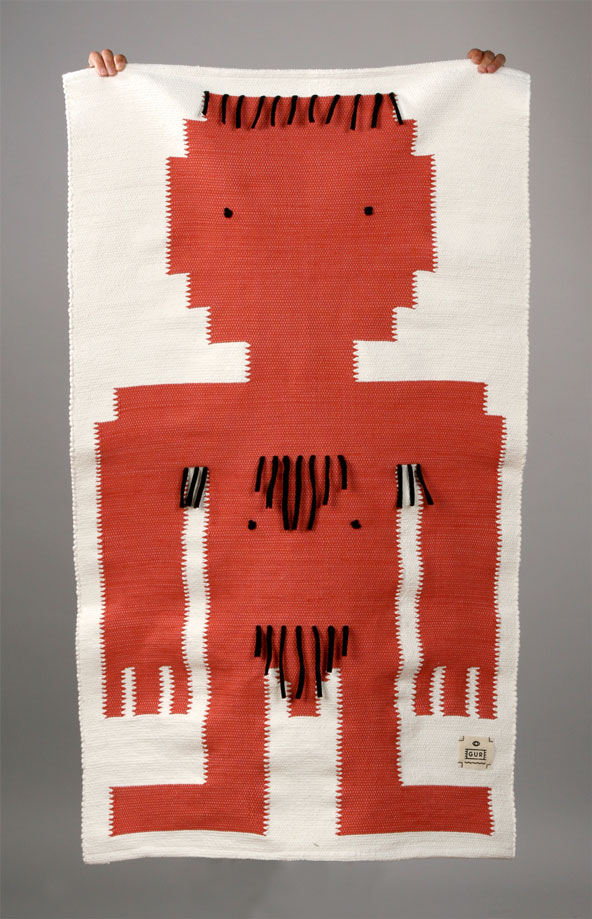 Image by GUR
Although there's some support and funding coming from the Portuguese government, Célia thinks that there should be even more: "There is some support to participate in international fairs – last year we went to London Design Fair in the Portuguese pavilion. Going to fairs is so expensive, this help can allow some new projects to show their work but there is not a lot of budget for a full support or enough available for all." Not having enough support and not being able to manufacture small quantities are two of the main barriers to the growth of the Portuguese design industry according to Célia: "Portuguese designers eventually have to emigrate or do projects abroad to have some recognition. The industry in Portugal should support more projects and the manufacturing of fewer quantities to new designers should be more accessible – for example, the high-quality furniture factories only produce pieces, normally, for big clients. This makes it more difficult for young designers to start their businesses."

Image by GUR
LA PAZ
Jose Miguel de Abreu and André Bastos Texeira are the friends and business partners behind LA PAZ, a menswear clothing label inspired by the Atlantic, its people and traditions. LA PAZ offers timeless and durable goods, working with the best local manufacturers and combining their knowledge with the label's approach to design.
Jose thinks that Portuguese designers are now seeing design from a different perspective and this is affecting positively the way it is perceived: "I think that the idea of 'Portuguese Design' was quite umbilical for a while, meaning that most designers would work from an internal perspective to an internal or even local public. During the last few years there has been a lot of people studying abroad, travelling around and getting new inspirations, which has facilitated a new approach to what our identity really is and how can we show it to the world."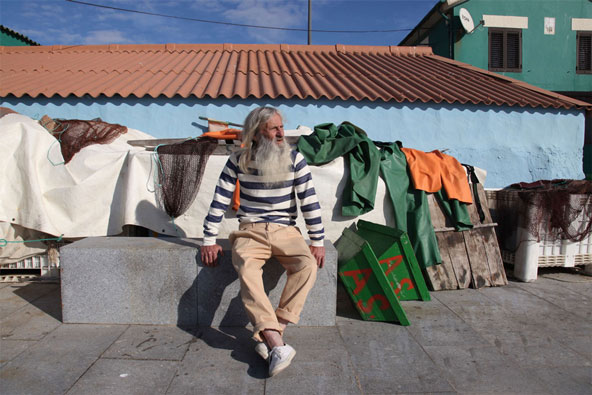 Image by LA PAZ / Jose Miguel de Abreu
For Jose, quality is not the only factor that attracts foreign labels to manufacture their products in Portugal: "Besides the production quality which is recognized all over the world, Portugal is very easy to access from all over Europe, everyone can speak English, there are very good working conditions, and then there's the sun, the food and the people who are very friendly".
In order to promote Portuguese design, Jose believes that the first step must be made by the designers themselves: "They must get off their comfort zone and take risks. I think that it's important to act within a global perspective and not being satisfied by the illusion of being the 'king of the neighborhood'. Portugal has many production facilities and is a small country so it's very easy to travel around and find solutions for what you need to do, and then there's many solutions to present your project abroad, but you must want it really hard first." According to Jose, most designers face the same challenges but they can be overcome with creativity: "We know that the beginning is not easy because you have all the quantity issues, nobody knows you, and so on, but it can be very satisfying in terms of results, and even if the results are not that good they will certainly come with a lot of adventure and personal growing attached. Sir Ken Robinson says at some point in his book The Element that 'One of the enemies of creativity and innovation, especially in relation to our own development is common sense', and I believe so too."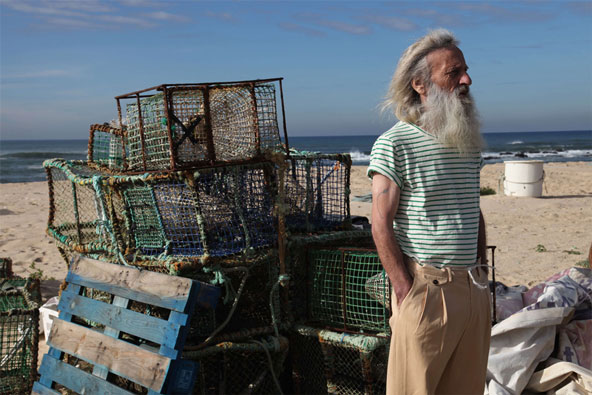 Image by LA PAZ / Jose Miguel de Abreu