If you're a motorcycle lover planning your next European city trip, there's no place better to head to than Rome. The entire city is a UNESCO World Heritage site, and its wonderful sights, architecture, history and culture make it a great destination to explore on two wheels. Riding on a motorcycle in Rome is an unforgettable experience. When you first head out, nothing can quite prepare you for the feeling that you are suddenly part of a motor race. It's lively, fast and loud, but also hugely exhilarating.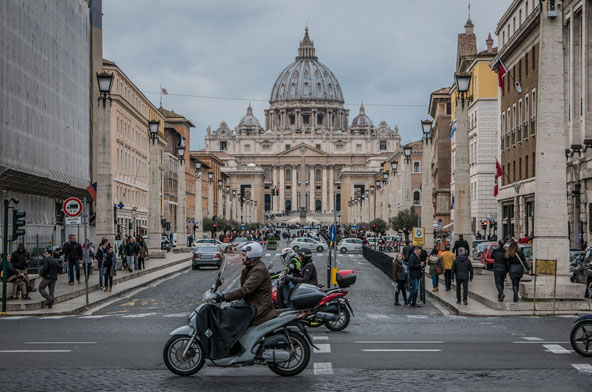 Motorcycling In Rome
Riding a motorbike or scooter is the best way to get around Rome. However, the roads are fast, busy and sometimes a little chaotic, so are better suited to more experienced riders. It's also important to know that not all of Rome's center is accessible all the time to traffic. Between 6:30am and 6pm Monday to Friday, 2pm and 6pm on Saturdays, and 11pm and 3am, Friday and Saturday, most of the city center is closed to unauthorized traffic.
Rome's Licence And Road Requirements
To ride a scooter in Rome, you will need a licence. A car licence will cover you for motorbikes up to 1255. However, bikes over 125cc, will require a motorcycle licence. It's also important to remember that in Rome you must drive on the right and overtake on the left. You should also wear a helmet when you're on your motorbike or scooter at all times. Most people who enjoy life on two-wheels hire Vespas while they're visiting Rome, and you'll find a number of local outlets where you can hire bikes from during your trip.
Discovering Rome's Charm
Take an unforgettable motorcycle tour around this iconic city, while stopping off at places like the Trevi Fountain, and explore sights such as the Giardino degli Aranci, historical sites such as The Appian Way, Colosseum and Circus Maximus. You will also find many incredible food spots on your way too. You'll easily spot the Ducati Cafe with its unmistakable Italian motorcycle brand across the decor. You can even take a food tour, which will stop at local eateries and enable you to indulge your craving for an alfresco coffee, gelato or pizza bianca.
There's no doubt that the traffic on Rome's roads can be pretty hectic sometimes. But don't let that put you off. The exhilarating experience of exploring Rome on a motorcycle or scooter is simply unforgettable.