Founded by Michael McManus and Matthew Grant, Dust London is a homeware label drawing on their experience in artist and architecture studios. They established their design company with the intention of changing the way materials are conventionally used and the ambition of creating objects from natural materials.
We chatted with Michael and Matthew to find out more about the manufacturing of their products, their current range and what homeware means to them.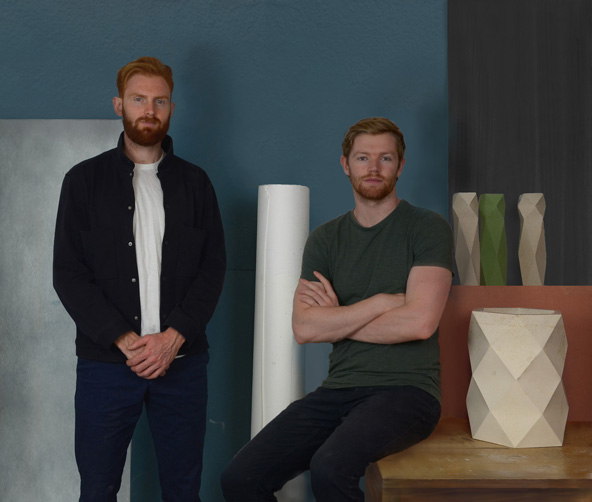 Can you tell us about how you met and what made you start Dust London?
We knew each other from a young age and shared design ideas whilst studying art and architecture respectively. Dust London was born out of an ambition to set up a studio that explored our mutual interests in design alongside our passion for organic and sustainable materials.
Your products are made from tea waste, can you tell us more about why you decided to choose this material and what processes you follow to manufacture your items?
Our studio practice is driven by discovering new materials for making. We were looking for an organic material to use and after months of experimenting we tried tea waste. We found that adding tea to our material created a beautiful range of rich colours. Experimenting with tea waste as a material for making has enriched the colour palette of our designs. From the soft and subtle green hues of our Peppermint tea range to the rich warmth of the Rooibos and English breakfast selections, our products compliment a range of interiors. We collect and separate the tea waste into 5 different colours. Each selection is thoroughly dried before blending and mixing with a gypsum-based powder and non-toxic binder. This mix is then poured into our handcrafted moulds which have been made from a single sheet of paper using origami folding techniques.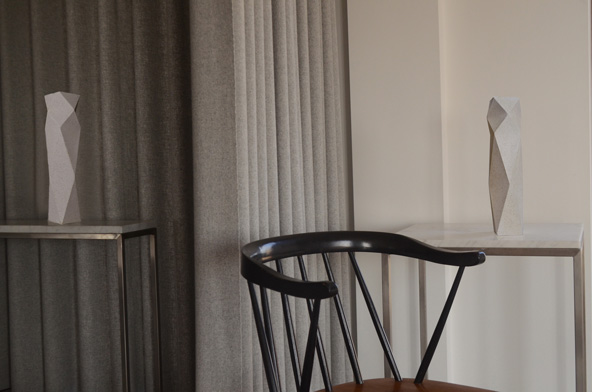 Coming from an arts and architecture background, you mention that you are "keen to step away from the computerised and the mechanistic", can you tell us more about this decision and why you lean towards handmade products?
We have interests in a variety of traditional casting techniques and wanted to apply these to our designs. Through refining handmade processes our ideas have developed organically in our studio. Exploring new techniques and experimenting with materials in this way allowed us to achieve unpredictable results that informed future works. We chose not to use technology within our studio practice because we wanted to apply a makers touch to our objects. By casting our work by hand each piece is entirely unique, with subtle variations in surface pattern and colour.
Your current collection is made up of three objects, can you tell a little bit about each of them? Do you have plans to expand your product range in the near future?
Our current collection comprises three designs inspired by origami forms: a coaster set, a centrepiece vase and a large planter. Each object is folded from a single sheet of paper to create a homogenous design. We were drawn to the minimal aesthetic and elegance of origami that aligned with contemporary interior design. Each of our objects are available in five tea variations: Chamomile, Rooibos, English Breakfast, Peppermint and Black Tea. These colours have been selected to provide a range of textures and hues to complement a variety of interior colour palettes.
We are currently working on a number of larger scale pieces of furniture and have developed a prototype for a table. We are excited to combine the aesthetic of origami with the function of furniture. Experimenting with organic resources will always be at the forefront of our work and we are currently exploring a sustainable material that we can apply to a new collection.
What does homeware mean to you and why do you think it's important?
Homeware is accessible in scale, both for the designer and user. It allows designers to experiment with new materials that find their way into the home. Homeware therefore paves the way for wider conversations that the designer looks to address through their work. By bringing functional objects into the home that are made of tea waste challenges convention and questions how we commit to a sustainable future.