For many of us, working in a more creative work environment would be both enriching and conducive to us getting more work done. We would be at our best and therefore likely to be more productive and efficient each day. This is gradually becoming a consideration for some businesses, you only need to look at Google's headquarters, Googleplex, to see that large corporations are now taking this seriously. Whether you work alone, in a small office or a large company, there are things that you can either enact or suggest to create a work environment to boost creativity. 
Many of us would love to work in a creative field, but where this is not possible for our 9-5, let's at least bring some creativity into our workplaces.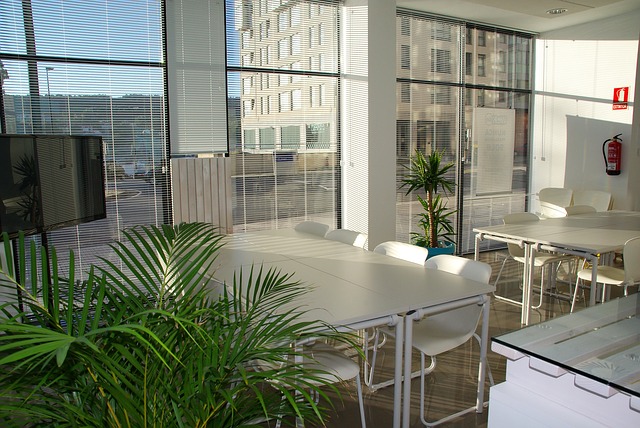 Image Pixabay – Pixabay License 
Ensure that it is visually appealing
This is the first priority, to make the workspace visually appealing.
Where possible, allow for plenty of natural light to flood in, and if not, then look to create the illusion with cleverly positioned lighting and light and airy colours.
Add splashes of colour with either decor like office pods, pictures or flowers and plants. Studies have shown that working near plants can actually improve productivity and employees happiness levels, so add some in and see what difference it makes in your office.
Throw in boards that people can scribble, doodle and draw on around the walls to channel that creativity.
Make it comfortable
All workstations need to be ergonomically designed and assessed to ensure that people are comfortable working at them. In addition to them being comfortable, you will need to create an environment where people are encouraged to move around regularly.
Look to add comfortable breakout areas and ensure that the temperature is at the right level.
Click  why you need a good office chair for more information.
Focus on the aroma
Now we don't all like the same smells, it is true, but there are probably many that we all dislike.
Whilst we all want a clean environment, chemical smells can be off putting so seek to mask these with gentler scents such as flowers or plugin fresheners. Breakfast brought into the office is bound to lend a wonderful aroma to the room or simply throw open the windows for a blast of fresh air.
If you work from home, you can burn your favourite candle as you work or brew up some coffee if that's your thing.
Think about the noise
This is something that is often overlooked. Many people work hard on the visual and then completely forget to address the noise.
Think about your own mood when you work. Do you work better in a silent room, a room with lots of shouting and noise or perhaps a room with music playing? For many of us, it will be the latter. Music can put us in a better mood and provide a great background soundtrack to your working day.
For your work environment, look into DAB radio deals and get yourself set up with a radio. If you work alone, choosing the station that you listen to will be a breeze. If you are in a bigger group, then there might have to be a vote for this one, or you might choose to keep it calm with a classical station.