Now more than ever, we spend a considerable amount of time in our kitchen. It's where we eat breakfast, catch up with family, pursue hobbies like baking, and sometimes even check into the office from our laptops. With so much happening in the kitchen, clutter can quickly accumulate, adding stress to an important and treasured space. 
By keeping it clean and organized, we can transform our kitchen into an inviting and efficient area that makes life around the house infinitely more pleasant. The principles of minimalism provide all the necessary guidelines for accomplishing this task. Here, we will explore five tips for creating a minimalist kitchen.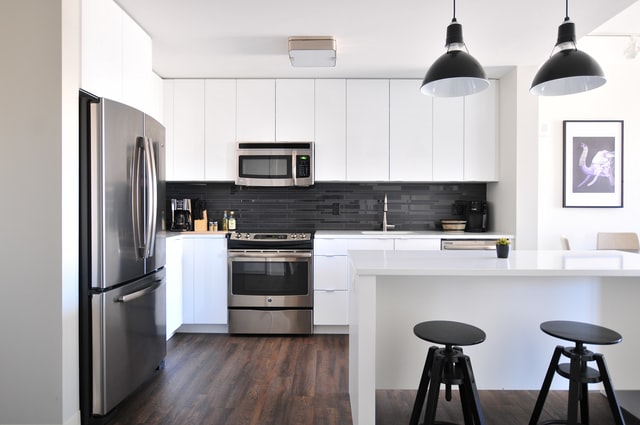 Image via Unsplash
Get Inspired
A good first step is to get some perspective by looking at kitchens that are designed with minimalism in mind. Pinterest or your favorite social network should have plenty of images to draw inspiration from. 
Japanese and Scandinavian styles are the most relevant here. In fact, there is even a trend which combines the two and is known as Japandi or Scandinese. This style blends the Japanese notion of appreciating beauty in imperfection with the European concepts of comfort and refinement. It's a great principle for minimalist kitchen design, so get inspired!
Tone Down
When it comes to color, the classic minimalist look typically comprises a neutral or monochromatic palette. You can also explore chicer and more fun color schemes that include light shades of beige and pastel tones. These work particularly well in kitchens that feature a lot of white components. Remember that lighter colors work better in small spaces. 
Minimize Clutter
No minimalist guide would be complete without a note on getting rid of everything that isn't necessary. It is, after all, absolutely essential to creating a clean and comfortable look. So, what exactly does decluttering involve? In the context of your kitchen, there are several factors to consider beyond the basic practice of cleaning up. 
Start by taking a look at your small appliances and decorative elements. If you use it regularly, see if you can conceal it in a nearby cabinet. If it isn't useful at all, you can put it elsewhere – especially if you don't have a lot of storage space. The following list contains a few items that could be taking up space on your surfaces:
Bread maker

Knife block

Rice maker

Mugs for guests

Panini press

Espresso machine
Depending on how you cook and keep food, you might also want to address your Tupperware situation. If you struggle to find matching lids or everything topples out of the cupboard when you open it, chances are you could do with less or invest in better storage solutions. Here's a guide on meal prep containers that are good for food storage. 
Keep it Sleek
While the main goal is to have less clutter on your counters and surfaces, there are certain elements that can't be stored away. These are the things you use on a daily basis, like toasters, stoves and kettles. Here, consider upgrading to modern appliances that feature sleek and smooth designs with clean lines. 
Use Floating Shelves
Instead of closed-in cabinets, use floating shelves that are open. This not only makes it easy to grab what you need, but also increases both physical and visual space, which can be particularly valuable in smaller kitchens. Another benefit of open shelving is that you can use them to display functional decorations such as plants and spice jars. 
As a final bonus tip, opt for natural materials such as wood and stone where possible. This will help your kitchen feel cozy and comfortable as opposed to cold and hard. Be sure to think outside of the box and see where else you can clean up and improve your kitchen.