We all get excited before a summer trip away, and want to pack absolutely everything to make sure it's the best holiday ever. But even though it can be hard to do, it's a good idea to pack light for a number of reasons. Firstly, it saves the hassle of lugging a giant suitcase around airports, streets and hotel foyers. It saves you having to check it in (with the endless waiting in that zigzag queue), plus having to locate it at the other end on that giant conveyor belt that always seems to leave your bag till last. Finally, it saves you money, as checking in luggage normally costs extra. 
So how best to pack light? Here are a few tips…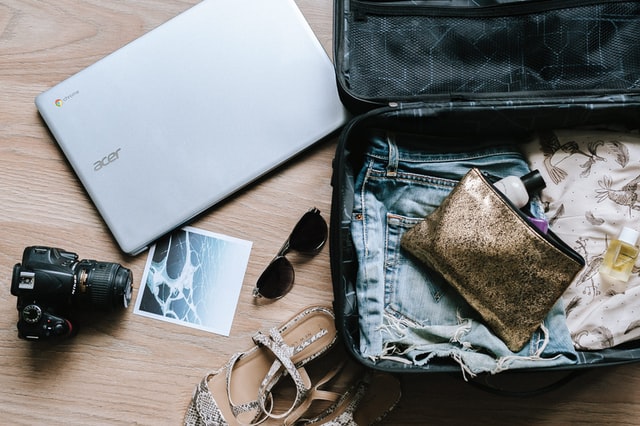 Image via Unsplash
Make a list
Yes, it might sound boring, but if you can separate essentials from desirables, then it'll focus your mind on what you really need. The likes of passports, important documents, enough clothes to last you (and no more) are all must-pack items. Then if there's space left over, you can throw in a few 'nice to have' things as well.
Go miniature
There are small versions of just about anything you can think of – miniature bottles of shampoo, tiny tubes of toothpaste, travel towels instead of normal towels. You could even bring a kids' toothbrush to save a couple of inches of space. And when it comes to clothes, if you're going somewhere warm, packing light women's summer skirts can save space, as you can use them for going to the beach in the day and going out at night when worn with a smart top.
Pack inside your shoes
You should only take one spare pair of shoes. And you can make the most of their bulky, awkward shape by filling them with smaller items like socks and toiletries.
Roll your clothes up
This is a far more efficient shape than folding your clothes for squeezing as much as possible into your bag, and it prevents creasing too.
Wear the bulk
Any discomfort on the flight over caused by wearing your heavy jumper and coat when landing in 30-degree midday heat will be mitigated by the fact that you can just hop off the plane and head straight for the hotel, rather than waiting for checked-in luggage to arrive. 
Underwear
Place this inside the cups of your bras in your bag. It'll also help your bras to keep their shape regardless of what cup size you have.
Say bye bye to little bags
As much as we love to have everything compartmentalised, putting the likes of toiletries and make-up in separate bags uses up space. Your main bag might have several pockets to help you out here, or at the very least there'll be a little corner available somewhere. If you're worried about spillage, wrap bottles in cling film.
Packing light makes your whole trip less arduous and more free. You'll soon realise that you never actually needed all that extra make-up or those additional clothes in the first place.