Introduction
Welcome to the world of home renovation! Are you tired of your outdated kitchen or dull living room? Do you long for a fresh, new look but think it's too expensive? Fear not, because renovating your home doesn't have to break the bank. In this article, we'll explore some DIY renovation ideas and tips for saving money on your next home project. So, roll up your sleeves and get ready to transform your space affordably!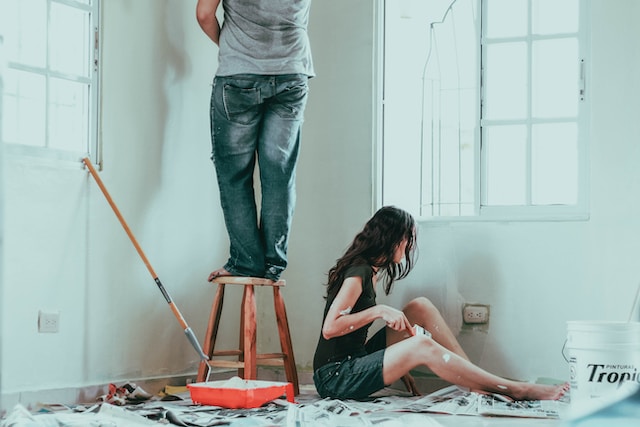 Image via Unsplash
DIY Home Renovation Ideas That Won't Break the Bank
If you're looking to spruce up your home but don't want to spend a fortune, DIY home renovation is the way to go. Here are some DIY ideas to transform your home without breaking the bank:
First, start with a fresh coat of paint. Painting your walls is an easy and cost-effective way to give your home a whole new look. You can even try adding an accent wall for a pop of color.
Another DIY idea is to switch up your home's lighting. Replace old light fixtures with new ones or add lamps to create a cozy atmosphere.
You can also update your kitchen cabinets by painting or staining them. This simple DIY project can give your kitchen a whole new look without the cost of replacing them.
Finally, consider adding some greenery to your home. Plants are an inexpensive way to add color and life to any space.
With these DIY ideas, you can give your home a fresh new look without spending a fortune.
How to Save Money on Home Renovation Projects
Home renovation projects can be expensive, but there are several ways to save money during the process. One way to save money is to do the work yourself instead of hiring a contractor. This way, you'll save on labor costs and can use that money towards better quality materials.
Another way to save money on home renovation projects is to plan ahead. By planning out your project in advance, you can avoid costly mistakes and make more informed decisions on materials and labor. You can also start looking for deals on materials and appliances before you begin the renovation.
Make sure to keep an eye out for sales and discounts when buying materials. Many stores offer seasonal sales on home renovation materials, so take advantage of those opportunities. You can also consider buying materials from thrift stores or online marketplaces like eBay or Craigslist.
Finally, if you're working with a tight budget, consider making small changes instead of large-scale renovations. Simple changes like repainting walls, updating hardware, or adding new light fixtures can make a big difference without breaking the bank.
Overall, there are several ways to save money on home renovation projects. By doing the work yourself, planning ahead, shopping for deals, and making small changes, you can transform your home without draining your bank account.
Tips for Finding Affordable Home Renovation Materials
Affordable materials can be difficult to come by when tackling home renovation projects. But with a little creativity and some smart shopping, you can save a lot of money while still achieving the look you want. Here are some tips for finding affordable home renovation materials:
Shop at discount stores: Discount stores like HomeGoods, Ross, and T.J. Maxx are great places to find affordable home decor, furniture, and accessories.

Explore online marketplaces such as Craigslist, Facebook Marketplace, and eBay. They offer valuable opportunities to purchase pre-owned or reduced-price items that are still in excellent shape.

Look for sales: Many home improvement stores, like Lowe's and Home Depot, have sales throughout the year. Keep an eye out for these sales and stock up on materials when prices are low.

To save money, you can opt for alternative materials such as laminate or quartz that have a comparable appearance to expensive materials like marble or granite.

Ask for discounts: Don't be afraid to ask for discounts. Many stores offer discounts for bulk purchases, so if you're buying a large amount of materials, ask if they can give you a discount.
By following these tips, you can save money on your home renovation project without sacrificing quality or style.
Why Dumpster Rental is Essential for Home Renovation Projects
Undertaking a home renovation project can be a petrifying experience for any homeowner. It can be a daunting task to dispose of the waste and debris generated by such projects. This is where dumpster rental comes in handy. By renting a dumpster, homeowners can ensure that the waste and debris from their renovation projects are disposed of properly. Keeping the workspace clean promotes safety, ensures timely project completion, and contributes to an overall tidy environment. 
Dumpster rental services offer different dumpster sizes and pick-up schedules to meet the needs of different homeowners. It is an essential service for any home renovation project, regardless of its size or complexity. So, if you're planning a home renovation, don't forget to consider dumpster rental as a crucial part of the project.
However, it's important to note that not all waste can go in the dumpster. Hazardous materials such as chemicals and electronics need to be disposed of properly. Dumping these items in a Las Vegas dumpster can result in fines and penalties, and harm the environment. Homeowners should research their local regulations to ensure proper disposal of hazardous waste.
Conclusion
In conclusion, renovating your home doesn't have to be expensive. By using DIY ideas, finding affordable materials, and utilizing money-saving tips, you can update your space without breaking the bank. Additionally, renting a dumpster can make the job easier and more convenient. With these tips in mind, you can turn your home renovation dreams into a reality without overspending. Happy renovating!