This week we have explored a collection of ideas on how homeowners are maximising their selling prices ahead of the stamp duty deadline. Didn't know you could move during lockdown? Turn's out you can!
Here's some tips on how you can do the same:
Enhance your outside
Whether it's tidying up the approach or giving the face of the property a good wash down you will increase the chances of potential buyers taking a proper look. Pressure washing and repainting can erase years of environmental pollution, dirt and debris.
More simple enhancements might include touching up aging paint, replacing broken tiles or simply clearing rubbish or fallen foliage from the pathways.
When it comes to your garden, If your exterior looks unkempt, then that's not good for business. Trim borders, get rid of dead plants or simply clear the clutter to showcase the potential of the space. According to proper buyers Spring, the size and quality of your garden plays an important part in the valuation of a property on the open market.
Clean the windows and brighten each room
Image via Unsplash  
Windows indeed tell tales. If you are always keen on cleaning up the windows, the house will still seem brighter and have a nice cheery look. Everything looks better through clean windows. Additionally, clean windows tend to bring in more light and give you a more colourful room full of natural light.
In the areas that don't have access to good natural light try getting some new bulbs with a paler colour tone and of course replace any that are burnt-out. Brightness plays a crucial role in increasing the appearance of space in your home. After all, who likes dull rooms?
Repair or replace any broken appliances. The critical thing is not to get new appliances because the home will have a new owner. Old devices can function just as well as long as they are not broken. However, you must thoroughly clean and scrub any rust or untidy surface that might push away a prospective buyer. If any of your appliances are broken beyond repair, it is only suitable to get a replacement. It might also save you some money if you opt for second-hand devices. They are often in great shape and only need some polishing.
Repair all worn-out blinds and shabby curtains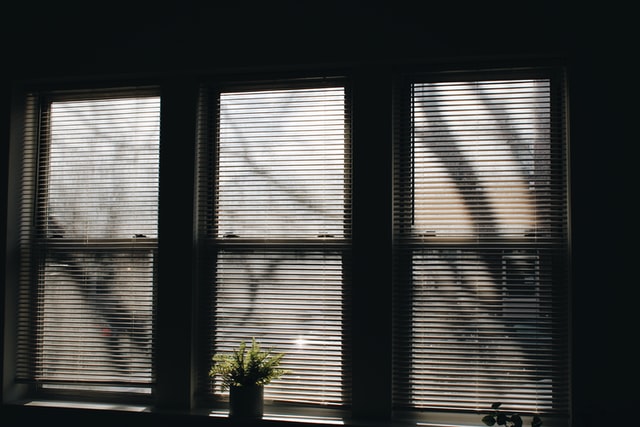 Image via Unsplash
Let's face it, anything that is broken in your home is going to detract and offset the value. If your blinds are looking old and battered, then it's time to get new ones. Likewise if you take the same approach to your curtains, for only a small cost you can breathe fresh life into your home. Homes sell quicker when they are presented as a blank canvas, so use neutral tones to give a contemporary and light feel.
For more ideas on increasing your selling value why not check out this resource. 
Sources:
https://www.forbes.com/sites/juliadellitt/2018/06/29/3-ways-to-increase-your-home-value-in-the-first-year/?sh=5a9081884bf7
https://www.self-build.co.uk/10-ways-add-value-your-home/
https://books.google.co.ke/books?id=907oFAYkq20C&printsec=copyright&redir_esc=y#
https://www.springmove.co.uk/guides/valuation/adding-value-to-your-home/v=onepage&q&f=false
https://www.daveramsey.com/blog/how-to-increase-home-value