Meals are always better when shared with loved ones. Long gone are the days when you needed a huge dining room, bone china or silverware to have guests round – now, it's about creating a comfortable, practical environment with style. So whatever space you're working with, be sure to get our tips on how to maximise what you have and start hosting wonderful dinner parties that everyone will be talking about for years to come!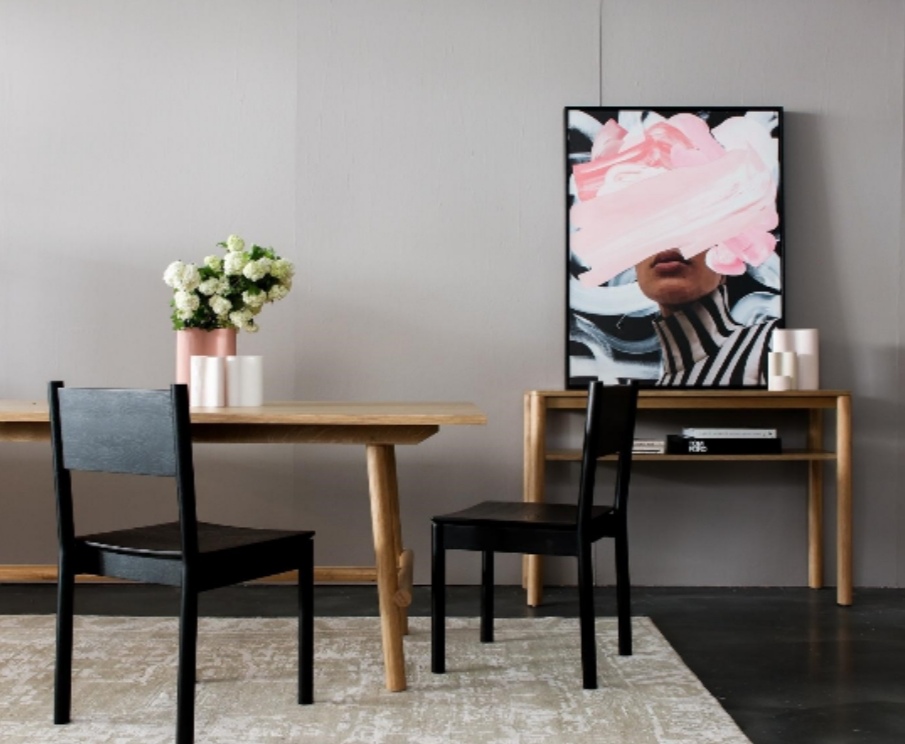 Some might say the home is where the heart is, we think it's where the stomach is! From your first meal as a couple that went horribly wrong but you ate it laughing anyway, to your little one's first vegetable, to wines with long-lost friends, your dining table is the hub of the household – where all the important moments take place. If you are a real foodie and want your table to act as an altar to the lavish feasts you'll be cooking, you can't do without a long solid wood table that can comfortably seat several people. Investing in one of good quality is definitely worth it, as something like solid oak or pine will keep you happy for decades with the right care. Smaller spaces, on the other hand, require something more adaptable. Folding tables are a good shout, however when choosing, bear in mind that a round table takes up more space but offers less seating. Therefore, classic rectangular tables could be a safer bet.
Tip: Little details are important. Decorate your dining table with a vase of fresh flowers, candles, a fruit bowl filled with oranges – you name it, it can go on the table! Good, matching table linens are also worth the investment – no paper napkins here, please!
Get yourself a dresser!
PDo dressers and sideboards remind you of your nan? Well – no longer relegated to the 70s – they are fantastic options for modern dining rooms too, and are especially helpful for people pushed for kitchen cupboard space. Extra storage is always a win, right? You can keep your best crockery on display, find a spot for those huge salad bowls you love but never seem to fit on the kitchen shelf, and even make space for a cocktail bar! Get yours in a mid-century style, or a sleek, modern finish for maximum style impact.
Shine a light
If any part of the home deserves thoughtful lighting, it's the dining room. Just follow a few rules: the light over the table should be soft and diffused, its shape should follow the shape of the table, and it shouldn't be the only source of light in the room. A round table is best suited to a round pendant light, while longer rectangular tables work perfectly with lights hung in a row, to cover the whole space. And how high should you hang the light? Ideally, you should leave about 60 to 80 cm of space between the light and the table, so you get a more intimate atmosphere when dining, but at the same time everything will be lit effectively. Remember to add floor or wall lamps around the room too, otherwise you'll be eating your dinner under a spotlight – which doesn't add a great atmosphere!
The warmth of the light also has a big influence on how a room feels. Choose a central light source above the dining table in a golden shade, that isn't too harsh. Leave the strip lights in the kitchen! Don't forget mood lighting, which adds to the atmosphere when dining with friends. A few candles placed around the room, as well as on the table, are great for this.