We first talked with Kerim and Hana, the founders of PAKTA STUDIO, when they were just starting their bag and accessories brand after moving from London to Bratislava. It's just been over a year and Kerim and Hana have now opened their own workshop and store (Tobrucka 1, Bratislava, 81102) as a means for customers to see the handmade process before purchasing the products,  as well as a point of contact with the local community in order to get to know people better.
We caught up with them to find out more about the space, the new products they've been working on and their plans for the upcoming months.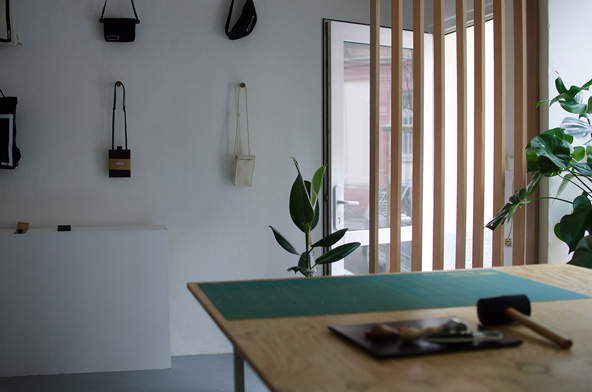 Can you tell us about what you have been doing since we visited your studio? How has PAKTA grown over this period of time?

Quite a lot has happened in a year, we can't believe it's only been that. We have moved into a new place which serves both as our workshop and our store. It's a great space for us to work in, as well as for people who wish to visit the store and try on our bags or see the whole production process. We've also expanded our product range to include the KONSIO collection (which includes some small accessories), the DERIVAT collection (which is made from our production scraps) and a selection of magazines.
We also spent a lot of time refining our visual identity and brand. Now we go under PAKTA STUDIO, to truly encompass everything that we do within the brand and our focus on a holistic approach to designing and production.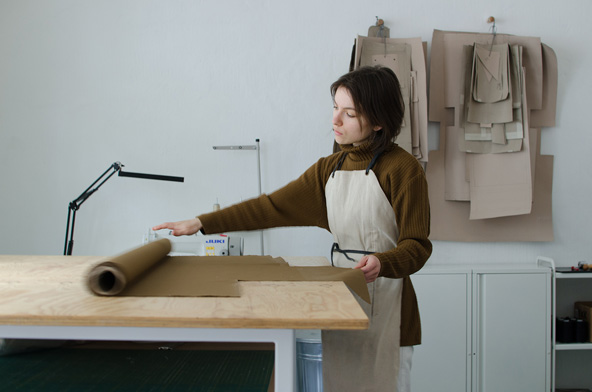 What made you open your own store and workshop? How have the locals in Bratislava reacted to it?


We had pretty much outgrown our old studio and needed more space to work in. We found this place on a hidden corner in the centre of Bratislava, and we just had to take it. It's a pleasant area to work in and is very accessible, which is great for people who wish to visit. This helped us solve the problem of setting up appointments for people to try on the bags and being able to see them in real life.
Half of the week the space functions as a workshop, where we work on the designs there and have meetings. The other half of the week, the store is open for people to come in and try on the products or browse the magazines, or just chat with us if they have any questions. We think sometimes people are confused as it's quite an unusual space, it's not your usual retail store because we work there as well. But people seem to enjoy being able to see the bags being produced to be restocked, and knowing that it really is all made by us. We've only had good experiences so far, really.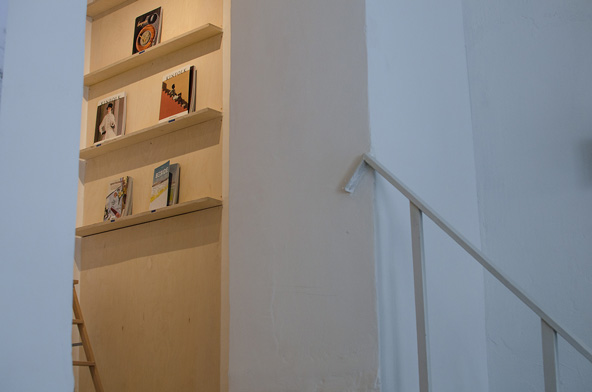 Can you tell us about the space and what people can find inside?
One of the first things you notice about the space is the large windows, which were important to us. We love working with natural light, and being able to have plenty of plants is important to us. The shop is divided into two main areas – one half being the workshop and the other being the store. All of our bags are hanging on the wall to peruse, and then we have a cosy upstairs where you'll find our curated magazine selection, which includes magazines you can't find anywhere else in Bratislava, and the DERIVAT collection.
On the workshop side of the studio, you'll find us, and all the materials we use to make our products – from fabrics, to the components, and the tools we use. Depending on when you come, you might find us in the process of making some bags, experimenting with prototypes, or discussing new ideas.
Currently we also still have some photos on the walls from an exhibition we held in the space earlier this year, which draws your eyes around the room.
When we first talked, you were only making a few products but now your offer has grown. Can you tell us more about your new products?
Yes, we've spent a lot of time working with new product ideas and new materials, and now our product range is basically split into 3 collections.
Our regular bags and backpacks made from waterproofed cotton sailcloth are. With this collection, we still focus on bringing functional bags which are made using durable metal components. Most recently, we took a lot of feedback on our original RUKSAK design and released RUKSAK 2, a more robust and versatile backpack. We also released a small bag in a limited edition called the REZIDENT when we opened the space, with an adapted form of our logo which forms the floorplan of the studio (the release included 42 bags, which is the square meterage of the space).
The new collection KONSIO, which we are really proud of. It's made using Piñatex, a wonderful new material made from pineapple leaf fibres. Exploring new, innovative materials which are more sustainable and environmentally-friendly are important to us. With this collection, we loved the challenge of finding the balance between what we can do with the material and the shapes we wanted to create. This collection also expands beyond just offering bags, to offer accessories such as the Wallet and Keyring.
And our DERIVAT collection, which is made from our leftover fabric, which is generated as part of our making and innovating process. In an attempt to minimise our waste, we regularly explore the leftover fabric we have and look for ways we can re-use it to give it a new life. This often results in experimental and interesting shapes, but is a great challenge for us and helps us be conscious of the waste we generate as a studio.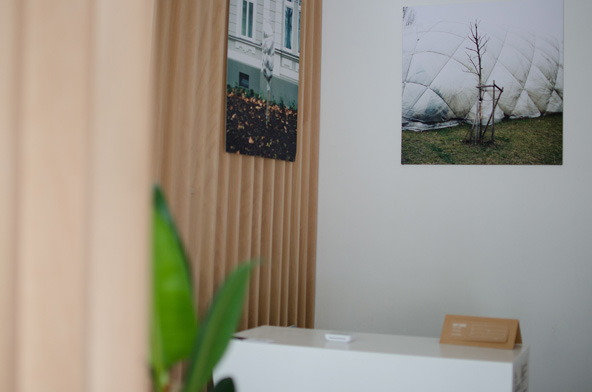 What are your plans for the upcoming months?
Currently, we're in the process of testing and working with a new fabric for a totally new collection which is proving to be a lot of work at the moment. We also want to focus more on the DERIVAT series, as solving the problem of fabric waste is very dear to us, and not only that but sustainability overall.