There are plenty of wonderful restaurants in Atlanta where you can enjoy a delicious meal with the perfect ambiance. But to really elevate the experience, look for a venue that also offers incredible views. 
Whether it's for a romantic dinner, special event, business meeting, or you're looking to capture it all on film or for a photo shoot, the following 10 dinner spaces in Atlanta will wow your guests with their impressive views.
Where to have dinner with a view in Atlanta
1. Polaris
Atlanta's first revolving restaurant serves up spectacular views from inside the iconic, saucer-shaped blue dome atop the Hyatt Regency Atlanta. The decor evokes a chic, retro vibe that's highly photogenic, while the oversized windows perfectly frame the skyline views. 
Glass elevators whisk diners up to the 22nd floor, where handcrafted cocktails and chef-inspired sharing plates featuring fresh, local ingredients await.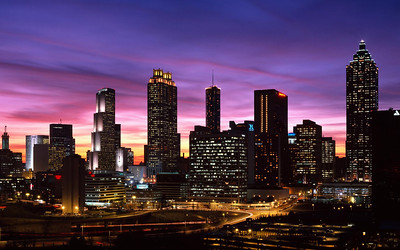 Photo credit: Original photo by Tableatny on Flickr | License
2. Sun Dial Restaurant, Bar and View
Located at the top of the tallest hotel in Atlanta, the Westin Peachtree Plaza, Sun Dial is the city's only tri-level dining complex, featuring an upscale restaurant, observatory, and cocktail lounge. Floor-to-ceiling windows show off the stunning Atlanta skyline from every angle as the complex rotates, while diners feast on the best in farm-to-table contemporary American cuisine.
3. Canoe
Canoe proves that you don't have to be sky high to offer great views. Situated on a quiet and historic stretch of the Chattahoochee River, this bucolic gem is a local favorite for upscale Southern and Lowcountry seasonal fare in scenic surroundings. 
Featuring elegant décor, a romantic garden and pretty river views, it's the perfect space for a romantic dinner with that special someone. 
4. 57th Fighter Group Restaurant
For one of the most uniquely located dinner spaces in Atlanta, head to Dekalb-Peachtree Airport, where you'll find the 57th Fighter Group Restaurant next to the south runway. The World War II aviation-themed restaurant serves up classic American cuisine. Enjoy views of planes taking off and landing from the outdoor patio, complete with fire pits, or through the oversized windows inside.
5. 9 Mile Station
Situated on the roof of Ponce City Market, 9 Mile Station is a low-key option for good food with great views. The indoor and outdoor beer garden offers standard biergarten dishes and inspiring views of the Midtown, Downtown, and Buckhead skylines. Fire pits will keep you warm after the sun goes down. Afterward, enjoy carnival games at Skyline Park, which shares the same rooftop space.
Photo credit: Original photo by Theodore Lee on Flickr | License
6. Nikolai's Roof
Nikolai's Roof is an easy choice for sophisticated European-inspired dining with a view. Located on the 30th floor of the Hilton Atlanta, diners can enjoy panoramic city views to go with their dinner of modern American and French cuisine, with lingering hints of the restaurant's original Russian influence. Don't miss the creative cocktails, featuring vodka and all sorts of interesting ingredients.
7. Ventanas
Ventanas offers everything you need to make your next private dinner or special event extraordinary. Located across from Centennial Olympic Park, the private event venue offers an indoor space with two-story, floor-to-ceiling windows, an outdoor patio with bar and fire pits, and even a helipad to add a touch of luxury and drama. The culinary team can customize a menu to your tastes and event requirements
8. Park Tavern
Located right next to the entrance of Piedmont Park, Park Tavern offers great views of both the skyscrapers of Midtown and the expansive green space of the park. Grab a spot on the dog-friendly, climate-controlled patio and savor the views and flavors. The restaurant has one of the most eclectic menus of any dinner space in Atlanta, featuring everything from typical bar fare and fried seafood to sushi.
9. SAVOR Bar & Kitchen
For fine dining featuring farm-to-table cuisine in a tranquil urban oasis, head to the Westin Atlanta Perimeter North. Where else would you get to enjoy views of a private lake? Sit in the airy, indoor space, and gaze out the two-story windows. Or better yet, grab a spot at the outdoor patio and enjoy dinner al fresco. Fire pits add to the lovely atmosphere and ensure that you don't get cold.
10. Six Feet Under
This popular fish house and pub offers great views from both locations: the Westside branch offers expansive Midtown views while the Grant Park branch overlooks Oakland Cemetery. Bar seats on the outdoor patio offer the best views, while large tables cater to groups. Choose from a solid beer selection from several Atlanta breweries and a menu of largely seafood for a casual dinner with a view.
Choosing an Atlanta dining space with a view
The 10 choices listed above are a great starting point for picking a restaurant with a view for your next dinner or special event. To narrow your choices down, decide on what type of food you want, as well as the view and ambiance you are looking for. Do you prefer skyline or greenery? Steak or seafood? Elegant or casual? 
Once you have made your decision, be sure to make a reservation if possible. Lastly, check to see if there are any dress code or other requirements you need to be aware of. Then, sit back and enjoy your dinner with a view!
Resources
https://discoveratlanta.com/dining/restaurants-with-views/
https://www.zagat.com/b/atlantas-10-hottest-rooftop-restaurants-bars
https://atlanta.eater.com/maps/best-views-atlanta-restaurants
https://www.exploregeorgia.org/restaurants/blog/6-most-romantic-atlanta-dinners-with-a-view