Amélie Freyche is a designer and co-founder of Swiss collective collectif Galta currently living in Paris. Using wood as her preferred material, Amélie explores design and its different paths. We chatted with her to find out more about her background, the different disciplines she works across and her favourite projects.
www.a-la-freyche.com
www.collectifgalta.ch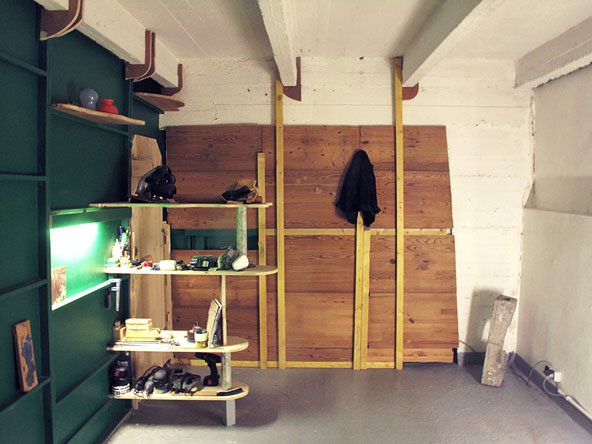 Can you introduce yourself and tell us about your background?
Hello there, my name is Amélie. Before becoming a designer, I studied law – social law was deeply substantial but my attraction to painting and structure has grown stronger. Throughtout my studies at the University of Art and Design of Geneva I spent time in the wood workshop completing my main subject in interior architecture, developing furniture and devices.
I then went to Lodz, Poland, for an Erasmus semester. Having less resources means that inventiveness has to make up for them. We may use regular materials to create singular objects – this is the amazing beauty of designing in 2017.
A great encounter with Jurgen Bey, with whom I interned, led me to broaden the meaning of narrative details: even a spoon gives an extended image of what it is essentially used for. Thereafter, I stayed for a couple of months in Geneva to develop the collectif Galta's projects and after that, I came back to Paris and created my studio atelier à-la-freyche.
How do you describe your work?
Some people have described my design as eccentric-minimalist, raw, and have also said that the curved lines are naturally harmonious. Materials may be mixed freely, their treatment leaving their physical and aesthetical qualities visible: the concrete substrate or the veined pattern of wood.
As often as possible, I build wooden furniture out of salvaged materials – even small pieces may attain consistency. I also design objects that are activated by their action, like a clear screen that hides the body while the person is getting undressed or a brewer that seesaws when coffee is ready.
I use diversified media and scales of work: structures in various materials, short documentary films, models, sound, sewing, figurative painting on wood. More broadly, I'd like to create a specific field dedicated to natural movement and understanding people's gestures and needs.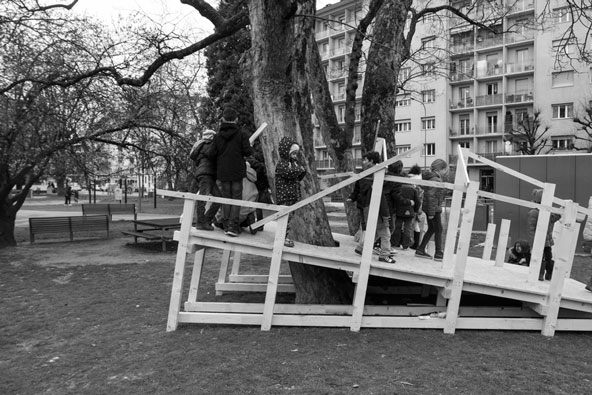 You work across different disciplines, can you tell us briefly about each of them?
Indeed. I develop furniture, public (especially theatres) and private spaces, and sometimes objects. These are sustainable or temporary – the main element is to consider the accurate proportional effort of materials involved in their production. I just wish for one difficult thing, borrowed from Owen Jones: "True beauty results from that repose which the mind feels when the eye, the intellect, and the affections are satisfied from the absence of any want."
A space includes a lot of variables that must be combined together, which requires real team work. Within the collectif Galta I founded with my great friends in Switzerland, we organise a residency in the south of France each summer to gather artists, designers, musicians, cooks, etc. There, bridges are built in some days thanks to an amazing energy and a desire to exchange ideas because people know they may share there what makes them feel alive.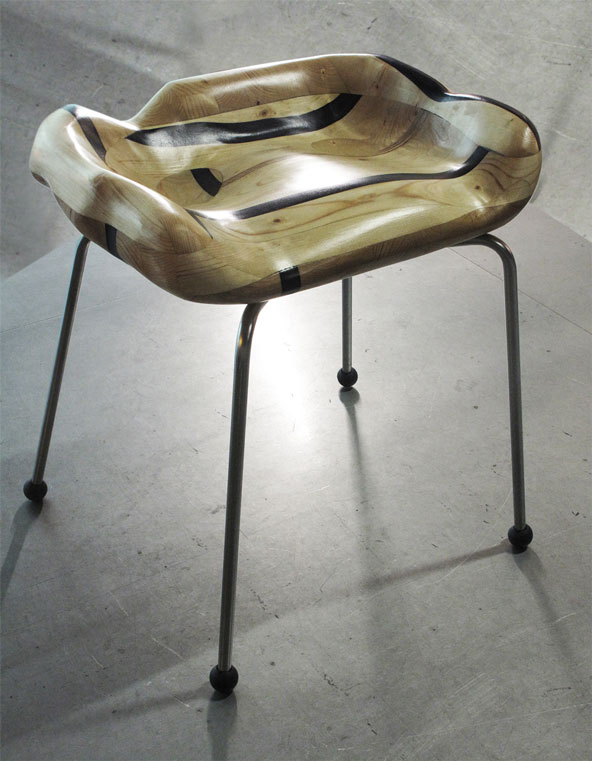 What are some of your favourite projects?
The glasshouse: an atopos house shaped from the inside to the outside offering a view of how a living place could be structured the other way around.
Time machine and craft stories: a textile fresco disclosing the Kunstmin theatre's architect Sybold van Ravesteijn's journey in Italy, an experiment that gave rise to his second period of creation through his discovery of southern processes, which transformed his later buildings – created within the studio Makkink and Bey.
Ornament and prison, the inner self in the custodial setting: an essay developing a definition of the ornament based on an essential living need.
This is also your skin: a tyvek chamber designed with Jessica Brancato for our diploma and our first super exciting participation in the Salone del mobile di Milano.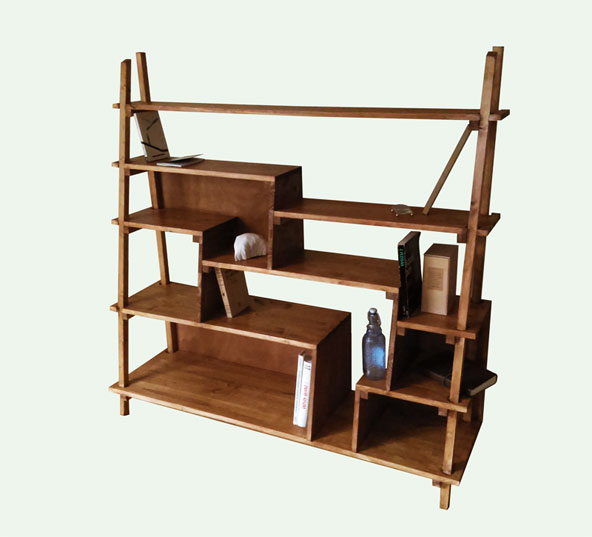 Can you tell us about your plans for the upcoming months?
I am currently preparing an exhibition of collages: an ensemble offering a reading of the relationship between humans and technology. With my co-worker Augustin Viard, we are exchanging short texts to build the structure.
The collectif Galta will present pieces exploring the connection between artifice and nature. It will take place in Geneva from the 30th of November to the 3rd of December. I am carving blocks made of clustered off-cuts of various wood species to design stools and chairs that will be presented at the next Face to Face Paris event, on the second weekend of December.