We recently travelled to England's North West and spent 3 days exploring places to eat, shop and visit in Manchester and Liverpool. Following the format of our City Guides, here's a mini guide featuring some of our favourite spots in both cities.
Manchester
We stayed in Manchester's city centre and found it quite easy to get around the city on foot. Everything is within walking distance in the city centre but you can also take the Metroshuttle, a free bus service between the main rail stations, and there are trams going from the centre to the rest of neighbourhoods. Compared to Liverpool, there aren't many attractions or landmarks to see but the city's architecture mix is really unique and the city's musical heritage is present everywhere in Manchester, making it really interesting to walk around its streets discovering places that were an essential part of British music history – a genuinely inspirational adventure that had us pondering about guitar lessons near me and where we live, even though we're sure a poorly plucked rendition of any Primal Scream track would incite anger from everyone.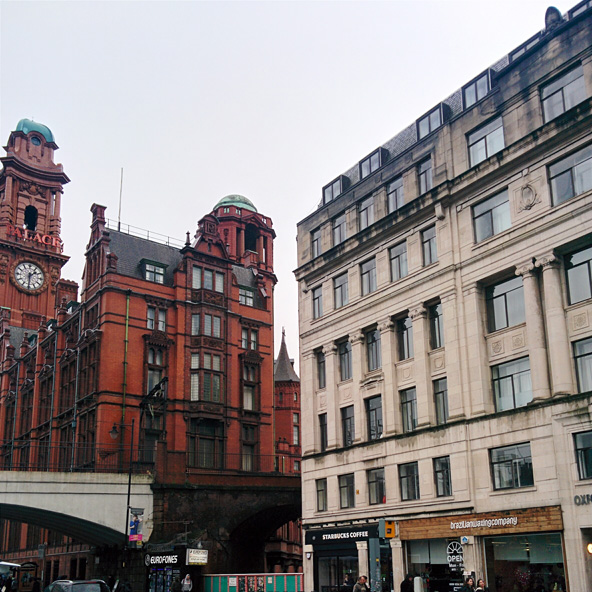 EAT
There are lots of really good places to eat and have a good coffee in Manchester, and you can find most of them around the Northern Quarter – the city's most creative and vibrant neighbourhood. For lunch, try Soup Kitchen, a canteen/bar/club serving seasonal fresh food and specialising in Caribbean dishes, all in a very relaxed atmosphere. For dinner head to Ply, just around the corner from Soup Kitchen, a bar located in a cool and big space with art on its walls, serving a great variety of craft beer and pizzas cooked in just 90 seconds in their wood-fired oven.
If you want to get some coffee or a drink and grab a small bite try Common, a recently refurbished café and bar which is considered an institution in the Northern Quarter. You should also pay a visit to North Tea Power, a café specialising in tea but also serving delicious coffee, soups, grilled cheese sandwiches, salads and pastries in a very cosy space.
SHOP
Apart from the typical high street chains and big brands, Manchester is home to numerous independent shops. For clothes, make sure you pay a visit to Oi Polloi, a menswear store stocking a great range of brands the likes of A.P.C, Margaret Howell and Our Legacy. Also in the Northern Quarter, Magma sells independent magazines, art books and a nice selection of prints and gifts.
Liverpool
Liverpool is just 45 minutes from Manchester by train so it's really easy to travel between both cities. As we mentioned before, Liverpool probably has more attractions and landmarks but it is also much smaller than Manchester, so you can easily explore most of the city centre in one day.
EAT
Start your day at 92 Degrees, a micro roastery and coffee shop serving espresso and pour over, as well as cakes and pastries from local suppliers and bagels and sandwiches made on site. In the same neighbourhood and really close to 92 Degrees you will find The Quarter, and Italian-inspired restaurant and deli. The relaxed atmosphere and interiors make it perfect for lunch or dinner, or just to grab a quick bite – there are also some tables outside where you can enjoy food and drinks under the sun during the spring and summer months.
A little far way, close to Liverpool one – the city's open air leisure and shopping complex – you can find The Cow & Co Café, a small coffee shop serving good food and coffee, and stocking a nice selection of independent magazines and books. The owners of the café also run an online shop with the same name dedicated to design homeware.
VISIT
Located in Albert Docks, next to the rest of the big museums in the city, Tate Liverpool exhibits works from the museum's own collection that change from time to time, as well as exhibitions with a focus on a single artist or theme. Really close to Tate Liverpool, you can find Open Eye Gallery, a beautiful space dedicated to photography that also has a small shop selling artists' books, film, paper and other photographic supplies.
Just off Bold Street – one of the city's most lively streets – stands FACT, a new media arts centre composed of a cinema, gallery, workshop space and café. The exhibitions offer is really interesting and different, focusing on the interactions between art and technology.
You shouldn't leave Liverpool without paying a visit to the Metropolitan Cathedral, this impressive work of architecture was designed by Frederick Gibberd and built in the 1960s, and it's completely different to the the concept of a traditional church in the UK. Apart from observing the imposing exterior, we recommend going inside to see the central altar and stained glass.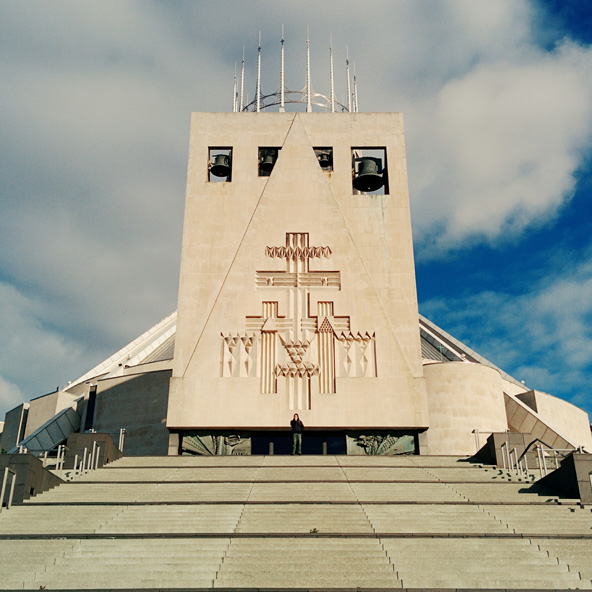 Liverpool Metropolitan Cathedral