The Netherlands is a tiny country with a lot to offer. There are windmills, canals and fields of tulips to see in the spring. The Netherlands is also home to the infamous city of Amsterdam and numerous picturesque villages.
You can visit most places in The Netherlands in one day and within a two-and-a-half-hour car journey from Amsterdam. Make your trip into a cycling holiday, and explore areas of the country like a local. 
Here are the top five places to see in The Netherlands.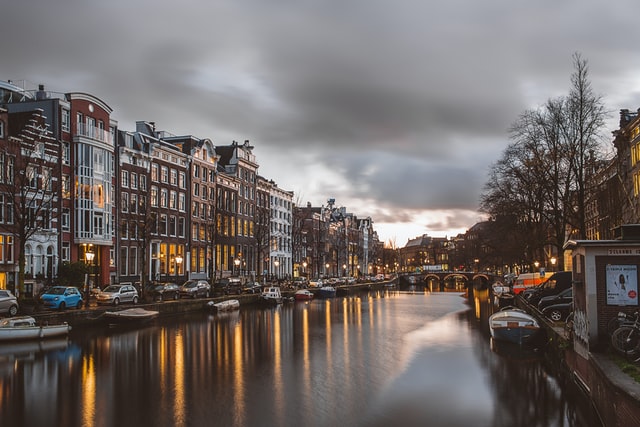 Image via Unsplash
Amsterdam
Amsterdam is the main attraction of The Netherlands. It is the capital city and features numerous iconic spots. Spend an afternoon walking through the Van Gogh Museum or take a trip down the Red-Light District for a truly shocking experience. You can rent a bike and cycle down the cobbled streets like a local. Just make sure to take in the canals as you bike past and stop off at the Anne Frank House. Unfortunately, there is not an elevator to the top floor of the Anne Frank House, so it may not be accessible for everyone. 
Geithoorn
Once you have spent a few days in Amsterdam, it's time to visit 'Little Venice', also known as Geithoorn. There are only 2,600 locals in Geithoorn and over 20,000 visitors every year. While the town is quite tourist-heavy, it's also filled with canals and hundreds of charming bridges stretching across them. You should grab an Instagram photo outside one of the traditional Dutch farmhouses. It's one of the most beautiful places in The Netherlands, especially if you embark on one of the surrounding hikes. 
Kinderdijk
Kinderdijk is another popular place in The Netherlands. The windmill system here was one of the first major technological innovations in the 13th century. The system pumped inland water out of the town and into the rivers. The 17 remaining windmills are a UNESCO World Heritage Site and a fantastic tourist attraction. The Netherlands continues to be ahead of the curve with water management.
Utrecht
Back in the day, Utrecht was the most important city in The Netherlands and was founded back in the Stone Age. Although, officially, it was found by the Romans in 50CE. Utrecht was a religious centre for The Netherlands in the early stages of Christianity, and bishops used to gather there. Now, it has a young population and rich cultural scene with theatres, music halls and museums. You can find a few unusual restaurants tucked in wharf basements along the canals.
De Hoge Veluwe National Park
This National Park is eight kilometres north of Amsterdam and spans over 13,750 acres. It's incredibly diverse as well – you can see forests, sand dunes and plenty of wildlife. Cycle or hike through the trails and immerse yourself in the natural beauty of The Netherlands.