Jordan Wunder
WUNDER LEATHERS
After running his own t-shirt label for a few years and moving to New York, designer Jordan Wunder decided to focus on creating a functional, high quality, perfect fitting leather motorcycle jacket and founded Wunder Leathers.
Having worked with some of the makers of the original jacket from the 1920's, Wunder Leathers provide a modern interpretation of this classic staple inspired by late 70's – early 80's NYC and UK punk rock icons.
Photos by Matty Chatburn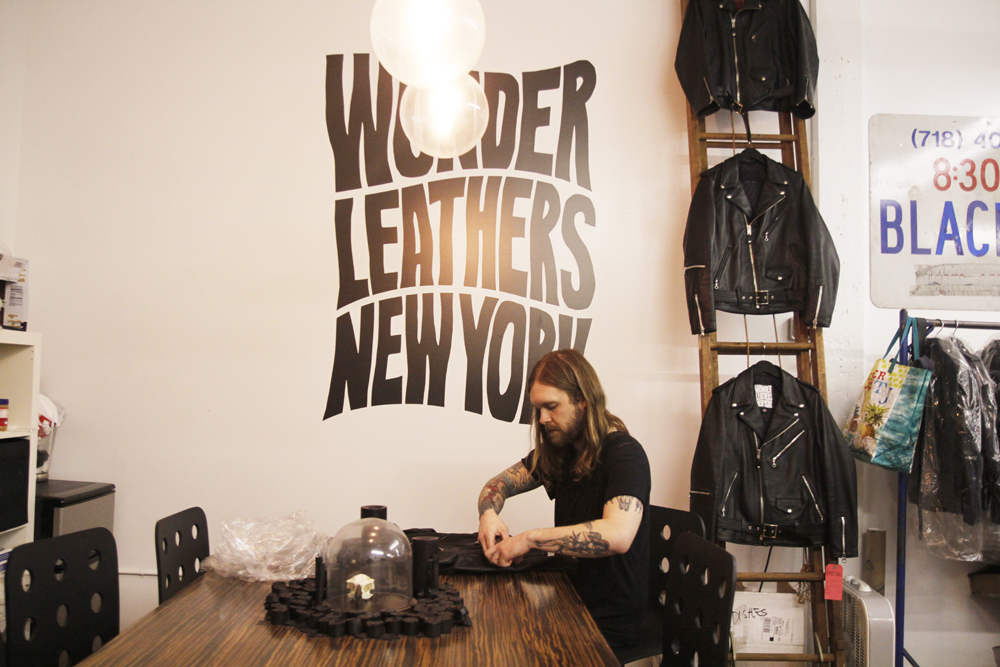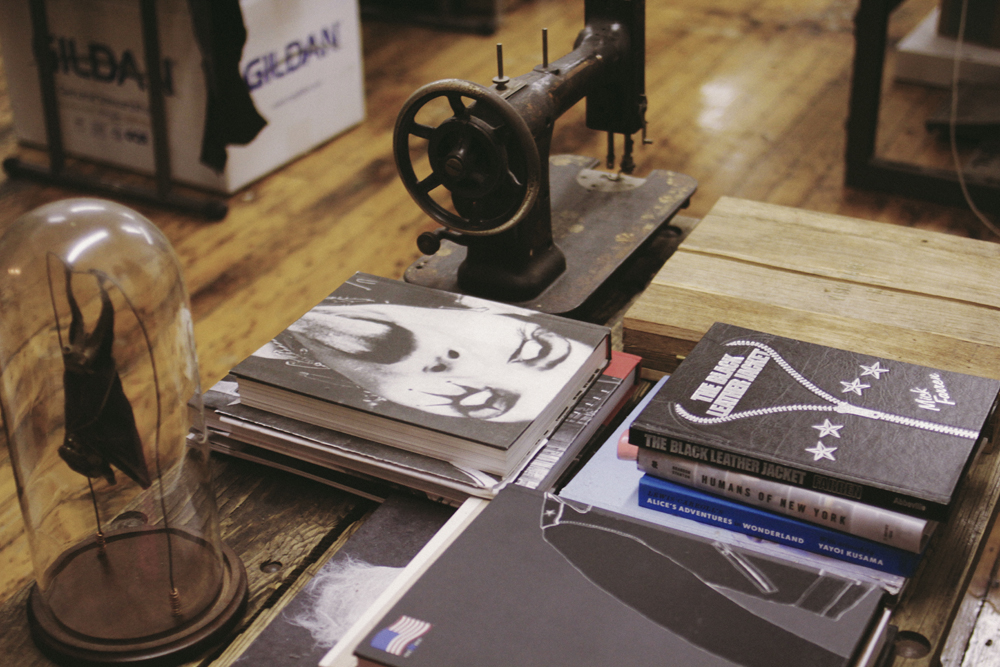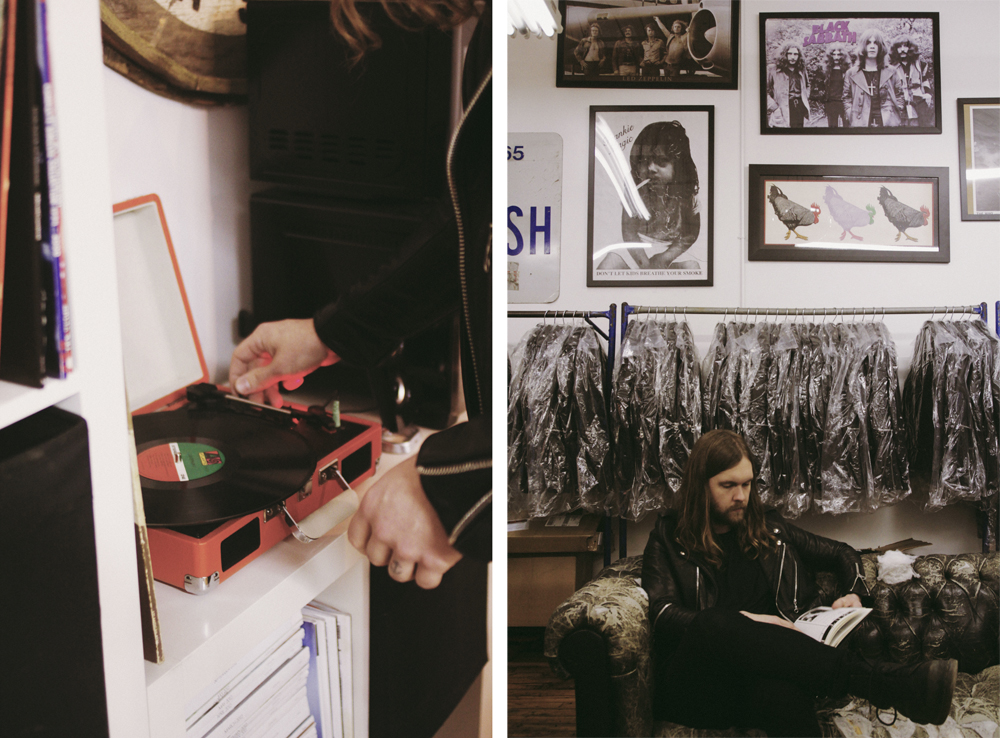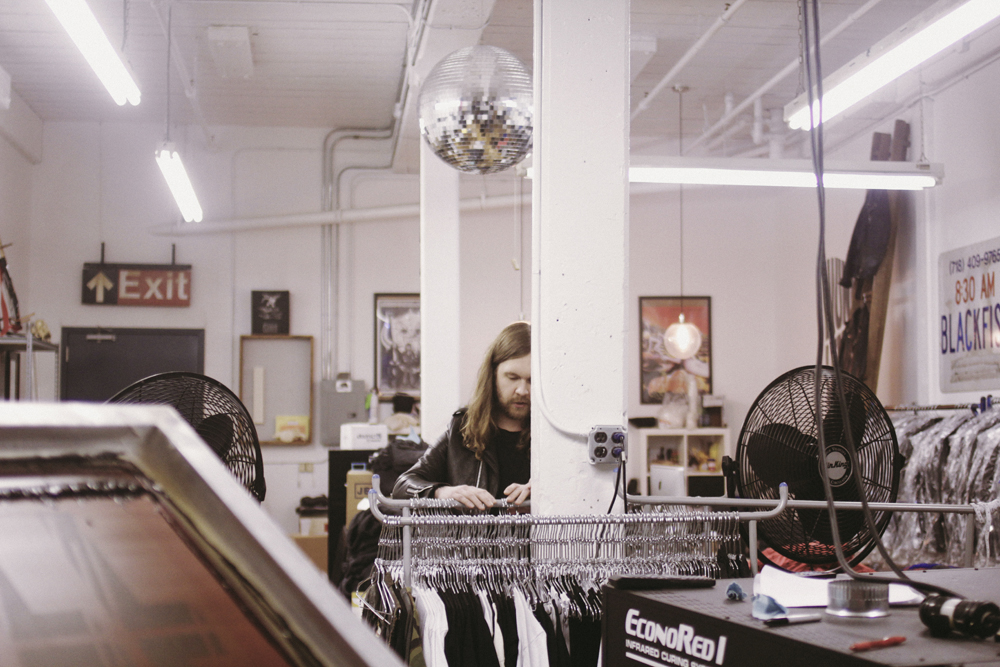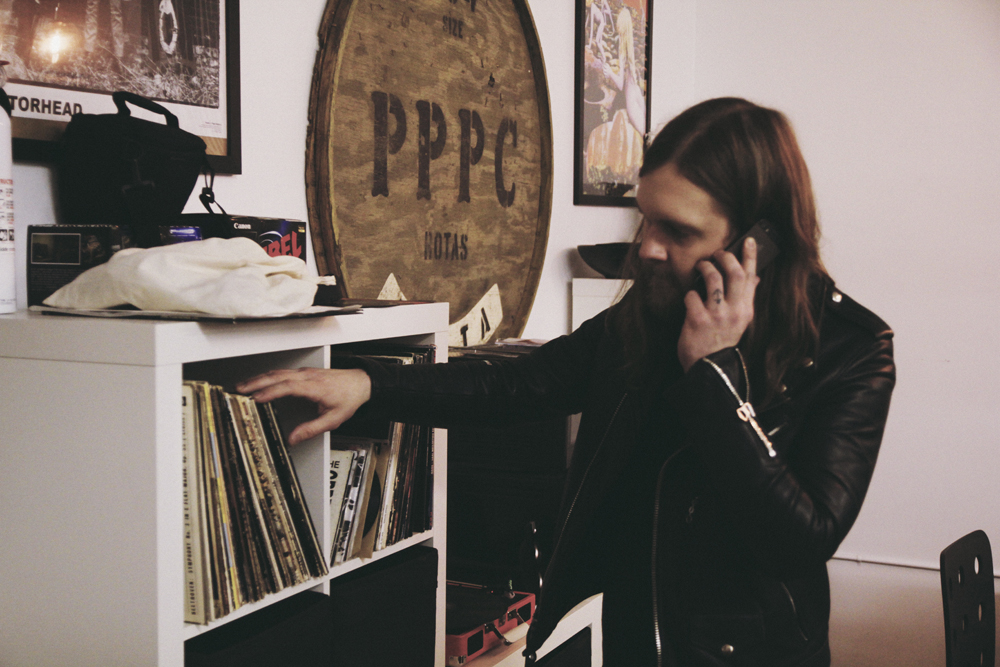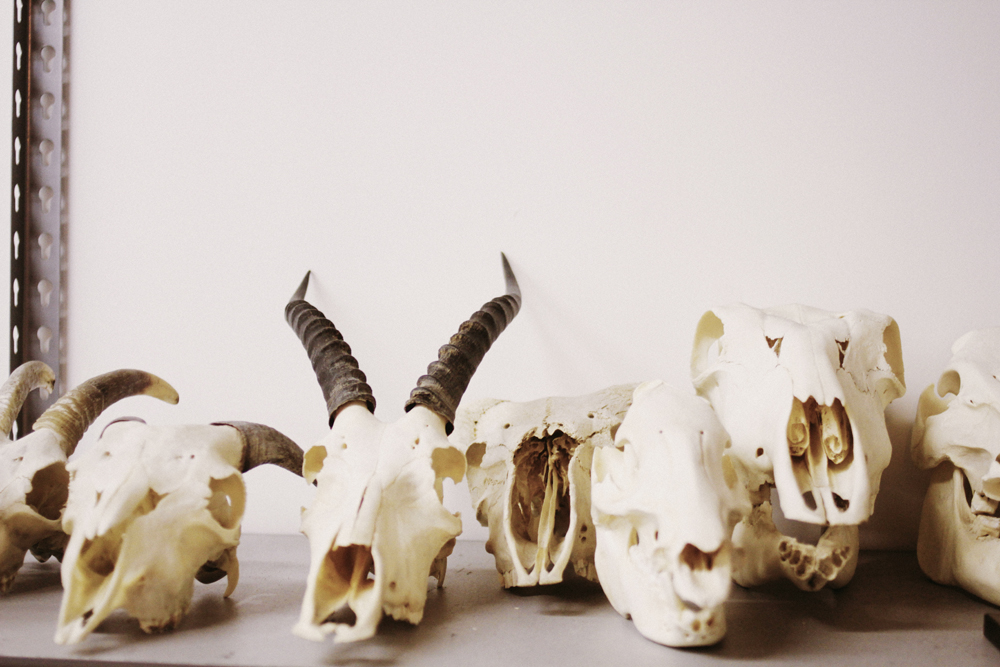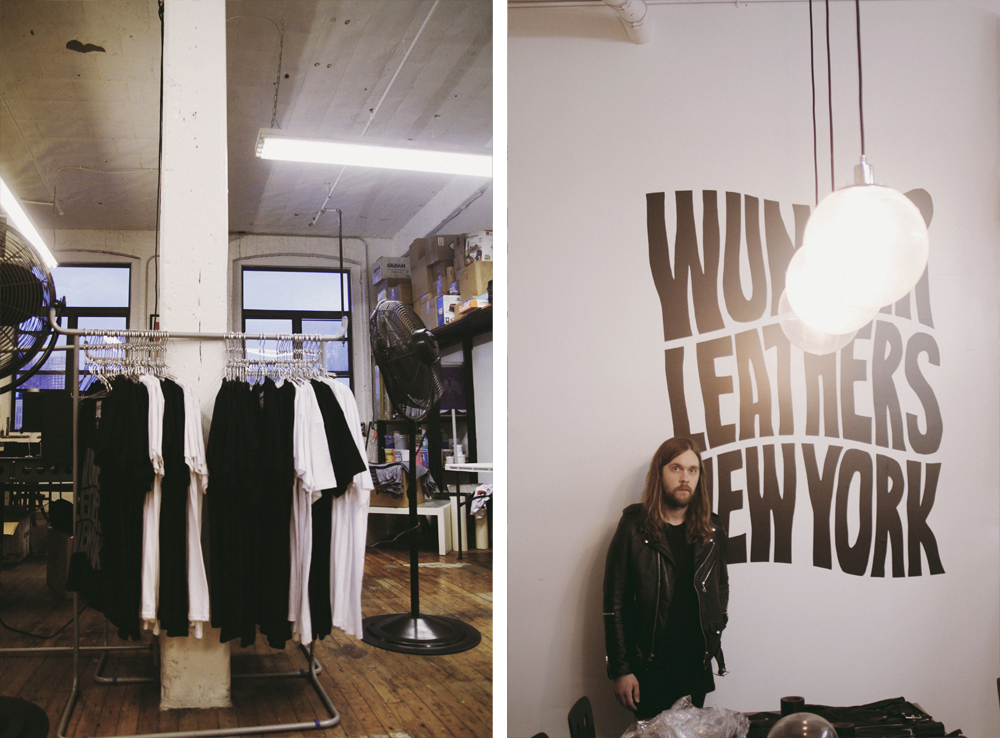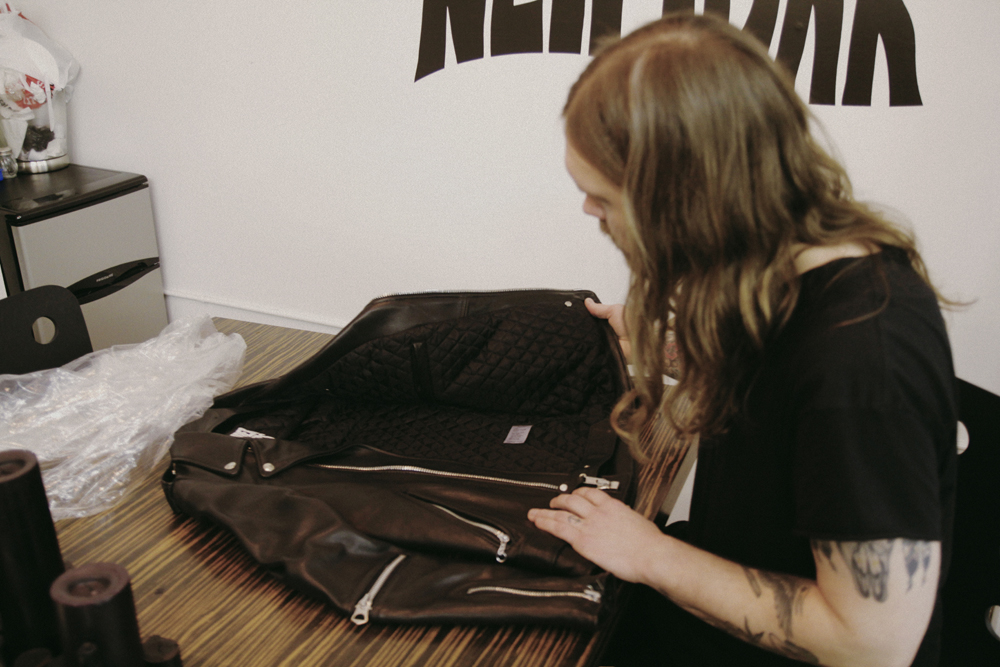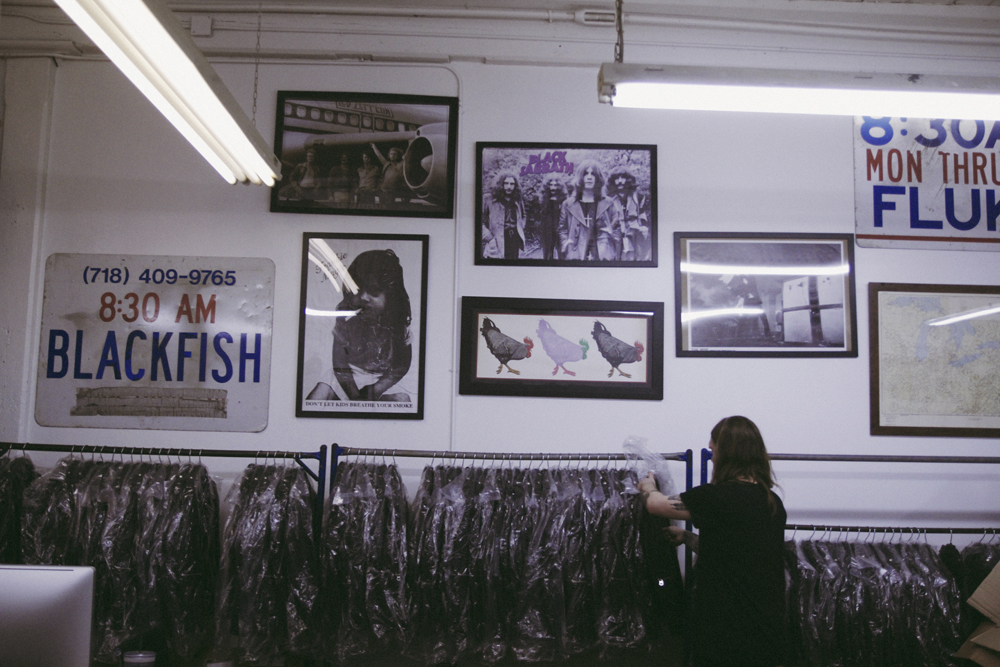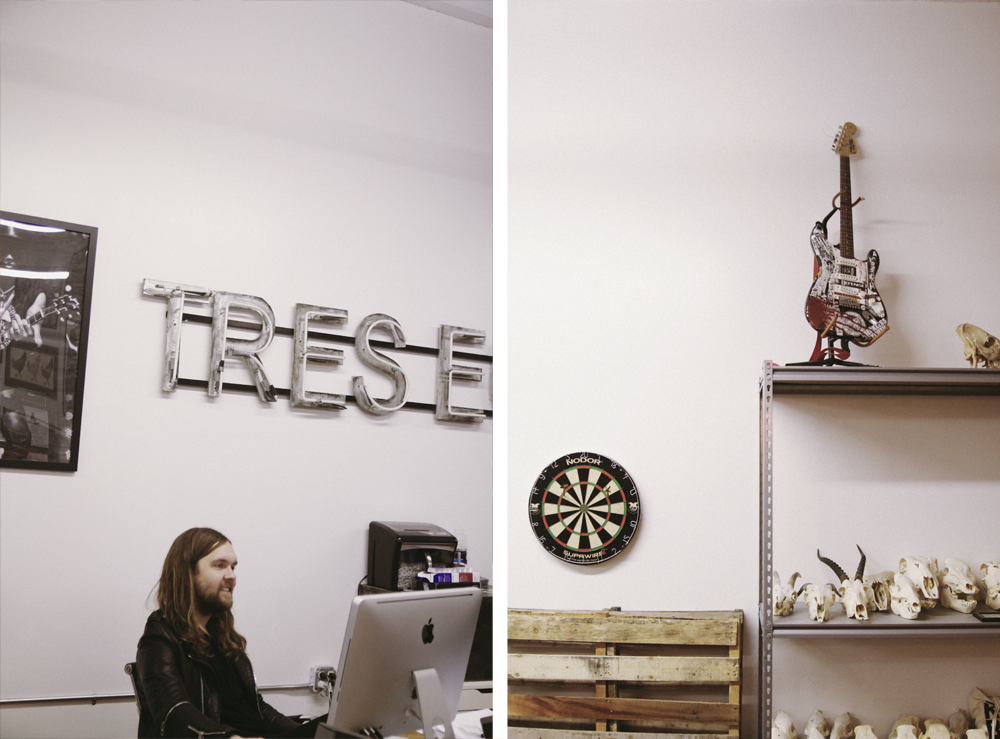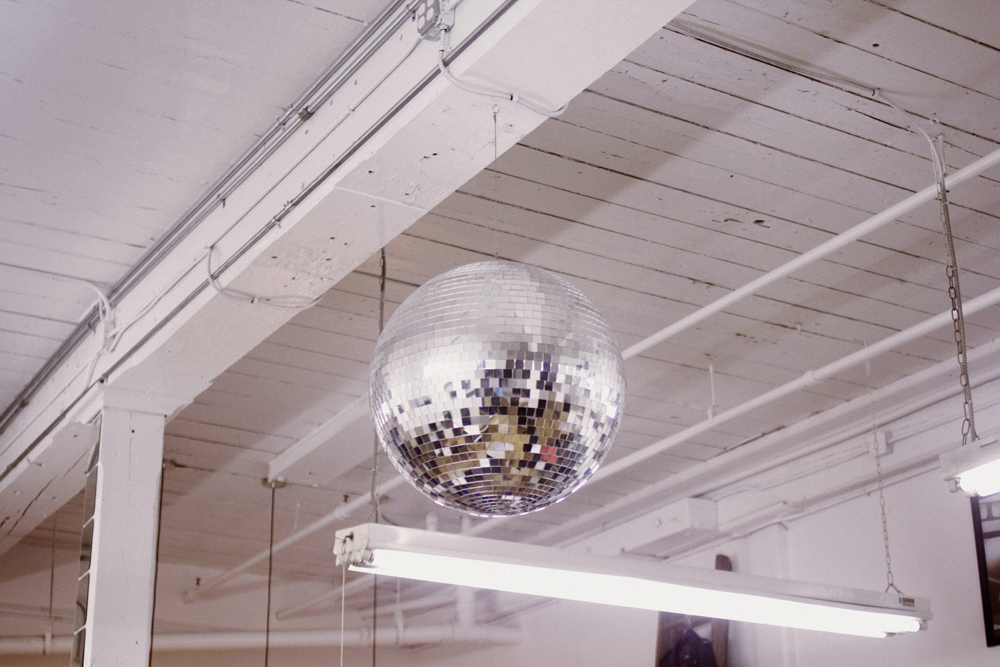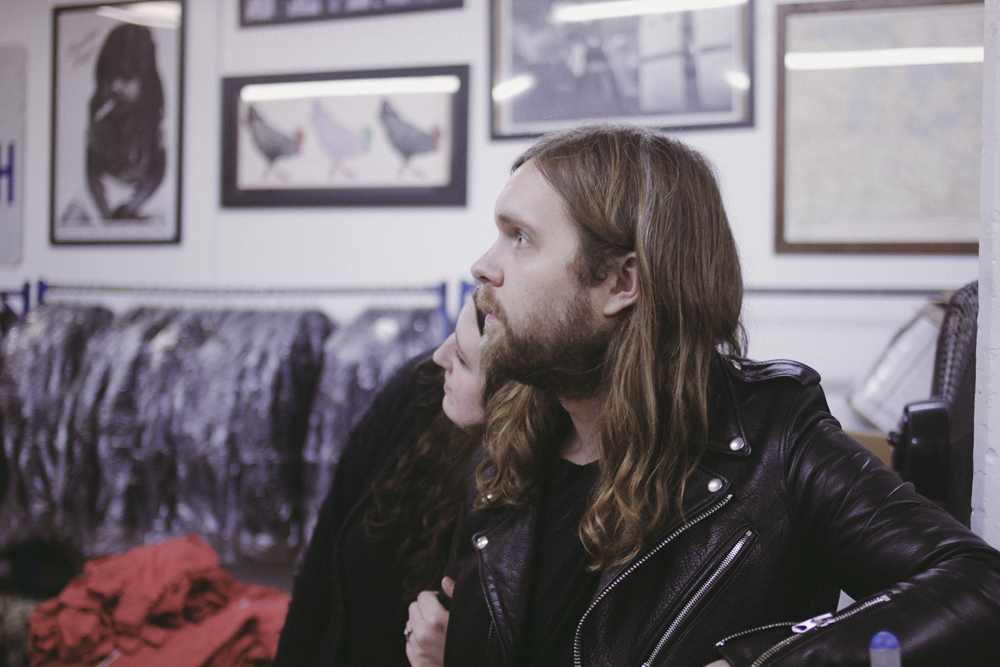 Please tell us about yourself and how you started Wunder Leathers.
I was born and raised in Oklahoma City, OK. I moved to New York in 2010 and have been here and loving it ever since. In my teens I was very into punk and old style rock, the music and the fashion. I was playing in a band for fun and working for a family friend cleaning, repairing, and re-touching animal skulls. I wanted to do something a little less dirty and also be able to set my own hours, so when I was 18 I started a clothing line called Dead Cities that consisted of punk and rock-themed graphic tees, tops, and some accessories. The line was very successful and we sold to retailers all over the world. A year or two after moving to New York, I was a bit bored with the line, both because I had been doing it so long and because I personally didn't really wear graphic tees/tops anymore.
At that same time I was in the middle of a search for the perfect motorcycle jacket, and it was very difficult to find. I had owned several prior to that, but all of them were either ill-fitting, torn up, or studded and painted too much. I eventually landed on one that worked, but it still wasn't perfect. Shortly after, I was on vacation with my wife and we were talking about where the business was headed and what we wanted to do in the future. She reminded me about my search for the perfect motorcycle jacket and how I had always wanted to design them, so that's when I decided to start phasing out Dead Cities and begin working on Wunder Leathers.
Why did you decide to mainly focus on motorcycle jackets?
There are several reasons, but the main one is that it's THE uniform for rebels and rock and roll. There isn't another piece that makes the kind of silent statement like a motorcycle jacket does. Anyone can put one on and immediately feel like more of a badass. It's also a very versatile piece that in my opinion can look good on anyone. I think it looks best with skinny black jeans and boots, but it can also be thrown over a long flowy dress or a suit and still look great. I also like that it started as a purely functional piece that was meant to be a protective "second skin" for riding. That kind of adds to the statement that wearing the jacket makes. It says, "I've got my leather on and I'm ready to fight, so don't mess with me".
You've worked together with the designers and makers of the original motorcycle jacket from the 1920's. That must have been quite an experience – could you tell us about this collaboration and what you have learnt?
Yes, it was an incredible experience that I never imagined would be possible. I came from a t-shirt background, and I knew that if I was going to do this right, I needed to work with people who really knew what they were doing. The process was great. We worked on it for about a year, revising and perfecting things here and there. I would come in with my design ideas and they were able to take those ideas, filter them through their knowledge of function and quality, and come up with a great solution that achieved want I wanted to achieve while still making it a fully functional, quality piece. There are so many tiny details that require attention when designing something like a motorcycle jacket, and because of this collaboration I truly believe that we came up with the perfect combination of fashion and function.
The fashion industry has begun to see an increased support for local design, production and manufacturing. Why have you decided to produce the jackets in the USA?
The main reason is because of the design collaboration. I wanted to honor the original designers of the motorcycle jacket and make it in the USA, where it all started. It also made things much simpler and the factory is a short commute from our offices in Brooklyn. The leather is hand-cut by employees with 20, 30, even 40 years of experience, which is something that's very hard to find outside the US. There are also the obvious benefits to Made in USA. The money stays in the US, communication is easier, business deals go smoother, you know you're not supporting slave labor and abuse, you avoid shipping delays, etc. We honestly could have manufactured outside the US and had a lower priced jacket, but this is something you're going to own your whole life, and I would rather pay a little more for something that I know is high quality, honest, and made by the best.
What differentiates a Wunder Leathers jacket from the rest of motorcycle jackets?
There are so many things I could mention, so I will give you the top three differences. Most function-focused motorcycle jackets fit big and bulky (especially in the sleeves) and awkwardly short, and most fashion-focused motorcycle jackets fit too tight for functional use. We made our jackets longer and also slimmed up the sleeves and body a bit so you get that skinny rock and roll look, but not so slim that you can't move.  The leather was another big thing that we did differently. Most jackets that brands are selling now are either made of lamb, which is incredible soft but not very durable, or they're made of heavy, bulky leather that takes years to break in. We used a buttery-soft, mid-weight pebbled cowhide that has the soft feeling of lamb and the durability of a thicker cowhide. The pebbled leather gives it a nice texture too. Leather molds and forms to your body over time, so the fit looks and feels better and better the longer you wear it.  I tried several jackets on while searching for "the one" and noticed that another problem was, the jackets were either too light and cheap feeling, or they were super heavy and hot, so we used a mini-quilt lining that when combined with the mid-weight cowhide, is wearable nearly all year round.
Who were your main style icons when you started working on the design of your jackets?
The Clash was always a huge inspiration to me, their music and their style. They looked so effortlessly cool, and never went too extreme or novelty. Growing up I had a collection of books and photos of them, The Ramones, and the other late 70's – early 80's NYC and UK punk rock icons. Black leather jackets, tight jeans, perfection. Also, when I was younger I went to see punk and rock and roll bands play live all the time. I loved seeing all the different leathers come through town. Some completely covered in studs with band names painted all over them, some clean and perfectly fitted, some custom altered with dental floss and safety pins, etc. It was just really amazing seeing all the different things you could do with that kind of jacket, and they all looked incredible.
How do you see Wunder Leathers developing in the future? Will you be expanding the collection into other jackets and leather goods?
We'll see! This is new territory for us, so we're not totally sure what to expect or where we're going to go from here. I'm really into high-quality, perfect fitting, staple pieces that last a long time. I've had thoughts about vests, pea coats, trench coats, denim, boots, wallets, belts, etc. That being said, I want all of our products to be made with the same level of quality and attention to detail that went into the motorcycle jacket, so we don't want to rush anything. This fast-fashion industry is so dominant and corrupt that I admit, it will be hard work to make something like this successful, but I think the jacket speaks for itself and in the end I'd rather close up shop than sell a bad product.
How does NYC affect your creativity? Where would you live and work if you weren't based there?
If I lived somewhere other than NYC I would probably want to be in Paris or London. If in the states, probably Boston or San Francisco. There's so much inspiration everywhere in NYC, not just sights and sounds, but in the way people work and interact with each other. I could see some of the best and most inspiring art, fashion, and music every day if I wanted to, there's definitely no shortage of that, which is an incredible advantage of living here. But when it comes down to it, it's not easy to live here, and I think the main thing that inspires my creativity is seeing people (in and out of creative fields) working so hard just to survive and live in this city. They have to be creative constantly, whether they feel inspired or not, and I feel like that's a huge reason that so many creative people live here or have come from here. We are always being pushed to do more.
You might also be interested in: