Jeffrey Silverstein & Chris Muccioli
Singles Club
After meeting and playing music together for a long time, journalist Jeffrey Silverstein and designer Chris Muccioli founded subscription based record club and digital music journal, Singles Club, in 2013. Working from Chris' apartment in Brooklyn, New York City, Singles Club have released an exclusive 7″ record every quarter since January 2014, paired with online stories on the featured musicians.
We interviewed Singles Club's founders to find out more about their backgrounds, what made them start this project and their views on the digital music industry.
Photos by Daniel Dorsa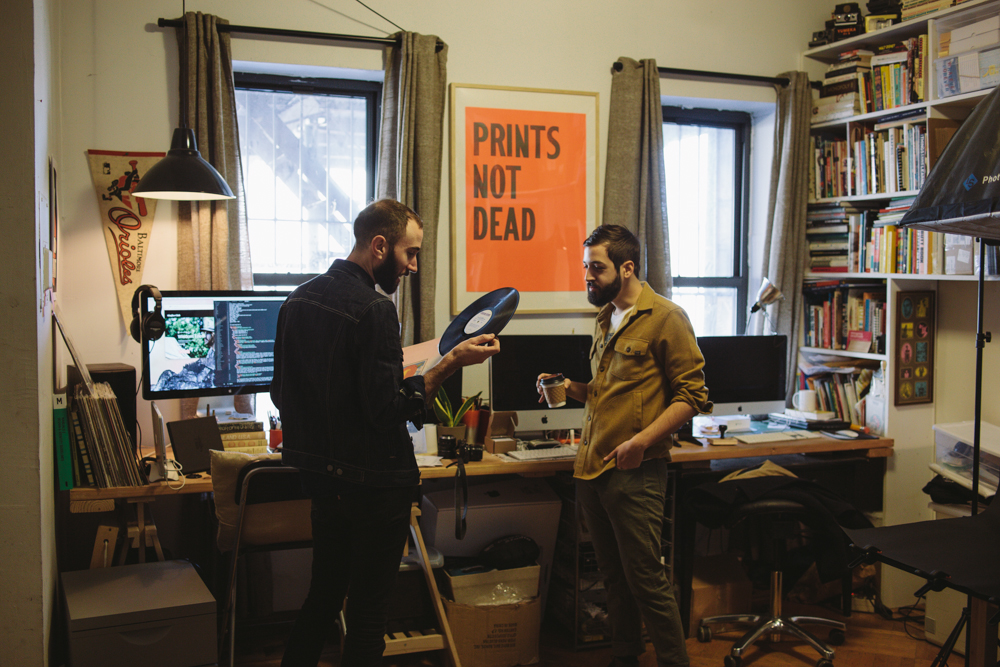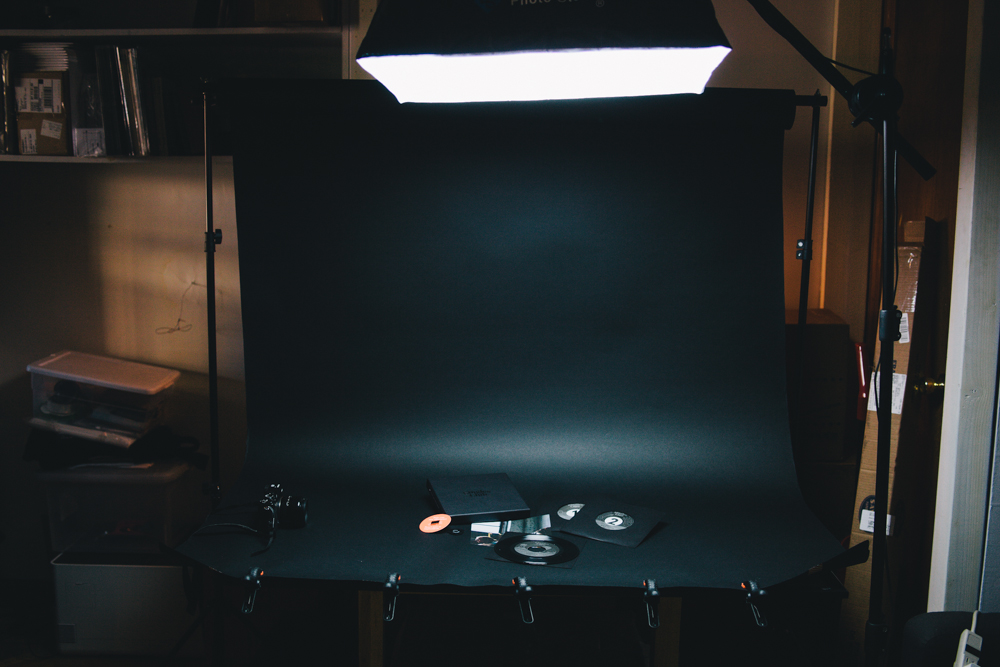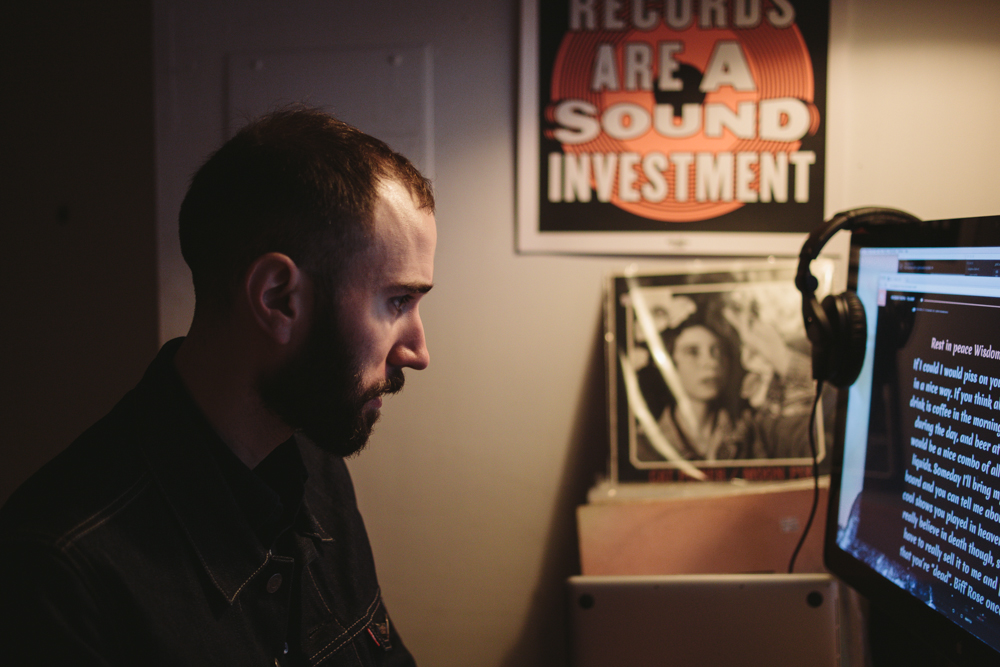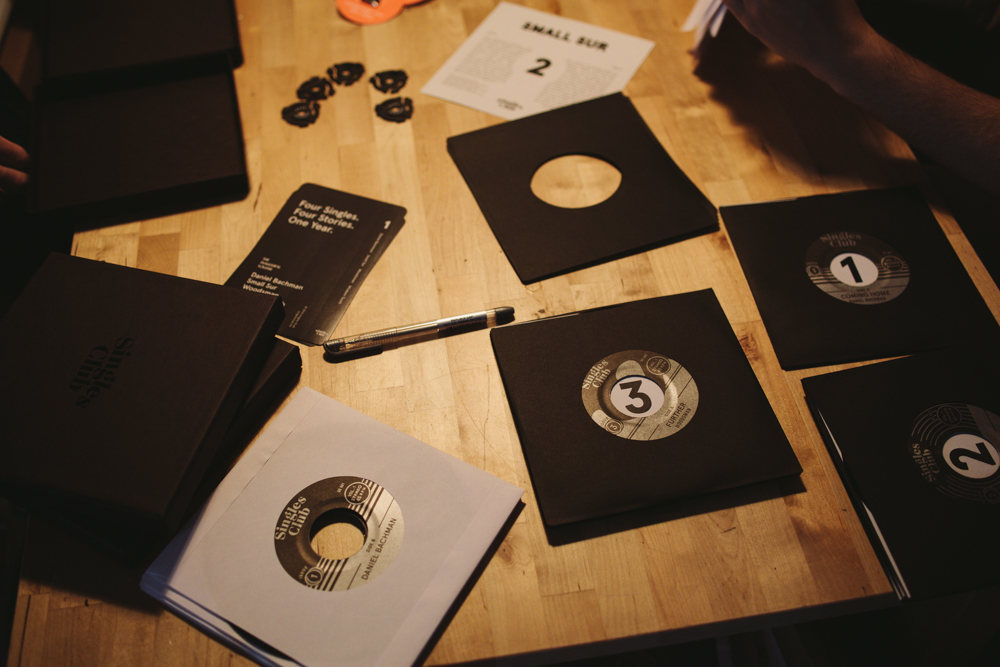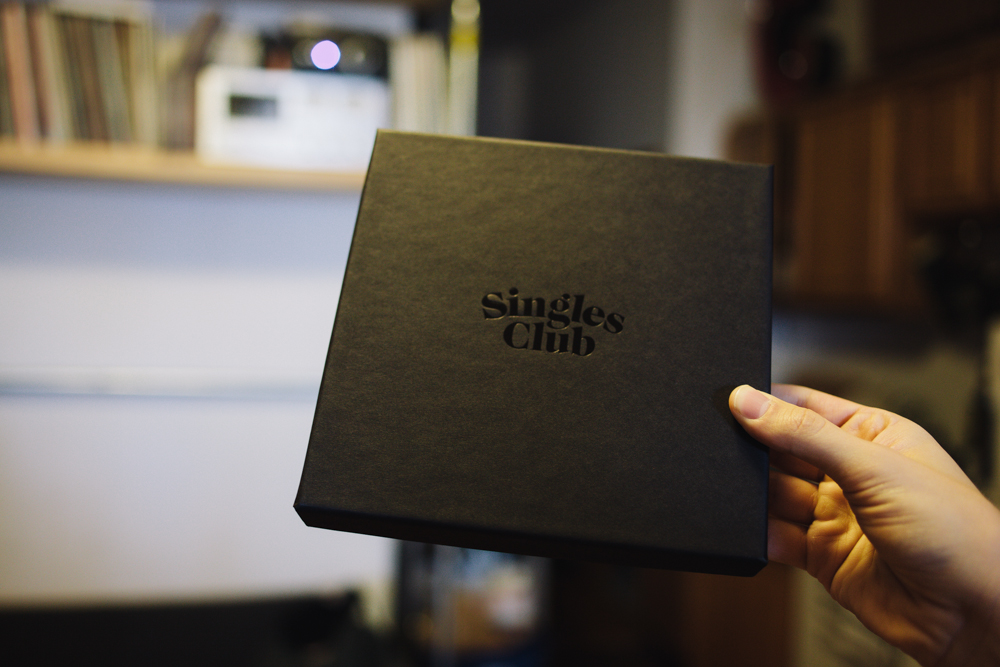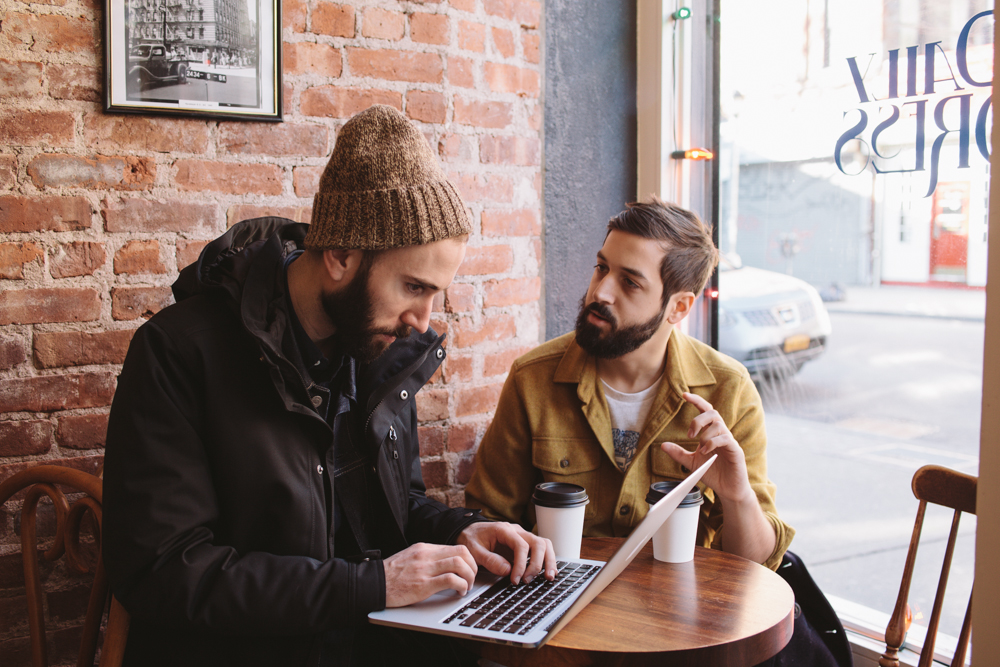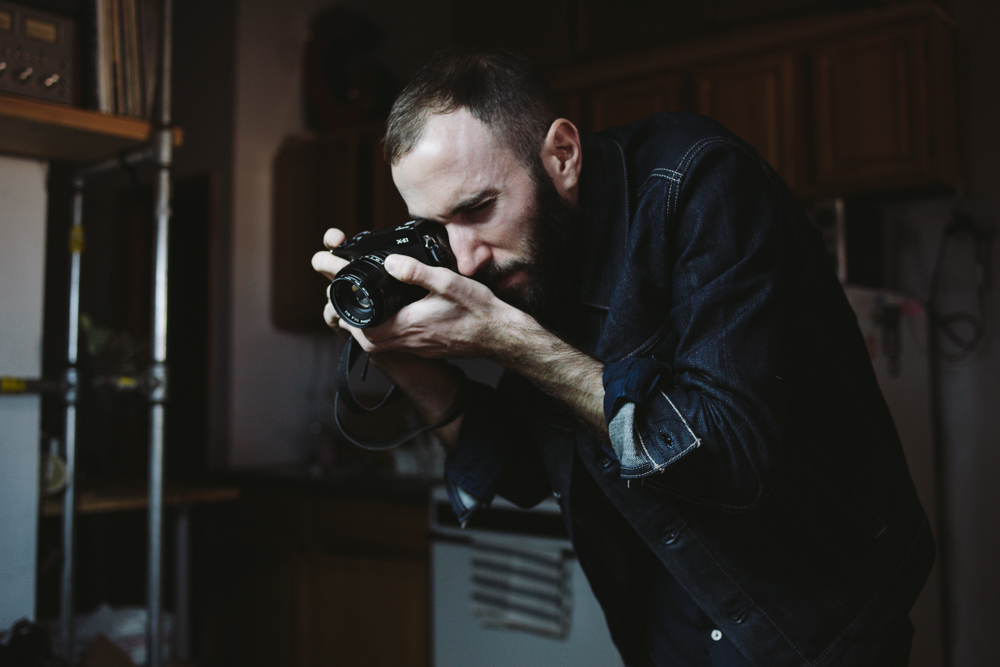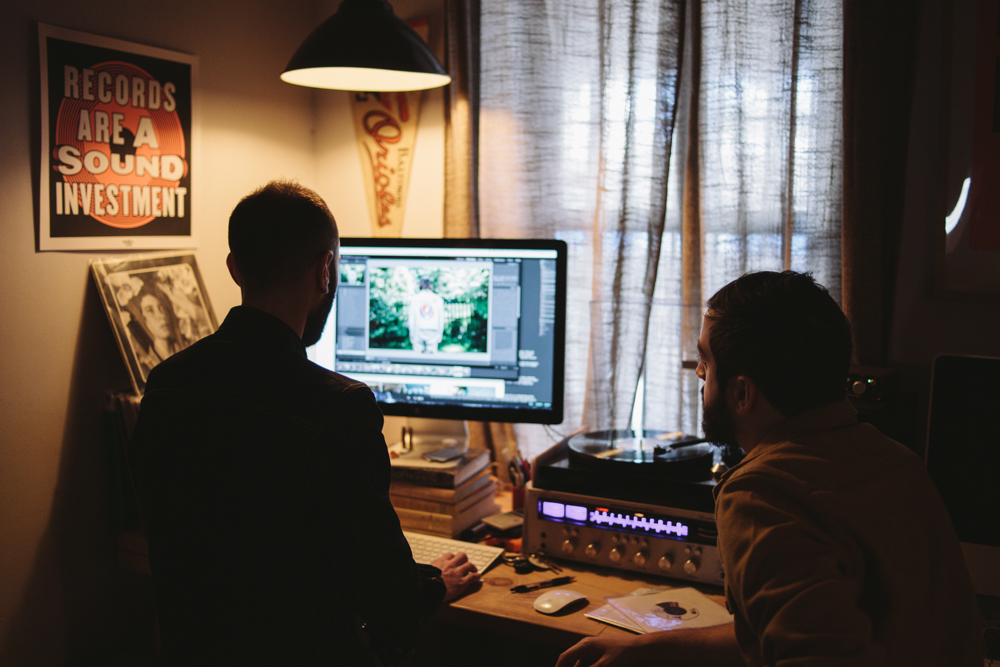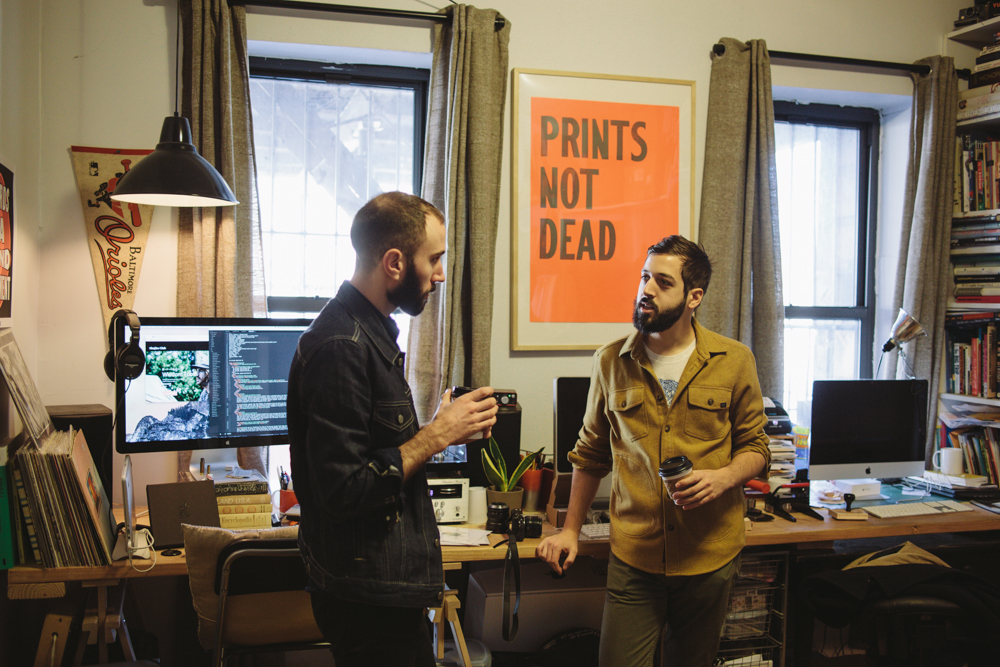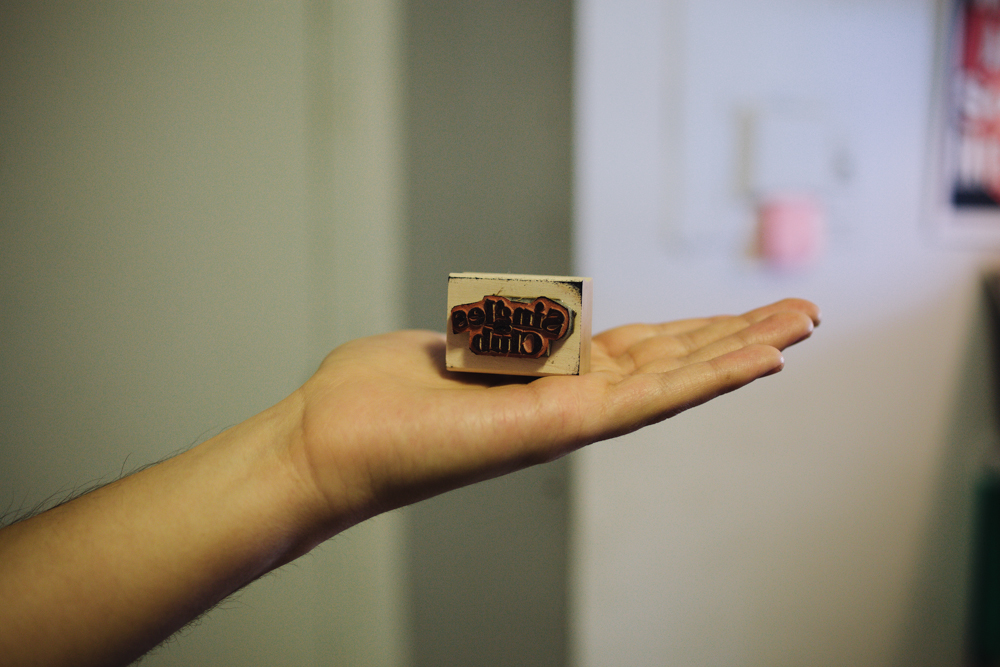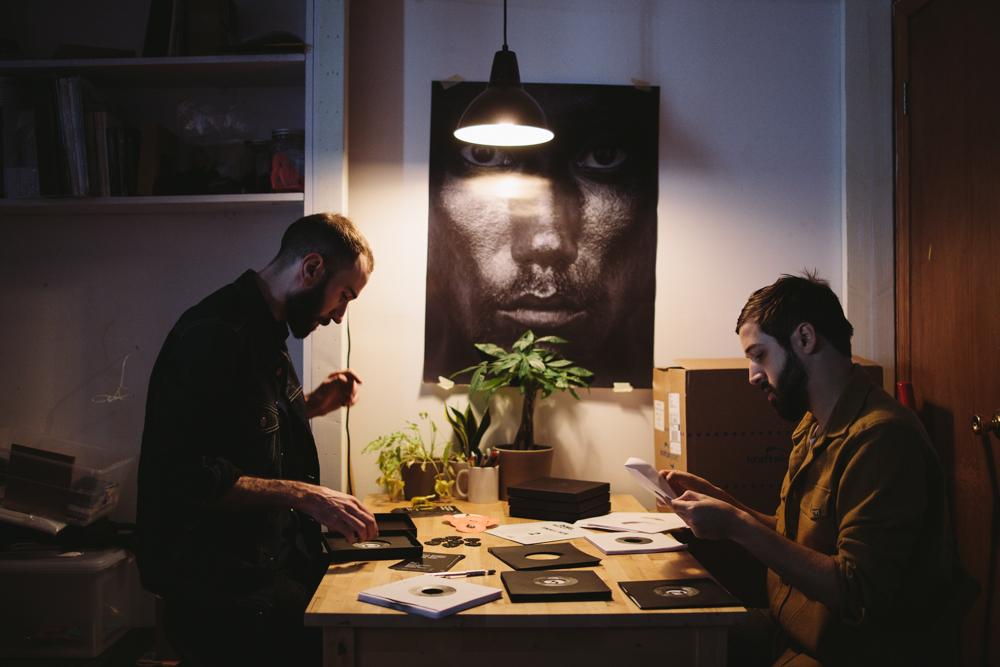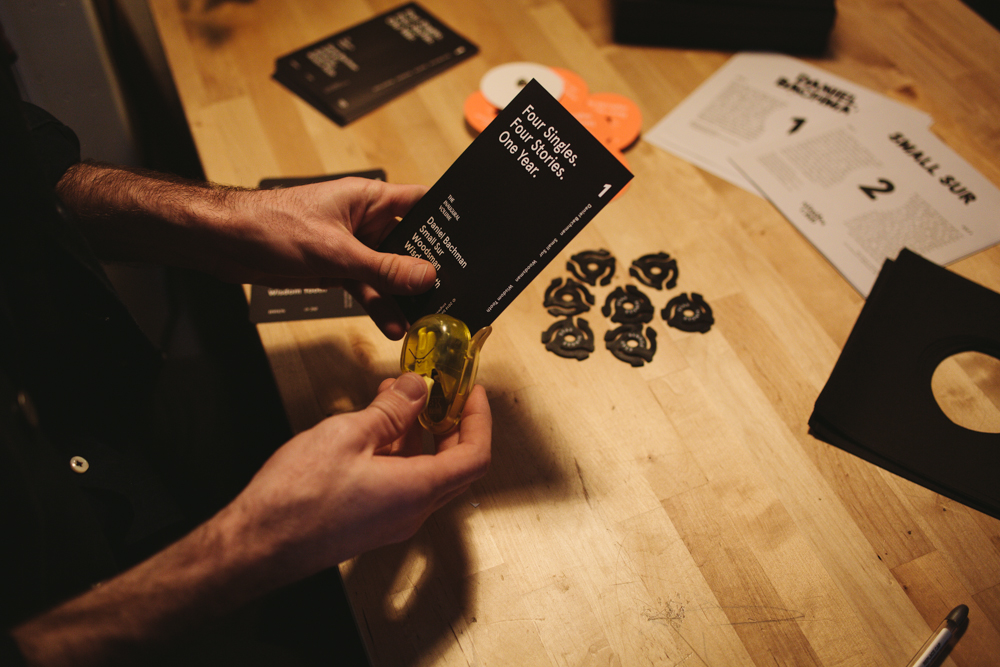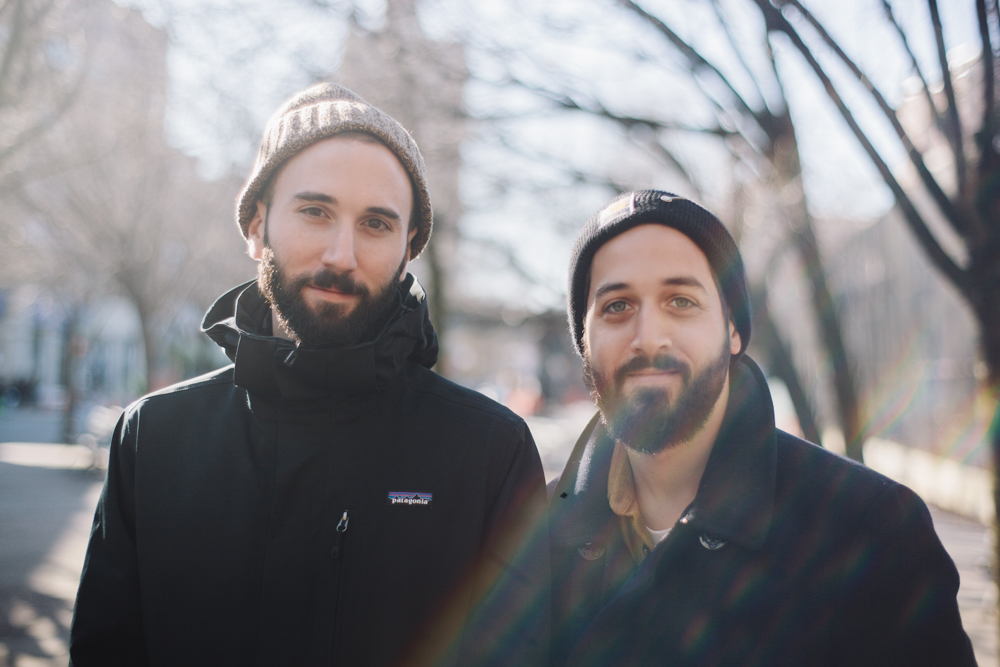 Please tell us a little about yourselves. What did you do before Singles Club?
Jeffrey: I'm a 27 year-old, Brooklyn via Baltimore transplant who has been living in NYC for about two and a half years now. Growing up in a suburban town in northern New Jersey, I fell in love with music at an early age. While studying journalism at Towson University I became involved in the Baltimore music scene, an experience I wouldn't trade for anything.  I spent time working at venues, teaching special education,  and touring with the band Chris and I both performed in prior to making the move to Brooklyn.  I'm super interested in how music and education overlap, so I split my time between working in the industry, freelance writing for a handful of places, and sitting on the board of a great music non-profit called Education Through Music, which helps put long term music programs into underserved schools and communities throughout NYC.
Chris: I'm 26, I'm a designer based in Brooklyn via Baltimore. I grew up just north of the city and went to two different colleges before graduating from the design program at the Maryland Institute College Of Art. I moved to Brooklyn for a day job after a quick stint working in Philly shortly after graduating. I've been playing music, in and out of bands, since I was really young. I grew up really helping grow the scene I was in and I've managed to carry that relationship with the creative communities and the arts into my day jobs. I currently work as an Designer and Art Director at a live music start-up in Manhattan.
How did you two meet and decide to start working together on this project?
Jeffrey: I have a vague recollection of the first time I actually met Chris at Towson, but we had both sort of heard murmurs of each others names through mutual friends. I was still a super novice songwriter when I met Chris and invited him to come play (very quietly) in the apartment I was living in at the time. We connected instantly on so many levels and I have always looked up to Chris in a lot of ways. Chris was in NYC before me and I think once we were both in the same city, and as the band wound down, we decided to start making a game plan for a new venture that would combine a lot of our interests.  There was a ton of talking about what exactly we wanted it to be, and we just started putting the pieces together after we would finish up our day jobs. It's been a huge passion project for us ever since.
Chris: Yep, Jeff remembers it right. We had friends of friends and finally started playing music together and just clicked as a collaborative duo. I've always been one to have multiple projects going and I'm constantly scratching to see what else I can drum up to fill my plate and people I can drag onboard. After playing music for so long and meeting so many amazing musicians on the road and in the cities we lived in we were itching to figure out how we could utilize both of our passions and skills, Jeffs in writing and mine in design, to foster something unique. Really, something that would help shine light on some of the lesser known, but incredibly talented friends we'd made. I remember talking about labels, it seems every musician talks about starting a label. In my mind, I'm always thinking of that slight variation that can be added to create a unique project or product. I honestly can't remember what sparked me thinking about the subscription format, but next thing I remember some friends are sending me examples of different "record clubs" that were around. I started jotting down notes, phrases, packaging types, trying to come up with a different take on what was happening. The general concept of our Singles Club project is the result of that.
Tell us more about Singles Club, how do you select artists you work with?
Jeffrey: This first year we were lucky enough to work with artists we had maintained relationships with over years of touring, booking shows, and people we were introduced to along the way.  We wanted to make sure we were working with people who were excited by the project and artists we felt passionately not only about their musical output, but as humans as well.  It's been super interesting and a huge learning experience to work with artists on this level. Everyone we worked with on Volume One was so patient with us and willing to collaborate on ideas which was a huge help.
Chris: When we decide on artists we'd like to look at we're also thinking about the variety of music we offer our listeners. We plan our the year or future releases and stagger similar genre releases so it doesn't become too heavily saturated in one style. In general though, we look for genuine people who we already know will have layers of content and stories to pull from for their features. Both myself and Jeffrey listen to such a wide range of music that we want to really showcase as much of a variety as we can.
What made you decide to choose vinyl?  
Chris: When we started the project one of the main goals was to create an engaging experience for each issue, to really get a full sense of each artist we work with. Something physical like a record is the most intimate form of listening and something that physically requires you to interact with an artifact to experience it. There is also something romantic about the notion of these pieces of wax outlasting the artists whose music is pressed into them and the speech that's recorded on the B-Side taking vinyl back to its roots.
Jeffrey: For me, I think buying and listening to vinyl has always equated to slowing down. Just taking the time to put on a record or browse through records at a shop has always been a calming experience for me and so I think in addition to our digital journal, the record itself is what really pulls the project together. We've said a bunch of times we wanted to combine this physical and digital experience, and as time goes on, I think we are starting to get the hang of it.
Apart from the 7" records, you run quarterly features on your website. How do you come up with the concept behind these features?
Chris: The first step is usually tracking the B-Side of the single, which is an interview, before we begin the really concepting the quarterly. I usually sit down with each artist and just talk for about 45 minutes about the song, the artist or band themselves. How they got started, process, touring, anything and everything related to their work. Sometimes we end up on long tangents just bouncing off of their experience combined with similarities from my own and we find really interesting parallels that sometimes lead to great quotes and topics.
Jeffrey: There is definitely a large brainstorming session that goes on first. We talk about what we find to be the most interesting aspects of the artists we are working with and how we can translate those traits into a combination of written and visual features. We definitely like to bounce ideas off the artists themselves as well, as we take pride in making sure they are being represented accurately. Then, it's a matter of what resources we have to actually pull the features off.  Chris is really the mastermind behind making sure they look great on the site.
How do you see Singles Project evolving in the future?
Jeffrey: We've already got some new ideas brewing for Volume 2 that we're super stoked on. We are going to be implementing a rolling subscription model, allowing subscribers to choose which release they want to start with. I definitely see us starting to work with some artists who aren't on the east coast and perhaps even some overseas artists.  Ideally, I'd love to start hosting some Singles Club presented showcases at festivals, etc. and just expanding our reach.
Chris: I think the quality of our releases will continue to evolve as we hone in on our voice both visually and writing-wise. I'd like to start figuring out how we see digital releases fit into our model without losing the physical essence of our project, along with working with even more incredibly generous and talented people. I think our biggest enemy right now is time, and trying to make this project as good as it can and should be while still giving our day jobs the time they deserve.
What are your thoughts on online downloads and music streaming services? Do you think that physical music formats can co-exist with these?
Chris: This is a very complex issue but my general take on digital is pretty positive and I've recently had very interesting conversations with musician friends in regards to digital as well. Music downloads from sites like iTunes, but especially places like Bandcamp, put artists in direct contact with their audience seamlessly in a way that obviously was never possible before. Because of this you have an entire industry of independent bands and musicians who can book their own tours, pay for their own records, and truly support one another. Obviously there's more to it than that, one of my favorite subjects within the digital conversation is the "pay what you want" model but thats for a longer talk. Streaming services like Spotify and Pandora are great for discovery and on the go-listening, and although the payout is extremely low, really small bands are getting extraordinary reach and recognition because their albums are right up there with the larger label hits.
Jeffrey: I definitely think the two can co-exist, if you want them to. It seems like most other industries these days, there isn't a clear-cut way to do this whole putting out records thing, no one person has it all figured out and that's what makes it such an exciting time for music.  I've always just thought it's important to do what works best for you, and not what's working well for someone else.
If you could only choose one record from your collection, what would it be and why?
Jeffrey: Man, this is a tough one. I'd have to say it may be my copy of the Concert for Bangladesh recordings. George Harrison has always been my favorite Beatle and this is just a truly shining example of not only his musical talent, but how much he cared about opening up his heart and mind to others. Between Dylan, Clapton, and Billy Preston, it's just an unreal cast of players. Can't recommend checking out the live fim enough.
Chris: It's always hard to pick favorites but I guess I'd have to say my copy of "'Nuff Said!" by Nina Simone is one of my prized favorites. It was an unexpect and thoughtful gift from a friend and the tracklisting is basically a best of Nina Simone all recorded live at Westbury Music Fair. It was tracked right around the time of Dr. Martin Luther Kings death and you can hear the weight of the world atop the crowd. After a brief comment on the events she performs an emotional rendition of the song "Why? (The King of Love Is Dead)" which kind of says it all for this record. Definitely worth a list.
New York must be an amazing place to work and live in – what are some of your favourite places in the city?
Jeffrey: It truly is. I currently live in a neighborhood called Greenpoint which grows on me more every day.  There is a pizza place here called Paulie Gee's that is absolutely unreal, tons of great bars (I would highly recommend Torst for beer and Moonlight Mile for whiskey) and if you can catch a show at St. Vitus, that place rules.  When the weather is nice, the Brooklyn Botanical Gardens are a fantastic place to walk around.
Chris: I think some of my favorite places in the city are neighborhood spots where I live in Brooklyn. Over where Jeffrey lives in Greenpoint I really like making a loop to a shop call Record Grouch that always has a great selection of well priced LPs and head down and sit in Transmitter Park right on the river. Super quaint and an un-matched view of Manhattan. I also think Babys All Right is one of the best venues in the city, vibe, sound, lights, they have it all on lock.
You might also be interested in: