Jeanne Holsteyn & Maxime Dubois
Library of Arts
Jeanne Holsteyn and Maxime Dubois are the founders of Library of Arts (LO/A), an innovative bookstore, gallery, publishing house and studio located in Paris' Haut-Marais.
In contrast to conventional bookstores, LO/A renew their stock every 6 months based on different themes, presenting a carefully curated selection of books on a particular topic supported by  exhibitions, events and the publication of in-house titles.
Photos by Clara Prioux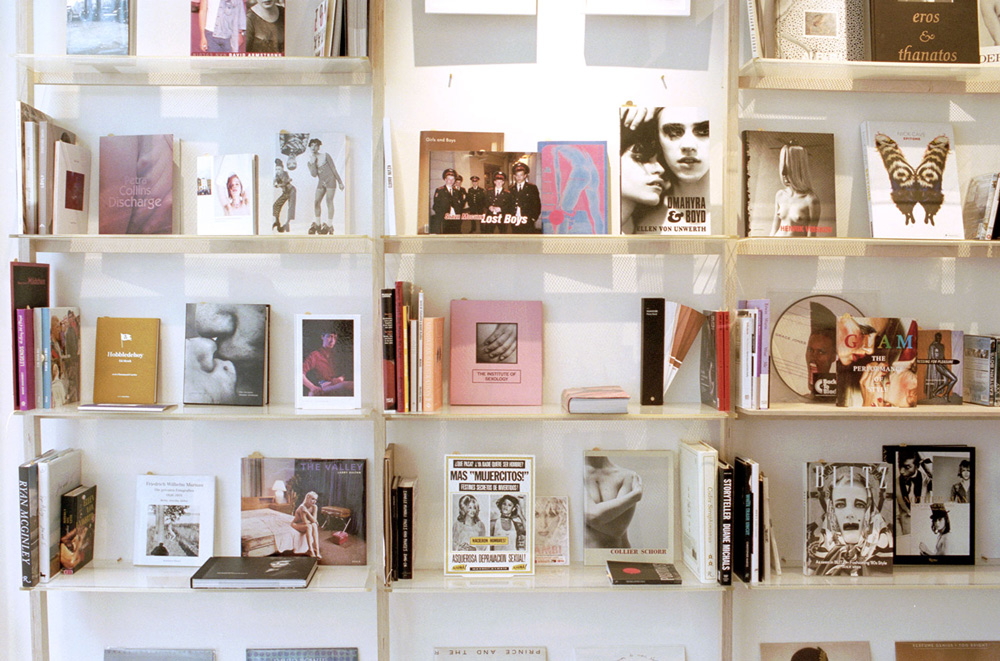 Please tell us about your backgrounds. What did you do before LO/A?

Jeanne: I worked in the fashion industry for 7 years, first in Shanghai and then in Paris.
Maxime: I started working as a car mechanic when I was very young and when I was around 20 years old I studied fashion at Esmod and worked for different magazines and PR agencies. After that I worked as a designer and then creative director for the French brand ElevenParis. I currently don't work much in fashion, but I've worked for Jean Paul Gaultier for the past two years and I'm still in charge of the creative direction of ElevenParis.
How did you decide to start LO/A?
Jeanne: We've been lucky to travel a lot and we've always been curious about all the cultures, sub-cultures and creative currents of each of the places we've stopped by. I am personally fascinated by the diversity of our world, the different ways of thinking, seeing and sharing things….  Maxime and I wanted to be independent and do things our own way.
We exchanged ideas for months and decided that books, prints and artworks would be the best way to share the culture and art we had seen in our travels in an accessible way.
I had always had the utopian idea of having a place where everybody could feel good coming and sharing their own experiences with others.
Maxime: We had the strong desire to create a concept that reflects who we are, a place for inspiration and for sharing. We wanted to refresh the bookstore concept and make people leave the internet and come here to browse through books.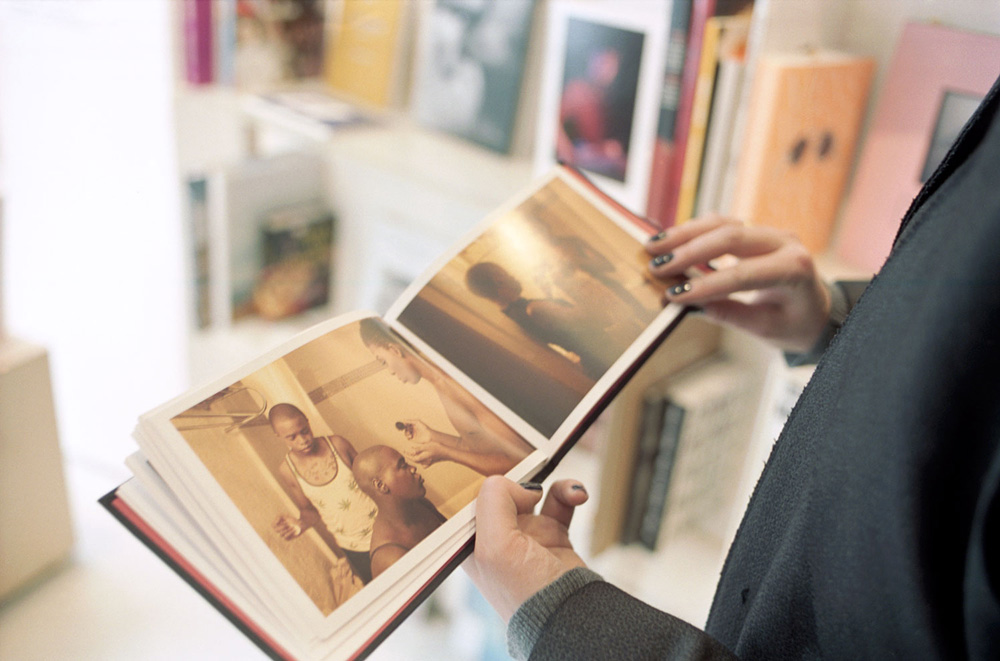 You run your own bookstore and gallery space, but also are a publishing house and a creative studio. Tell us a little more about each of these different areas.
Jeanne: The bookstore is the first visible part of our project and the titles we stock are curated based on different temporary themes. We decided to start the gallery last February as a natural extension of what we already show in the bookstore – every month and a half we present an artist related to an specific theme. We also wanted a place to support and launch new artists that we strongly believe in.
The publishing house was a common desire to experiment and try our own ways of printing! It also came as an answer to the lack of subjects we really wanted to talk about -such as the re-print of Mouvement. and the publishing of Intifada Rap and Crossboarding- and as a platform for artists we believe in, like with Mathieu César book. 2014 was very prolific for the publishing house. This year we're concentrating more on the gallery and 2016 should welcome a new printing project.
The studio expands our activities with external projects such as visual content, books content, curating events… It's also our laboratory for all of our internal projects. Everything is connected and all the activities benefit each other.
Maxime: Everything works together and each entity gives us the ability to complete the different projects we work on. The studio is the cornerstone, everything comes from it; the bookstore and the gallery allow us to share work directly with the public, whilst the publishing house allows us to create content.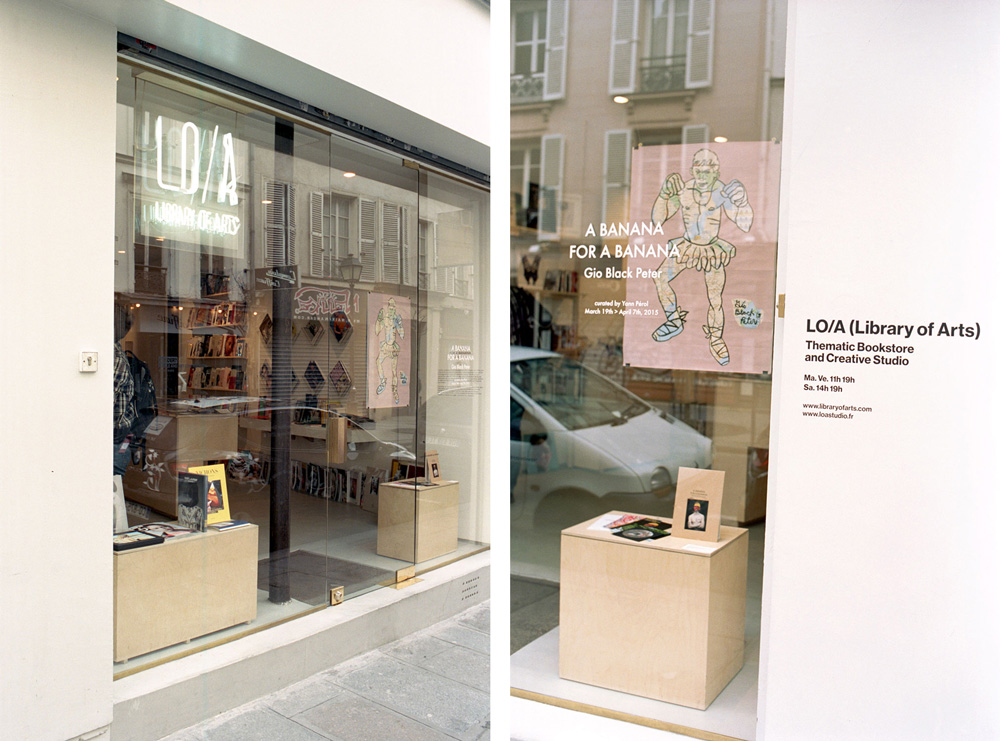 The main difference of LO/A compared to a conventional bookstore is that your books change based on themes every six months. How did you come up with this idea?
Jeanne: We thought that each book had to have its own vital space – we love the content as much as the object itself! To achieve this, we had to limit the stock quantities of our titles – the idea of a theme came naturally as a framework for our selection and it represents our desire of sharing stories and identities of cultural movements.
We work on a new theme and selection every 6 months more or less, but all the previous themes are available on the online bookstore. We also want to keep all the titles visible as we build a big research database.
Maxime: The only thing we didn't want was to be seen as regular booksellers – we obviously sell books but we are more than that.  We've been already told that we operate more like a magazine, as we create periodic content with a vision.
Your current theme is 'Gender'. How do you choose a theme? What other themes have you covered since you opened LO/A?
Jeanne: The world and its history is full of fascinating subjects – the hard thing is to decide on just one! We love themes that are related to a sub-culture or a culture which hasn't been covered much. Our themes also need to have a resonance with today's world. So far, we've presented 3 topics in our bookstore: German Kultur, The Faith of Street and Gender? People and Art contribution
Maxime: As Jeanne mentioned, we're very interested in sub-cultures and also other topics such as minorities and society issues. The reason for choosing a theme can be influenced by what we're currently living, films, documentaries…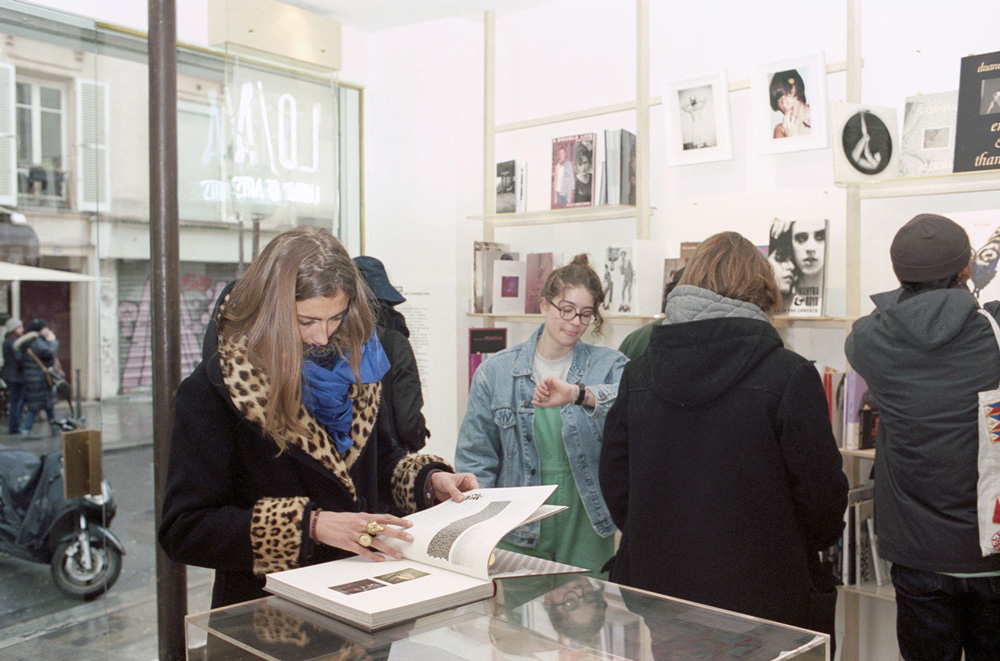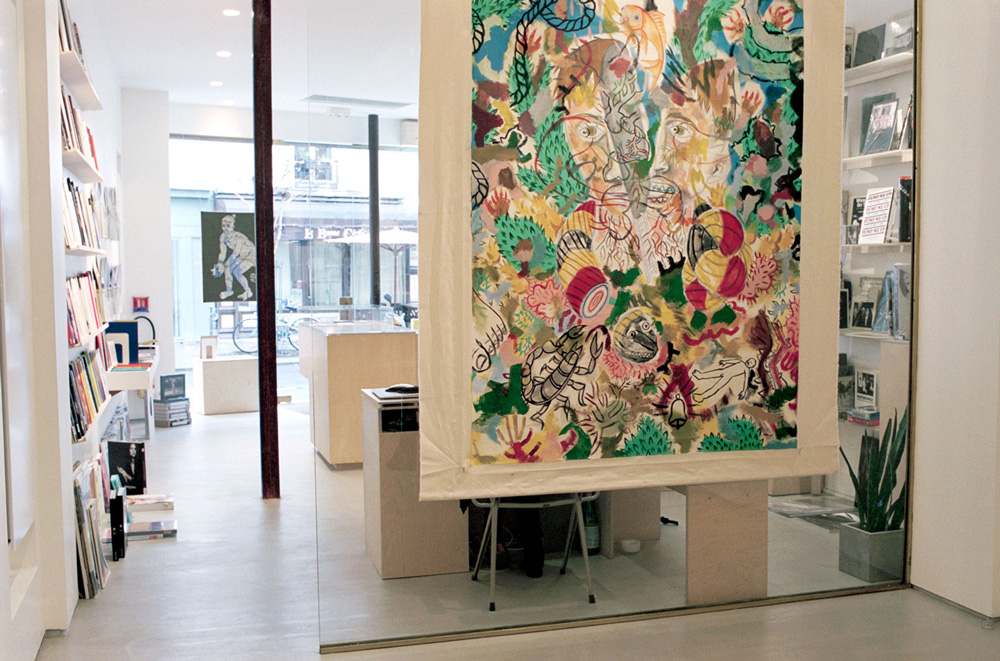 How do you decide on the artists you want to stock in your bookstore and exhibit in your gallery?
Jeanne: The subject and the aesthetic of the books has to be relevant to the chosen theme. The gallery artists are selected through personal interest, meetings, or during our research on the theme, which always reveals lots of amazing things. Researching a theme can last between 3 and 6 months and it is a really exciting phase for us – every day we discover something new.
Maxime: We have to be touched by the message and the aesthetics of the book – it is purely irrational, we know! We pay particular attention to the paper used, the design and the content.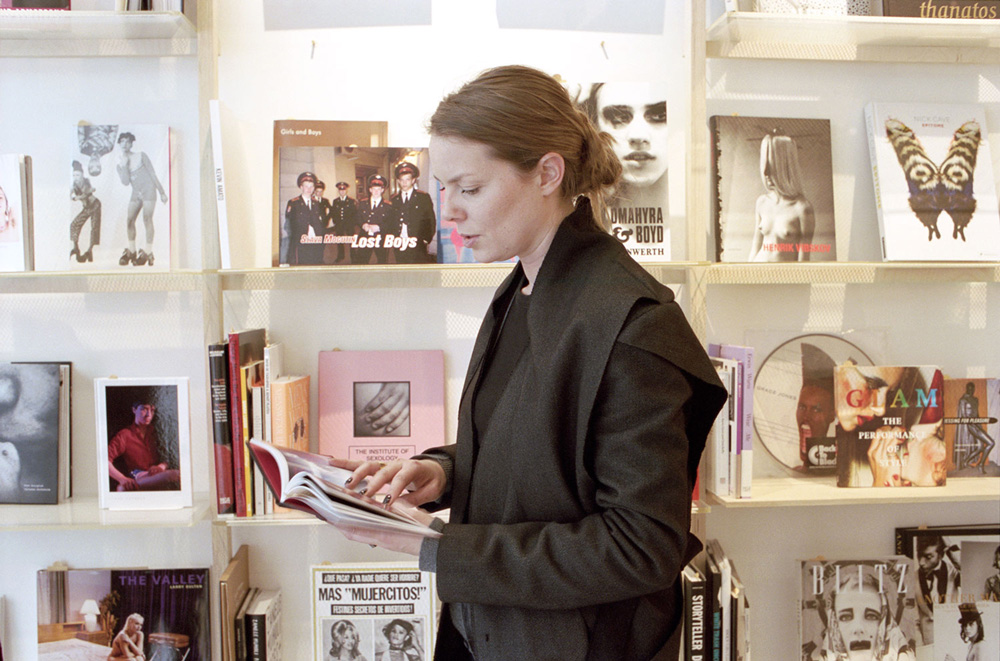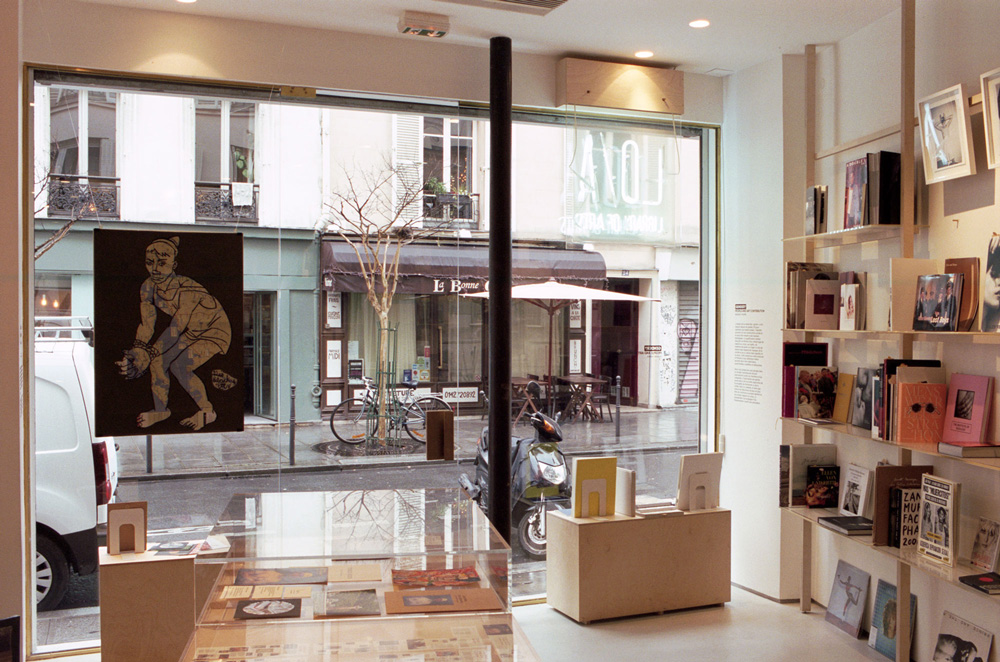 Apart from books, you also stock magazines and zines that are hard to find in France. Do you have any favourites?
Jeanne: My favourite is probably Der Greif, which I discovered in Berlin during the selection period for the first theme. I love the paper, the way it is designed, the dimensions… I also love Ponytale and Nichons nous dans l'Internet, because of the relevance of their subjects and the way they talk about them. I love fanzines because most of the times they document the first approaches of an artist to an idea, and they are an accessible way to distribute this idea. We really wanted our bookstore to be a place where you can could find this type of publications.
Maxime: I would say my favourite magazines are Tissue, Flaneur and Marfa Journal. Regarding zines, I love the work of Cafe Royal Books.
What are some of your most valued books in your personal collections?
Jeanne: I have a crush on minimalist design and chairs in general, so I'll have to say a Jean Prouvé book which I bought in Tokyo 3 years ago.
Maxime: THE BANGY BOOK by Vincent Alan W (very hard to find), Rock Diary by Hedi Slimane, The faith of graffiti limited edition and signed by the 3 authors and  Kate, The Kate Moss book signed by her when I was working with her in a shoot.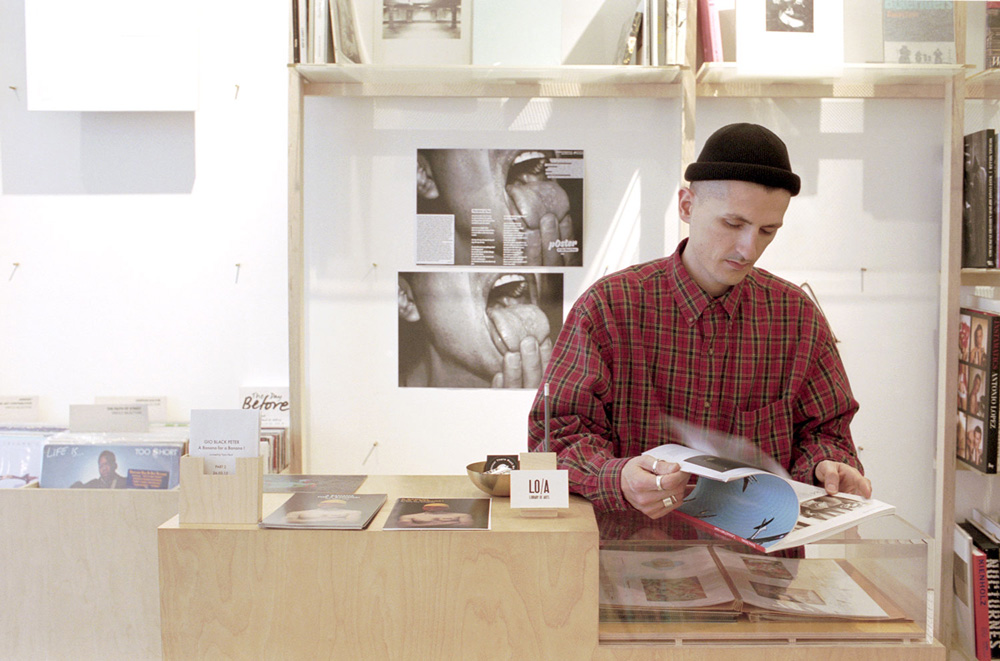 What are your future plans for LO/A?
Jeanne:  We have a lot of exhibitions coming up until the end of this year, a new theme to prepare and a publication related to the theme we'll propose.
Maxime: We would also like to create a book on each of our themes.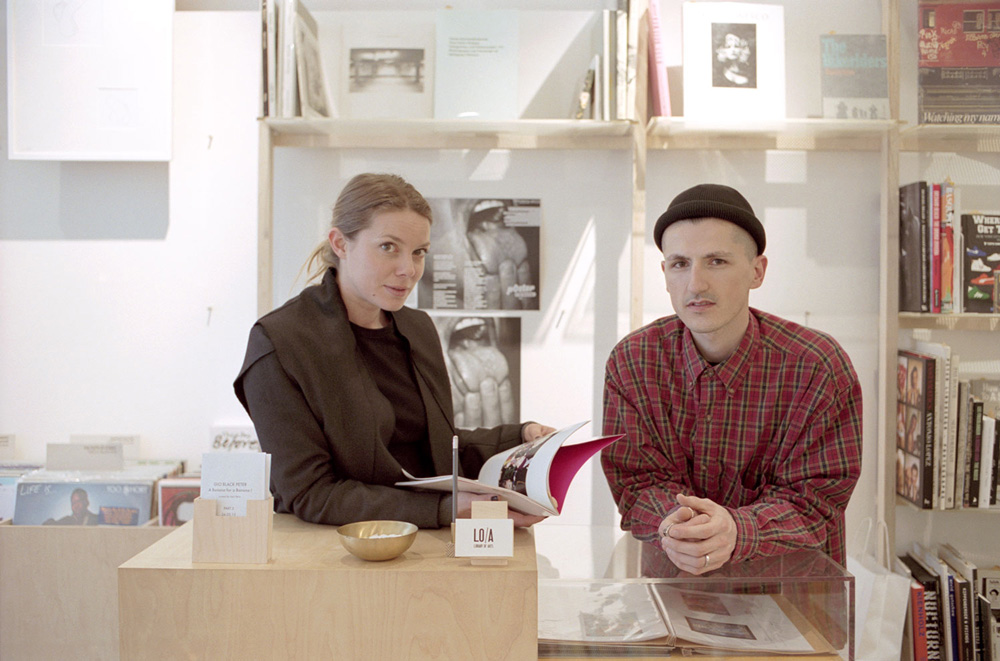 LO/A is based in the Haut-Marais. What places, businesses and shops would you recommend in this neighbourhood?
Jeanne: This street is filled with talented people. There are a lot of contemporary galleries like Black Slash, Galerie Derouillon, Great Design and the well know Paris-Beijing which was the first one to come here and which just moved 2 streets behind. We also have lots of good food places such as La Bonne Cécile, KiliKio and Brulerie Caron (best coffee in town!), and independent fashion stores and brands like Small concept and Beau Bien store. And there's also a really good vinyl store, Superfly records.
Maxime: Jeanne's recommendation are really good. I would also like to add the restaurants Le Parisien and Le Derrière and the great place Cosmo-Coltrane to have a drink and a big burger  in their comfortable outside sofa just after our events.
Save
You might also be interested in: