---
SUSTAINABLE ROTTERDAM CITY GUIDE
We travelled to Rotterdam just one week before the lockdown started in the main European cities due to the COVID-19 outbreak. Looking back, it feels like it couldn't be a better moment to create our first City Guide focusing solely on sustainable initiatives – a topic that has been widely discussed across all industries during the weeks we have stayed at home
Rotterdam isn't new to sustainability, from architecture and design to food and fashion, the Dutch city has been ahead of the game for quite a long time, being home to many initiatives transforming how we live in an urban environment.
With this guide, we want to offer a different approach to exploring a city. You'll find parks, shops and restaurants designed to reduce our impact our social and environmental impact; and you'll also be able to discover the work of a selection of local entrepreneurs – through in-depth conversations – who are shaping the path to a sustainable future.
Thanks to Rotterdam Partners for helping us produce the guide you're about to read.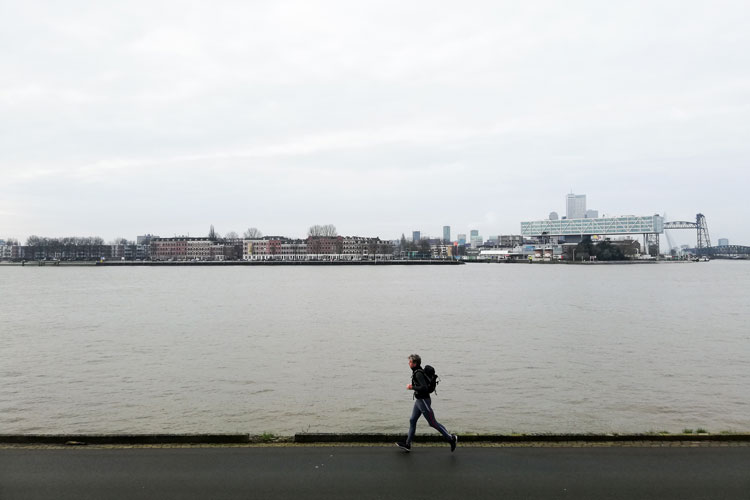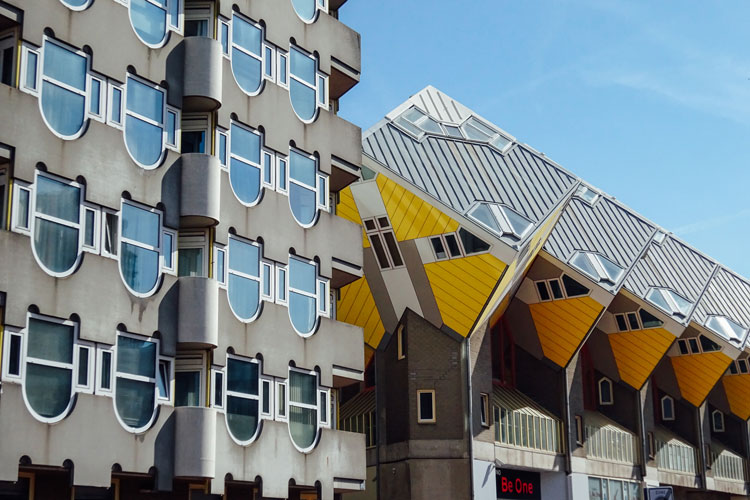 ---
Dakpark
Located in the Delfshaven neighbourhood – just a few metro stops west of the city centre – Dakpark is the largest public roof park in Europe.
Perfect for a spring or summer day stroll, the park spans for 1200 metres and has great 360-degree views of the surrounding area. You'll find many gardens, areas for picnics and barbecues, playgrounds and kiosks to enjoy food and drinks. Also, if you're planning to exercise during your visit to Rotterdam, don't miss the many activities taking place at Dakpark — from yoga to bootcamps — in a unique environment!
Dakpark – Vierhavensstraat 79, 3029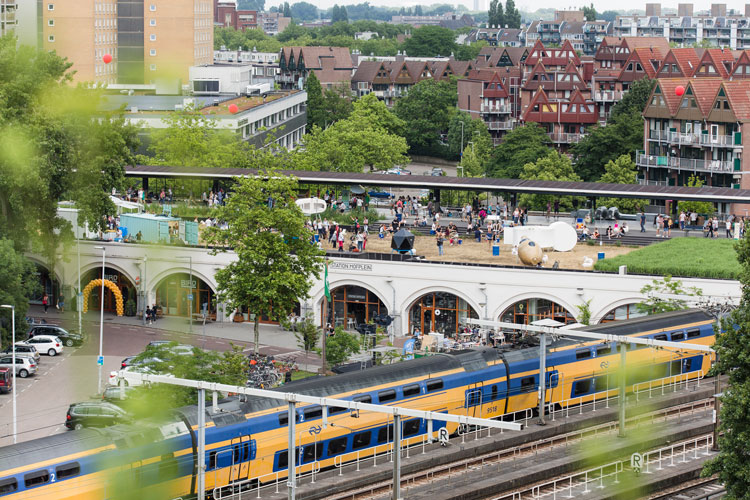 Different views of Dakpark and its surroundings. Images courtesy of Rotterdam Partners
In Conversation: De Wasserij

De Wasserij is a creative hub where innovative fashion professionals can meet, collaborate and exchange knowledge. The building, a former industrial laundry in the north of Rotterdam, offers studios to about 50 movers and shakers in the Netherland's fashion industry. We visited this innovative space and chatted with Esther Muñoz Grootveld, program manager at De Wasserij.
De Wasserij – Sint-Agathastraat 54, 3037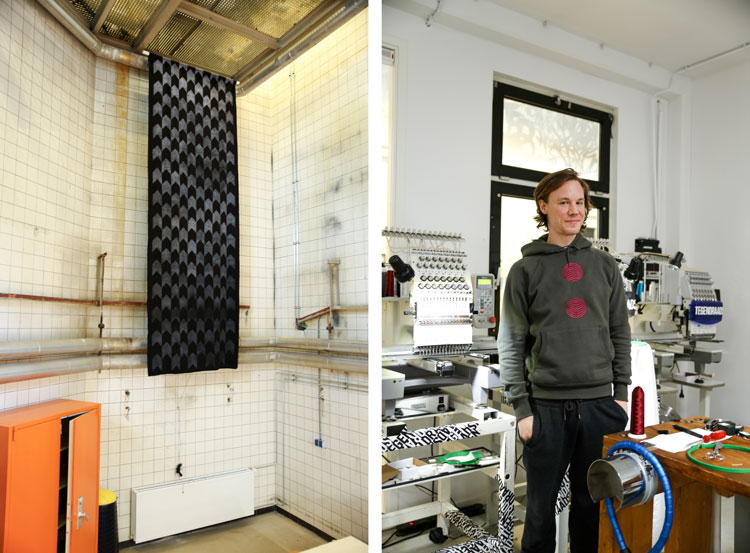 A view of the studios and facilities at De Wasserij. On the bottom right, designer Thijs van Buuren, founder of TEGENDRAADS

What connects all the residents of De Wasserij?
The residents of De Wasserij have a common interest: they believe in contributing to a better future through their creative practice.
More and more professionals and consumers are becoming aware of the large-scale pollution caused by the fashion industry. There is also a growing awareness that, especially, 'fast fashion' production contributes to social inequality in many places in the world.
To make clothing available in a responsible way, the residents of De Wasserij seek to develop innovative work methods. For example, by using local sources and production facilities, or by working with circular and sustainable materials. Or by focusing on slow fashion, timeless styles, and high quality clothes that you buy to love and keep for a long time. Furthermore, our residents believe in the power of collaboration— they want to contribute to a healthy ecosystem in the city and in the region.
What services does De Wasserij offer to fashion professionals?
We offer studios for fashion professionals in different price categories. We aim to bring recent graduates together with more experienced professionals. In curating our community, we also pay attention that all parts in the fashion chains are represented: from designers and photographers to sales agents, textile designers and craftsmen.
We also offer a makerslab, in which creatives can experiment and have the chance to produce small quantities; a programme of activities, in which the fashion network can meet, get inspired and get informed; and event spaces for other companies that are touching on topics such as circularity, sustainability and future scenarios.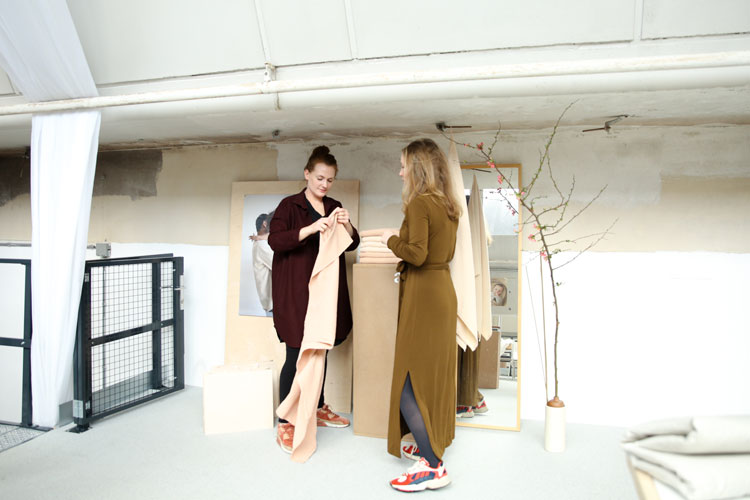 On the top image, the founders of an.nur, a brand specialising in baby pieces. Below, more facilities at De Wasserij and the studio of lingerie and jewellery label Arí van Twillert

How does De Wasserij contribute towards a sustainable future?
De Wasserij is a place and a network in which creative start-ups can meet, exchange knowledge and work together. We believe that a strong local network can contribute to bringing innovative ideas a step further towards realization. Furthermore, in our lab, we offer space for experiment and for small-scale local production. We believe that bringing back production to the Netherlands will create awareness amongst makers and consumers about the true value (and price) of clothing in the short term. In the long term, we believe it would be good to give an impulse to our local industries, so that labels have the ability to produce small amounts as well as made-to-order products close to home.
During our visit around De Wasserij, we also asked some of the residents how their work and brands support sustainability:
"All of our products are ethically sourced, which means they are produced and purchased in a manner that demonstrates respect for the people who produce them as well as for the environment. That's why part of our products are made-to-order and almost entirely made by hand." — Sacha and Moniek from an.nur, a label focusing on baby pieces that fit the grown-up home.
"If we try to intensify the connection people have with their garments, they will think twice before throwing them away. One way of doing that is to let garments tell a story. If this story is personal, they feel extra special and will be almost impossible not to love these garments. Having people made aware of the production process and the amount of labour that goes into their garments helps them understand the value even more. " — Fashion design engineer Lidewij Vera Arí van Twillert from lingerie and jewellery label Arí van Twillert.
"I work in close collaboration with the Wijkatelier (part of the Afrikaanderwijk Coöperatie) that offers sewing workshops, textile facilities and work to residents of Rotterdam south, who usually don't have direct access to the design economy. Moreover, the cooperative connects my studio as well to the schools of the neighbourhood, creating a direct and human connection between the clothing producers and the children who wear them." — Gabriel Fontana from Studio Fontana and MULTIFORM, an ongoing design research that questions and re-invents the social and political role of sport in contemporary society.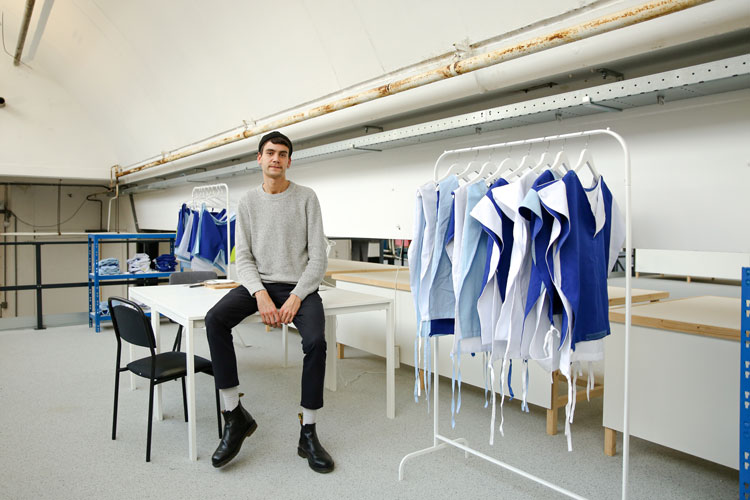 Designer Gabriel Fontana from Studio Fontana and MULTIFORM at his studio.
Op Het Dak

Don't be confused when you get to the address shown below and don't find anything that might resemble a restaurant; that's what makes the visit to Op Het Dak even more exciting. Enter Het Schieblock, a creative hub just in front of Luchtsingel — an easy to recognise wooden, yellow pathway — and ride the elevator to the 6th floor. Take the stairs and you'll arrive to this rooftop restaurant with some spectacular views of the city.
But the views aren't just worth the visit. At Op Het Dak you can enjoy simple, tasty and fresh dishes prepared with ingredients from the urban garden you'll see across your table, as well as from farmers and producers in the region.
Op Het Dak- Schiekade 189, 3013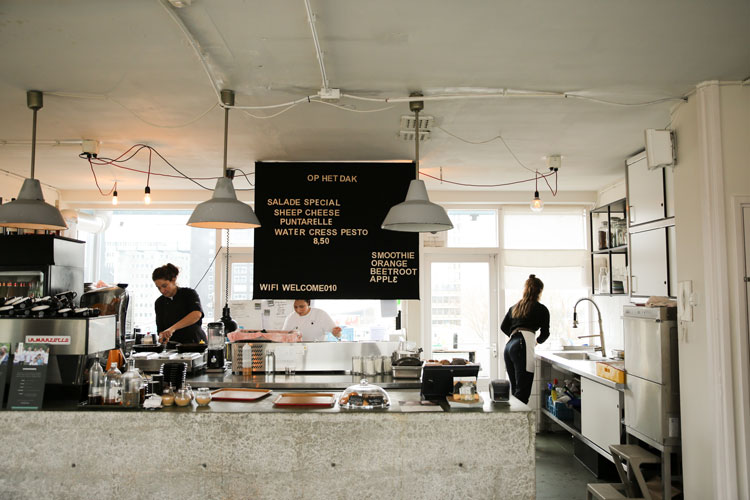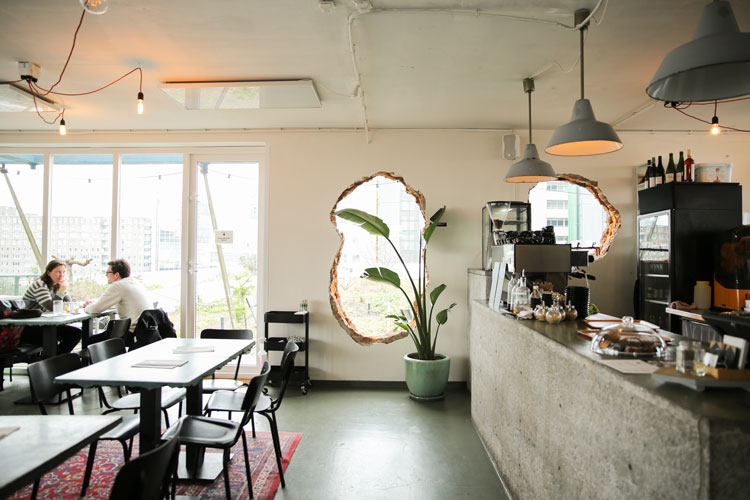 The interiors of Op Het Dak are surrounded by spectacular 360-degree views of the city
---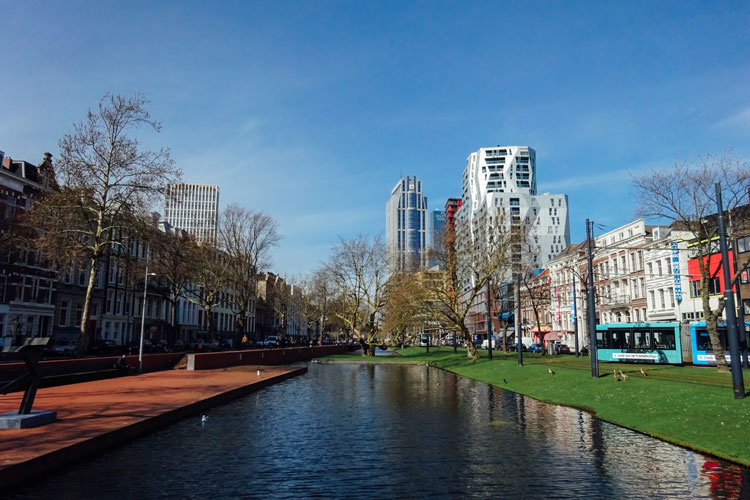 ---
In Conversation: Better Future Factory
Better Future Factory is a sustainable design and engineering studio located at BlueCity, a hub for circular economy entrepreneurs built in a former waterpark. Founded by Casper van der Meer, Laura C. Klauss and Bart Bleijerveld, Better Future Factory turns plastic waste into new products with a focus on recycling, refill and reuse.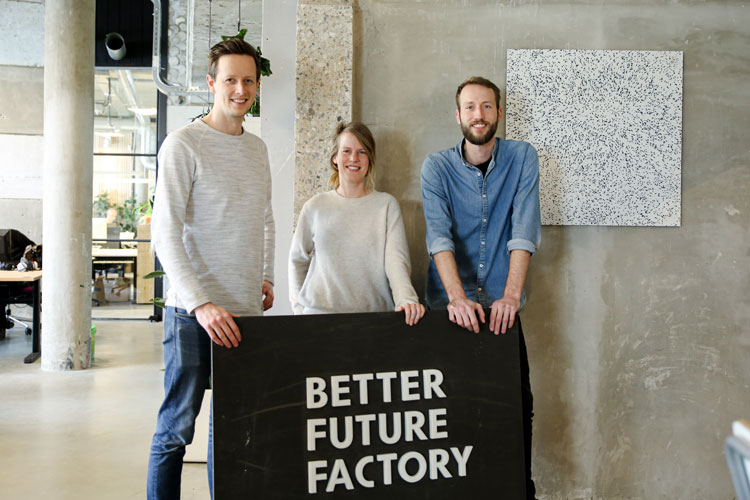 The founders of Better Future Factory: Bart, Laura and Casper

Can you tell us about what led you to start Better Future Factory?
We started in 2012, when we were asked by a Dutch music festival to come up with something to activate festival goers and rethink their use of plastic. Back then, 3D printing was really up-and-coming, so we thought it would be cool to convert used beer cups into something 3D printed— specifically, a ring they could wear during the festival. We downscaled big machines to small machines with a transparent layout, so non-technical people could understand what was happening, and we basically built a mini recycling plant.
Can you explain in more detail your 'Refil' project?
Refil is one of the 3 startups under Better Future Factory. We recycle car dashboards, the inside of refrigerators and other sources, and we turn them into PET and ABS filaments used for 3D printing. We keep the colours from the original materials so the customer can relate to the original source and know where that material came from.
How do you work with your clients?
Most of the time, the material is the starting point when working with a client. They might have a certain waste stream in plastic and they ask us about what we can do with it, or have an existing plastic product and they ask us how we can increase sustainability. Sometimes it's a matter of replacing virgin plastic with recycled, or we can go a bit further and look into new vessel models. Nowadays, we also work more and more in the field of packaging— there are lots of challenges and we need to re-engineer plastic use.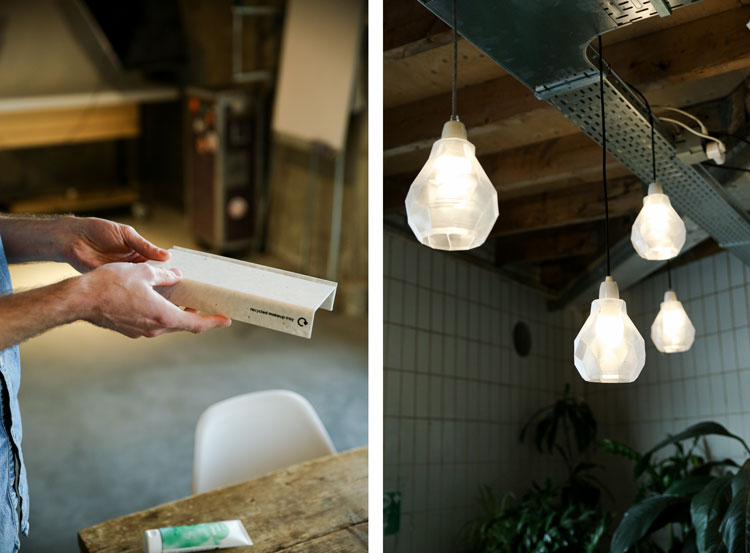 A recycled makeup tray for HEMA and 'Botella', 3D printed lampshades, each made from 2 bottles

Why did you decide to focus on plastic?
First of all, it is a very interesting material but there are lots of problems with it. We're not against plastic, but we're not using it in the right way. We need to find solutions like recycling, using less plastic or different business models. We need a holistic approach, and we need each party in the whole chain to start changing their behaviours: from consumers and the industry to designers.
Have you seen an improvement in terms of how we deal with plastics since you started Better Future Factory?
It's become a pressing issue and it's on the agenda of lots of companies nowadays. Four years ago, it started with plastic in the oceans and people realised that there's a big issue with this material, and that if we want to keep on using plastic, we need to find alternatives. There's been a big change in mindset but there's still a long way to go.
What does sustainability mean to you?
That's a difficult question… We really like the Brundtland Report from 1987 and its definition. In the end, we want to leave the world for the next generations in the same way we've experienced it. That's something quite simple in its wording, but the execution is a little bit more difficult.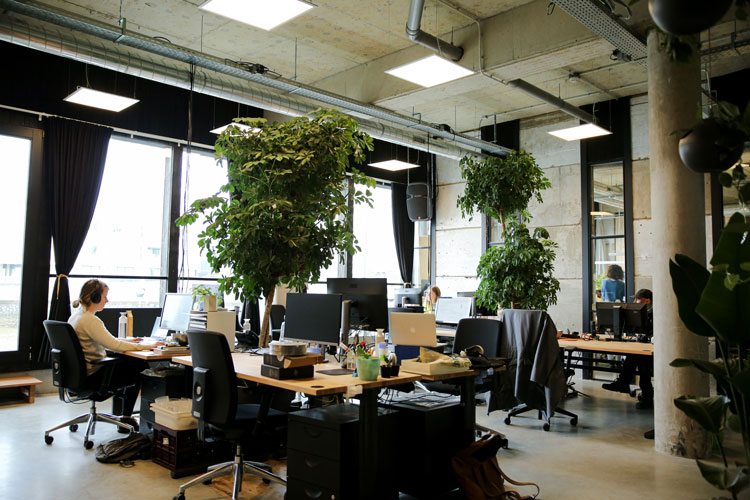 A general view of Better Future Factory's office space at BlueCity
Susan Bijl

Susan Bijl is an institution in Rotterdam; it's difficult to walk around the city without seeing someone wearing her colourful nylon bags, created as an alternative to single-use plastic bags. We first visited Susan Bijl's store for our Shopping Local in Eindhoven & Rotterdam Guide, and decided to return to see what was new.
2020 marks the 20th anniversary of the brand and 20 years of reducing waste with Recollection. This celebration offers new designs and some of the brand's favourites from past collections, introducing for the first time products completely made of recycled ripstop nylon.
Susan Bijl – Mauritsweg 45A, 3012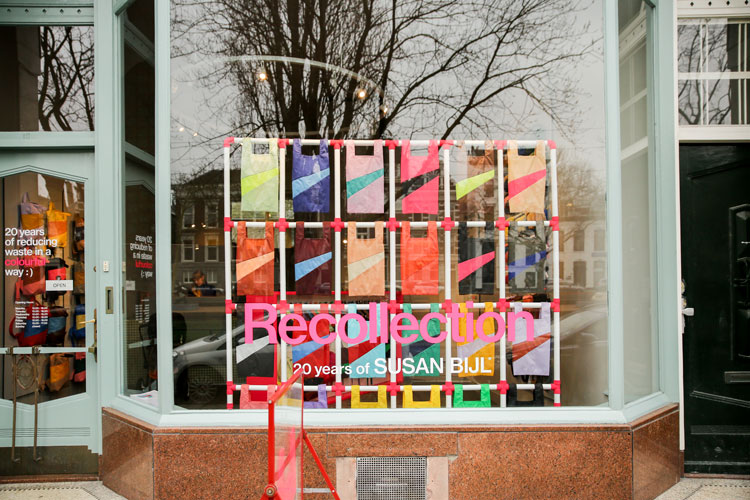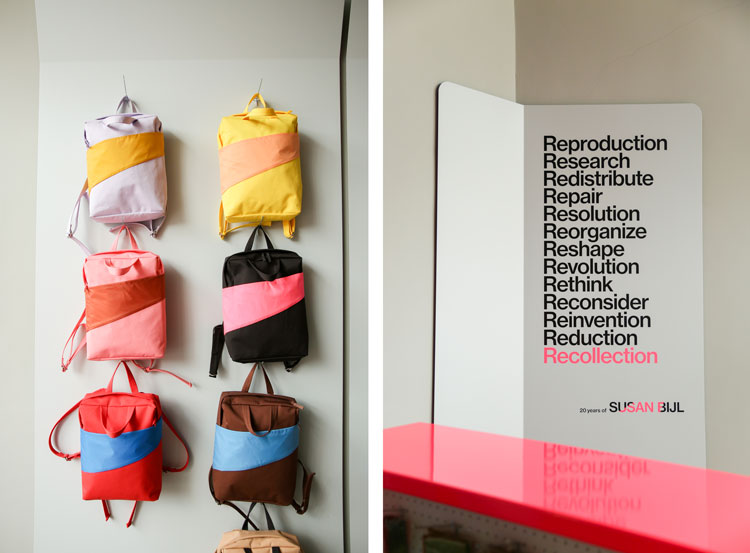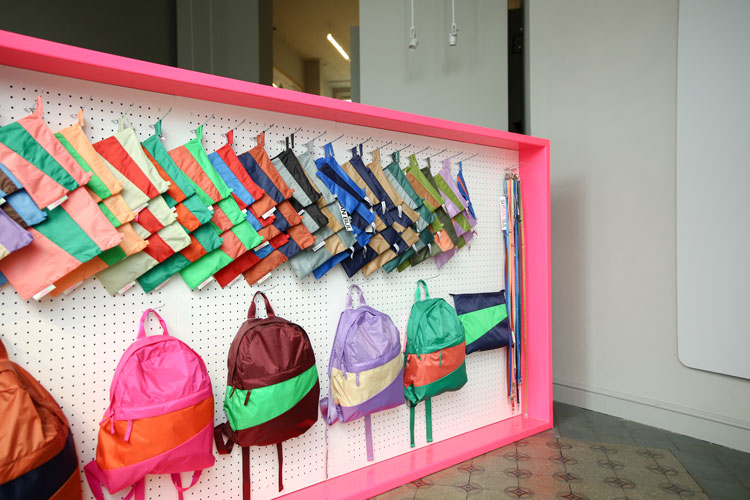 Some of the new and reissued products from Recollection, celebrating 20 years of Susan Bijl
In Conversation: SOGOODTOWEAR

SOGOODTOWEAR is a cooperation of entrepreneurs, farmers, spinners and weavers in Nepal and designers, activist entrepreneurs and clothing sellers in the Netherlands creating fair-trade cashmere pieces. Apart from setting up their own knitting factory in Nepal, the team behind SOGOODTOWEAR has also started their own goat herds and breed, with the objective of fully restarting the cashmere industry in this country.
We visited the label's showroom in Rotterdam and had a long chat with Jacqui Burger, one of its founders, during which she told us the fascinating story behind SOGOODTOWEAR. You can read the full conversation in our new platform: True to Size!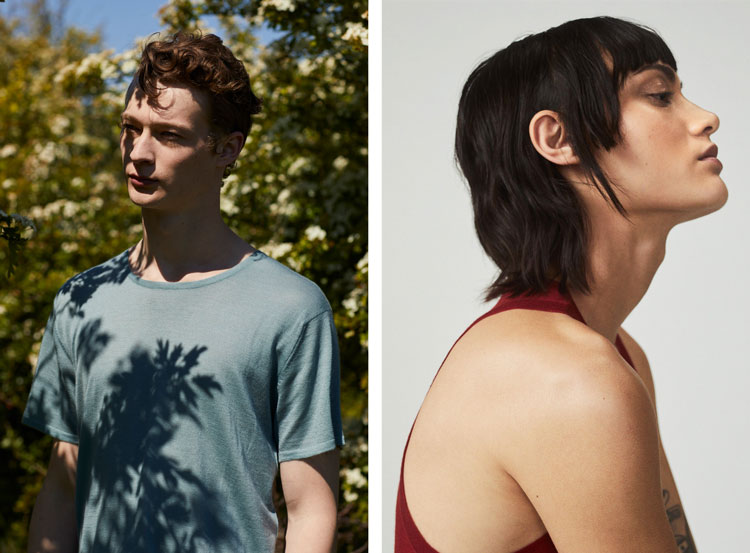 Some images from SOGOODTOWEAR's SS20 collection, featuring cashmere pieces designed in Rotterdam and made in Nepal
---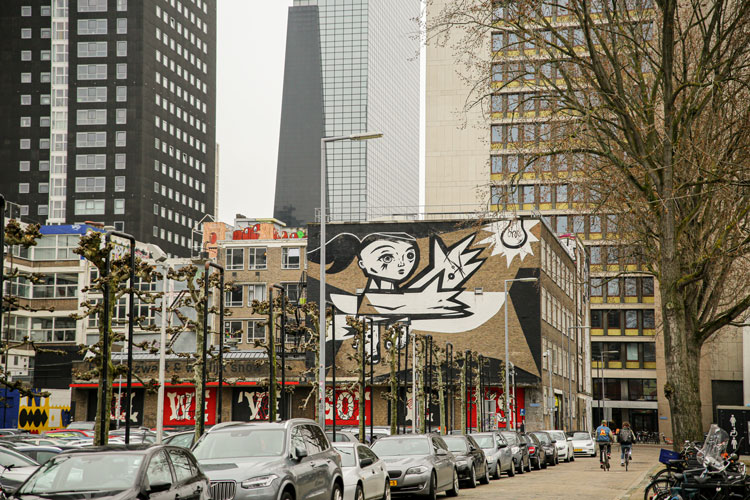 ---
BlueCity
BlueCity is a hub for circular economy located at Tropicana, a former night club and waterpark by the Niuwe Maas River. This fascinating space has been converted into a breeding ground for innovative companies that work with each other, linking their waste streams – the output of one is the input for the other.
Composed of many start-ups and entrepreneurs (read our conversation with Better Future Factory above), BlueCity serves as an accelerator to empower these companies and show that circular economy can be a reality.
Although the space can only be visited on guided tours and during specific events, you can always pop in at terrace bar Aloha for great views and to experience how BlueCity's businesses work with each other: the coffee waste produced at Aloha is used as RotterZwam's oyster mushrooms and, in BlueCity Lab, the resulting mycelium is used to develop packaging materials.
BlueCity – Maasboulevard 100, 3063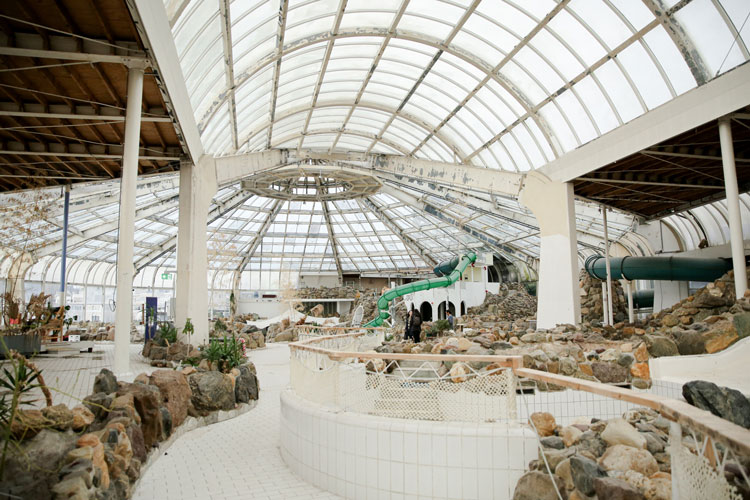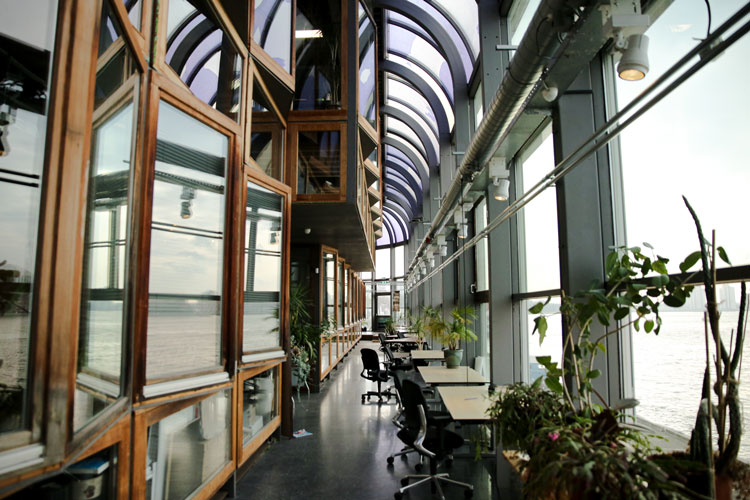 The impressive interiors and views of BlueCity
In Conversation: DEARHUNTER

If you want to find unique vintage pieces during your stay in Rotterdam, your address is DEARHUNTER. Forget about the typical Hawaiian or sports jerseys, this store by the Westersingel Canal stocks a selection of garments you won't find anywhere else. We paid a visit and chatted with its owner, Hanneke van Leeuwen.
DEARHUNTER – Eendrachtsweg 55A, 3012
www.instagram.com/dearhunter.shop

Hanneke browsing through some of the pieces at her store

When did you open DEARHUNTER and what was the reason behind it?
I started DEARHUNTER in May 2012 at this location. Before that, I used to work for another vintage store and I have always liked to dress in vintage clothing from an early age.
I studied at art school and I didn't want to continue my illustration work, but I've always been very creative. And there was this opportunity, I found this space and decided to give it a go because I thought it would be like a mixture of all the things I like. So I started my own business to see if it would work out.
Vintage clothing has been popular over the past few years but, just recently, it has grown a lot. People are more conscious about not buying new clothes. How have you noticed this in your business?
I've seen a different type of customer coming to the shop. Recently, it has become a mainstream habit. Before, vintage used to be more for artistic people who wanted to express themselves and own unique clothing – so it was more about uniqueness rather than sustainability.
Nowadays, it's really been shifting and it's still, of course, about owning unique items, but there are a lot of people who don't want to shop new anymore and want to try to create a wardrobe through second-hand stores.
How do you select the pieces you stock in your shop?
I select everything myself and it makes me stand out from other vintage stores. I go through a whole bunch of used items at factories and I dive into them – it's really not romantic. This means that I make a decision about all the pieces that are available at DEARHUNTER.

Hanneke's own taste is reflected in the selection of garments available at DEARHUNTER

Do you select the pieces based on your personal taste, but also think about your customers? Even if it's something you don't like but you know it's going to sell well.
If there's something I really detest, I wouldn't stock it. I try to have a balance between really fashionable things, funny clothing (not too serious stuff), things that haven't been worn much and good prints and quality materials.
Is there any particular type of clothing your customers come into your store looking for right now?
There are always some fashionable pieces. When I started out it was more like 70s style coats with belts, and now it's more about straight fits. LEVI'S as well – I like them, but I think it's very boring because you can go into any second hand store and find them, although they always sell really well.
I also think that there are trends within vintage clothing. For example, when I started I would look for blouses for a certain type of print that made me really happy and now, if I see something like that I say 'let's move on, that's in the past', and I have to find something new.
Why should people buy vintage clothing?
The fashion industry is so polluting and it's not necessary to buy new things – there are already lots of nicer and creative items. Just have a look and let yourself be surprised rather than looking for something in particular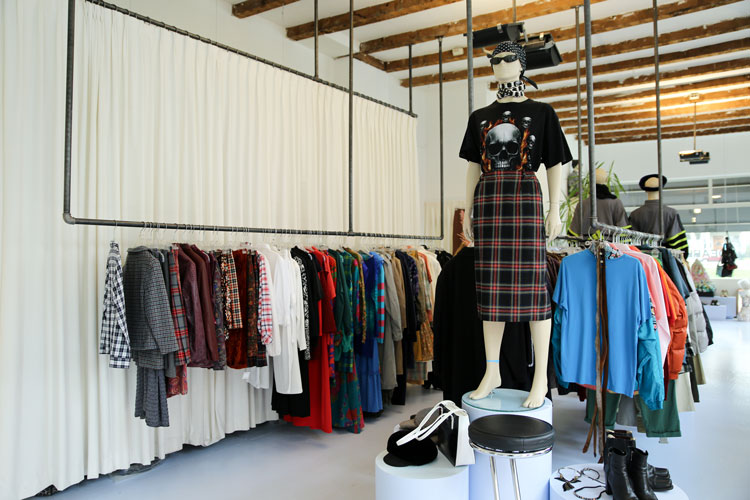 The interiors of DEARHUNTER have also been designed by Hanneke
---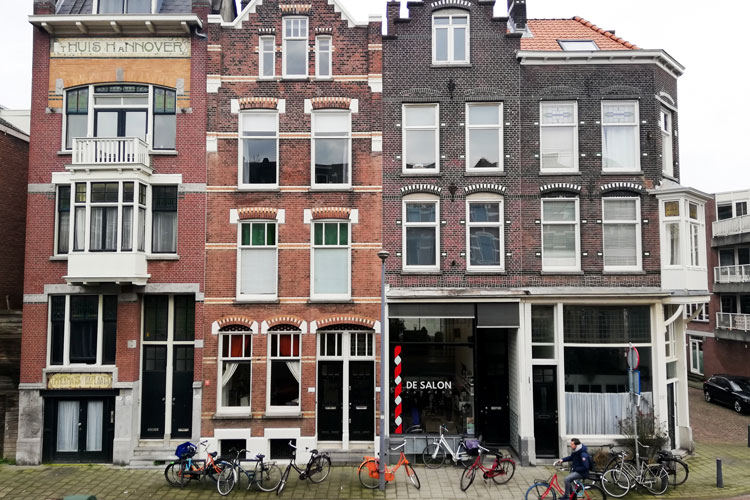 ---
BONUS
Food & Art

 Feeling hungry? Here are two options to add to your list when visiting Rotterdam. Plus, two art centres that should also be in your itinerary.
De Groene Passage is a unique shopping centre composed of different businesses with fair-trade, animal-friend and sustainable values. Browse the many shops and stop for food at Spirit, a buffet restaurant offering 100% organic and vegetarian dishes.
If you're looking for a vegan burger, the place to go is Flower Burger. Founded by an Italian entrepreneur, Rotterdam is the only location of this vegan burger joint in The Netherlands. The colourful buns will surprise you, and so will the many patties and homemade sauces.
De Groene Passage – Mariniersweg 9, 3011
Flower Burger – Hoogstraat 107 A, 3011


The entrance of De Groene Passage and the colourful, graphic interiors of Flower Burger
 Located in one of the liveliest streets in the city, Witte de With Centre for Contemporary Art organises exhibitions, commissions art, publishes, and develops educational and collaborative initiatives. Housed in a former school building, this arts centre is composed of three floors designed to house different exhibitions, a café and a bookshop. There's a small entrance fee and the access is free on Friday evenings from 6pm to 9pm.
Het Nieuwe Instituut is dedicated to increase the appreciation of the cultural and social significance of architecture, design and digital culture and to strengthen the interaction between these disciplines. With a program of thought-provoking exhibitions, the main goal behind this institution is to point urgent issues and approach them in a flexible, innovative way.
Witte de With Centre for Contemporary Art – Witte de Withstraat 50, 3012
Het Nieuwe Instituut – Museumpark 25, 3015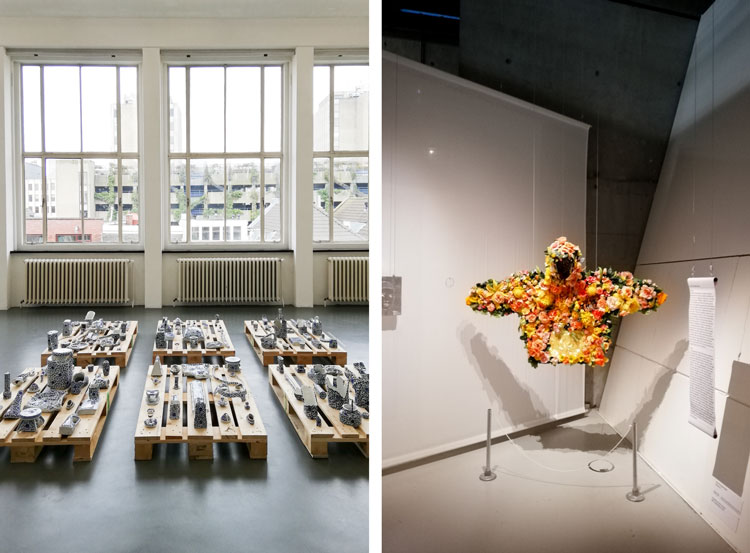 'An exhibition with works by…' at Witte de With Centre for Contemporary Art and 'The Hoodie' at Het Nieuwe Instituut
---
---
SUSTAINABLE ROTTERDAM – MAP
---
You might also be interested in:
---
---