---
HELSINKI CITY GUIDE
Often described as the place where East meets West, Helsinki is a city of architectural contrasts, warm people and vibrant culture.
Built on a peninsula surrounded by small beautiful islands, Helsinki's compact size allows visitors to explore its streets on foot. Go for a walk around the Design District, discover the work of designer and architect Alvar Aalto, stop for some delicious local delicacies and give the traditional Finnish sauna a try – the possibilities are endless!
We hope you enjoy our new City Guide. Have a look at all the places we visited and plan your own itinerary.
Thanks to Visit Helsinki and Visit Finland for making this guide possible and for three amazing days in Helsinki.
---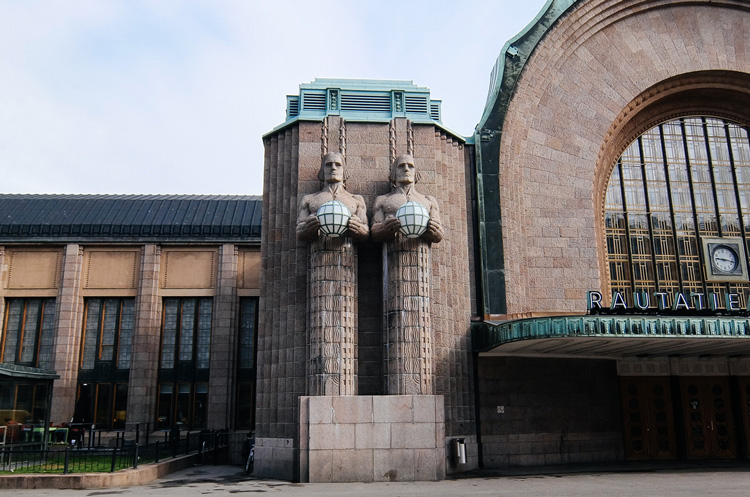 ---
STAY
Solo Sokos Hotel Torni

Solo Sokos Hotel Torni is a classic hotel with unique personality located in the heart of Helsinki. The hotel is nicely decorated in Art Deco and Art Nouveau styles – the building and its rooms completely change depending on the area of the hotel you are, and even the corridors, staircases and other little details are different.
The staff at Solo Sokos Hotel Torni is really kind and we felt welcomed during our whole stay. The ladies at the reception desk were very helpful and even recommended us places we should visit and add to our guide.
Another strong point of Solo Sokos Hotel Torni are its restaurant and three bars, including Ateljee Bar, a very popular cocktail bar located on the hotel's top floor and only accessible from a tiny staircase, boasting amazing 360-degree views of the city.
Solo Sokos Hotel Torni – Yrjönkatu 26, 00100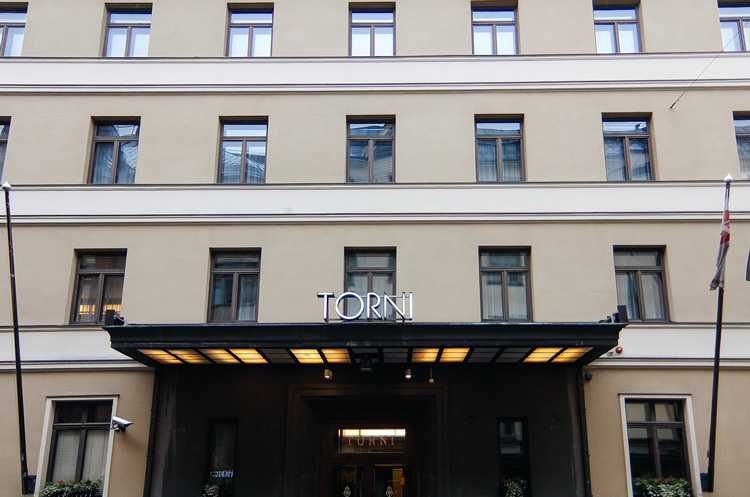 ---
EAT & DRINK
The Cock

The Cock is a recently opened eatery, rotisserie and bar serving family-style food located in Helsinki's city centre. The Cock is run by Richard McCormick, a young food entrepreneur well-known in Helsinki and who is also part of the team behind Sandro in the Kallio and Eira neighbourhoods.
The restaurant is divided into two nicely decorated floors and is open all day serving great breakfast, brunch, lunch and dinner choices. The staff is also really nice and will try their best to get you a spot to eat even if they're fully booked.
The Cock – Fabianinkatu 17, 00130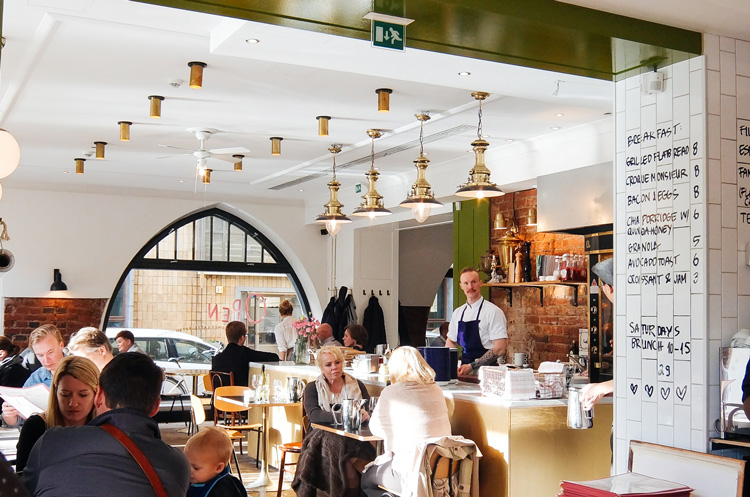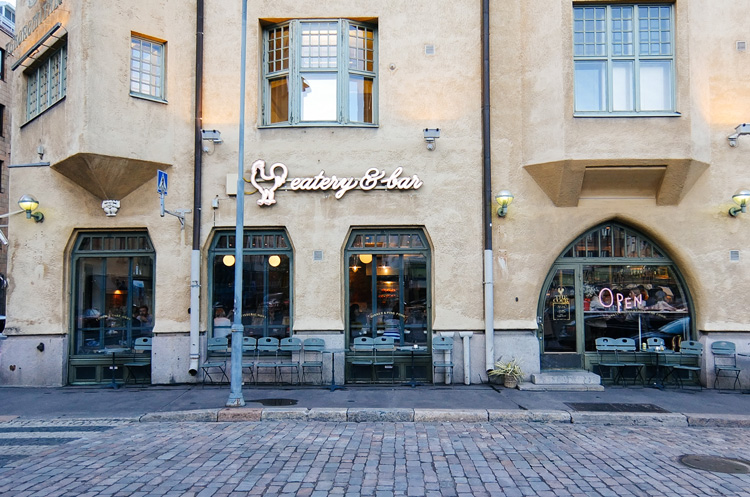 Street Gastro

Street Gastro started as a food truck when its owners and former chefs at prestigious restaurants, Pertti and Pasi, decided they wanted to bring a new street food style to Helsinki. Now, Street Gastro has three locations across the city and still uses its food truck for catering and events.
With a simple menu of five elaborated sandwiches and three tasty sides, Street Gastro has become one of the most exciting food ventures in the city. Don't leave Helsinki without paying it a visit!
Street Gastro – Albertinkatu 36, 00180
Vaasankatu 13, 00500
Iso Roobertinkatu 20-22, 00120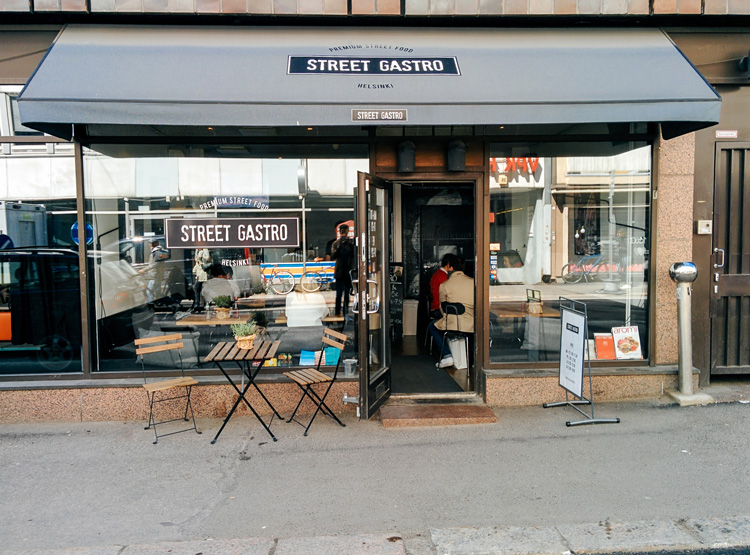 Café Kokko

Hidden inside a building in Helsinki's city centre, Café Kokko is run by former photographer Pasi Kokko and shares space with Roomage, a vintage interior design shop. Café Kokko's interiors are beautiful and they serve delicious coffee, juices, smoothies and raw cakes – Kokko's speciality – that you can enjoy while browsing the vintage treasures from Roomage.
Café Kokko – Kalevankatu 31 A 6, 00100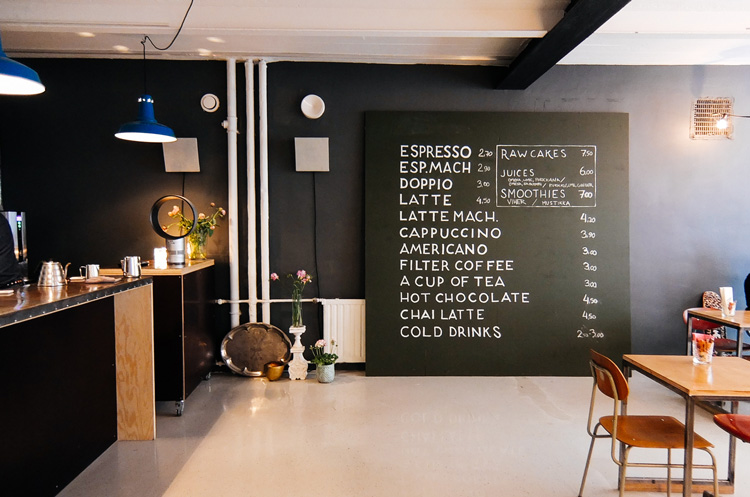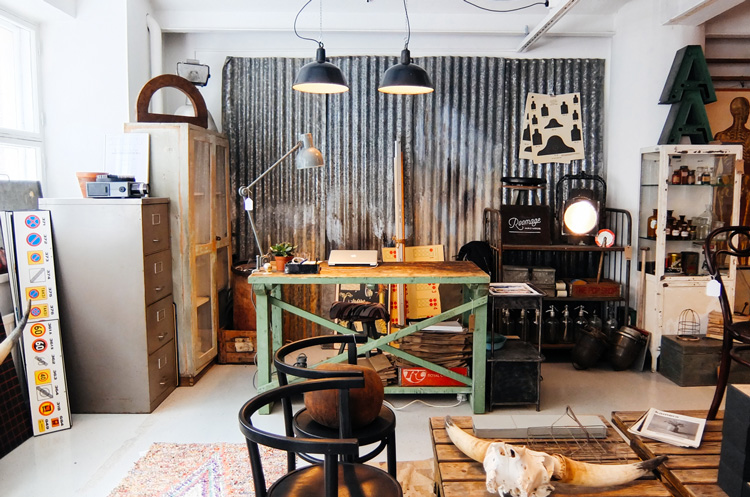 Kolme Kruunua

Kolme Kruunua opened its doors in 1952 and has, since then, become a classic restaurant with a varied clientele of young and older customers coming here to enjoy traditional Finnish food while listening to live piano performances at its charming dining room.
Stepping into Kolme Kruunua is like travelling back in time and it's an experience you shouldn't miss when staying in Helsinki.
Kolme Kruunua – Liisankatu 5, 00170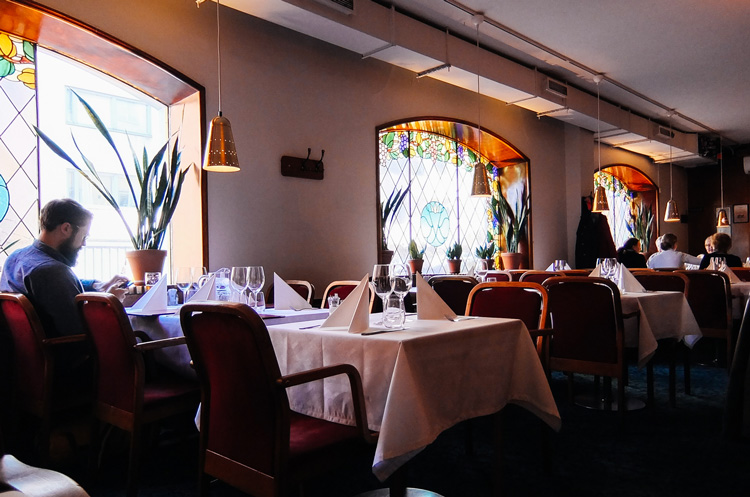 Good Life Coffee

Located in Kallio, one of Helsinki's most vibrant neighbourhoods, Good Life Coffee serves coffee brewed from their own roasted beans and based around their "Avoid Bad Life" philosophy. Apart from the great coffee, the staff is really welcoming, making Good Life Coffee the perfect place for a stop when exploring Kallio.
Good Life Coffee – Kolmas Linja 17, 00530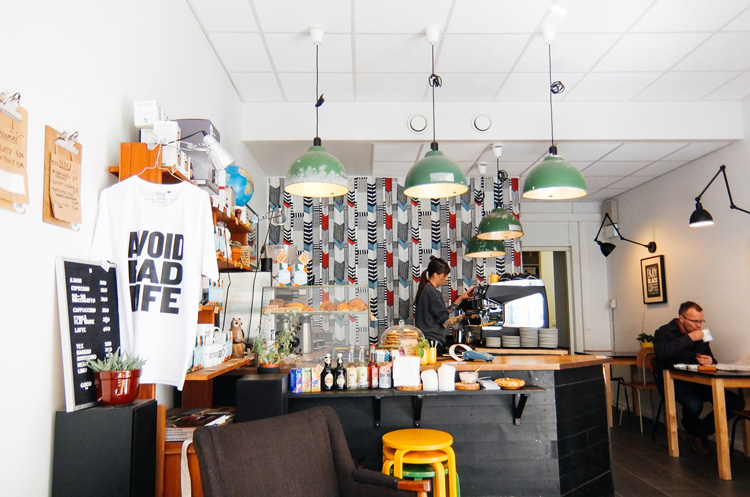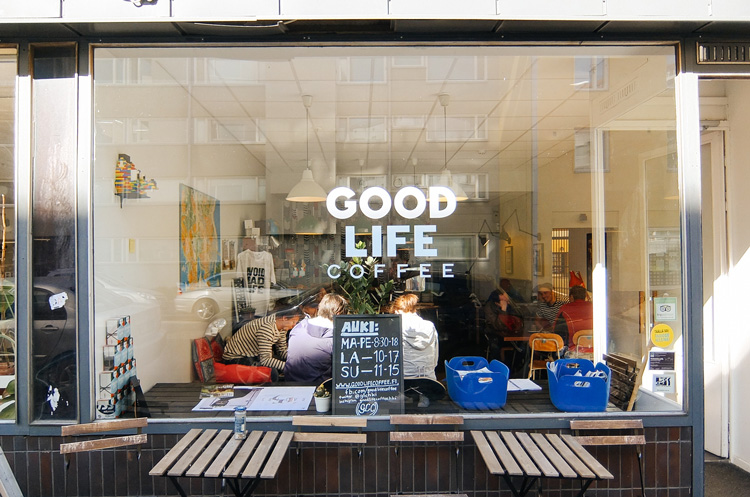 Bier Bier

Bier Bier is a must destination for any beer lovers. This bar, located in the heart of the city, offers an impressive selection of Finnish and international craft beers. Bier Bier is also worth a visit for its interiors where dark wooden walls are combined with beautiful arm chairs, tables and candelabra.
Bier Bier – Erottajankatu 13, 00130


Michel

Michel is another recently opened restaurant next to Helsinki's high street. Serving food all day, Michel's brunches on the weekends are especially popular, offering a delicious selection of salads, quiches, juices and other brunch classics.
Beautifully decorated with marble counters and wooden furniture, Michel is also a great place for  having a drink or a cocktail.
Michel – Mikonkatu 4, 00100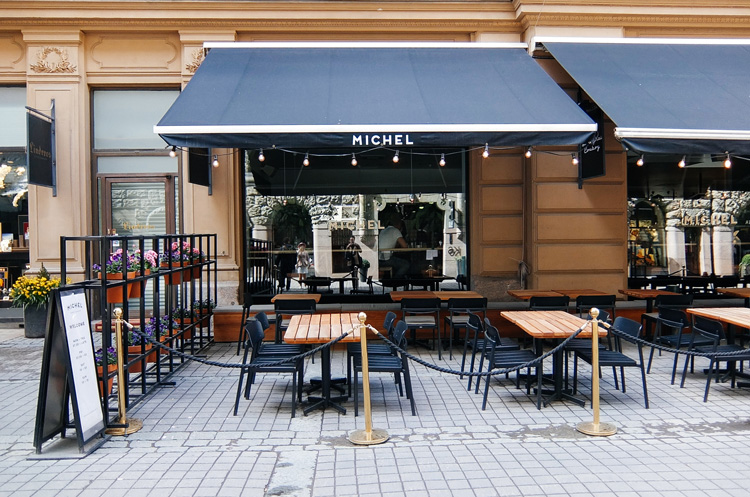 ---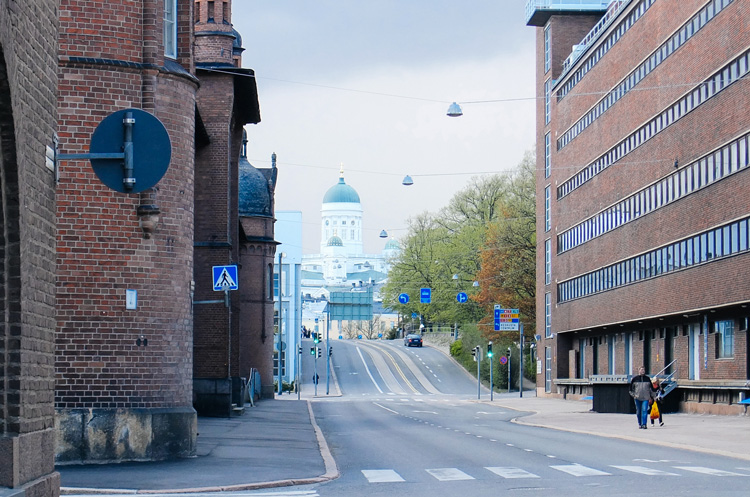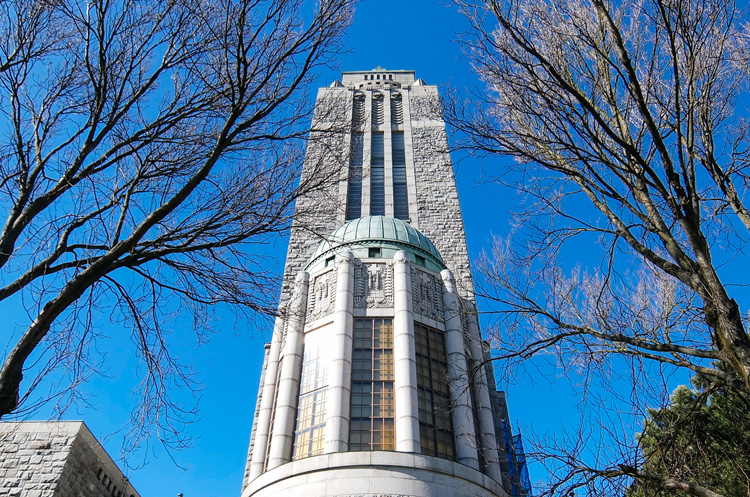 ---
SHOP
Common

Common is a small shop located in Helsinki's Design District selling high-quality and timeless Japanese design that fits Finnish lifestyle. Founded in 2007 by Masako and Kohsuke Nakamura, Common offers an amazing range of homewares, tea goods, stationary and magazines.
Make sure to stop if you're in the area to discover the beautiful brands stocked at Common and to have a chat with its welcoming owners.
Common – Pursimiehenkatu 1, 00120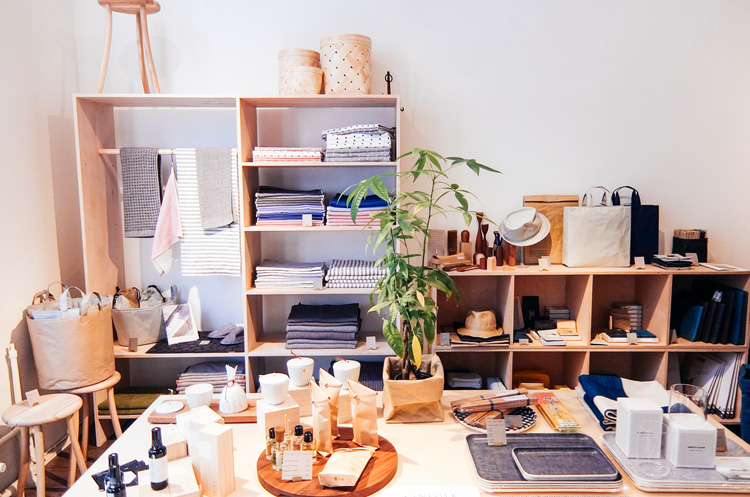 Artek

Probably Finland's most famous design furniture company, Artek was founded in 1935 by architect and designer Alvar Aalto and his wife Aino Aalto, along with Maire Gullichsen and Nils-Gustav Hahl.
Artek's main store is located in Helsinki's city centre and sells design classics such as Alvar Aalto's Stool 60 and Ilmari Tapiovaara's Domus Chair, and products from other brands like Vitra and Knoll.
Artek 2nd Cycle, located just 10 minutes away from the main store, is a paradise for any design furniture lover. Here, you will find second hand pieces in great condition, displayed in a space of over 600 square metres.
Artek – Eteläesplanadi 18, 00130
Artek 2nd Cycle – Pieni Roobertinkatu 4-6, 00130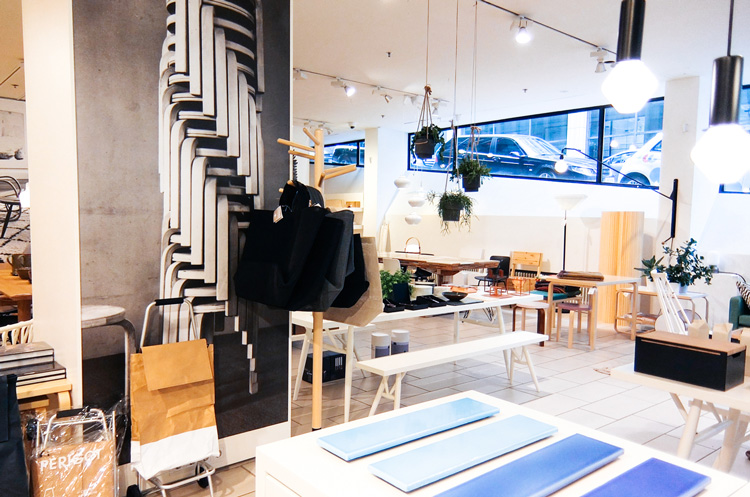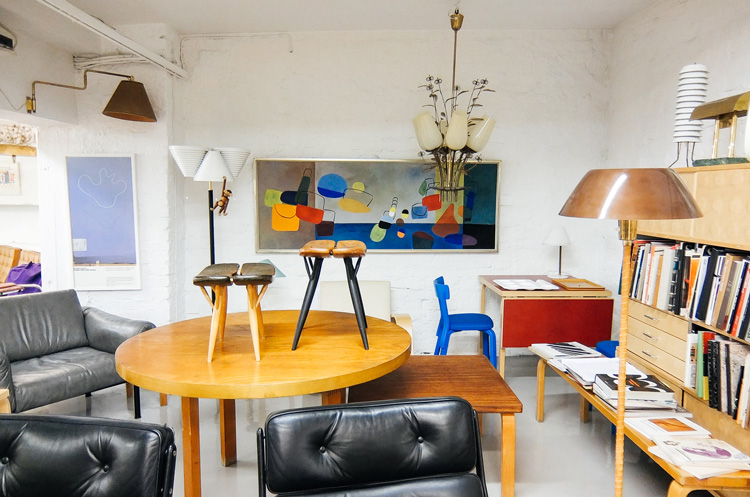 Lokal

Self-described as "72% Art 28% Coffee", Lokal is a concept store opened by photographer Katja Hagelstam in 2012 with the idea of creating a space to showcase the work of Finnish artists and designers.
Apart from the shop area, where you can find a carefully curated selection of ceramics, furniture, kitchen ware and home textiles, the gallery space showcases unique work by recognised and up-and-coming artists. The store is completed with a small café area serving coffee from a local roastery.
Lokal – Annankatu 9, 00120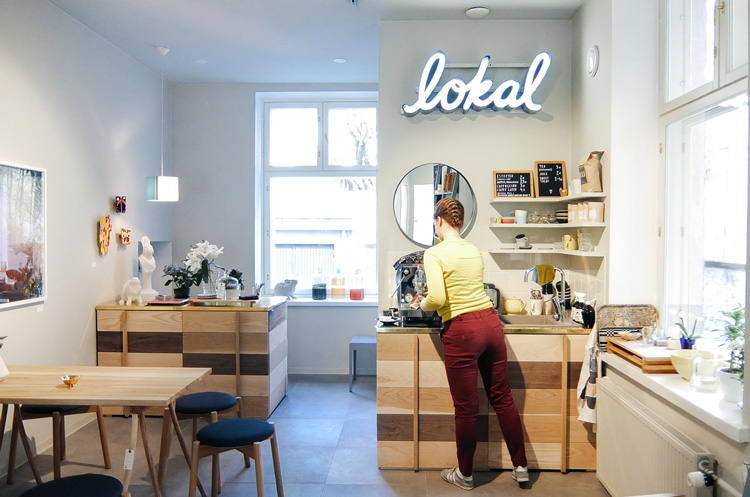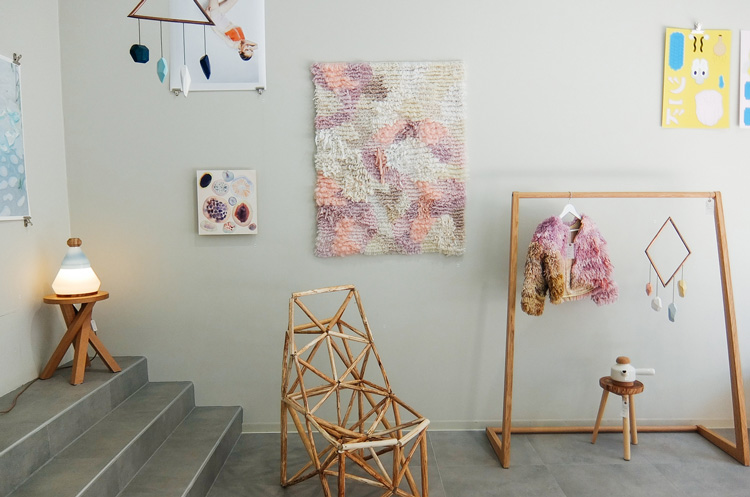 Iittala

Another major Finnish name in the design world, Iittala was founded in 1881 and had its breakthrough during the 1930s and 1940s when Alvar Aalto, Aino Aalto and Kaj Franck led the development of the brand and set its design philosophy: to push the boundaries and to give people beauty and function.
Today, Iittala's design roots in glasswares are still present, but in its shops you can also find design objects, table ware and cookware in ceramics and metal. A visit to Iittala is an essential experience to understand Finns' love for good design.
Iittala – Pohjoisesplanadi 25, 00100

Salakauppa

Salakauppa is the shop of design duo COMPANY, founded by Aamu Song and Johan Olin. Aamu and Johan are involved in different design projects, including their "Secrets of" series in which they design objects inspired by a particular country, produced by factories and craftsmen based in those countries.
From their little shop next to Kiasma (see Visit section below), Aamu and Johan sell their unique and playful designs. We visited them at their new workshop and studio located on Laivurinkatu 10, which just opened as a second shop, where you can also buy their creations.
Salakauppa Shop – Postikatu 1, 00100
Salakauppa Workshop – Laivurinkatu 10, 00150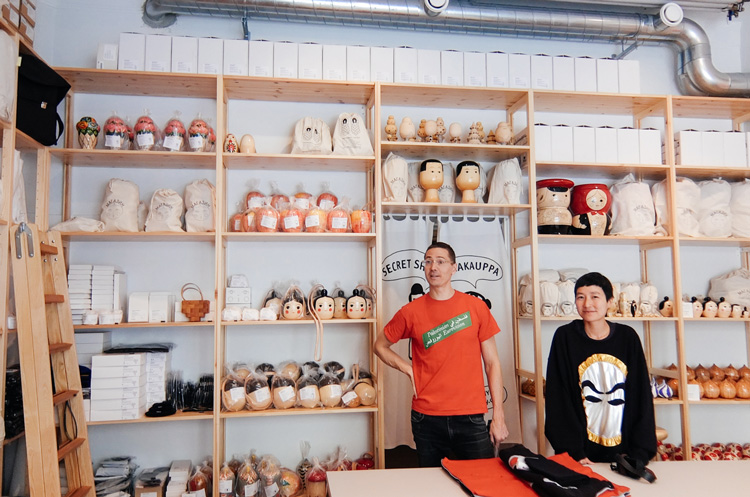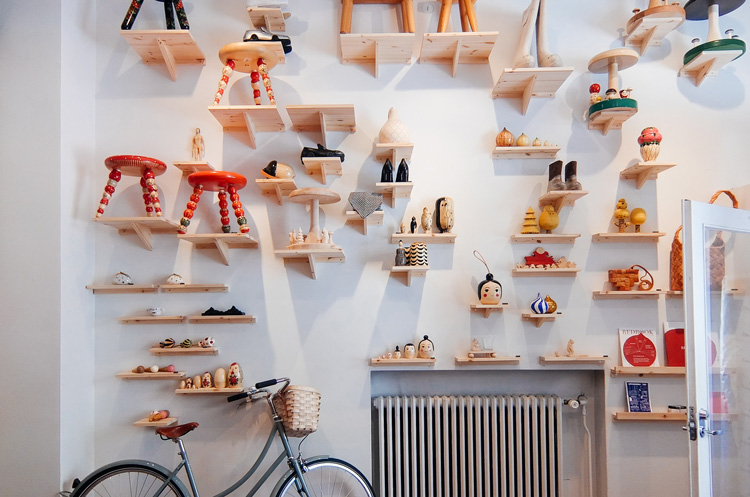 ---
VISIT
Arabia

In the Arabia district, design tradition meets contemporary art to create one of Helsinki's most exciting neighbourhoods. This creative hub is comprised of the Arabia Factory and Museum, Aalto University School of Arts, design outlets, residential buildings and is also home to numerous companies, including Finnish consumer brands company Fiskars (owner of Iittala).
We enjoyed a guided visit around the Arabia Museum (part of the Helsinki Design Museum), the Arabia Factory (which once was the biggest ceramics factory in Europe and that still manufactures products for labels such as Arabia and Iittala), the studios of the ceramic artists and Fiskars' showroom, showcasing beautiful designs from its portfolio brands.
Arabia – Hämeentie 133 A, 00560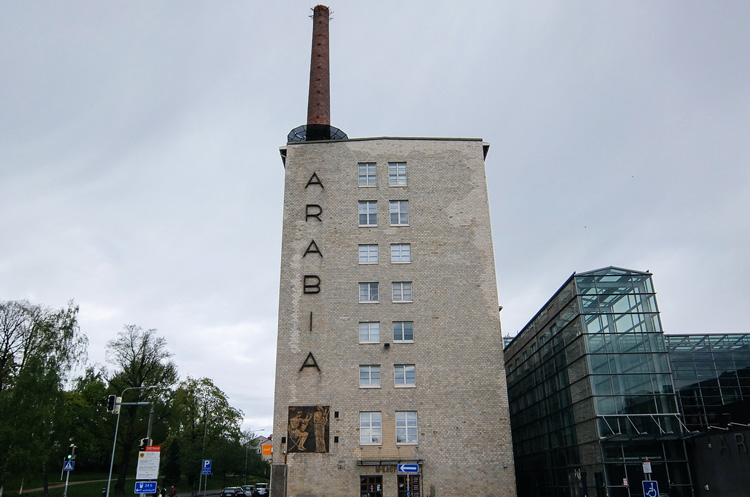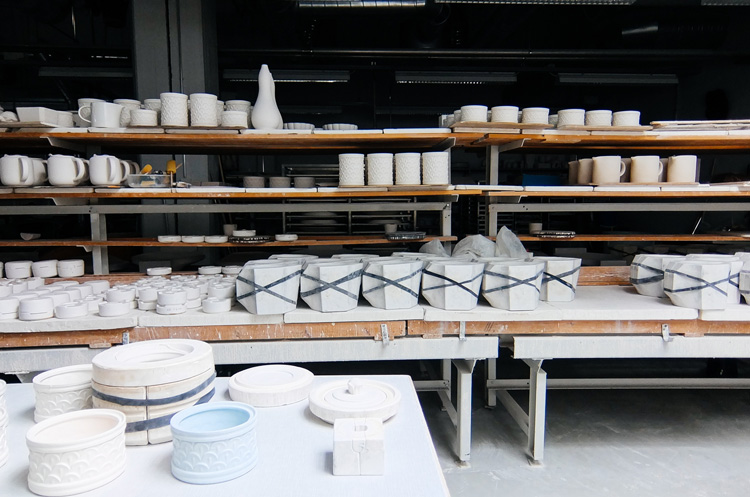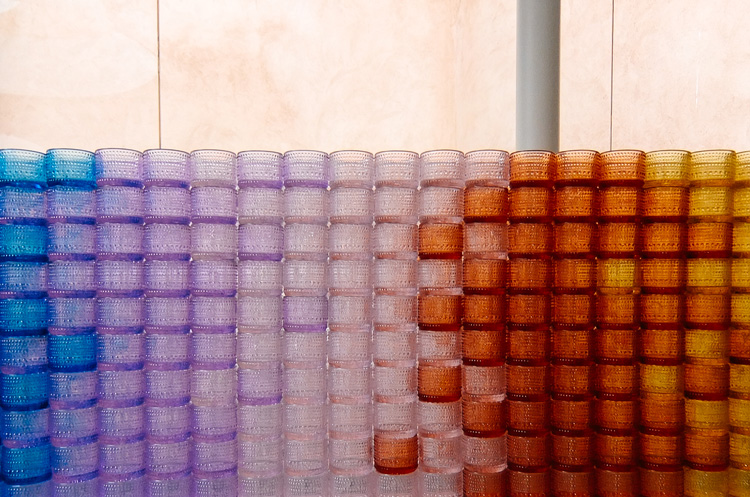 Churches
Helsinki's architectural contrasts are also visible in its cathedrals and churches, where East meets West and buildings are designed taking into account the city's natural elements. There are numerous awe-inspiring religious buildings across Helsinki, but here are four you shouldn't miss on your trip to Finland's capital.
Helsinki Cathedral in the Senate Square. This impressive Evangelic Lutheran church, designed by architect Carl Ludwig Engel and completed in 1852, has become a symbol of the city and it's one of Helsinki's most popular attractions.
Temppeliaukio kirkko or 'Rock Church' is a Lutheran church opened in 1969 and built into solid rock. The church's interior features an imposing copper dome and skylight. We recommend visiting as soon as it opens in the morning to avoid the masses of tourists.
The Kampin kappeli was designed by architecture studio K2S Architects and built as part of Helsinki's World Design Capital program in 2012. This stunning contemporary building, made of wood is known as the 'Chapel of Silence', since it is intended to be a place where you can find silence in one of Helsinki's busiest areas.
The Uspenski Cathedral is an Eastern Orthodox cathedral set upon a hillside on the Katajanokka peninsula. The Cathedral was completed in 1868 and is one of the most visible symbols of the Russian impact on Helsinki's history.
Helsinki Cathedral – Unioninkatu 29, 00170
Temppeliaukio kirkko (Rock Church) – Lutherinkatu 3, 00100
Kampin kappeli (Chapel of Silence) – Simonkatu 7, 00100
Uspenski Cathedral – Kanavakatu 1, 00160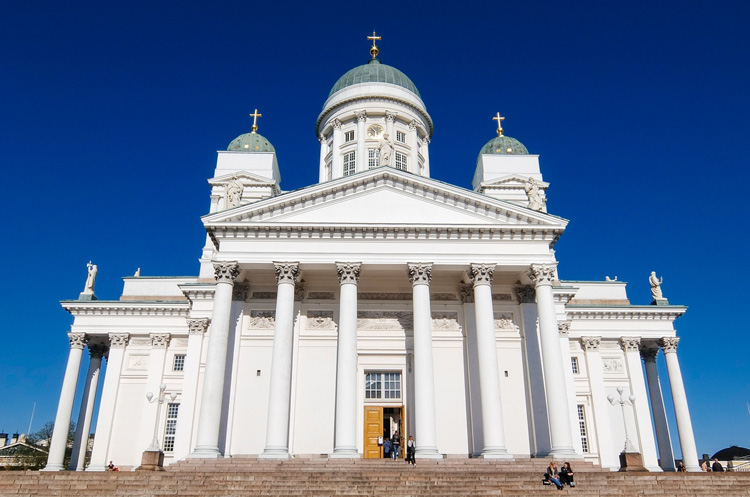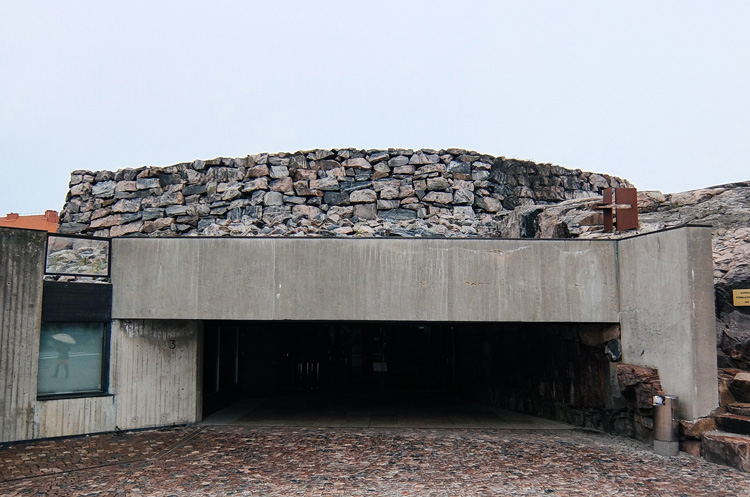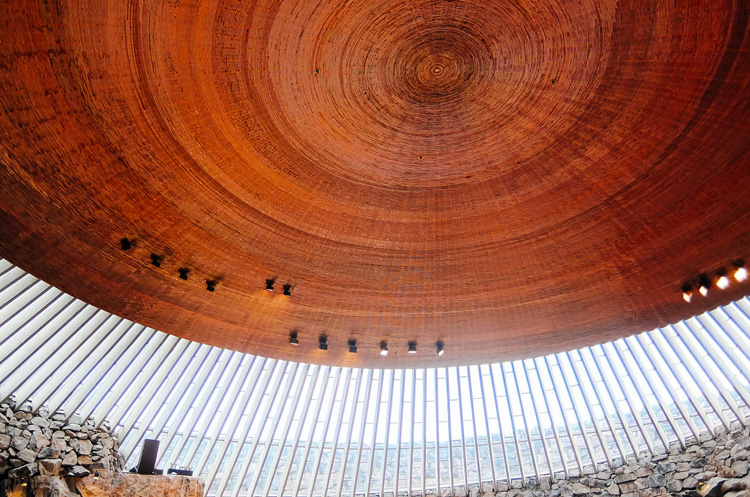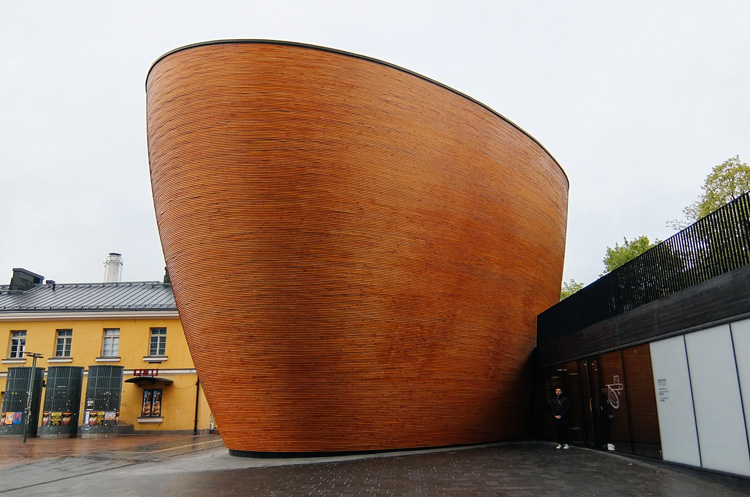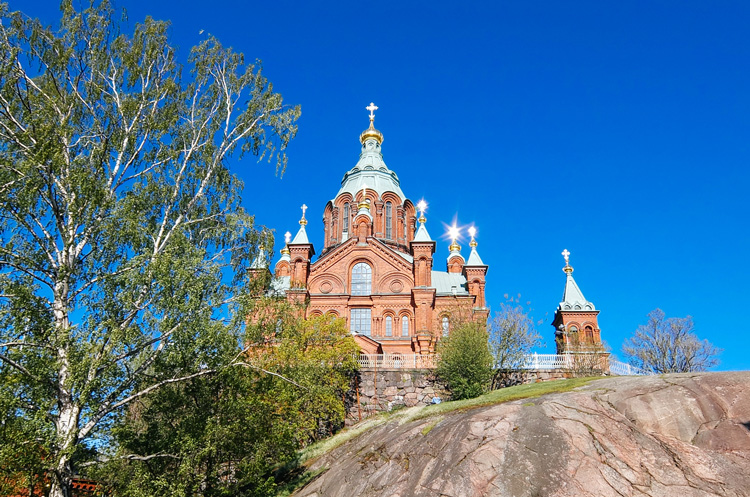 Kiasma

Kiasma is Helsinki's contemporary art museum. The impressive building, designed by American architect Steven Holl, opened in 1998 and houses exhibitions by Finnish and international artists under the umbrella of the Finnish National Gallery. Kiasma was built with the idea of educating the public on contemporary art and to strengthen the status of art in Finland.
Kiasma – Mannerheiminaukio 2, 00100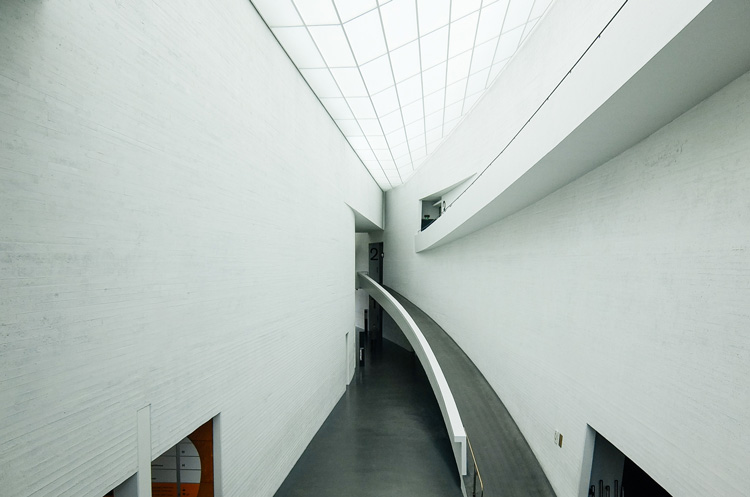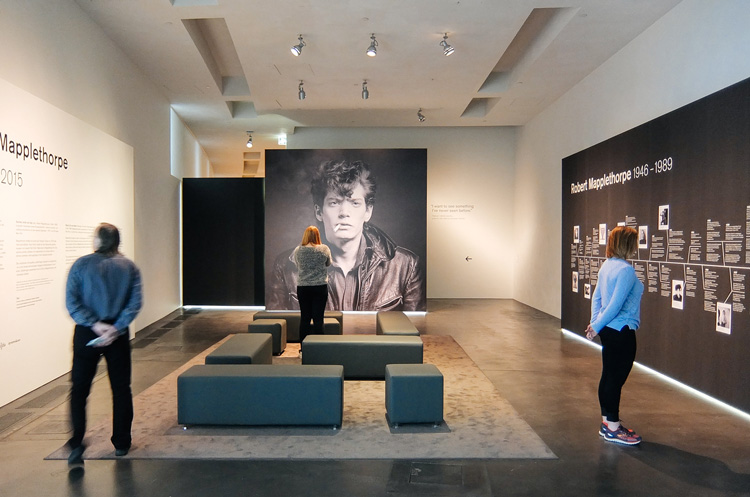 Alvar Aalto buildings

The work of architecture and designer Alvar Aalto is present across the city, from his furniture and glassware sold at Artek and Iittala (see Shopping section of the guide) to his buildings located in different neighbourhoods.
There are many Alvar Aalto buildings in Helsinki but here are three which can be easily reached from the city centre.
Finlandia Hall is a congress and events venue completed in 1971. Each little detail of this marble building was designed by Aalto – from the magnificent exteriors to the beautiful lighting inside.
The Academic Bookshop is a bookshop housed in a building designed by Aalto and completed in 1969. Also built in white marble, the Academic Bookshop features three floors with balconies and the Café Aalto, where you can enjoy drinks and food while you shop.
The Enso-Gutzeit Building is located at the waterfront, next to Uspenski Cathedral. The building is commonly known as the 'Sugar Cube' and houses the headquarters of Stora Enso Oyj, one of Filand's largest pulp and paper companies.
Finlandia Hall – Mannerheimintie 13e, 00100
Academic Bookshop – Pohjoisesplanadi 39, 00101
Enso-Gutzeit Building – Kanavaranta 1, 00101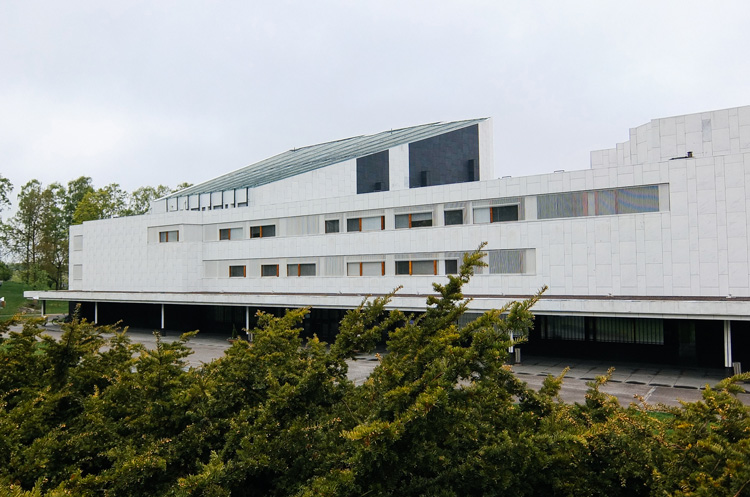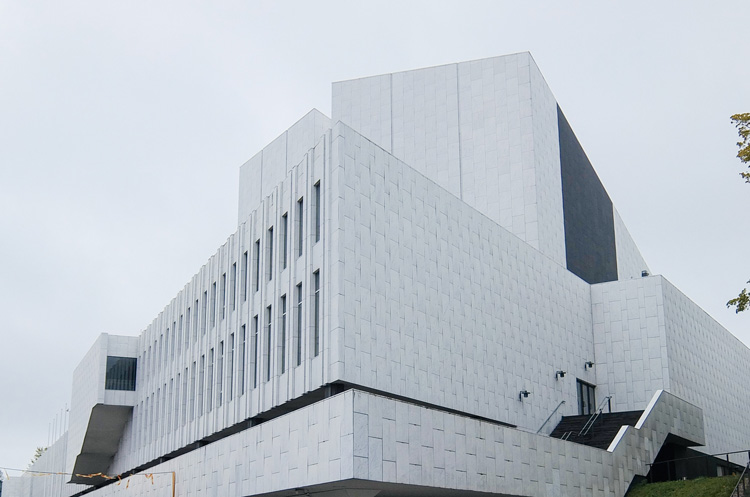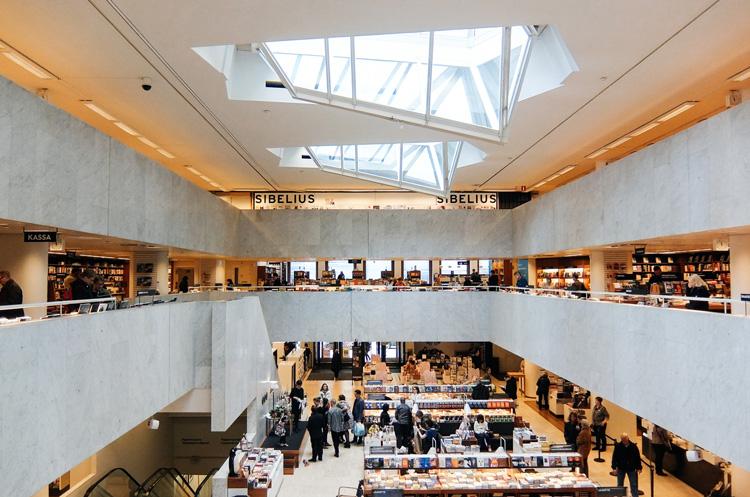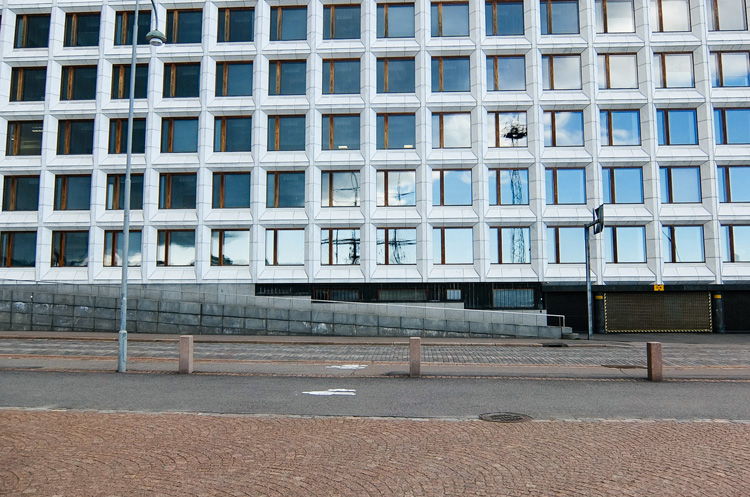 Design Museum

Helsinki's Design Museum is one of the oldest museums in the world and showcases design by Finnish and international designers. The museum's own collection contains over 75,000 objects, 45,000 drawings and 125,000 photographs, part of which are displayed in the museum's permanent collection featuring design classics from the 20th and 21st century.
Helsinki – Korkeavuorenkatu 23, 00130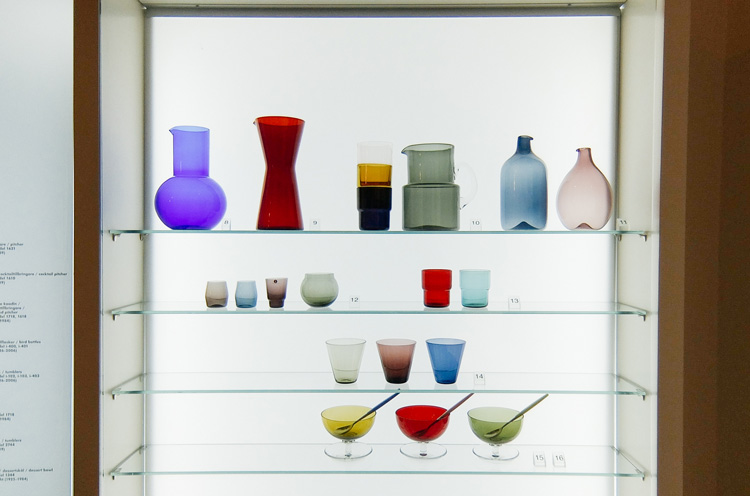 ---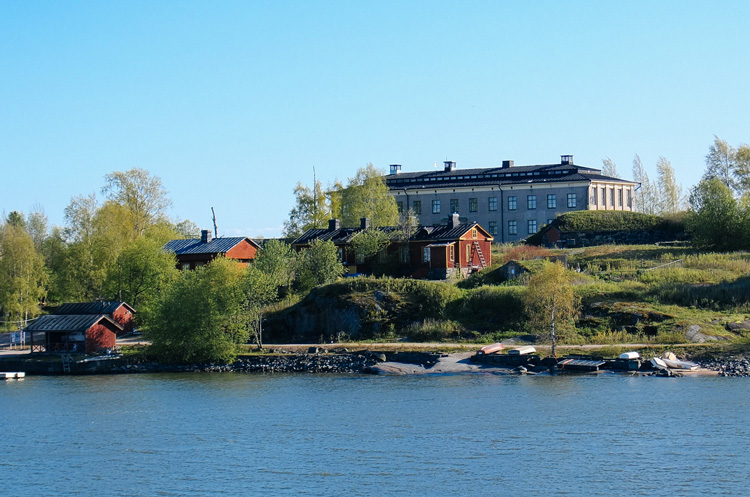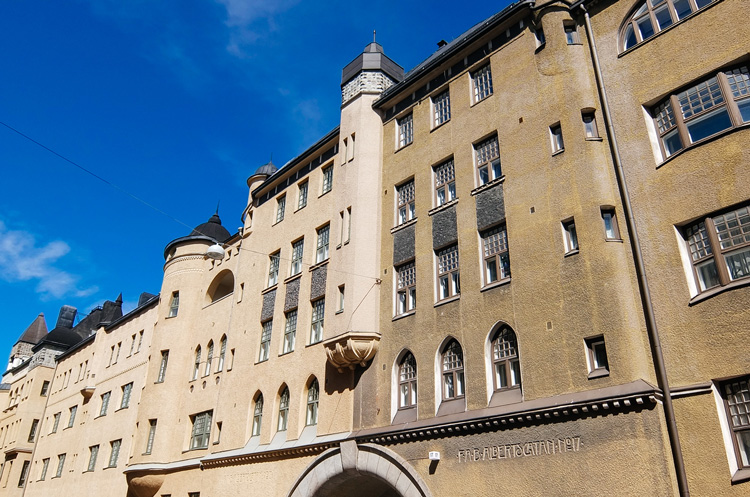 ---
MAP
This guide was created in partnership with Visit Helsinki and Visit Finland.
If you'd like to advertise your business in this guide, have any recommendations in Helsinki or updates about this guide, you can leave a comment below or contact us at hello@thefuturepositive.com
---
You might also be interested in:
---