---
EDINBURGH CITY GUIDE
After a guide to Antwerp and Copenhagen, it made sense to create a guide to Edinburgh, the city where we live in. Edinburgh's compact size and mix of tradition and innovation makes it the perfect destination for a different weekend break.
What we love the most about Edinburgh are its contrasts. Arthur's Seat, an extinct volcano with amazing views of Edinburgh's skyline, is just a short  walk from the heart of the Old Town, and vibrant neighbourhood Leith, made popular in Irvine Welsh's novel Trainspotting, has now become one of the most interesting areas in the city, whilst keeping its local roots.
Discover Edinburgh through our eyes and don't forget to check back soon to find new cafés, restaurants, galleries and shops added to our list.
---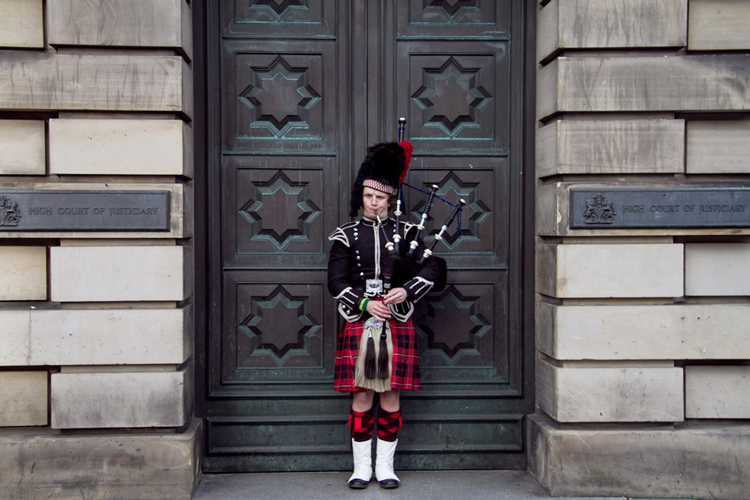 ---
STAY
Old Town Chambers

Almost secretly hidden in a close next to Edinburgh's most popular succession of streets, The Royal Mile, Old Town Chambers are 5-star serviced apartments providing everything you might need during your stay in the city.
Each Old Town Chambers apartment is unique and carefully designed. Some of the apartments even incorporate elements from the original buildings (home to the city's wealthy merchants), such as exposed stone dating back to the 15th century. We were one of the first guests in the recently opened new apartments facing Waverley Station and New Town, and we were impressed by the distribution of the space and all the small details designed to ensure a perfect stay. The apartment's views of Princes Street and Scott Monument were stunning, especially during the night when all the street lights came on.
The staff was also really helpful before and during our stay, providing recommendations and telling us about the deals the apartments have with some of the restaurants nearby. We also enjoyed the discreet service – before your arrival, you're provided with a code to access your apartment directly, making you feel as if you were in your own house.
Old Town Chambers are part of Lateral City Group, who also own Merchiston Residence, located in the nice residential area of Merchiston.
Old Town Chambers – 3 Roxbourgh's Court

www.lateralcity.com/old-town-chambers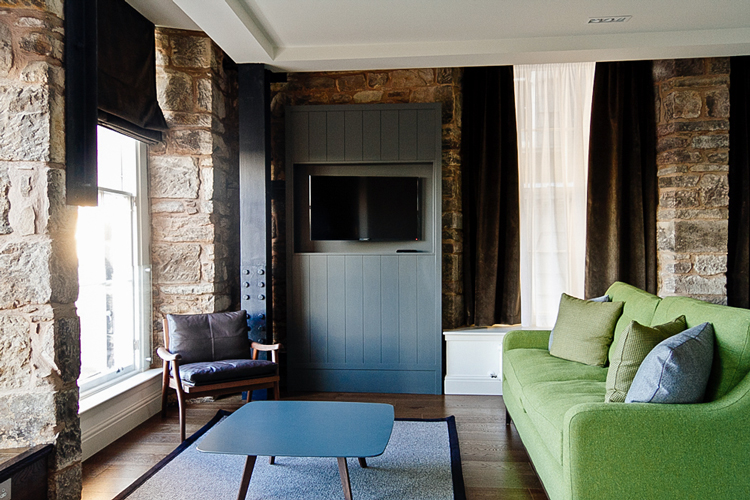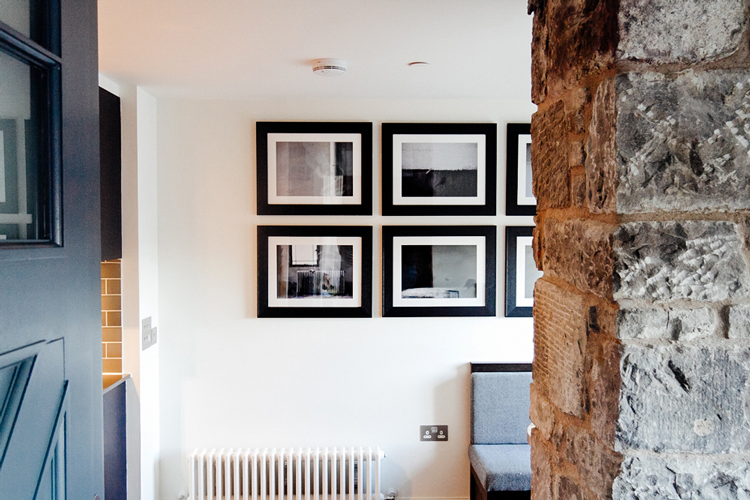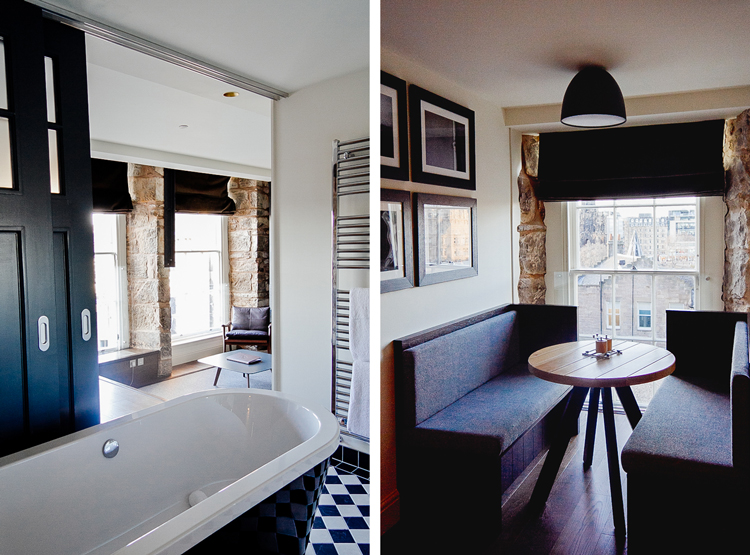 ---
EAT & DRINK
Blackfriars

Founded by Georgie Binder and Andrew Macdonald in 2013, Blackfriars is a restaurant and bar working with local producers to create great food, served in a relaxed environment.
Located in the city centre, just off the Royal Mile, Blackfriars is one of our favourite places to meet friends for drinks. At the bar, you can enjoy an impressive selection of craft beer and innovative, high quality bar food at reasonable prices. Whilst at the restaurant, the seasonal menu and nice staff make it the perfect place for an special occasion.
Update: Blackfriars is currently closed while new owners are taking the business. Please check back for further updates.
Blackfriars – 57-61 Blackfriars St

www.blackfriarsedinburgh.co.uk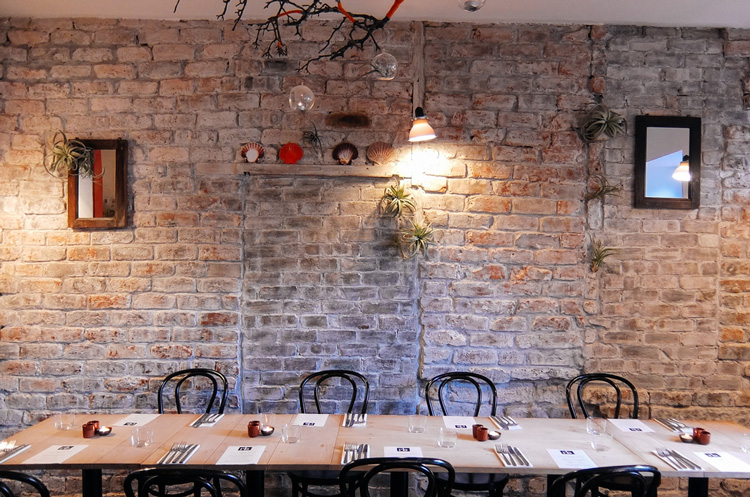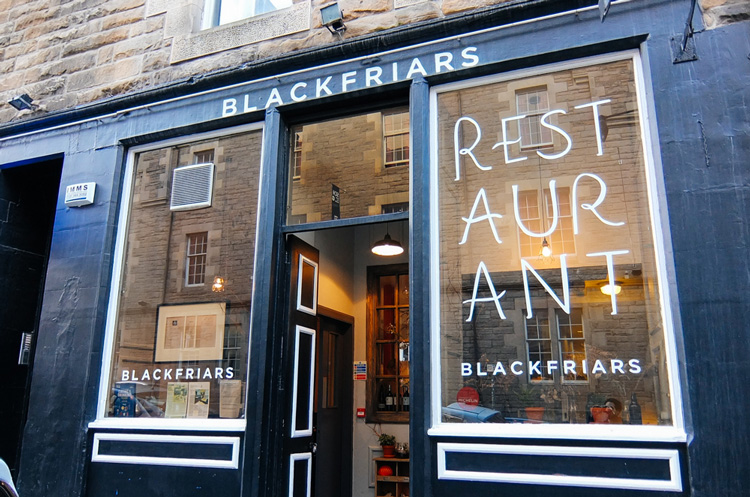 Brew Lab

Brew Lab is one of our favourite coffee shops in Edinburgh and it was also one of the first stories we documented when we started our website.
Brew Lab serves single-origin filter and espresso coffees, as well as a delicious selection of soups, sandwiches and cakes, all coming from local producers and providers. The filter menu changes frequently showcasing coffees from speciality roasters in the UK and Europe, and Brew Lab's innovative approach to espresso ensures each served drink is of the highest quality.
Update: Brew Lab recently opened their second shop on Edinburgh's West End, where you can find great doughnuts and pastries and, of curse, their excellent coffee menu.
Brew Lab – 6-8 South College St
Brew Lab West End – 3 Queensferry St Lane

Stockbridge Market

Although there are a few food markets located across the city, Stockbridge Market offers a diverse selection of stalls and is based in a beautiful location, just by the Water of Leith.
Here, you'll find great local produce to cook at home or to take with you and enjoy while you explore the scenic neighbourhood of Stockbridge on a Sunday.
Stockbridge Market – 1 Saunders St


Fortitude Coffee

Fortitude Coffee is a specialty coffee merchant and espresso bar serving delicious brew. They work with coffee from London-based Workshop, who are committed to roasting the sweetest, cleanest, and freshest coffee to make the perfect cup. Fortitude Coffee also stocks coffee beans from some of the best small-batch roasters in the UK and are happy to help anyone choose the right beans for the right brew, as well as supply all the tools and advice to brew at home.
Fortitude Coffee – 3C York Place

www.fortitudecoffee.com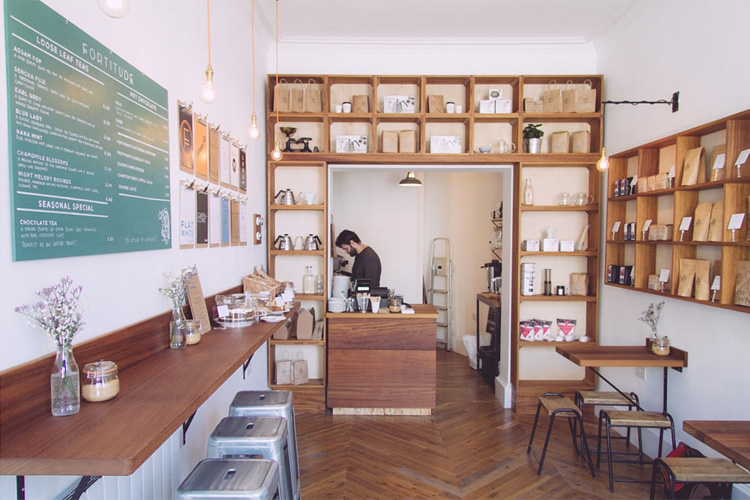 Timberyard

Family-owned Timberyard has been opened for just a few years but it's one of the most talked-about restaurants in the city. Aware of sustainability and the environment, Timberyard uses ingredients from small and local suppliers, breeders, producers and growers. Enjoy the delicious menu and don't forget to explore all the different spaces of the restaurant, including the yard and the growing patch, where the owners grow their own herbs.
Timberyard – 10 Lady Lawson St

www.timberyard.co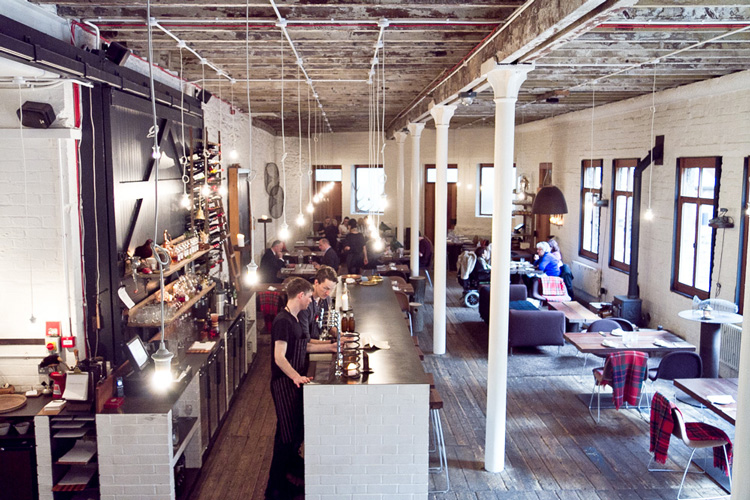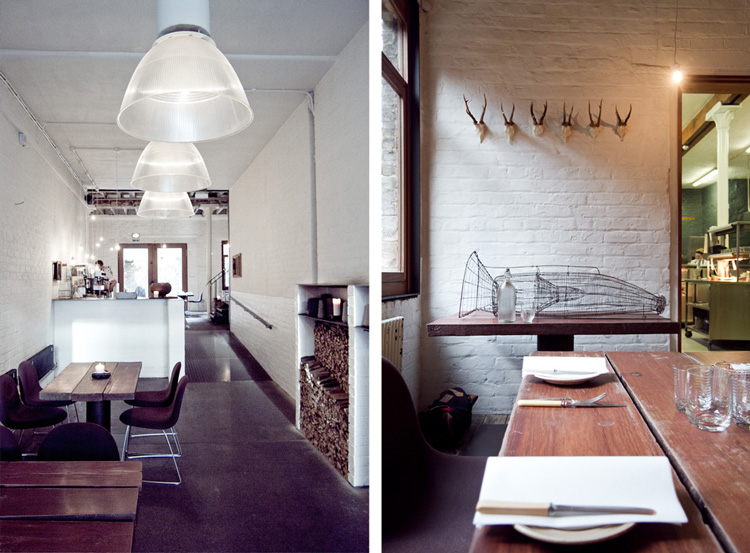 ---
---
SHOP
Dick's

Dick's was founded in 2012 by husband and wife Andrew Dick and Uli Schade after they decided to relocate to Andrew's home town, Edinburgh, from London.
Dick's is one of the most interesting concept stores in the city, stocking an incredible selection of menswear labels from across the world along with accessories and unique home wares by independent and high-quality manufacturers.
Don't forget to pay them a visit if you're around the Stockbridge area.
Dick's – 3 North West Circus Place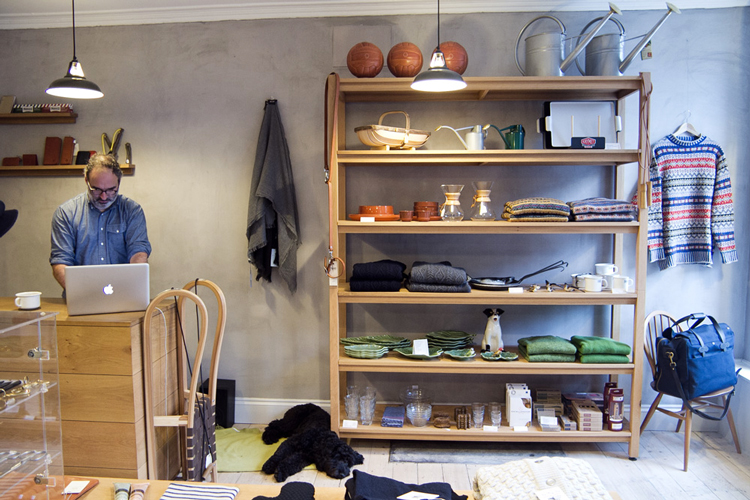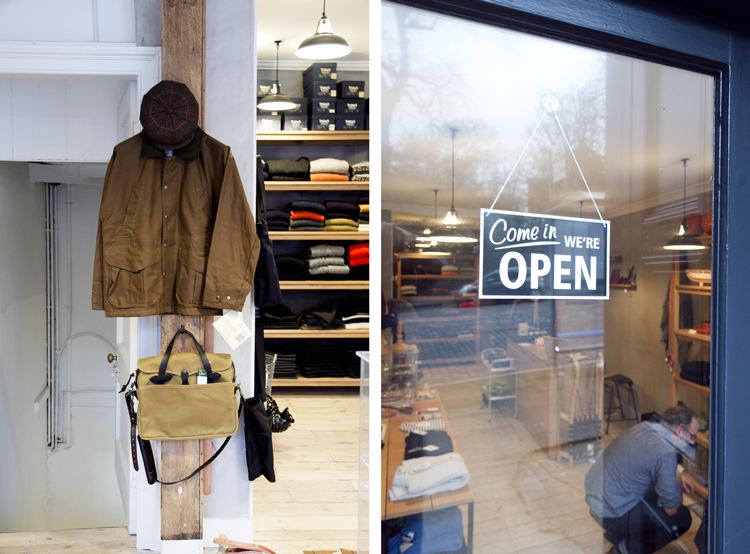 Century General Store

Century General Store recently celebrated their 1st anniversary from their location in Marchmont. This unique store sells everyday products for people living in the local community and beyond – from fresh bread and pastries to magazines, plants and home wares.
The store's owner and shopkeeper, Stephen, also serves great coffee and is always happy to tell you the stories behind the artisan producers and manufacturers of the items he sells.
Update: Century General Store have recently opened a second store and café in Abbeyhill, where you can find more interesting products and delicious food by Kitchen East.
Century General Store Marchmont – 100 Marchmont Crescent
Century General Store Abbeyhill – 1-7 Montrose Terrace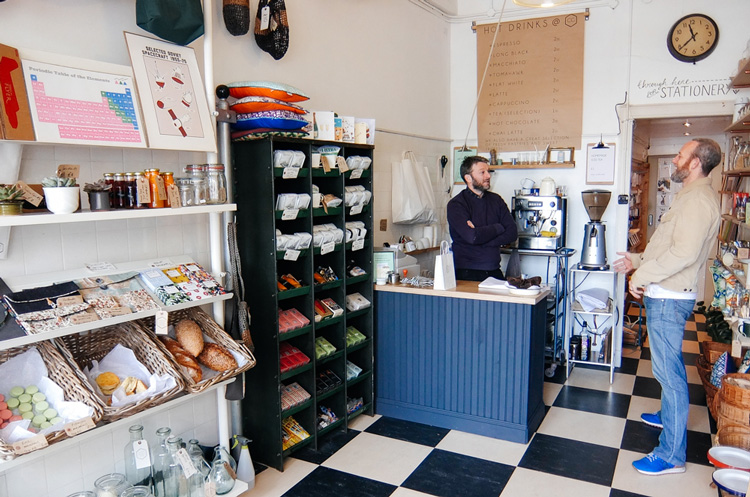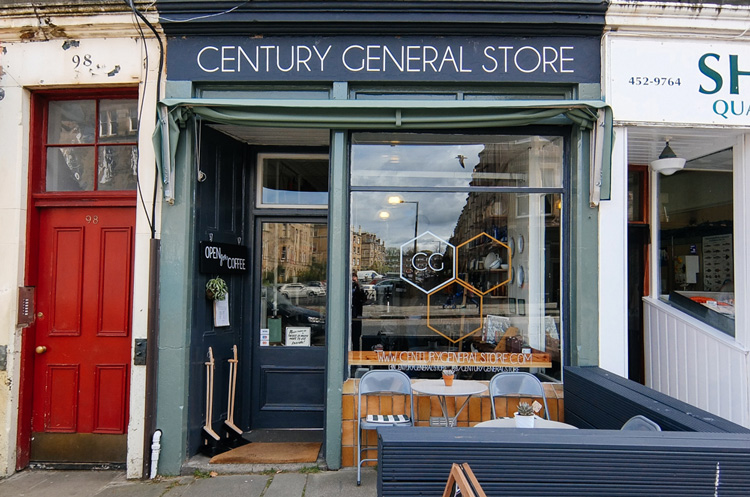 West Port Book Stores

Edinburgh is filled with second-hand book stores in almost any neighbourhood so it won't be difficult to find a bargain to read on your trip back home. A great area for book shopping is West Port, a street connecting Grassmarket to Edinburgh's College of Art, home to many book stores and to West Port Book Festival.
Edinburgh's second-hand book stores tend to be a little disorganised so make sure you leave enough time if you're planning to browse through thousands of books!
Different locations – The West Port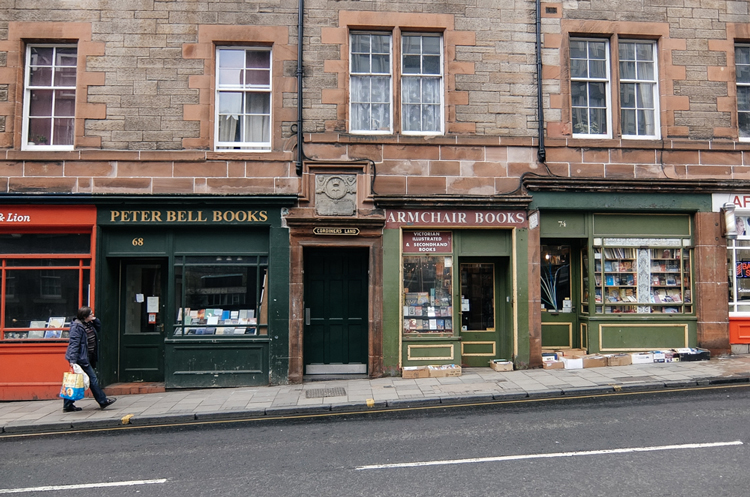 Walker Slater

Walker Slater is a must-destination for any tweed lover. With two stores in Edinburgh and another two in London, this Scottish label produces ready-to-wear and made-to-measure clothes from fabrics manufactured in the UK.
Walker Slater expanded into womenswear 3 years ago, opening a store (shown in the images) just a few steps away from their menswear store on Victoria Street. Whether you're looking to buy a  three piece suit or a small accessory, a visit to the stores is highly recommended.
Walker Slater – 16-20 & 46 Victoria Street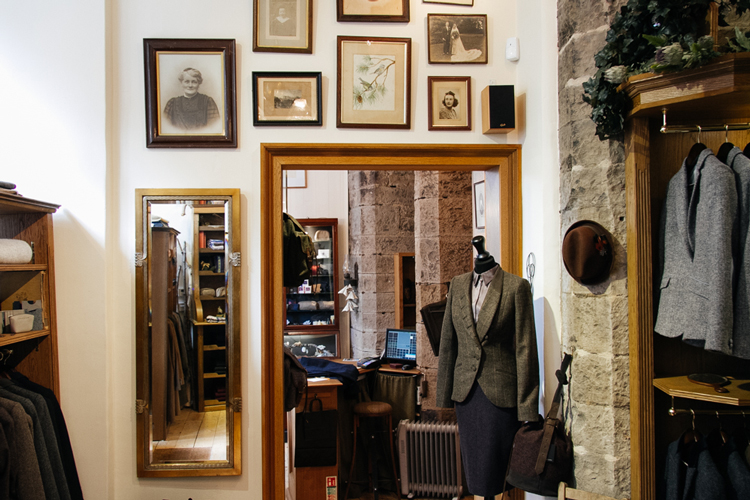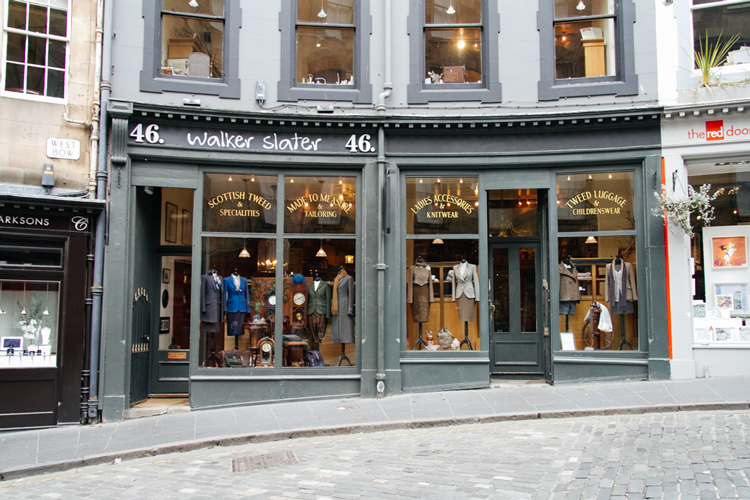 Broughton Street

Broughton Street is a popular destination for independent shopping in Edinburgh. Here, you will find crafts and design stores such as Life Story, Concrete Wardrobe and Moleta Munro, great restaurants and bars, delicatessen shops for foodies and Narcissus, our favourite florists in Edinburgh.
Different Locations – Broughton St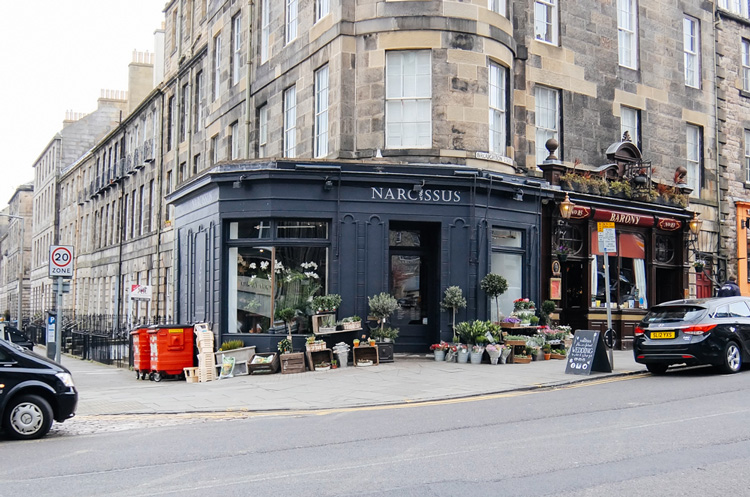 ---
VISIT
Scottish National Gallery of Modern Art

Edinburgh is home to many big galleries and museums and one of our favourites is the Scottish National Gallery of Modern Art. The Gallery includes two buildings, Modern One and Modern Two, surrounded by extensive parkland with sculpture works.
In Modern One, the Gallery's collection is displayed, including works by twentieth century artists like Matisse and Picasso, and by contemporary artists such as Damien Hirst and Tracey Emin. Modern Two is dedicated to a changing programme of exhibitions and also includes permanent works by Richard Wright and Eduard Paolozzi. The buildings' gardens are home to numerous sculpture works, including Nathan Coley's There Will Be No Miracles Here.
Scottish National Gallery of Modern Art – 75 Belford Rd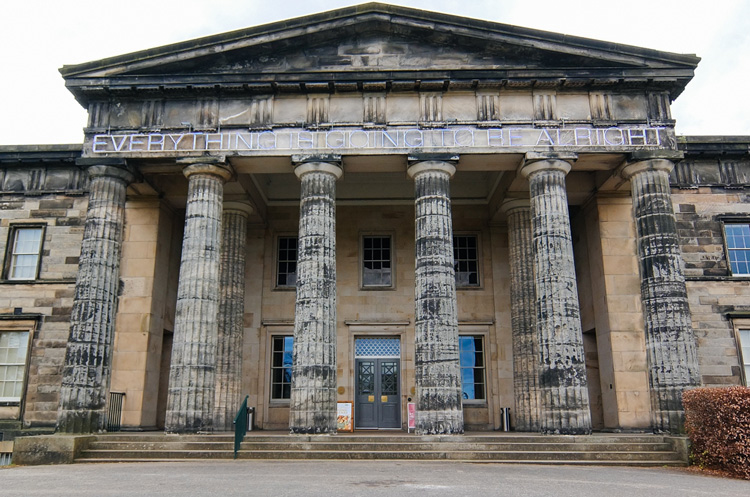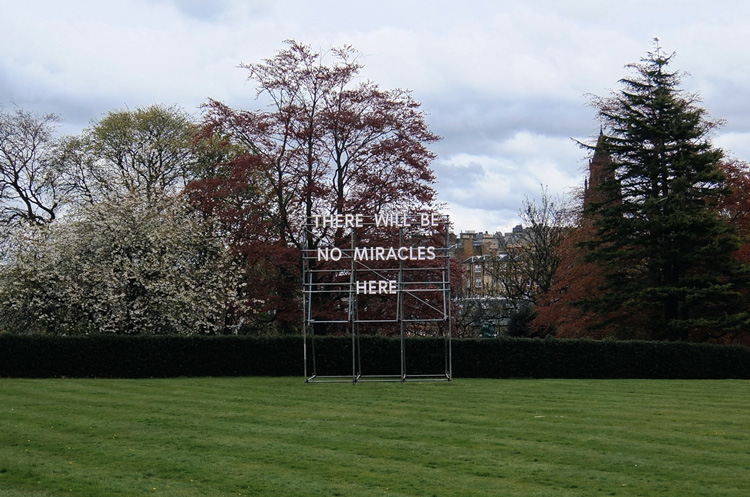 Summerhall
Located at the former Royal School of Veterinary Studies, Summerhall is a creative hub hosting exhibitions, theatre plays, gigs, workshops and any other kind of event you can think of. Since opening its doors during Edinburgh Festival in 2011, Summerhall has become a reference for creativity in the city.
Summerhall is the perfect place to spend a weekend day, exploring its old labs and dissection rooms, checking what's on and enjoying a drink at the sunny beer garden.
Summerhall – Summerhall Place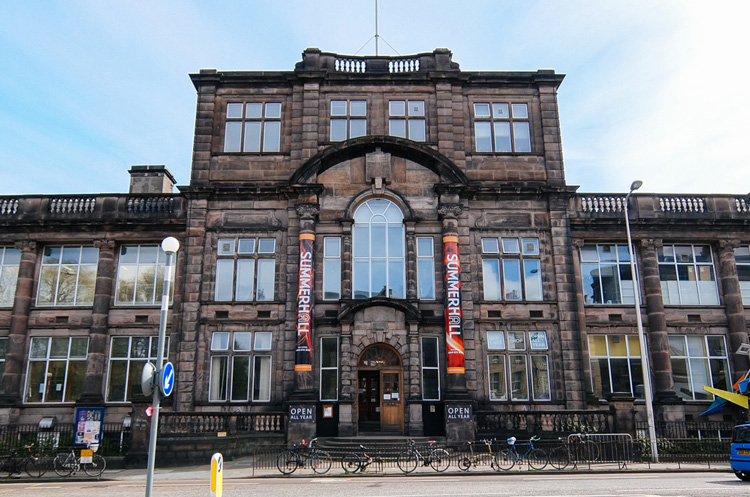 Cameo

If you decide to go to the cinema while you're in Edinburgh, you should go to the Cameo. This cinema is well-known in the city for its interesting programme of independent films and for being one of the venues of Edinburgh International Film Festival . Its screening rooms are small but charming, making a screening at the Cameo unforgettable.
Cameo – 38 Home St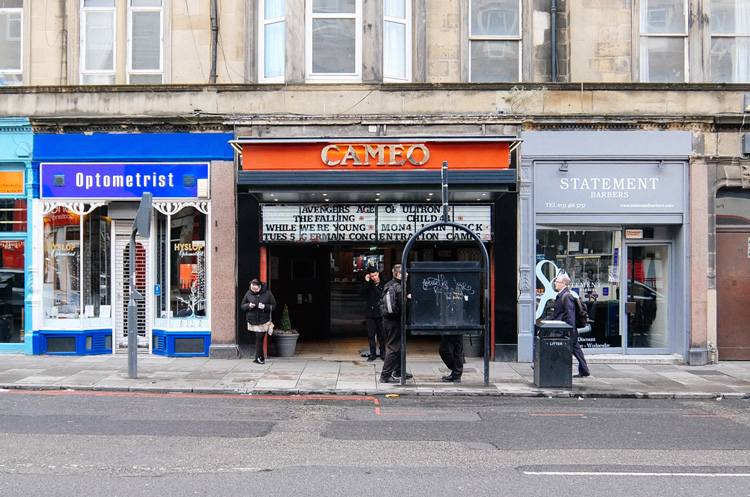 Arthur's Seat

No visit to Edinburgh is complete until you hike to the top of this extinct volcano. Located in the city centre, this impressive group of hills, lakes and peaks can easily become one of the highlights of your trip. At the bottom of the hills you are surrounded by landscape without a trace of the city, making you feel as if you were in the middle of nowhere. Keep on walking to the top and you will be able to enjoy impressive 360-degree views of Edinburgh.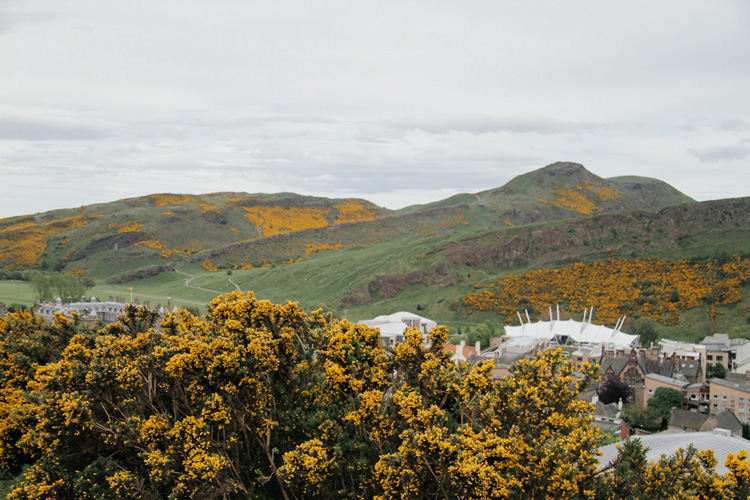 Dean Village

This former village is located just 5 minutes away from Princes Street, Edinburgh's main shopping street. This quaint neighbourhood by the Water of Leith was a successful grain milling area for over 800 years and remained a separate village until the nineteenth century.
Dean Village is the perfect area for an afternoon stroll on its cobblestone streets, followed by a visit to the Scottish National Gallery of Modern Art (see top of this section).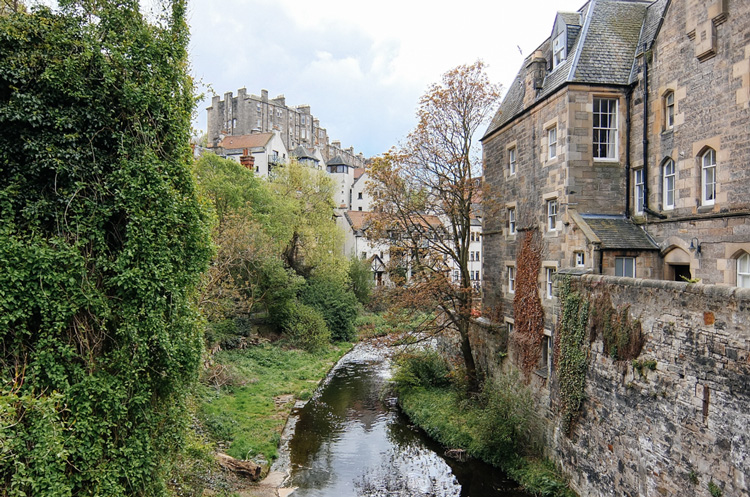 ---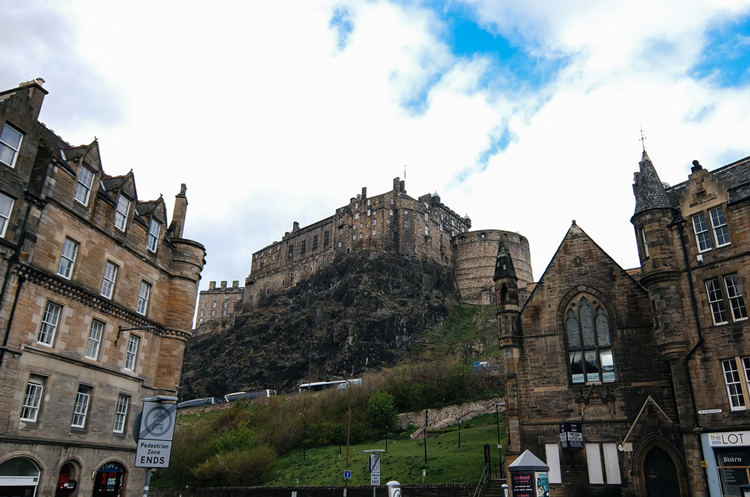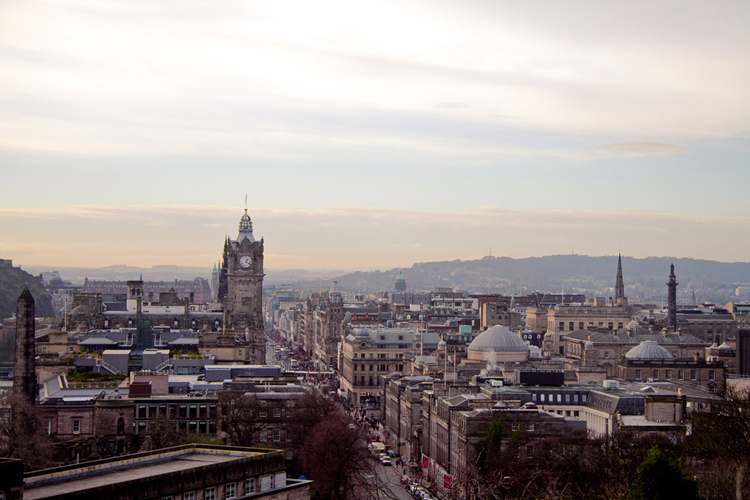 ---
MAP
If you'd like to advertise your business in this guide, have any recommendations in Edinburgh or updates about this guide, you can leave a comment below or contact us at hello@thefuturepositive.com
---
You might also be interested in:
---