While the coronavirus pandemic has represented a serious health and socio-economic crisis, it has also encouraged a growing number of people to take up cycling.
This is particularly true in the capital city of London, where the number of cyclists has grown by nearly 120% since the introduction of the first lockdown last March. 
However, cycling during lockdown can be challenging, especially given the increase of riders out on the road. So, here are slime tips to cycle safely and effectively during these difficult times.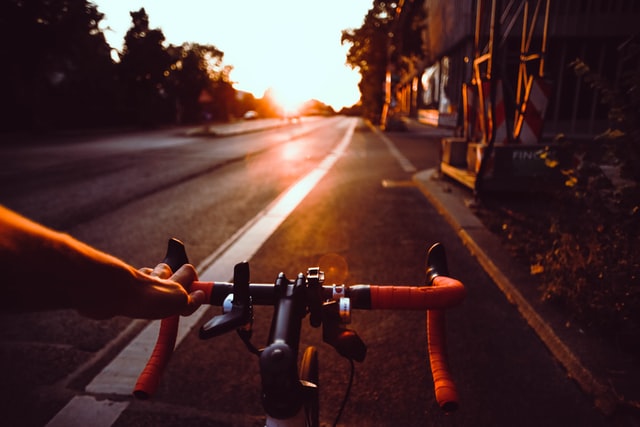 Image via Unsplash
1. Stay Local
While there aren't any official restrictions in terms of how many times you exercise outdoors during the current lockdown, you should confine yourself to your local areas.
Typically, this is categorised as being within five miles of your home, so you should definitely avoid driving to an area further afield to a National Park or similar location when looking to embark on a bike ride.
This will also help you to keep safe during the winter, with recent adverse weather events (including widespread storms and blizzards) having battered the UK in recent weeks.
By staying local, you can also identify viable routes that you know well, helping you to get the most from your exercise during these most challenging of times.
2. Keep Safe at All Times
Safety is one of the most important considerations as a cyclist, with this rule applying both in and out of national lockdowns.
You'll certainly need to wear a helmet as a starting point, especially if you intend to cycle on roads and alongside automotive traffic. It's also important to invest in bikes that boast at least some relevant safety features, including front and rear brakes and a red rear reflector that's mounted so that it doesn't hit the ground when the bicycle topples.
If you're cycling during the winter or at night, it's also imperative that you invest in high visibility garments that make you visible to other road users.
3. Be Prepared in the Event of an Accident
Even if you take all the necessary safety precautions as a cyclist, you may still suffer an injury as a result of an accident or collision.
Remember, the majority of cycling accidents on the road are caused by drivers, so you'll need to be prepared in the event of an accident.
One thing to keep in mind is your potential legal representation should you make a personal injury claim in the future, as solicitors that offer no win, no fee provide an accessible route to securing compensation in the modern age.
Of course, you'll need to make your claim within three years of any incident and be able to demonstrate that the accident has caused physical or mental harm, but having the right team in your corner can help with this!