For any homeowner, shifting to a new place and moving out is always stressful. This is because of packaging, labeling, lifting boxes, and transportation that are involved in it. However, these days, people choose movers to get all these things done right on time with perfection. When one of the moving companies that will move you out of state is a partner in the process, there's nothing to be stressed about.
A professional mover can help you with easily packing goods and relocating them for you. When using a professional mover, there are a few significant points that you should keep in mind to make the experience as pleasant as possible.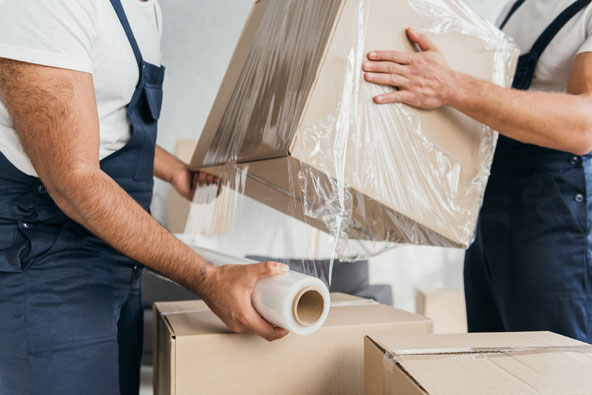 Here's a list of things that you need to do when movers move your stuff into your home:
Keep your furry friend away from the movers
Are you having pets in your home? If yes then make sure to keep them away from the movers as they can disturb them. Pets roaming around everywhere in the home, especially when the moving out process is going on can result in time wastage.
If the pets are friendly, and you think they won't create any problem in the moving-out process then that's perfectly fine. However, it's not easy to keep the pets calm. 
Try to keep your furry companion away from those areas where stuff is being moved out. Also, you can close your pets in a room with all their toys and food so that movers can do the work peacefully and efficiently.
Don't disturb the movers with your guidance
The packaging and moving of delicate items can make some homeowners a bit concerned about their safe handling. In such a situation, many homeowners start guiding the movers about how they should handle and move the stuff.
Make sure to avoid disturbing them. Movers already know what and how to do as they are experts and experienced. They know what they are doing, so it would be better to let them do their job. Right from packaging to labeling fragile items, movers will do all these things with ease.
As they're trained movers, you can rely on them completely. So, all that you need to do is to let the professionals do the moving out process their way. In case of any query, movers will come to find you for your assistance.
Before the moving day, finish the packing of personal belongings
On a moving day, there'll be a lot of chaos. Thus, it would be better for you to pack your things before the moving day. When you do the packing on the same day as moving out, you might end up with a lot of time wastage. To make the movers do their work right on time in a streamlined manner, you should finish your packing of personal belongings a few days before moving out. 
Carry valuable items with you
All the valuable items such as jewelry and small electronics require special handling. These items need to be carried by yourself in your vehicle. Your main focus should be on how the movers are packaging, doing the heavy lifting, and moving the stuff. For this, make yourself free from the tension of packing your valuable items. 
Moving day will be surely a hectic day for you so be ready with your valuable items a few days before the day of moving out. Complete the packing of all your personal belongings and valuable items so that you can concentrate on other things.
Appreciate the mover's work
Packaging and moving out stuff is not an easy job, it requires a lot of effort and smart work. Movers have to give their best for ensuring a hassle-free, safe and convenient moving of your stuff. Lifting boxes, labeling, and moving the goods out for transportation are some of the works that make them sweat a lot.
A little appreciation of their work and offering some refreshment can encourage them. With this, movers will surely feel touched and grateful. By appreciating their work and making the movers comfortable in the work, you can make the process of moving out hassle-free.
Conclusion
To make the relocating process simpler, there's a long list of things that you can do while the movers doing their work. Keeping your pets away, appreciating their work, and packing personal belongings ahead of time can help in making the moving out process hassle-free and quick.