Lucía & Bárbara Vernengo
VERNNA
Lucía y Bárbara are the sisters behind VERNNA, a womenswear and jewellery label based in Buenos Aires offering limited edition, hand-made products inspired by natural elements and cultural diversity.
We talked with Lucía and Bárbara to discover how the label started, how it is to work with family members and what craftsmanship means to them.
Photos by Luciana L. Schütz & interview by Future Positive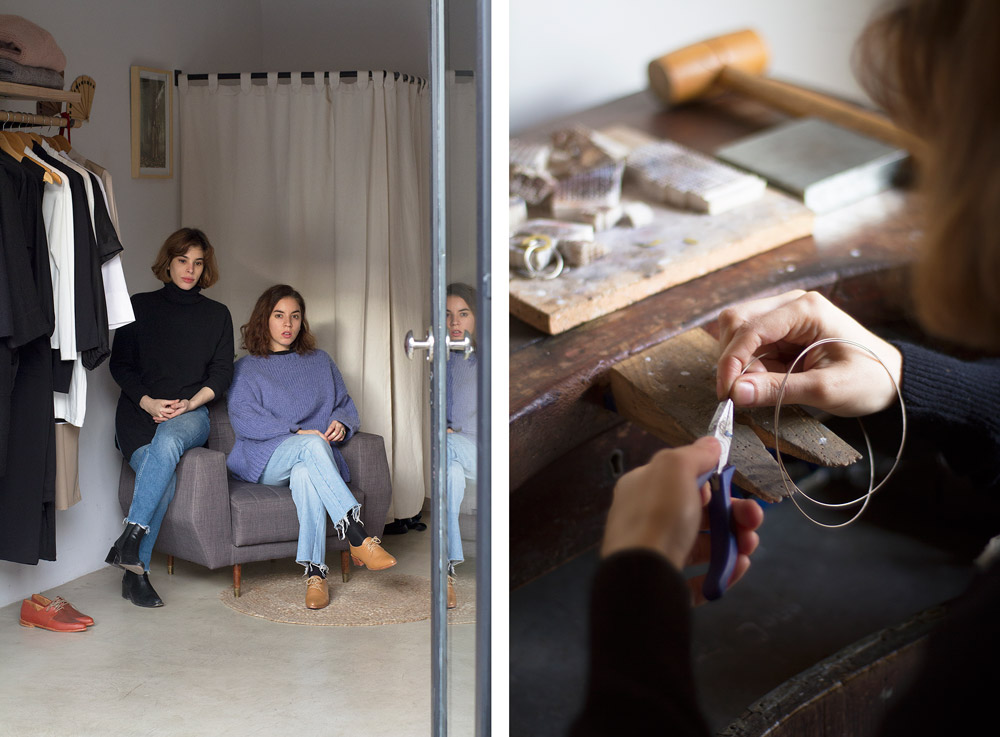 Can you introduce yourselves and tell us about your background and education?
Bárbara: We are sisters and, therefore, we share the same education we received at home and at the school we attended. Our parents always instilled in us the love for art. On one hand our mother was a professional contemporary dancer and music lover, on the other hand our dad was a journalist with an inquisitive soul and a passion for books. That is the common denominator – the base of our interest into making and our passion for aesthetics.
I first studied Fashion Design in UBA (Universidad de Buenos Aires), but in the middle of an existential crisis I changed it for Social Communication, which I graduated from. I worked in advertising and marketing, among other unhappy jobs that brought me to VERNNA.
Lucía: As far back as I can remember I love to draw; I always connected with art as a way of expression and catharsis. When I finished high school I knew that this is what I wanted to do, so I studied Visual Arts and specialised in engraving. When I finished my degree, I felt disenchanted by the lack and difficulty to get a job in that sector and the frivolity it's surrounded by.
The last year of my degree I started taking jewellery classes outside of university with a friend of my sister, nowadays an excellent metalsmith called Inés Bonadeo, so after that I realised that what I wanted to be was an artisan. Unlike my sister, I don't pay much attention to the narrative – just what the materials bring me or an idea of the moment. I try to have a more playful process when I create.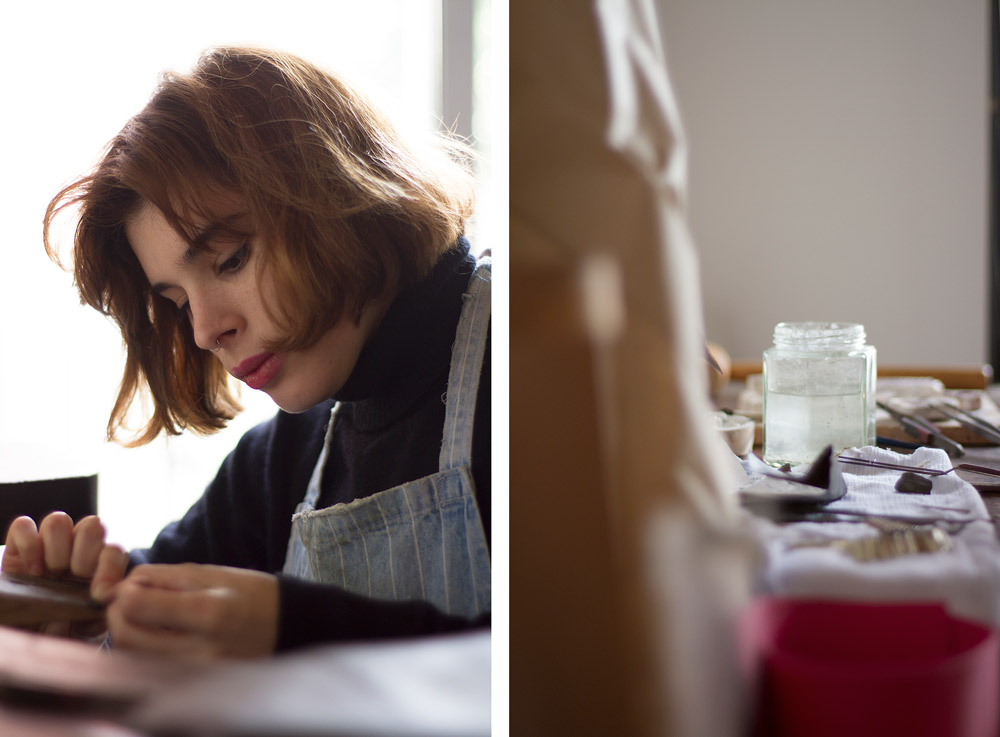 You grew up together, when did you know you also wanted to work together?
Lucía: Being sisters, it's something that came in a natural way. We didn't talk about it or forced it, instead it took shape as soon as Bárbara started making duster coats. It was assumed that I had to contribute, at least having ideas and making observations.
Bárbara: Yes, honestly, we didn't think about it. It just emerged and we seized it. And also as we practically have the same aesthetics, values and honesty when we talk, it was easy.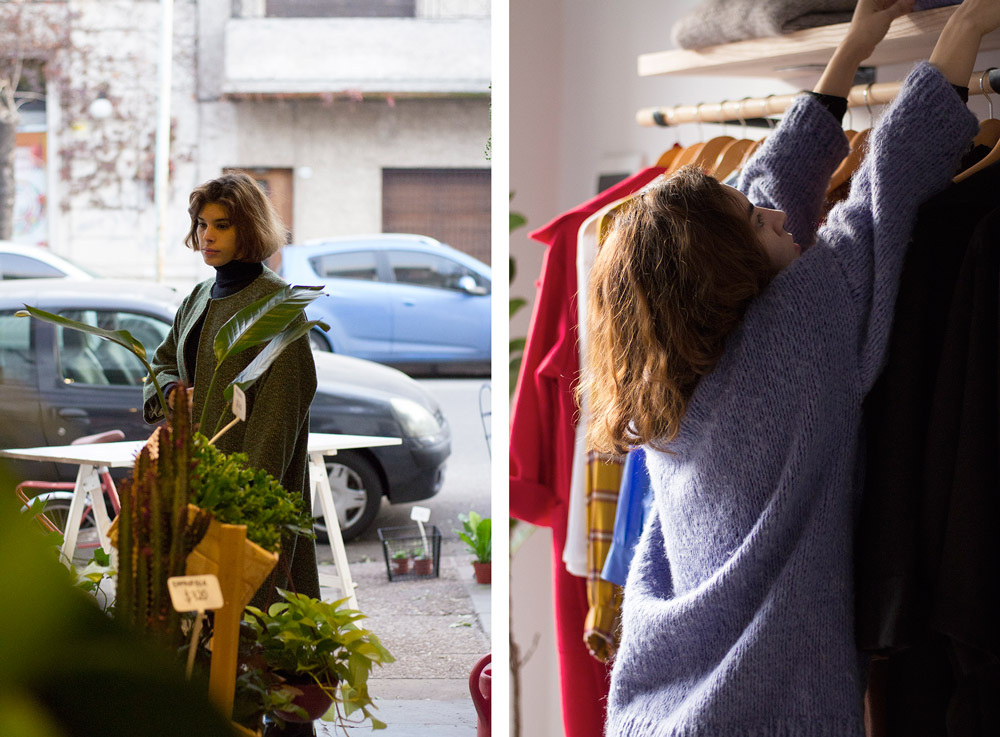 How did the idea behind VERNNA start? Can you tell us about what each of you does at VERNNA?
Bárbara: VERNNA emerged as a rejection to routine and an answer to extreme boredom, after realising that I needed to do something with passion and love, despite how small it would had to be. At the beginning it took me time to get back in touch with the proper language of the subject, because it had been a while since I had done a single pattern. But, actually, even though I'm not an expert when it comes to technique, I've always loved and have been interested in identifying and feeling fabrics, so in the first instance that was my reconnection. Today, I'm practically in charge of everything involved at making VERNNA's clothing: from the creative idea and purchasing fabrics to the pattern-making and time management.
Lucía: As I mentioned earlier, I'm involved with the jewellery making in the brand. I enjoy seeing what my hands and observations on the materials can create (without overthinking), with the limitations and possibilities that come within. And of course, besides that, I also participate in the different tests and experiments we do.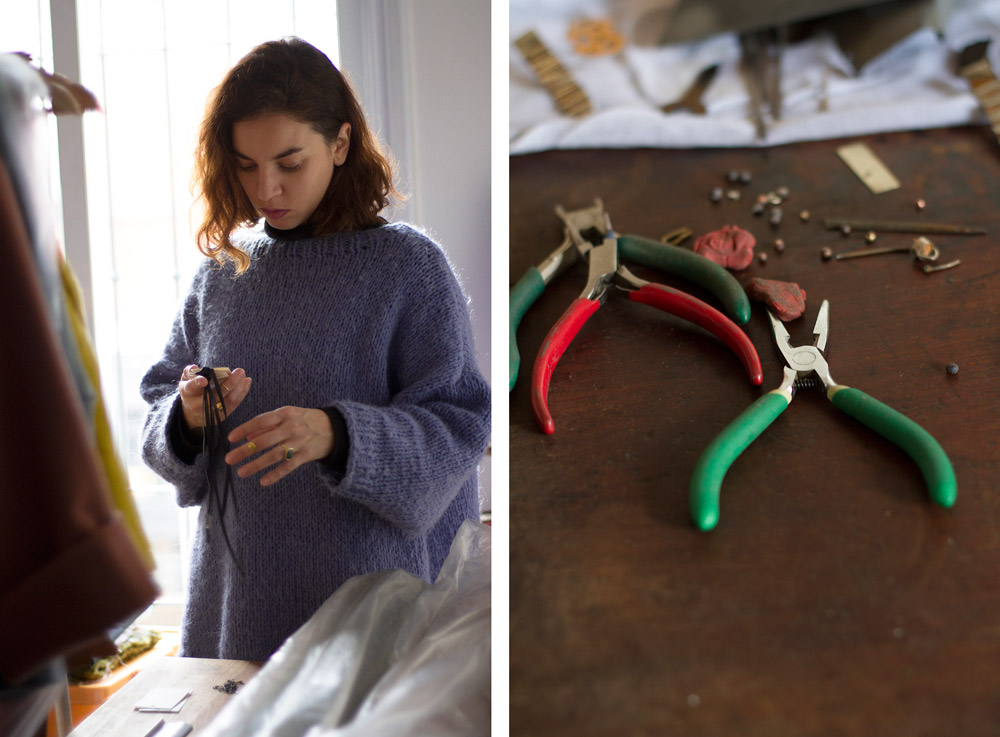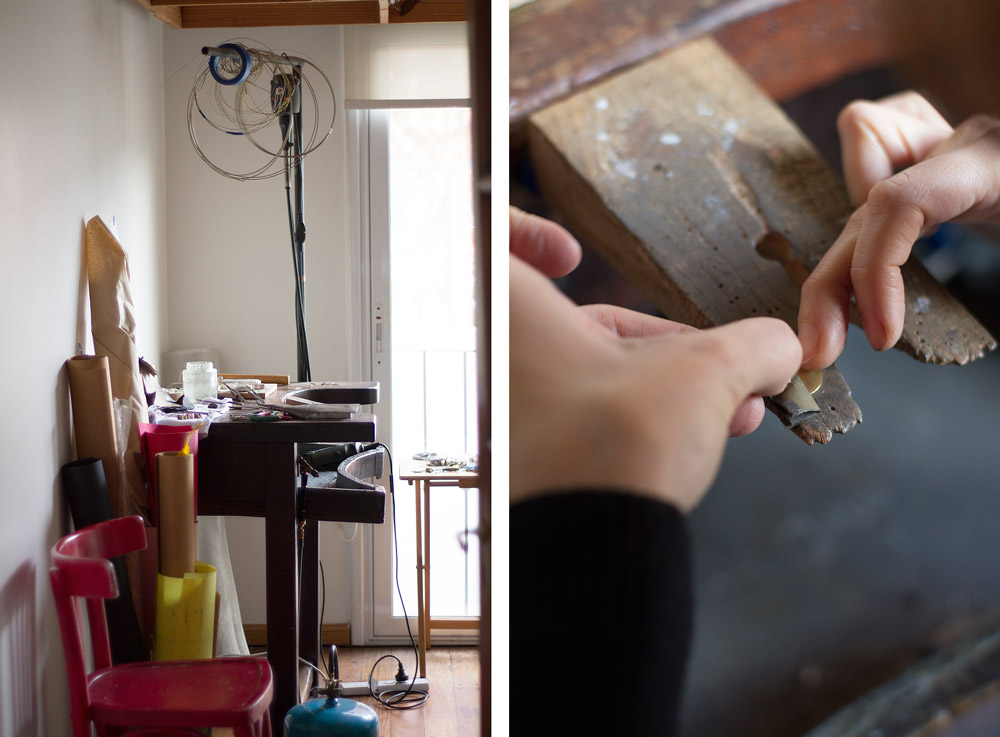 You create different products, can you tell us about each of them and the materials and processes you use to manufacture them?
Bárbara: I started making duster coats and I then added more items. The style is oversized, with an oriental pinch. I make capsules/collections with limited editions, made with noble materials that are kind to the skin. In winter I work mainly with 100% wool and in summer with 100% linen and cotton.
Lucía: In terms of jewellery, I create pieces with nickel silver/bronze and silver/gold plated finsihes, overall with the intention of not making pieces with high prices. The idea is that the jewellery has to respond to the concept of the collection. Each collection has a strong minimal and timeless approach, which allows me to play freely with organic lines and simplicity in the pieces that complement the clothing.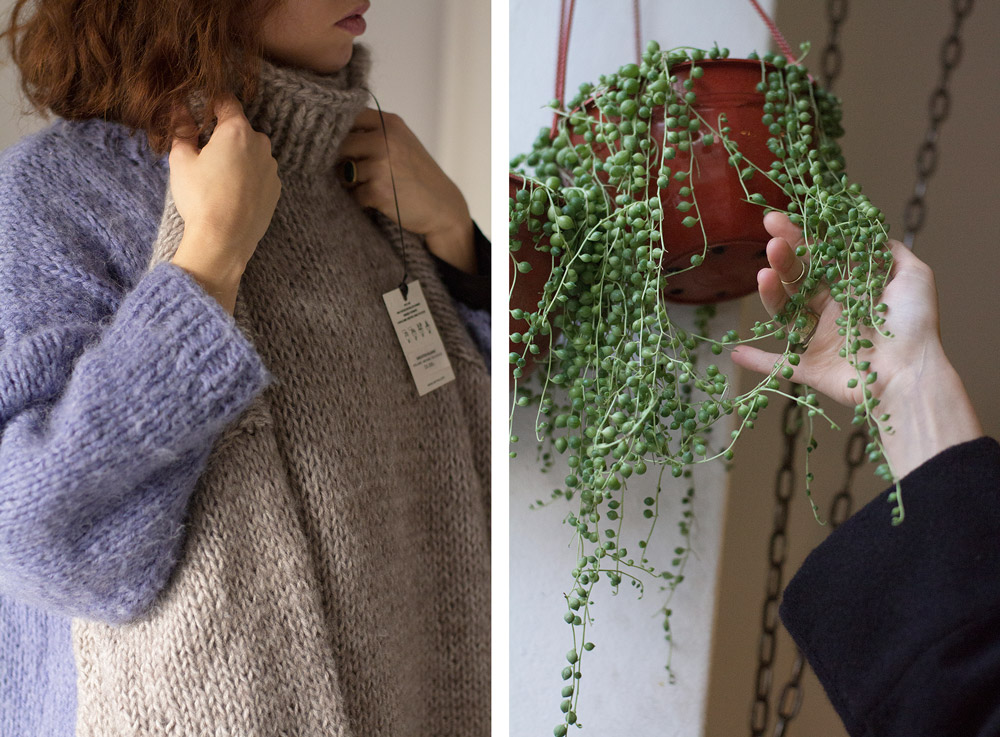 Is there any other product you'd like to experiment with in the future? And materials?
Bárbara: The idea is to start experimenting with natural dyes. From there, a new universe could start.
Lucía: And I would like to experiment and work, at one point, with textiles and mixing them with metals.
What inspires your designs?
Bárbara: First and foremost natural elements, journeys, different cultures… VERNNA always tries to show our purest state, natural, without losing the connection with life itself. What we try to do is withdrawing and showing something more that generates consciousness.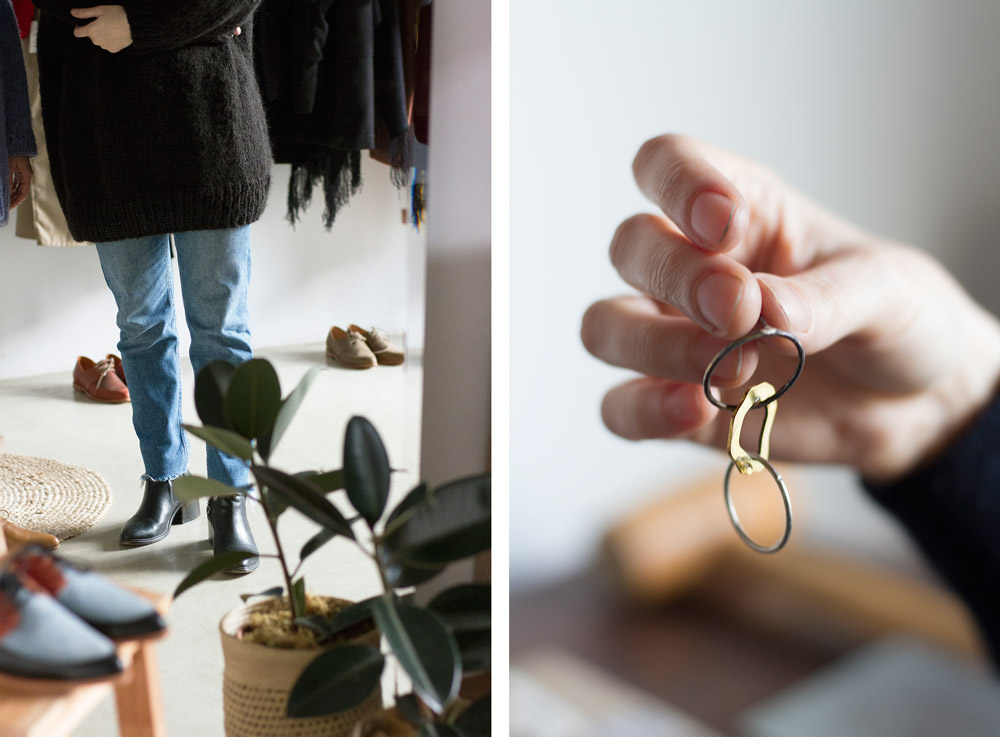 An important part of VERNNA is the collaborative process with your family members, friends and other people. Can you tell us more about this?
Lucía: It comes naturally and we grow along. Maybe something that has to be noted is the help of our mother, who participates in many ways in the different stages of the process. Basically, the nice thing of working with your family is the pre-existing trust and the power of constant feedback.
What does craftsmanship mean to you?
Bárbara: Craftsmanship is a way of expression with proper significance, with history, something different that, unfortunately, not everyone values. The majority of our clients understand this and that is why they choose us.
Lucía: It's knowing how to combine technique, creativity and functionality with a touch of personal signature that can be found in the possible errors that make every piece unique. Because, I believe that in handmade processes there is no intention of searching for perfection but, instead, that in those errors lies the authenticity.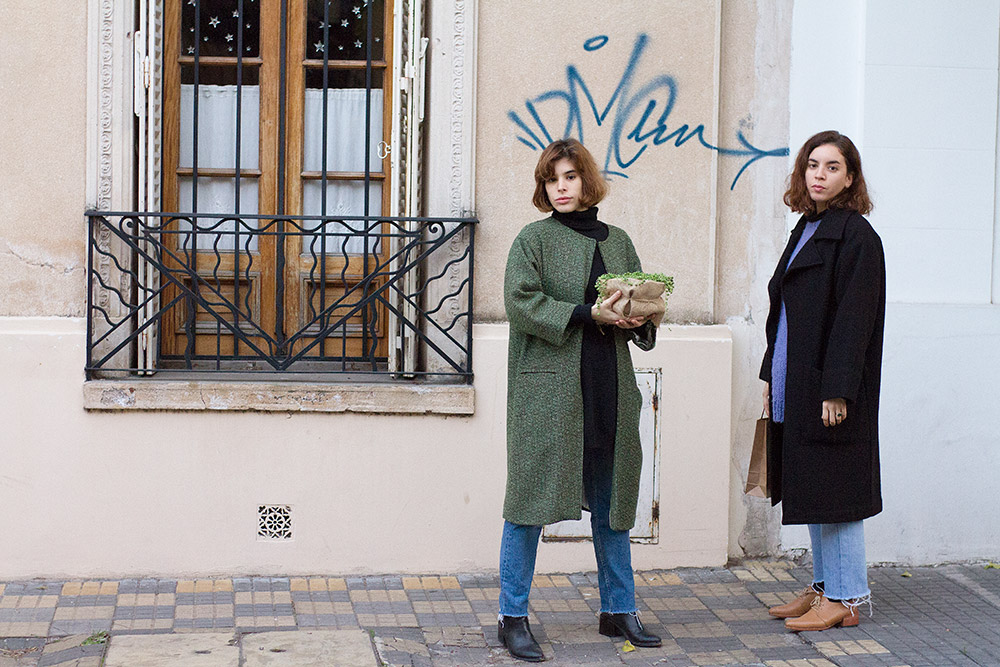 What other Argentinian brands and designers we should know about?
Bárbara: We recommend Julián Cuneo, SETTE, DAM, Greens and Bastardo.
What are your favourite spots in Buenos Aires?
Lucía: For eating and grabbing drinks we love Artemisia, Café Rivas, La mar, Lekeitio, OuiOui, El niño gordo, Club Lucero. We enjoy visiting the San Telmo fair, flower shop Potit, Caseros street, art space Patio del Liceo and galleries Ruth Benzacar and Hilo Galería.
You might also be interested in:
---